The Splendid Sampler — Week 45
ALMOST DONE!
I made some serious progress this week. Even with company here most of the time.
Because while I was sewing in the morning, they were sleeping!
All the block quilting is done!
Here's this week's blocks.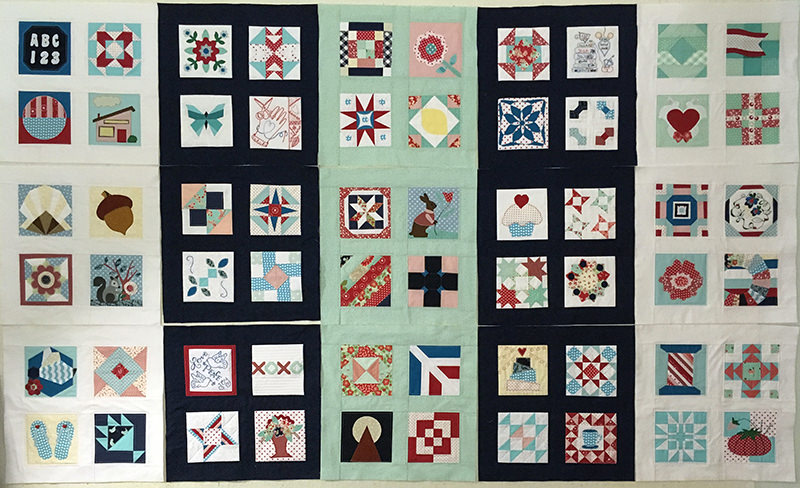 And through the magic of Photoshop (since I no way have a display wall this large) here are all of the completed blocks!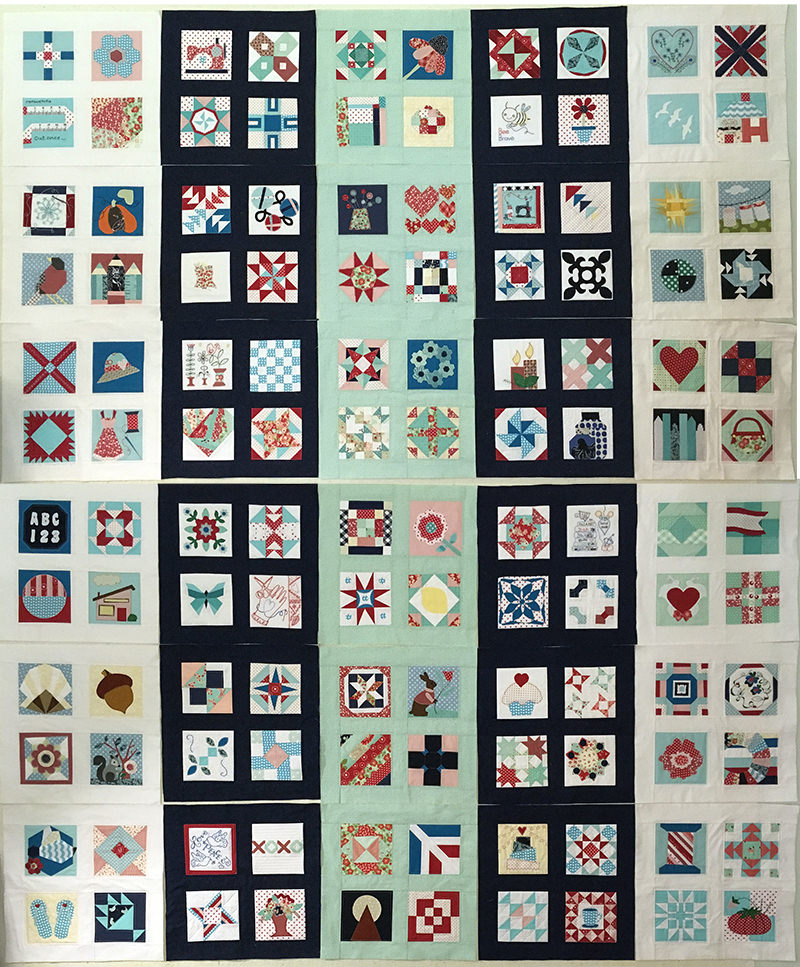 And then I actually got all blocks stitched into their color columns.  Now I just need to sew the columns together, put on the backing, do a little more quilting, and then add the binding.  I feel almost free of the addictive grasp of the Splendid Sampler!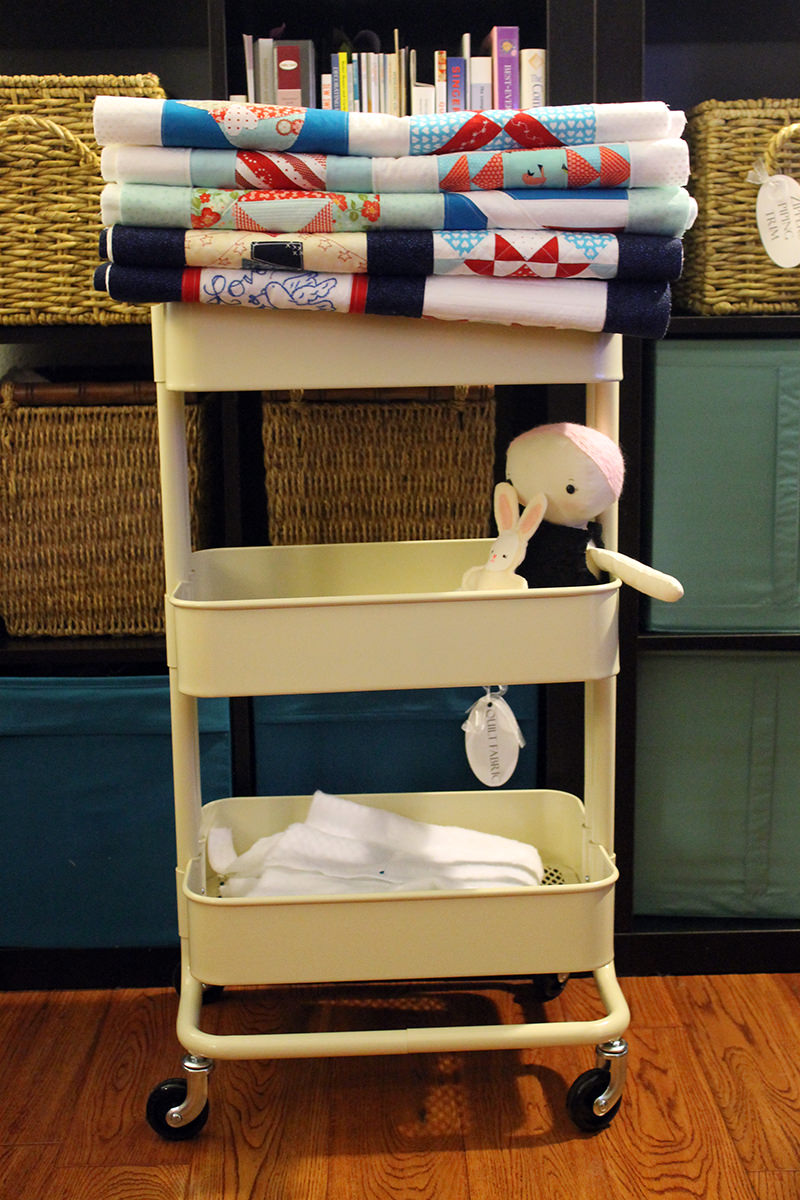 Speaking of the Splendid Sampler, they are still sending out newsletters and bonus blocks.  The book is being released on April 18th.  They also have labels to purchase with all the designers names.  And….I'm not doing any of it.  Just want to get this one finished!
A couple of things I have run into….
There were some blocks that had buttons on them.  I will NEVER put the buttons on a block again until everything is trimmed.  It was very difficult getting them cut down to 18 1/2″.  A little wobbly!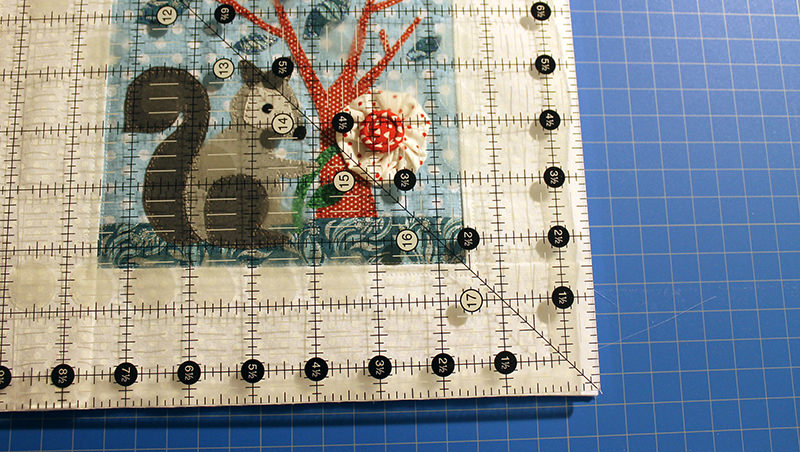 Last week I mentioned about some weird stitching that was going on with the white fabric.  I tried everything in my skill set to figure out what was wrong.  Then I headed down to the Old Homosassa Learning Center to share with our new sewing group–The Sew Cool! Workshop.  As soon as I showed it to one of the "coaches" she said, It's your fabric.  It's white with white dots. The little white dots are thicker.  Every stitch on a dot, left a hole.
Maybe you can see it in this example: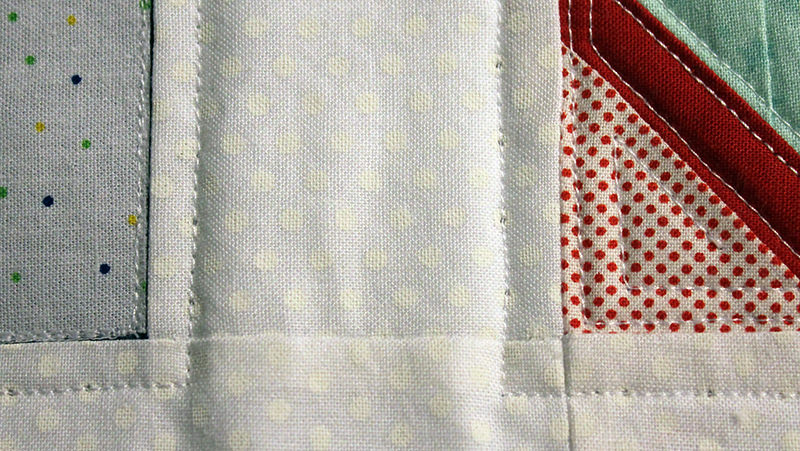 Anyhow…..
The other coach sat with me and we went through every size needle in her tool kit until we found that the 60/8 Universal needle didn't leave such a large indent.  She gave me the needle and I thought I'd be smarty pants and buy a set of 60/8 "Sharp" Universal needles.  Those didn't work right either!  Sheesch.
I ordered a lot of that white fabric because I planned on using it for my next quilt which will be a wedding gift.  While I'm not happy with how the stitching looks on the Splendid Sampler that's going in my guest room, I don't really think anyone will notice it.  But, I could not give a quilt as a gift with those weird stitches.  So I've decided to use this 'white on white' fabric on the backing of the Splendid Sampler.
This is a BIG quilt and I don't have enough of the white to do the entire back so I'm going to have piece it together.  I found an example of different backings on Pinterest.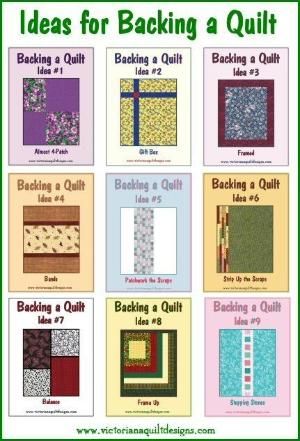 I think I'll do either idea #2 or #5. By the way, I would have credited the website that this linked to but I'm not sure if it's a secure site.
And onto another subject,
This is for my local readers.
I mentioned that the local quilt shop in Crystal River, Tomorrow's Treasures, is closing up.  I think the last day is April 15th and the fabric is already marked down to 60% off plus they are throwing in a quilt block pattern with every purchase.  This is a great deal and they have a lot of fabric left.  Good quality quilting fabric.  Oh, and Mettler thread, too. They had some Cotton & Steel fabric that I love and I bought about 12 yards of it.  (Yikes–I have NO idea what I'm going to do with it but I wanted to buy MORE!) The owner said that no one wants the Cotton & Steel stuff.  And I went WHAT?  It's my favorite!  She said it's too modern and then I remembered that most of the people I see in there are in their 80s.  Seriously. Here in Citrus County I'm considered a young'un at 61! This county has the oldest population in Florida.  And you know that the majority of people in Florida are retired!
Here's some examples of projects that I've already made with Cotton & Steel.
Stars….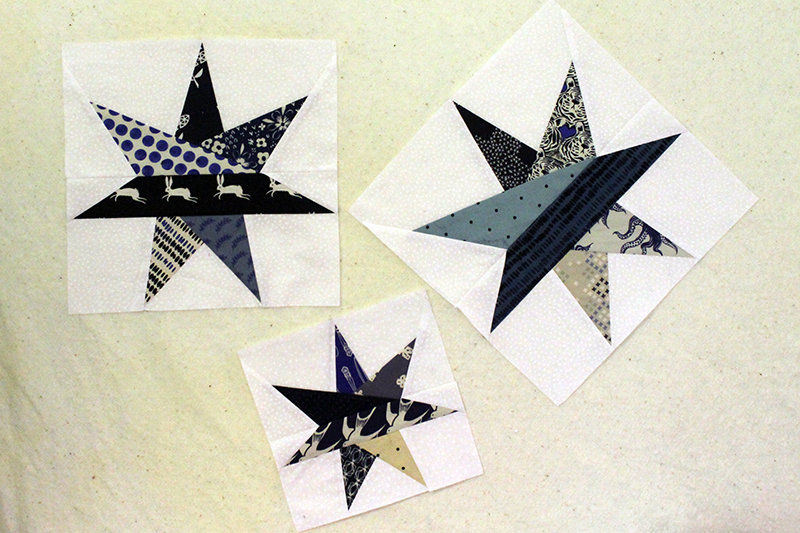 And this shark fin.
I've already washed and dried my new fabric and my brain is going crazy thinking how I should use it!
Wow!  This turned into a really LOOOOONG post.  Guess I'm making up for last week!
I'll be back next week!  Hopefully only one or two weeks left for the Splendid Sampler and me!