The Splendid Sampler — Week 41
This will be a short and sweet post!
Cause I didn't get a whole lot done on the Splendid Sampler and the few photos I snapped aren't all that great!
This is what I like to call the "week of meetings'.  For some crazy unknown reason, every group I belong to has their monthly meeting this week.  (And I belong to a lot of groups)
I usually put the Splendid Sampler post together on Wednesday morning.  But this week I had to be at a meeting by 9 am.  And it was 35 minutes away.
Who has meetings at 9 am?
I'll tell you who.  Old crazy retired people who have nothing else to do.  And they like to complain about things that early in the morning.  They seem to have lots of extra energy.
Scheesch.  Just get the meeting over with so I can enjoy the day.
So, back to the Sampler.
I ordered Kaufman Spot On Pindot Snow from Fabric.com.  I was a little worried about this purchase because the photo on Fabric.com looks more gray than white but the description says white on white. So I took a chance and it really was white on white.  Phew.
Here are the blocks that I planned on putting together this week with white borders.  Started out great and got one side on all of them right away!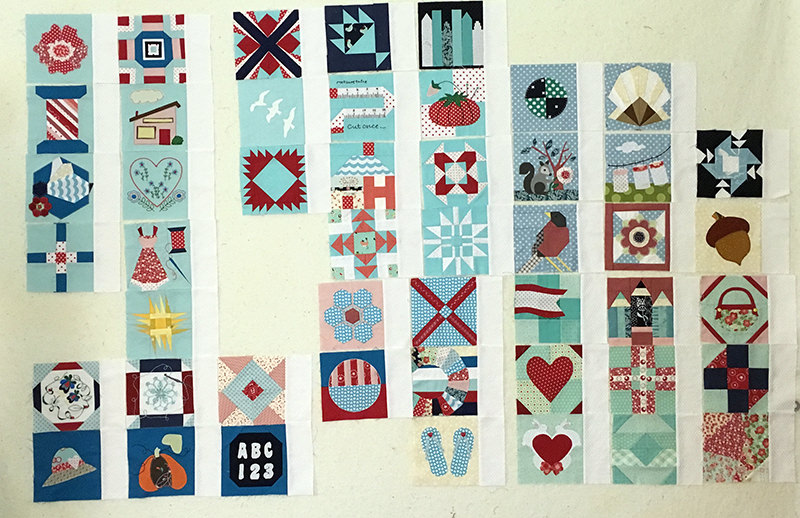 48 blocks.  In the photo above I was trying to put them in some type of logical order.  That's why I took this snap–I find it helps to look at a photograph along with studying the design wall.  So many different shades of blue!
As I stitched together the white bordered blocks, I couldn't resist adding the dark blue and aqua blocks that I did the last two weeks to the design wall.
The days flew by even faster than usual and I was only able to make three of the white blocks before it was Wednesday morning! Snapped this photo of my design wall–which happens to be a piece of batting stuck up with thumbtacks on a blank wall behind my desk.  I usually move the monitor and everything off of the desk and try to place the blocks far enough away from the shelves that they don't show in the snaps.
Not this time.  There's the monitor.  There's the Ikea expedit peeking in the corner.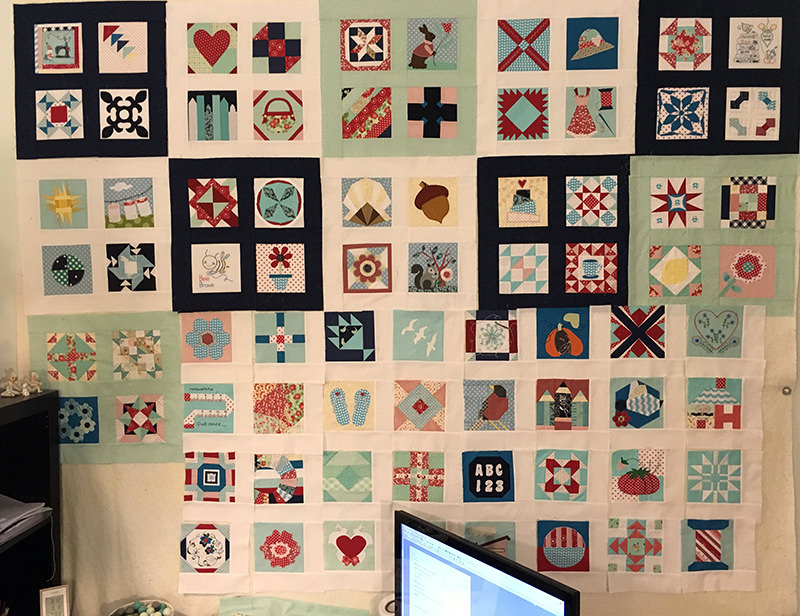 And then I said to myself, "self, let's just snap a photo of my desk and the whole wall!"
So here's my office corner of my "creative cave"!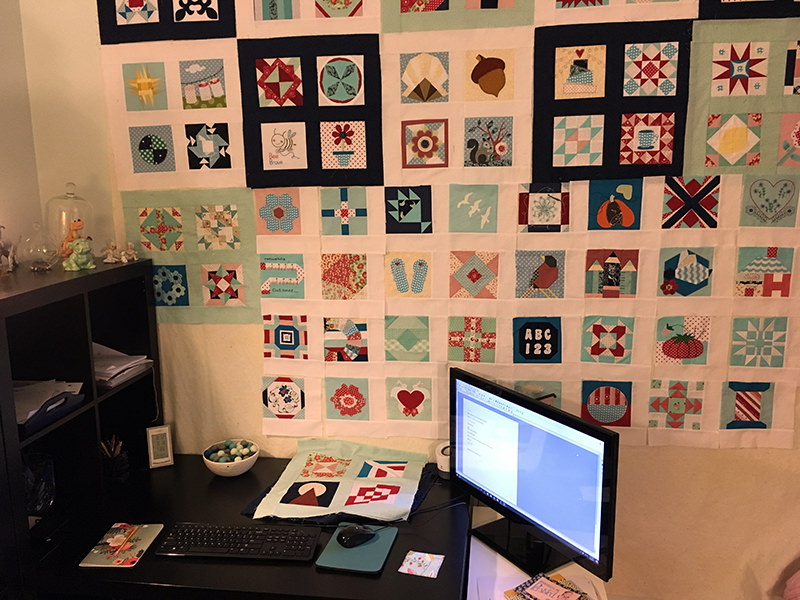 I promise to have a lot more done next week!  The school is on Spring Break so I won't be volunteering three days plus no meetings!
I really enjoy helping out at the Learning Center.  The kids are fun.  I'm starting a new sewing class for the elementary students.  "Easy Peasy" Sewing.  Oh, I'll probably eventually think of a more clever name than that.  (At least I hope I do!)
We're starting with a drawstring bag, advancing to a surprise to put in it, and then a tote.  From there I'll take direction from the kids.  I'll share with you our first project as soon as we get it finished!
I'll be back with more next week!