Splendid Sampler — Week 35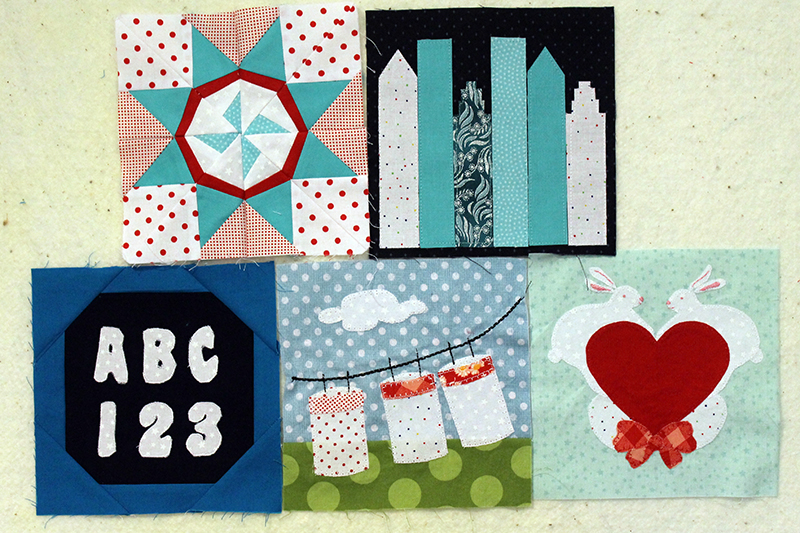 Blocks 93, 94 and 3 Bonus Blocks.
Since I really want to get the Splendid Sampler finished, quilted, and on the bed, I made three bonus blocks this week along with the two blocks that were released.
First up was Block 93 from April Rosenthal, Tiny Miracles.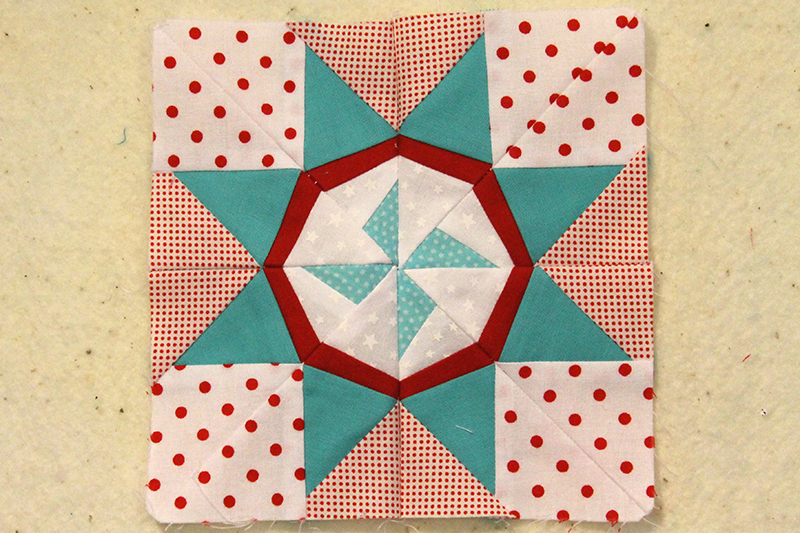 A paper-pieced block with a million tiny bits.  The instructions are not detailed but it does give the sizes of the fabric.  I marked the diagram and even colored some of it so I could get an idea where all the pieces went.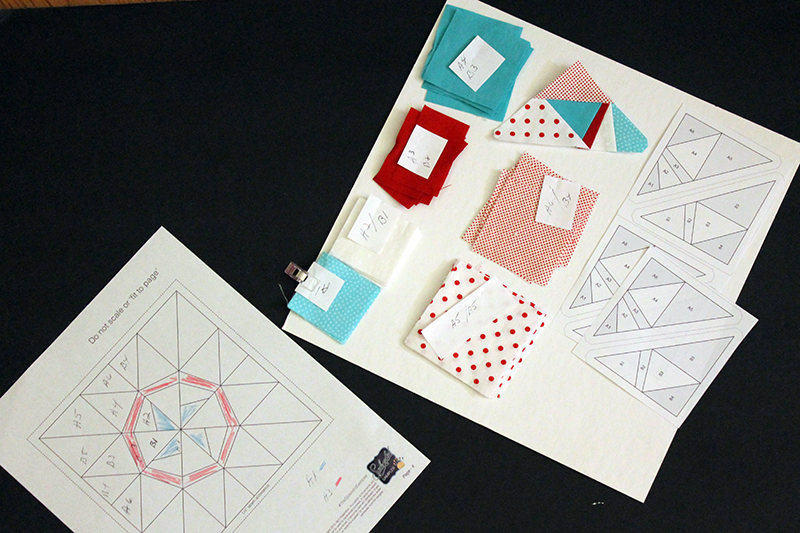 And I STILL made a mistake and had to remake one of the sections.
But it's pretty.
Skyscrapers by Stacey Lowe was next.  This one was applique so it was easy-peasy which I was really happy about since block 93 was so difficult.
The designer said that her block was inspired by the Tokyo skyline.  Mine is the skyline at night.
Million Pillowcase Challenge was introduced on August 24, 2016.  The designer was Lindsay Maryland. This block was part of a goal to have people all over the world make a pillowcase, donate it, and log that they did to reach 1 Million Pillowcases donated to charity! Pillowcases are pretty easy. I think I was in North Dakota then and by the time I got home just completely forgot about it.  Until I saw this block.  Next year.  I'll make a few extra and send in.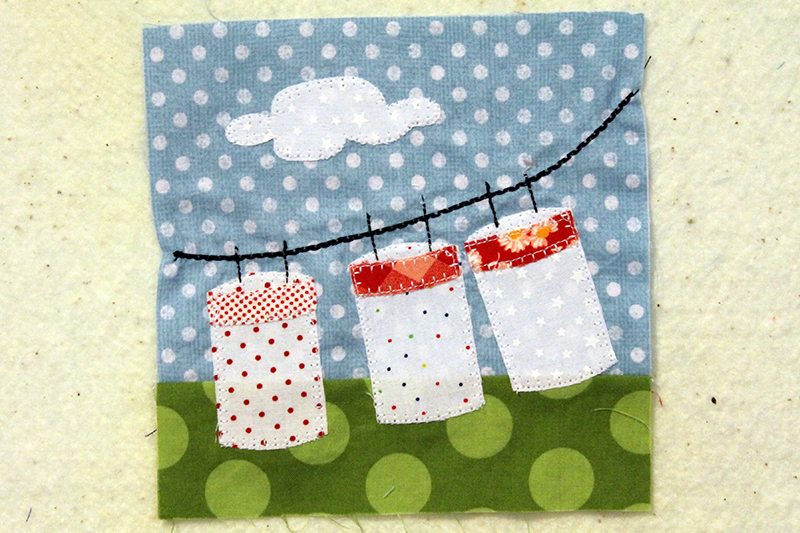 The directions called for 7″ of blue and 2 " of green.  That bit of polka dot was the first green I came across in my stash so used it.  Maybe a mistake.  Quite a bit out of the my color scheme of blue and red.  To counter the odd green shade, I made the pillowcases neutral.  The clothesline is supposed to be embroidered but I used a fancy machine stitch instead.  Which kind of gathered the fabric.  Not what I was expecting!  Guess I should have been a stabilizer behind it.  But despite all that, I like the block.
Then I did the bonus block, Back to School by Melissa Corry.  Kind of easy.  I had to read the tutorial a couple of times for the corners.  I used a little zig zag stitch around the appliques.  Outlining the holes in A and B was difficult because they were so small.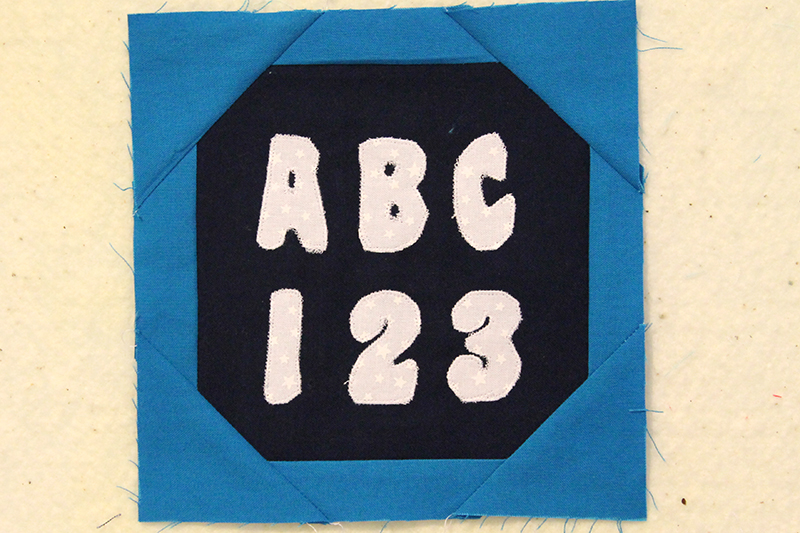 My final bonus block was Easter Bunnies. Obviously made to celebrate Easter.  There were no instructions with this one. Only the templates for the applique.  I made my bunnies white and embroidered the pink features. Cute!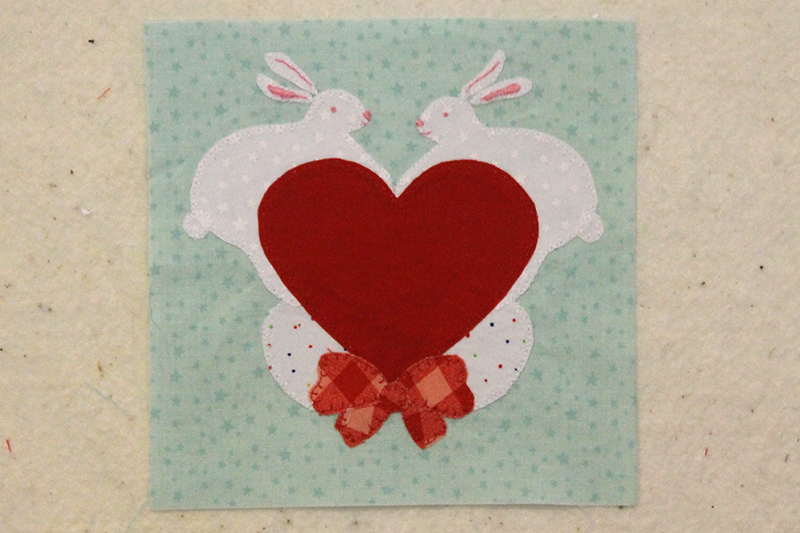 Ninety-four blocks finished along with thirteen bonus blocks!
I had to rearrange my design wall–again!  Here's the 94 blocks completed.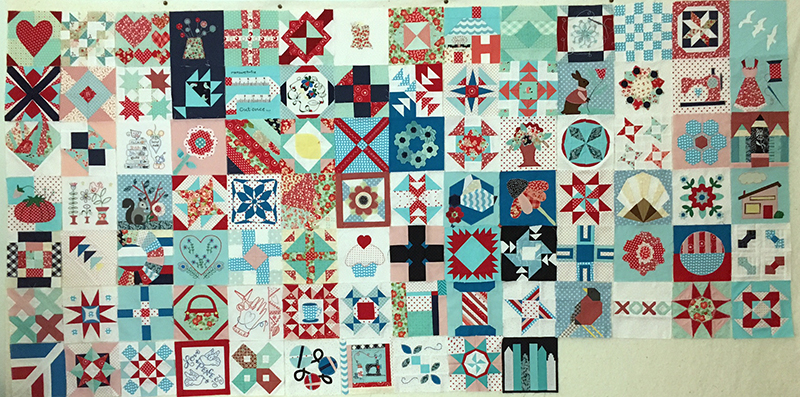 And the bonus blocks.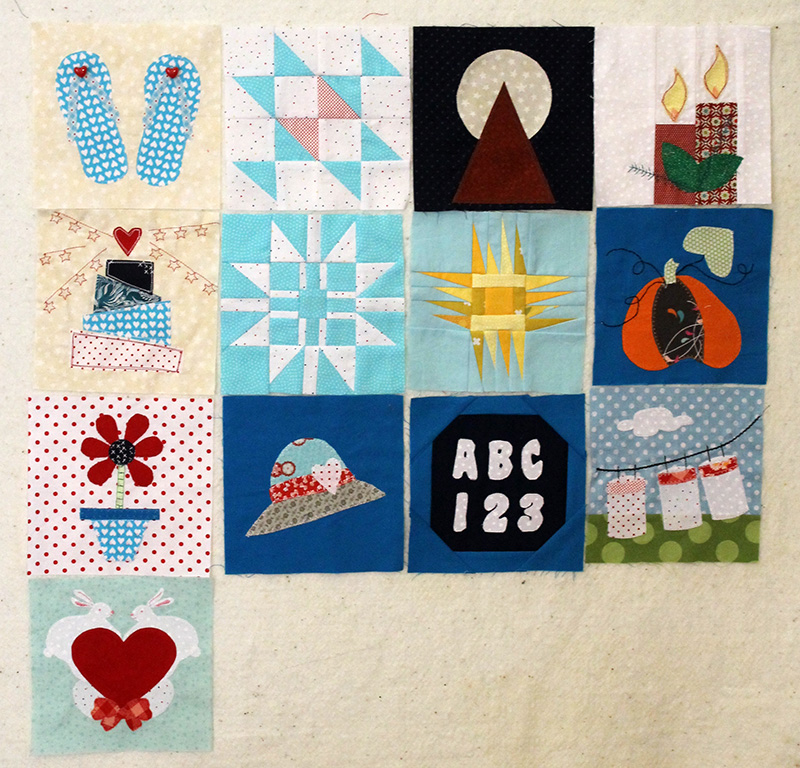 More next week!