Splendid Sampler — Week 17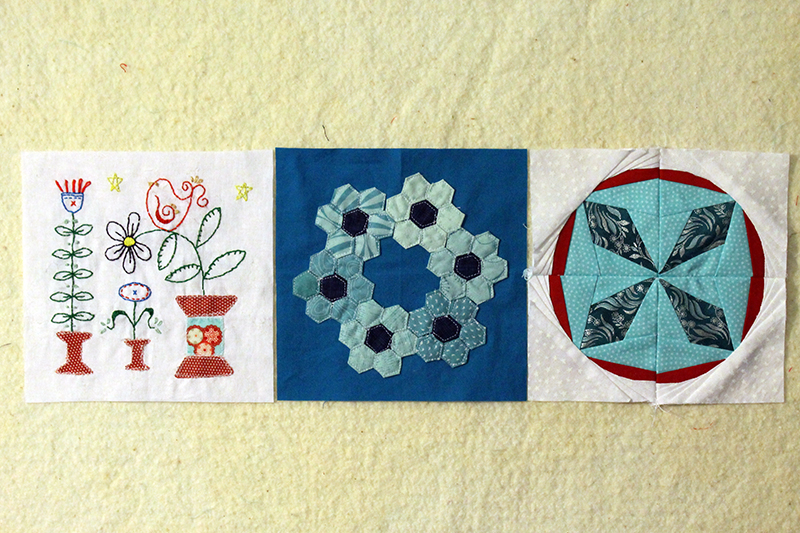 It's time for another weekly installment of THE SPLENDID SAMPLER!
Week 17.
The first 50 blocks plus 1 bonus block. FINISHED!
Woo-hoo!
First up is Block 44, Stitch in the Garden by Gail Pan.  A little applique and a lot of embroidery.  Up until this block, I've been tracing the embroidery by taping the printout on a sunny window, taping the white background on top of it then tracing with a fabric pen. This time I tried Sulky 8-1/2-Inch by 11-Inch Printable Sticky Fabri-Solvy Stabilizer, 12-Pack.   With this paper, you can actually print the design onto the Fabri-Solvy paper.  It has a peel-away self adhesive backing that just washes away when the embroidery is finished!  And it sounds easy-peasy. But……the glue didn't come off quite as easily as advertised. There is still some residue on the block.  Think I'll soak the block in soapy water next.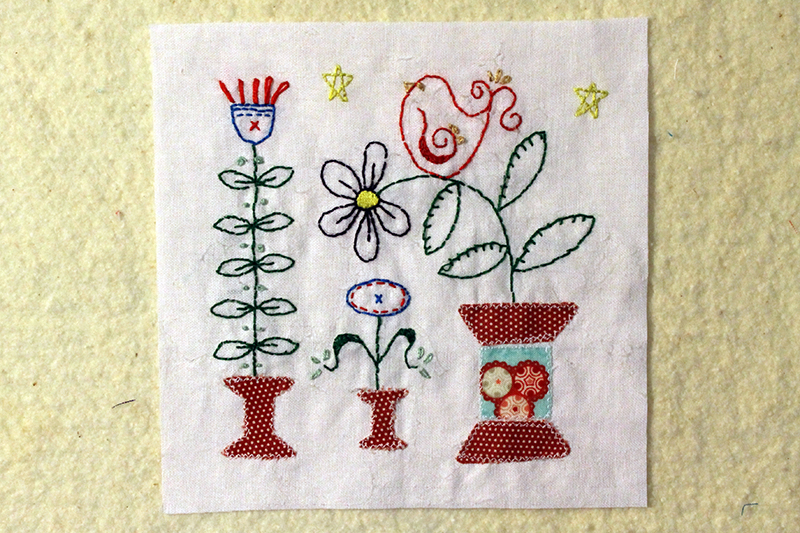 Happy news is that my embroidery is getting better.  The French Knots still give me a problem occasionally.  The instructions also called for "long stitch" on the two smaller appliqued spools.  I didn't know that stitch so looked it up and it said quick…easy….only use it for items that will hang on a wall and not get any wear.  I could just see my Jack Russell ripping those long stitches up in one of her digging frenzies while she's trying to find the perfect spot to nap on.  So I didn't put any embroidery on the spools.
I also finally finished Block 36, Inchy Hexagon Club by Jane Davidson.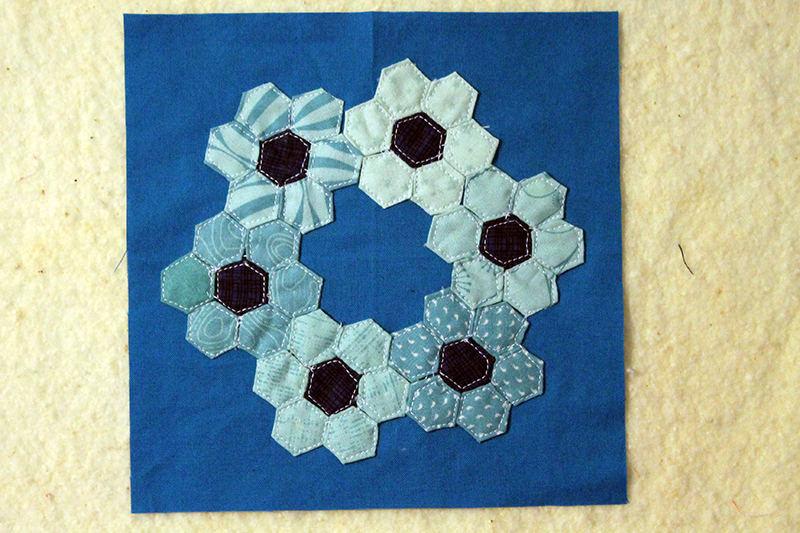 It's taken me THREE weeks to do this one.  I voted it "the block most likely to fall apart the third time I wash the quilt."  It was all hand-stitching.  Not like embroidery, but turning 3/8″ hems under on all these little one inch hexagons.  Then whip-stitching them into flowers and then into a wreath then pulling the cardboard templates out and then hand-stitching to the background.
Got as far as making the first flower.  Started the second flower and decided to pull the templates out as I stitched each little hexie.  One of the hexie's disintegrated.  Had to replace it with a similar color bit of fabric.  I was a little more careful after that and did all the little hexies and flowers then glued each flower down on the background piece to form the wreath and then machine-stitched each little hexie. Not as pretty but that block will stay together after multiple washings now.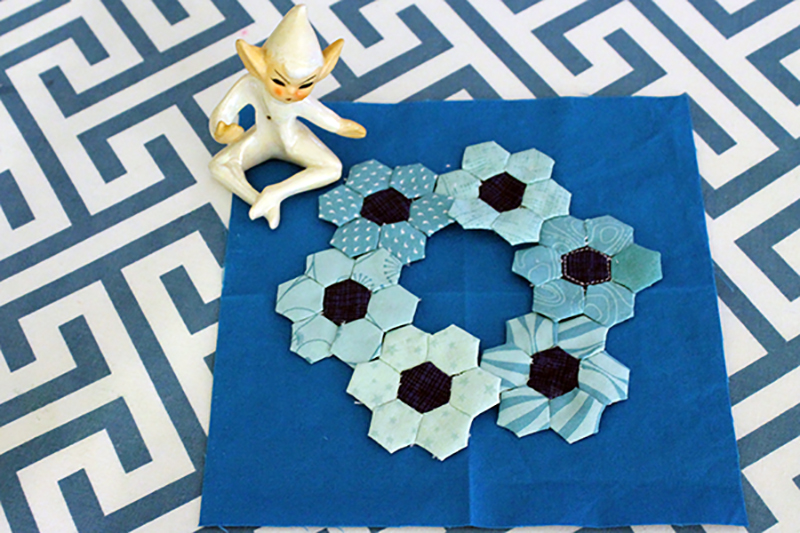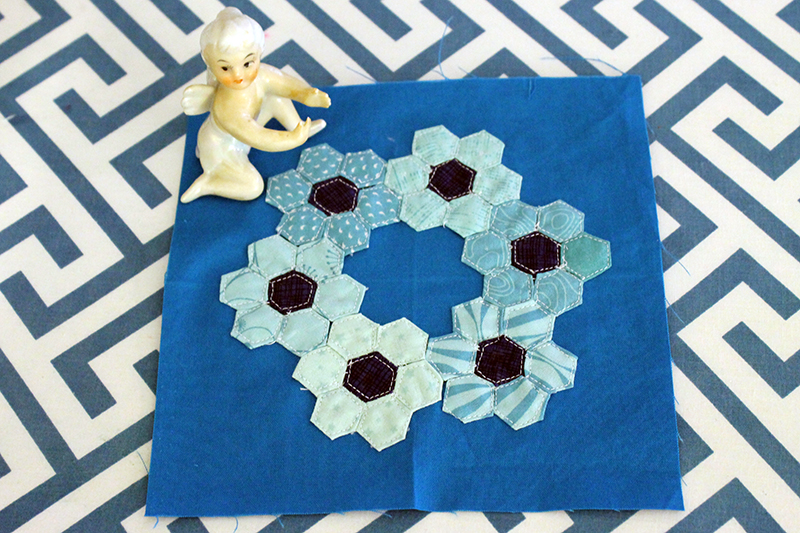 After I had already finished the block I went out searching for an easier way or at least better directions.  I came across A little Happy Place.  So much easier.  I might even make this little hexie block again just to try out her method! (just kidding–not a chance of that happening)
Then I did the VERY LAST PAPER PIECE of the first 50.  Block 39, Balls in the Air by Aylin Ozturk.  It was just as difficult as I thought it would be. My seams are little off but I am entirely okay with that on this block.  Can't go into details because my soul is still scarred. 
But I did it.  Yay!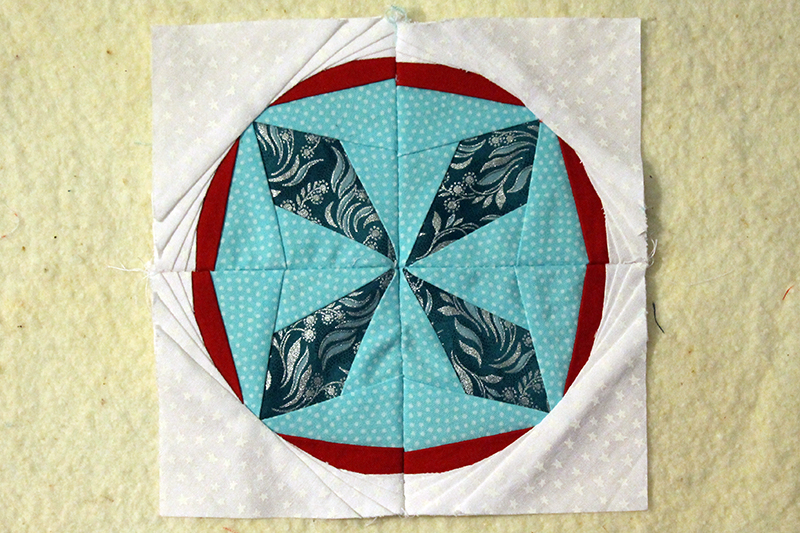 Okay.  On with the FIRST 50 BLOCK REVEAL!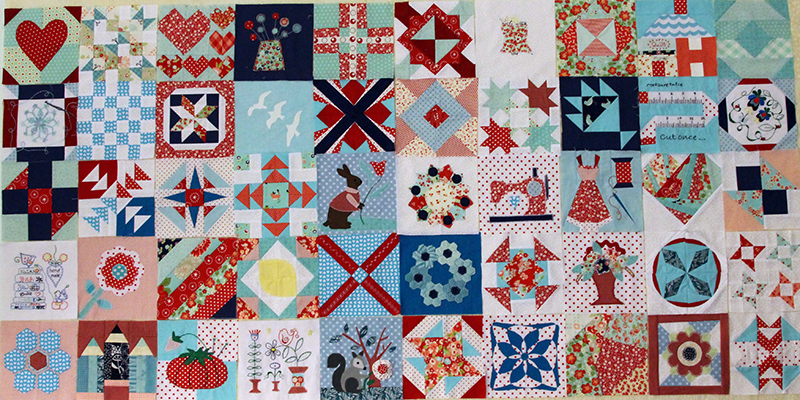 Pretty! Pretty! Pretty!