Splendid Sampler – Week 1
I decided that I was going to do it, and I did it!
I started the Splendid Sampler from Pat Sloan and Jane Davidson.
And here are the first three blocks!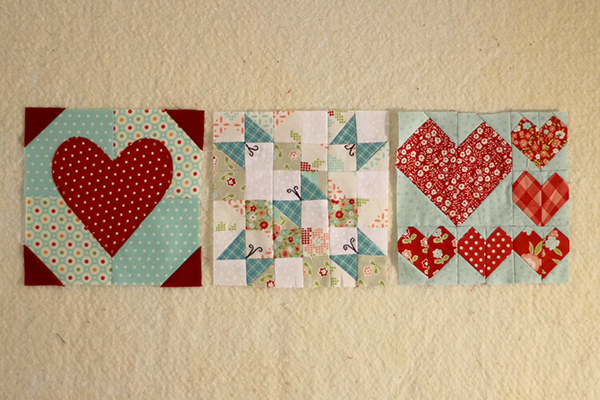 The main colors will be aqua and red.  But there are a LOT of different shades of aqua. And red.
The first block, Hearts a Flutter, was easy.
I like applique.  I used the method I ALWAYS use.  Heat 'n Bond Lite.  I used a blanket stitch around the heart. All the fabric is from Moda.  The red dot was one of the pieces from the "Vintage Picnic" charm pack.  The solid red is from a fat quarter pack of Bella solids from Moda.  The other two Moda prints were left over from some kitchen linens I did back in 2013.
These tea towels have been pinned about 100,000 times.  Seriously, I get notices from Pinterest every day.  I think pinners like the color combo.  When I get emails about them, I say "don't use rick rack on potholders.  It melts!." (Especially when my husband uses them for the cast iron skillet on the grill.  Not pretty.)
And there's an apron…
Can you believe I have any of that fabric left?  (Oh, there's more)
The next block, Wings, is a lot of little bits and pieces. Those are all 1 1/2″ squares.  Good Lord.  Tiny, tiny, tiny.
And I had to embroider!  My hand stitching is like Frankenstein stitches.  I need to work on it and there are several more blocks in the Splendid Sampler that call for hand embroidery.  Maybe I'll get better.
Most of those fabrics are from a few different Moda Charmpacks.  The white I bought at our local quilt shop for a quilt that I never started.  I'll probably use the white up before I get to that quilt!
And the third block, Lots of Love.
More tiny bits and pieces.  The background fabric is from Timeless Treasures.  The red and white flowered is a fat quarter that I got at a quilt shop.
Those tiny bits really take a long time to put together.
But I'm determined.  Three a week!