Let's Get Organized — Thread Drawer, Part 2
Like I posted last Thursday, this is my most popular pin.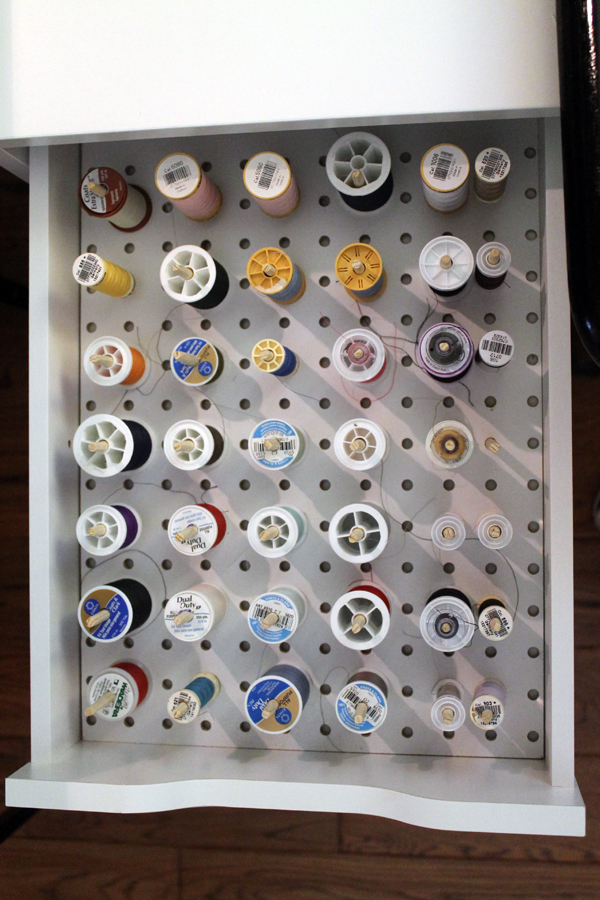 56,000 pins.  There would have been more but I moved it from my other website to this one.  Lost all the original pins when I did that.
Anyhow, I kept getting comments about using golf tees instead of dowels.  Hmmmmmm. I'm always looking for better ideas. So Terry bought me some 3 1/4″ tees a few weeks ago.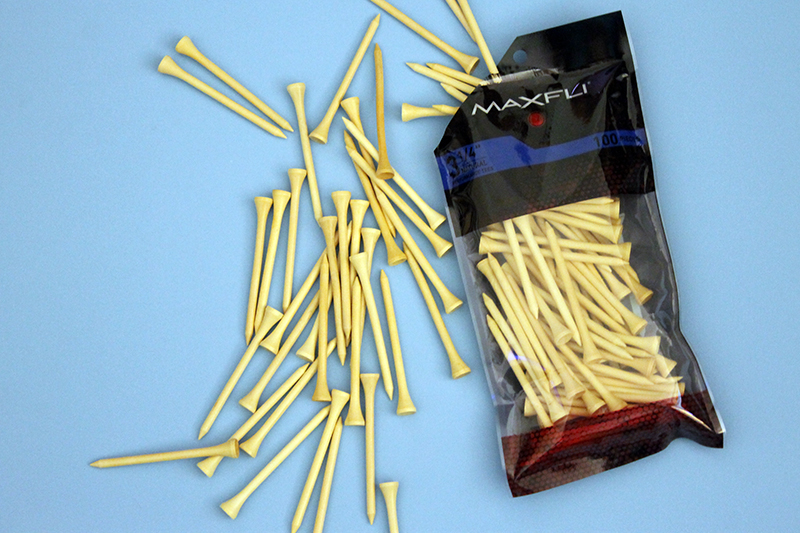 And I pondered how to use the golf tees….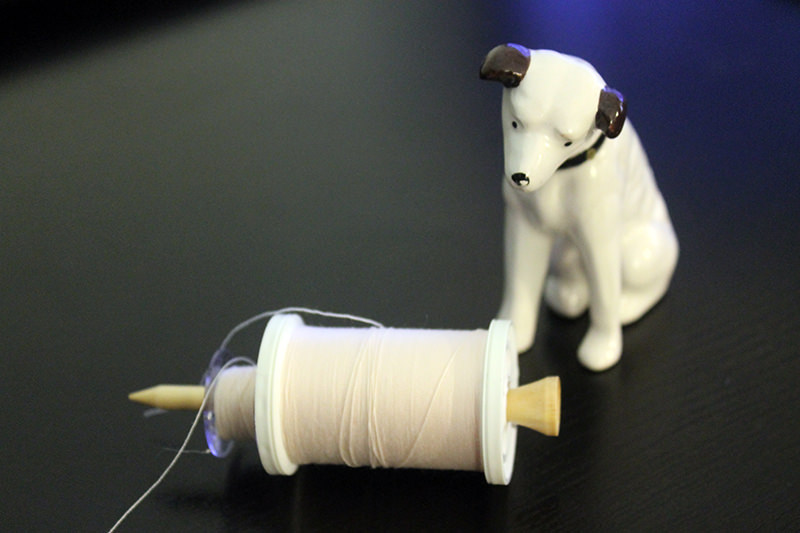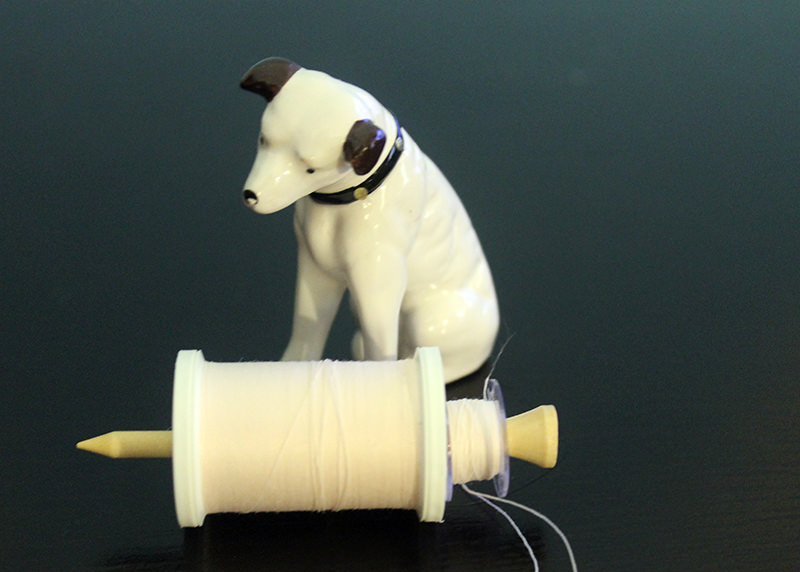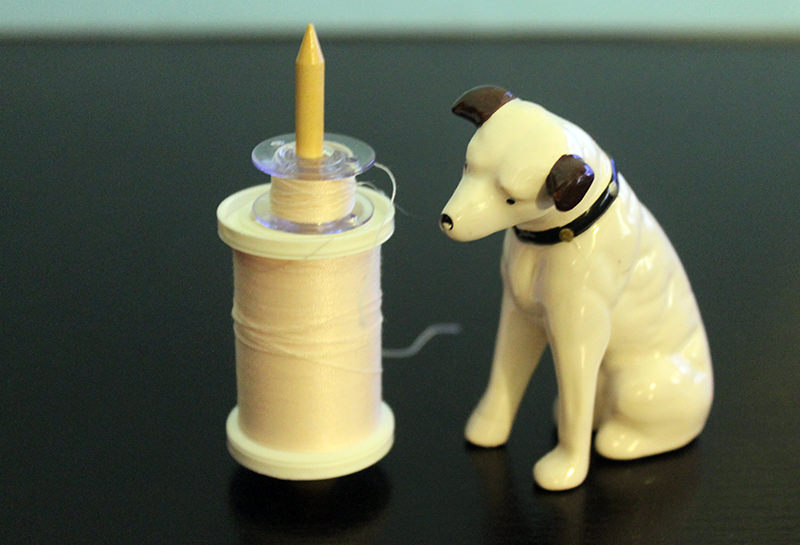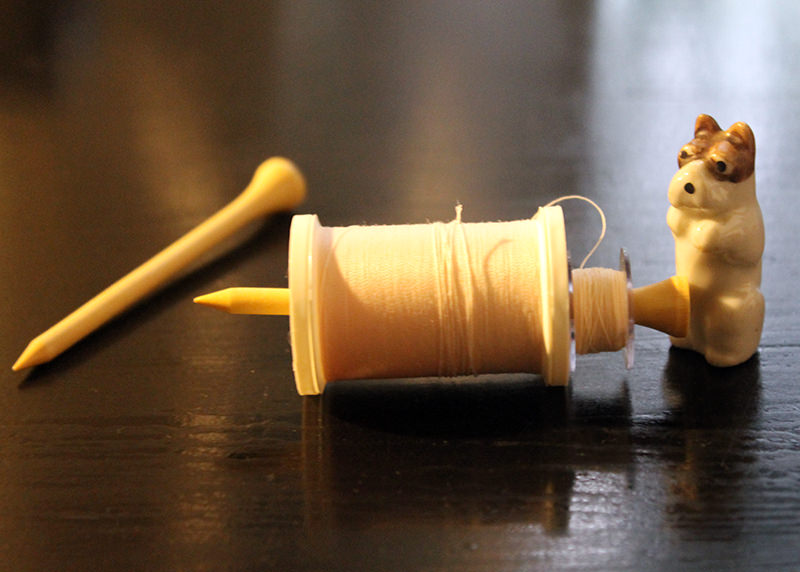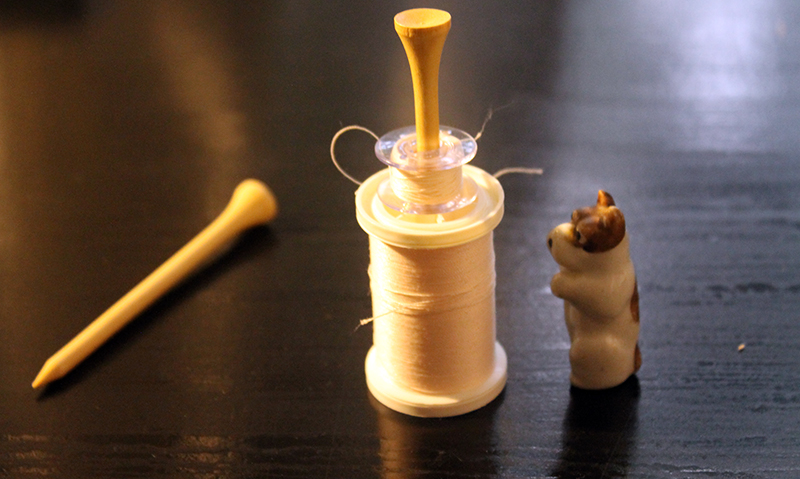 I found some pegboard in the shed.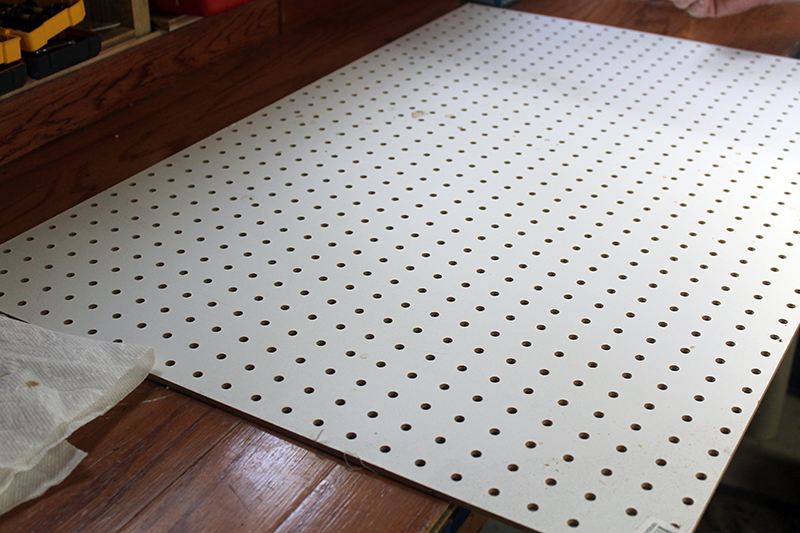 Don't know how it got there. At first I thought it was left over from our first thread drawer but there weren't any cuts on it.  Brand new.   We don't keep excess building materials.  Goes to places like ReStore for Habitat for Humanity or into the trash.  Seriously.  But there it was! Guess the DIY fairy put it there just for this project!
Terry suggested we cut the tips off of the golf tees and glue them into the pegboard holes.  I said no, this is supposed to be easy-peasy.  Something I could do, and I'm not cutting off golf tees.
We took the drawer out to his garage and he cut the pegboard down to fit inside.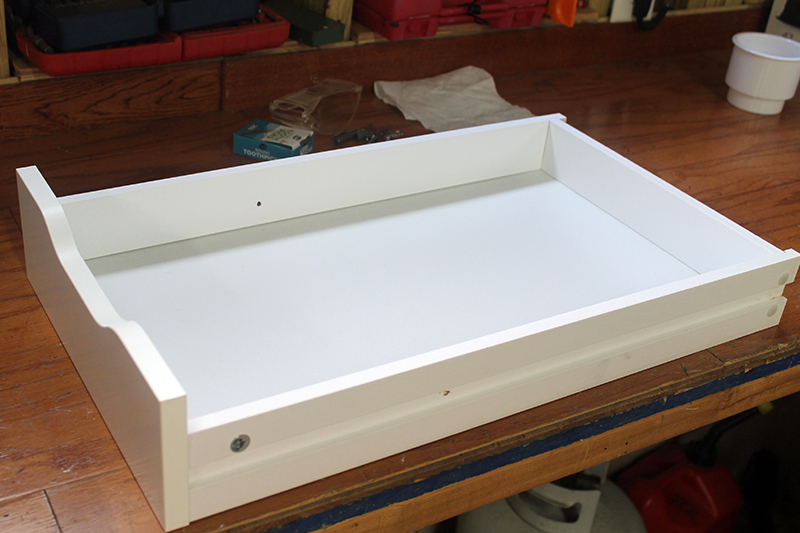 Now, I gotta tell you, I am terrified of power tools.  No problem with the electric sander but those spinning sharp things. Nope.  Staying away.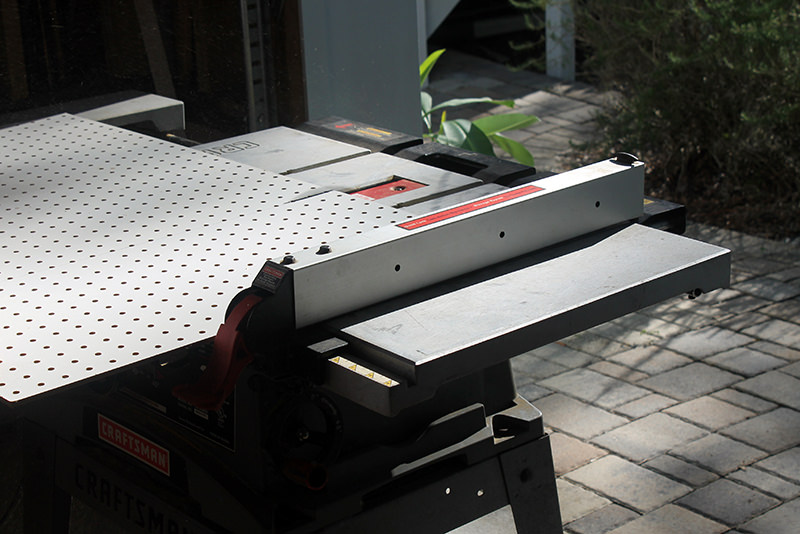 Rather than cutting each of those tees, we came up with the brilliant idea to just pop them into the wrong side of the pegboard and turn right side.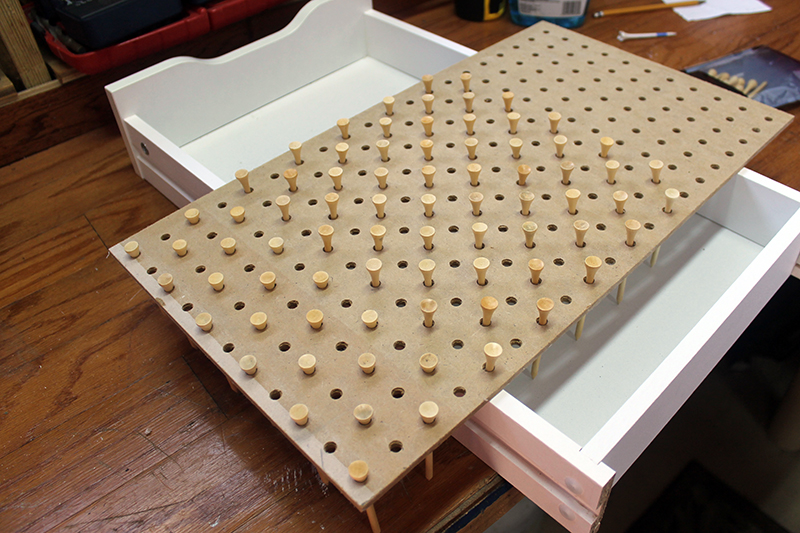 Which, of course didin't work, because the tees were all wonky.  Wood glue was required.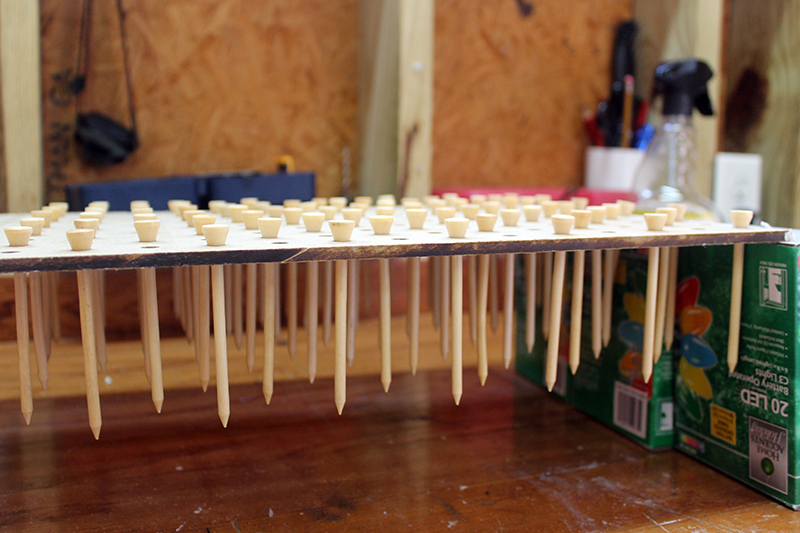 My brilliant idea was just to smear glue on the pegboard around each tee.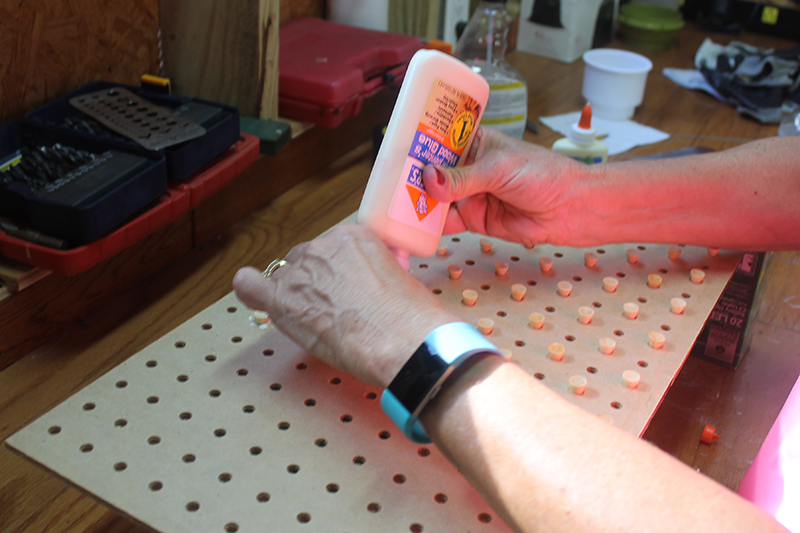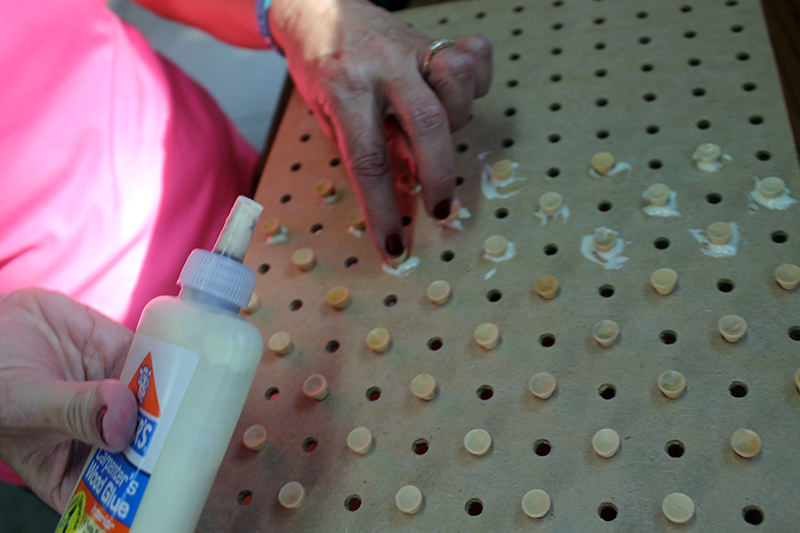 Fortunately my very bright husband came up with a better method!  We did each tee individually and stuck it into the pegbaord.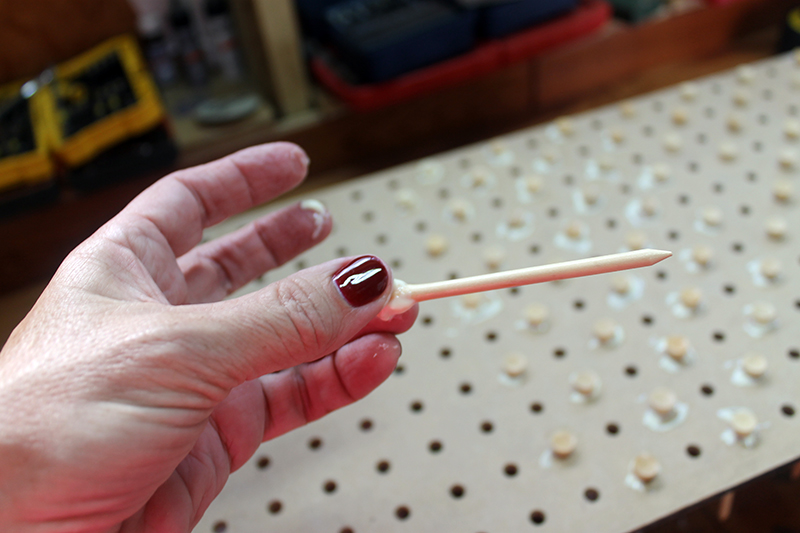 You can easily tell which ones were done with my idea!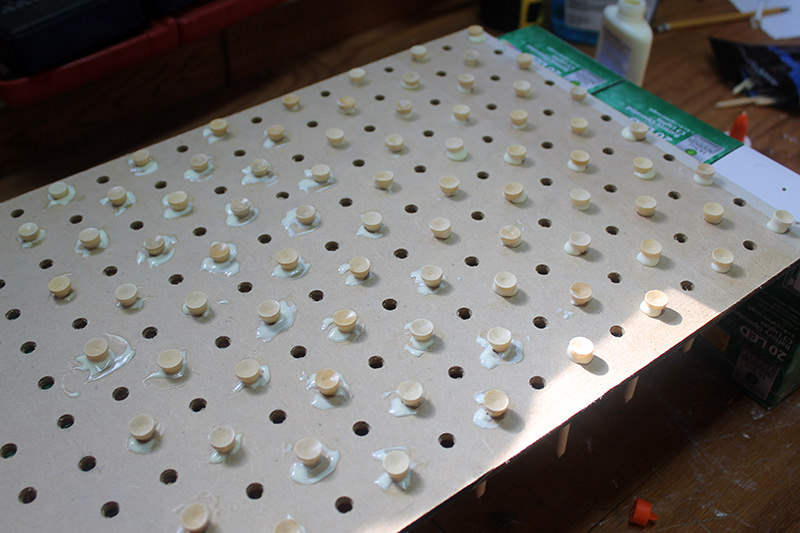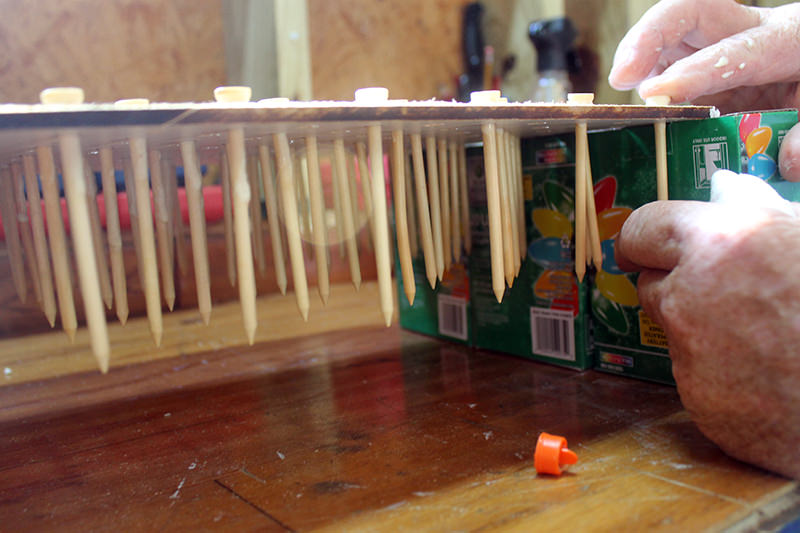 Then we left them set for a couple hours and flipped them over to make sure they were all kind of straight.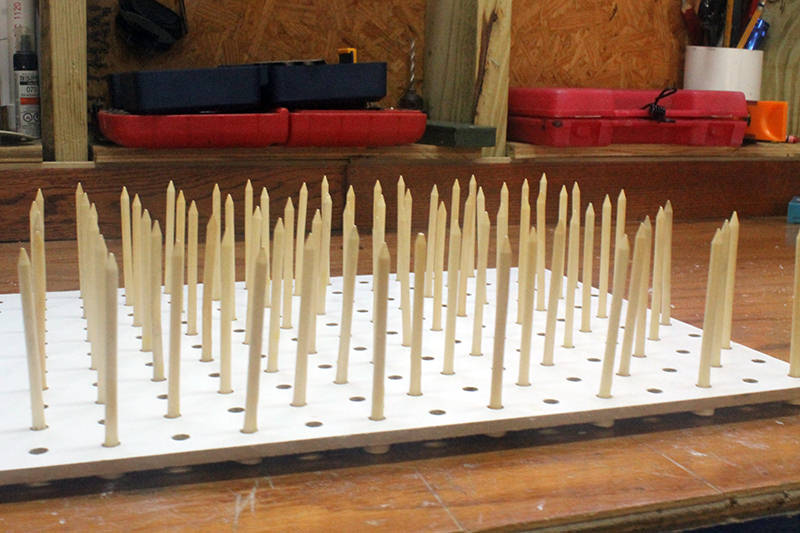 Some of the tees were bent a bit after the gluing.  (Terry claims that they had to be bent before but I checked everyone of those guys to make sure they were perfectly straight before I glued them.)
Then we popped the pegboard into the drawer.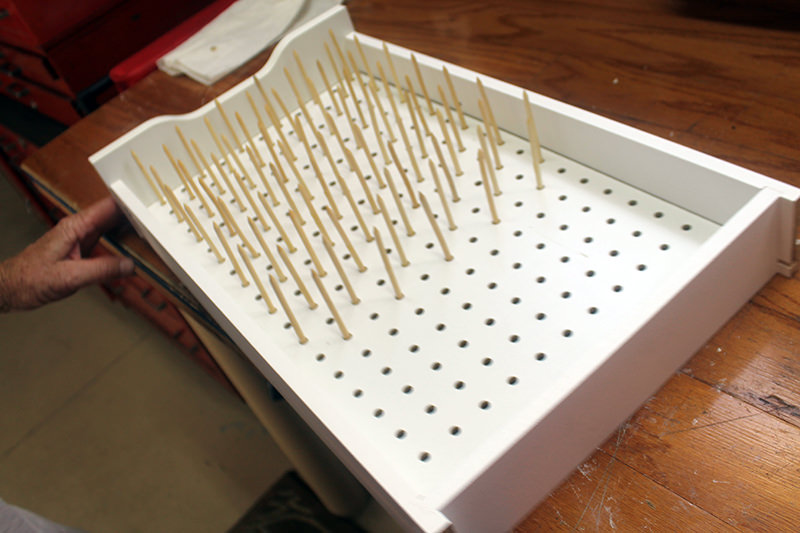 You'll note that there is wasted space in the back of the drawer because that's as far as the drawer pulls out.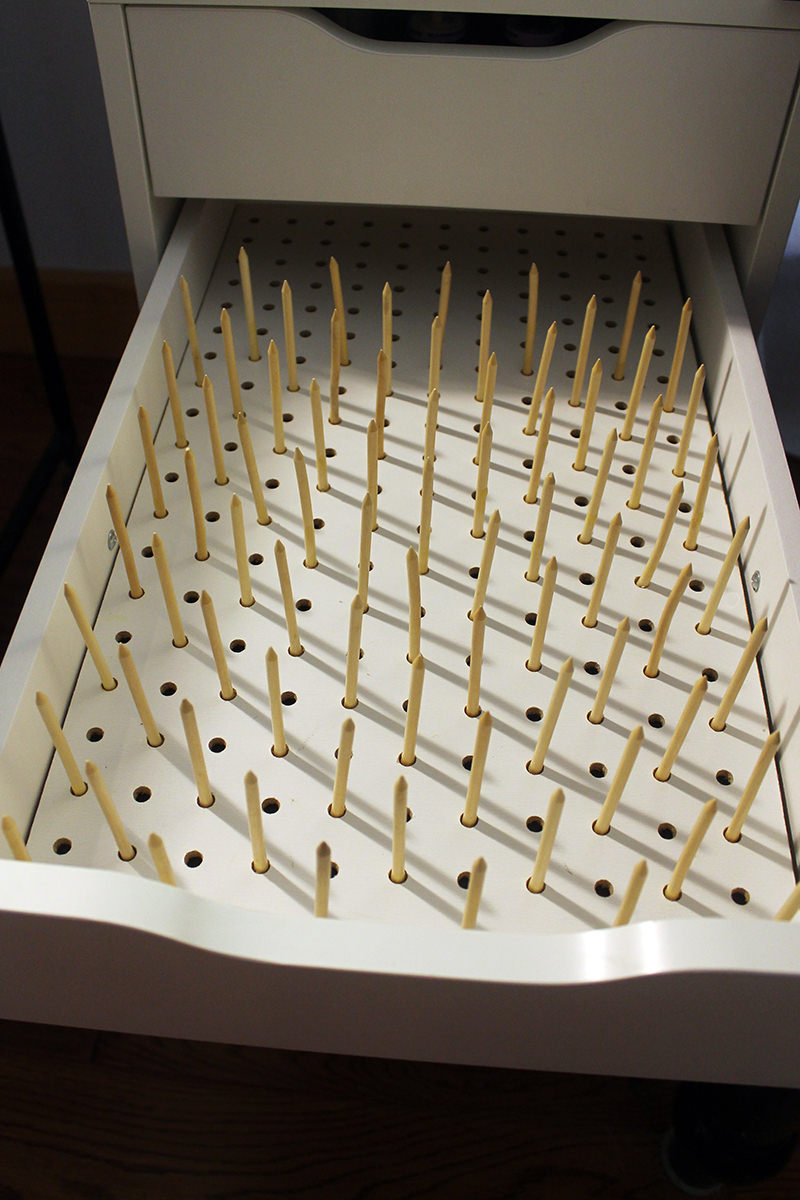 There's enough tees there for 77 spools of thread with their matching bobbins.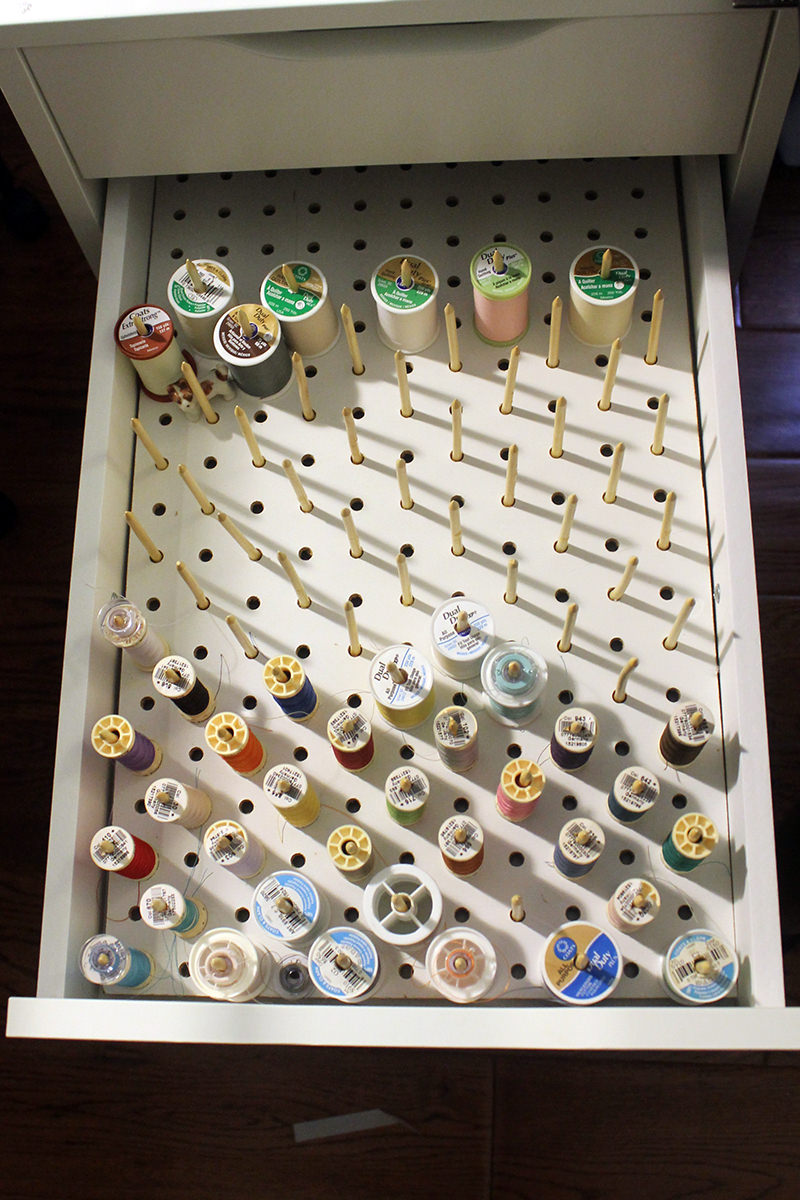 I'm keeping my polyester and special threads in this drawer.
Here's the original drawer with the cotton quilting threads.  I have plenty of room to BUY MORE thread!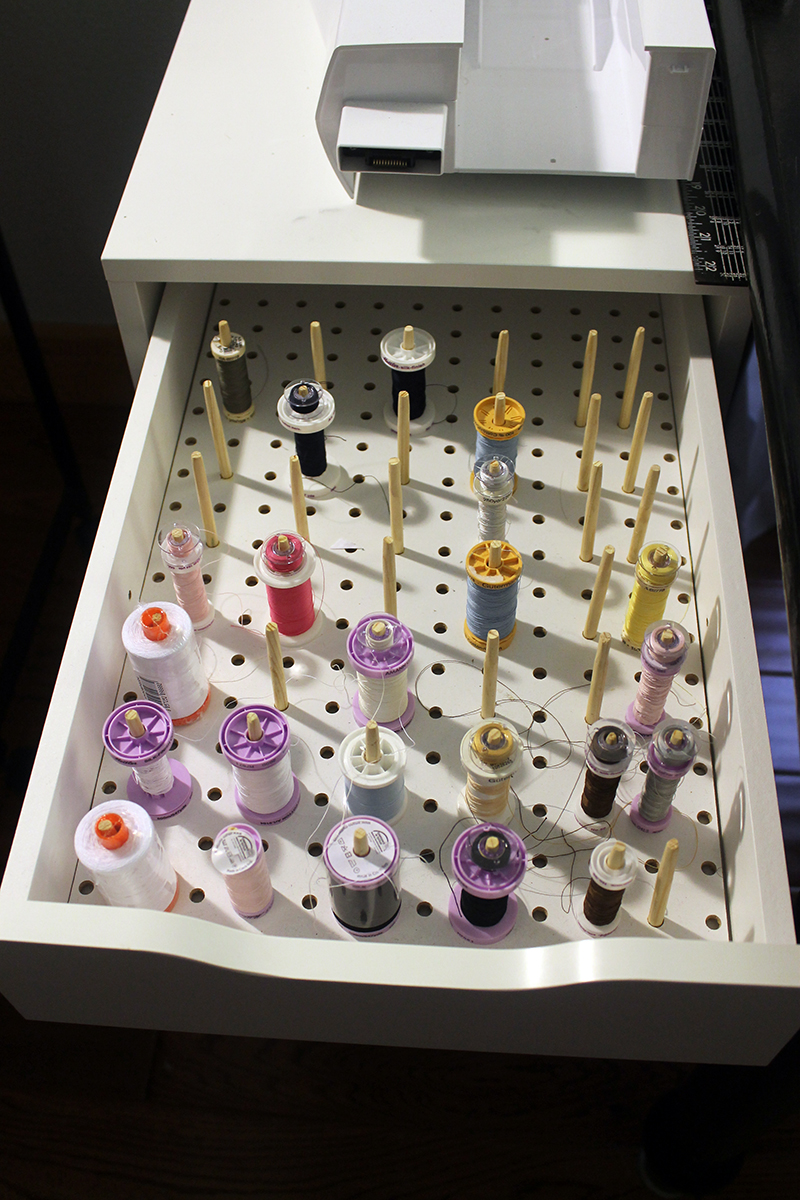 I don't use my embroidery attachment very often so I've decided to just leave the threads in the little cardboard tray they came in.  Besides, there's only one bobbin for embroidery so I don't need to match the colors.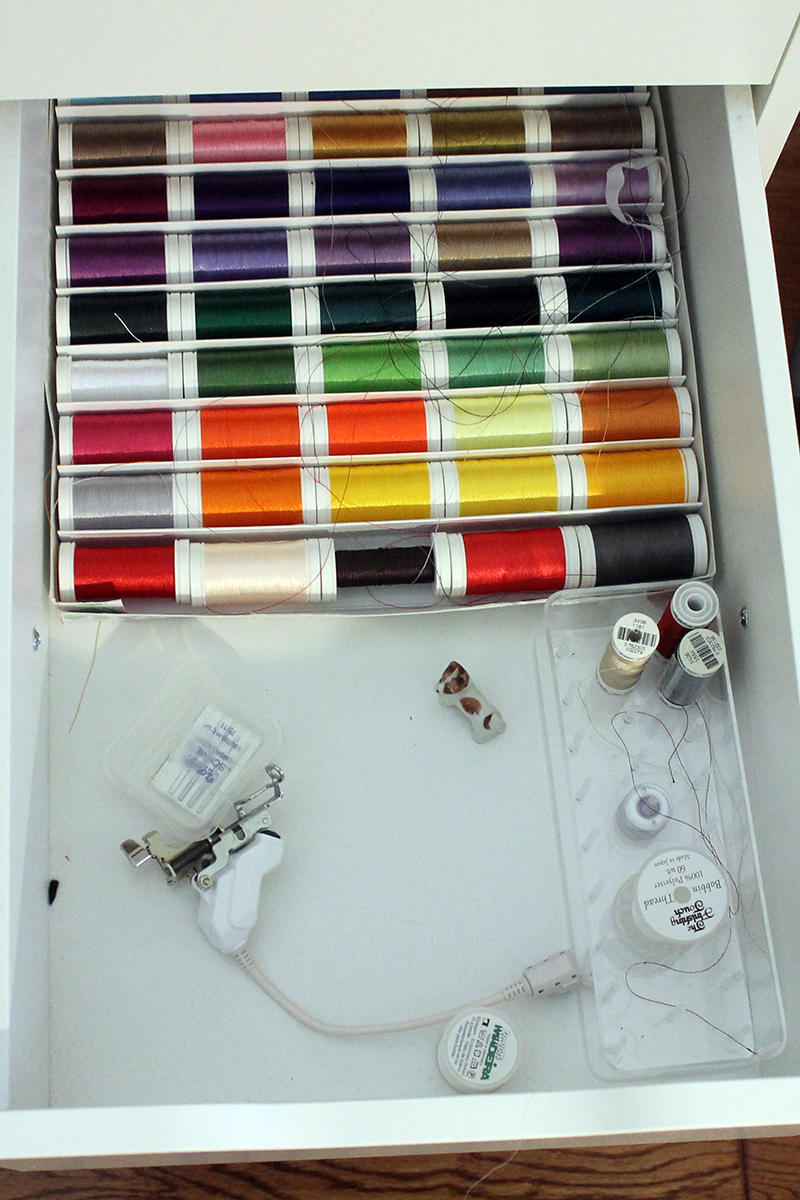 And that's what we came up with for using golf tees for thread organization.
I've been asked several times what size we cut the pegboard to but I didn't include that because this idea can be used in any type of drawer–not just the Ikea Alex.  One commentor said that she used a similar cabinet from Martha Stewart but used mat board cut to fit into the drawers then glued the golf tees down on that.  Brilliant!  No power tools needed!
This was a fun project–mostly because so many people had such great ideas!  Thanks for your input!