I was thinking about making quilts for all the grandkids.  But then I started thinking about how many that would be.  Zowie.  So many grandchildren, so many quilts.  I already made one for Piper last year.  And I finally finished one for Riley, the oldest.  As a 14-year-old, a quilt from Grandma is probably the last thing he wants.  Too late, it's made and delivered!  A very manly denim quilt made from old jeans.  Some of them were Riley's! I even reused some of the old pockets. Which I think is very cool.  But I'm not 14.
I turned to Pinterest for some ideas and pinned just about every denim quilt available out there.  But wasn't really happy with any of the designs. I had made a log cabin pillow a few years ago and was disappointed with it.  The denim just kind of melded into one big blue color.
Then I found this one from I Quilt for Fun blog.
I changed the block design but used the black sashing concept and this is what I created.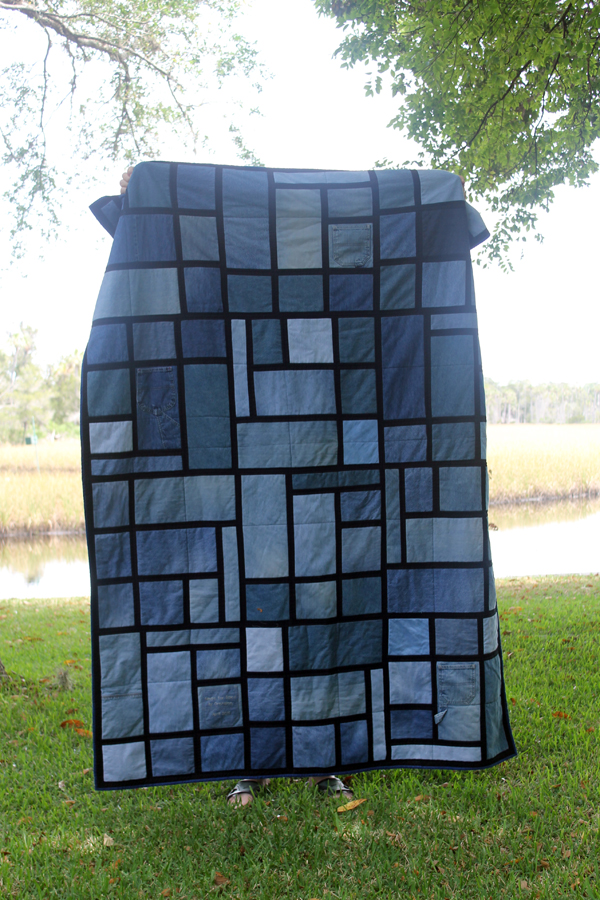 I just used very simple straight line quilting since I didn't think Riley would like a bunch of flowers or hearts on it.
Here's another photo…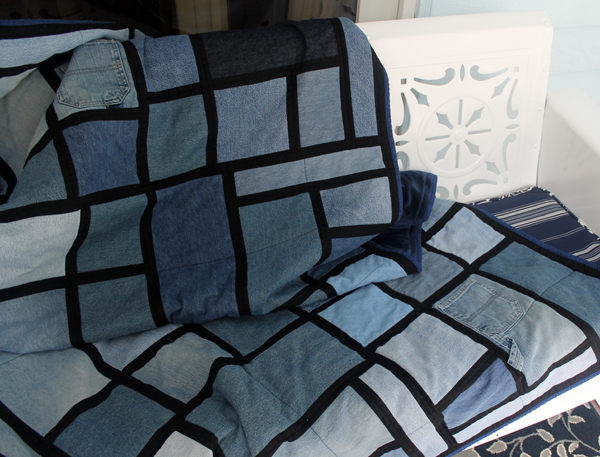 I used one yard of Timeless Treasures Sketch Navy for the binding and had enough left to make a matching pillowcase. It has a slight hatch pattern to it.  Very pretty–but masculine! I wanted the backing to be nice and soft and warm (Riley lives in North Dakota (brrrrrr)) so I used a navy blue Minky. Because this selection is 90″ wide, I only needed 2 yards.  By the way, that was really warm to quilt with during the heat wave we had this Spring.  In the future, I'll only be quilting with Minky in the Winter!  I also bought black fabric at the local quilt shop for the sashing.  I can't find my receipt so I can't tell you what it was or how much I bought but I'm guessing at least two yards.  The batting is Warm & Natural Cotton Batting Twin Sized.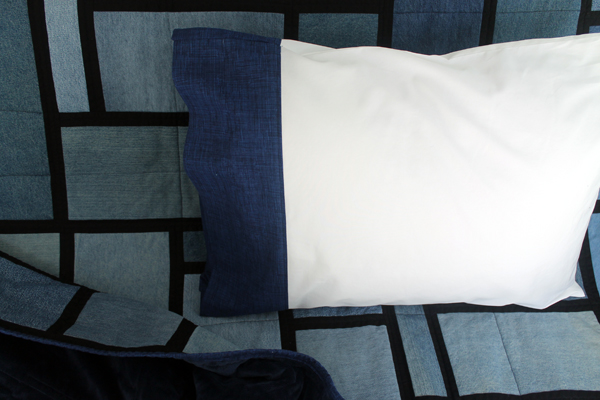 And when I gave it to Riley, he kind of gave me a half hug and said thanks!
Wow!  I'm a lucky grandma!
And here is how I made it!
The "Denim Quilt for Riley" measures 64″ x 85″.  Three 20″ blocks across x four 20″ blocks down separated with 1″ black sashing.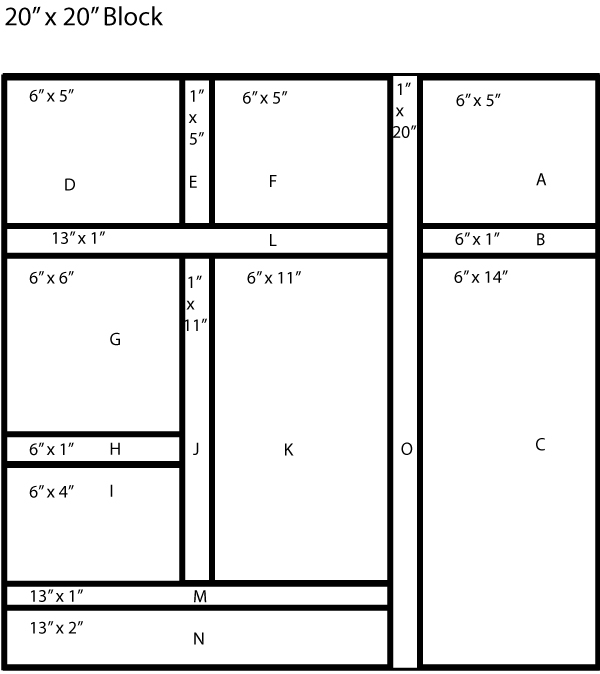 I've used 1/4″ seams and for each 20″ block you will need:
Denim Pieces
3              6 ½" x 5 ½"          (A, D, F)
1              6 ½" x 6 ½"          (G)
1              6 ½" x 11 ½"        (K)
1              6 ½" x 4 ½"          (I)
1              6 ½" x 14 ½"        (C)
1              13 ½" x 2 ½"        (N)
Black Sashing
1              1 ½" x 5 ½"          (E)
2              1 ½" x 6 ½"          (B, H)
1              1 ½" x 20 ½"        (O)
2              1 ½" x 13 ½"        (L, M)
1              1 ½" x 11 ½"        (J)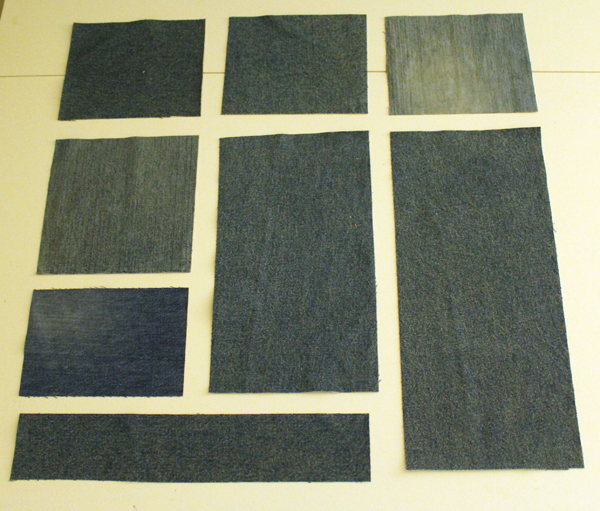 Now it's time to sew the pieces together. I've made some handy dandy diagrams for assistance.
Sew pieces A, B, and C together.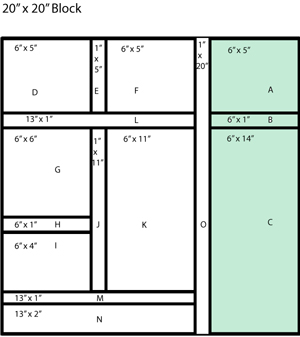 Sew pieces D,E, and F together.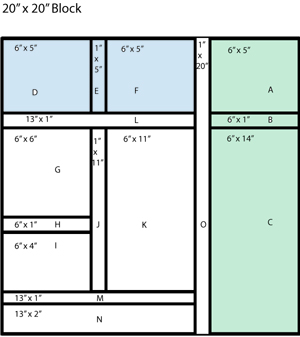 Sew L to the bottom of D,E,F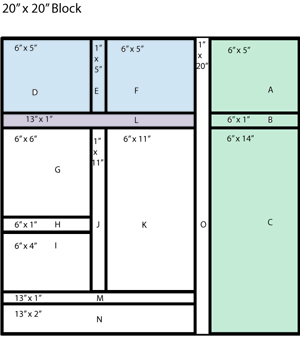 Sew G,H, and I together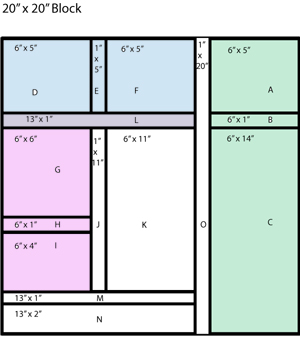 Sew J to side of G,H,I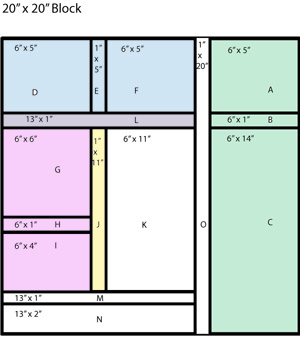 Sew K to J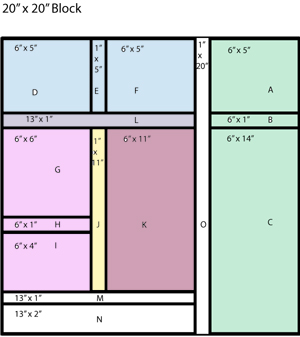 Sew M to the bottom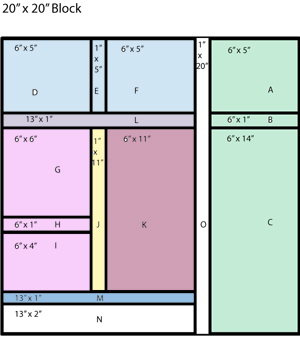 Sew N to the bottom of that piece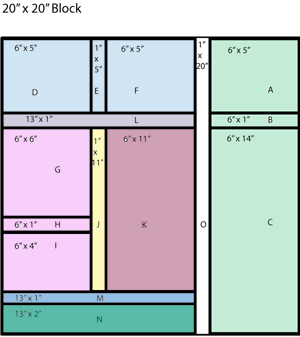 Now sew all of those pieces to the D,E,F pieces and bring everything together by sewing O on both sides.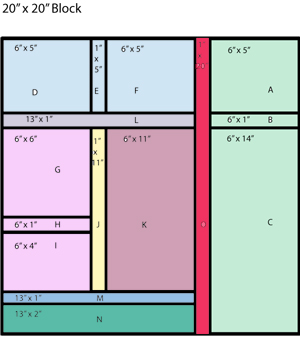 I then laid all the completed blocks on the floor and decided how I wanted them arranged.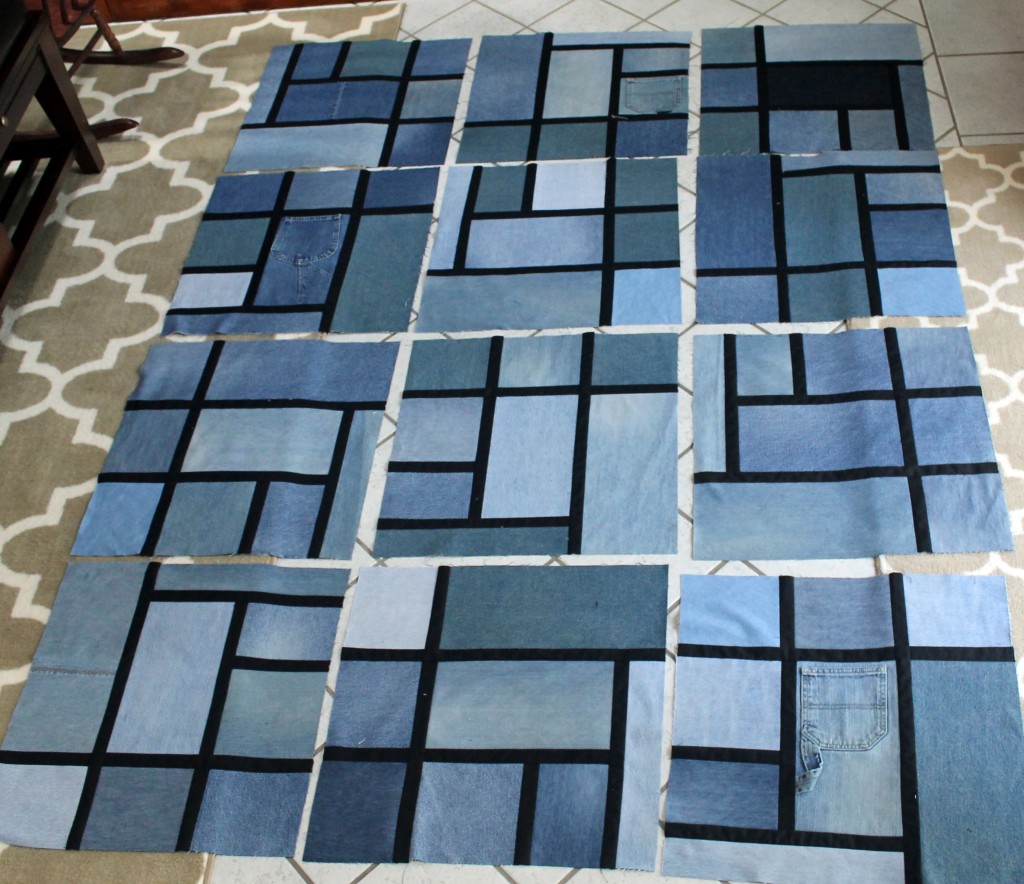 The block is rotated in a regular sequence to create the design. Note the the C piece which is aqua and you can follow the progression.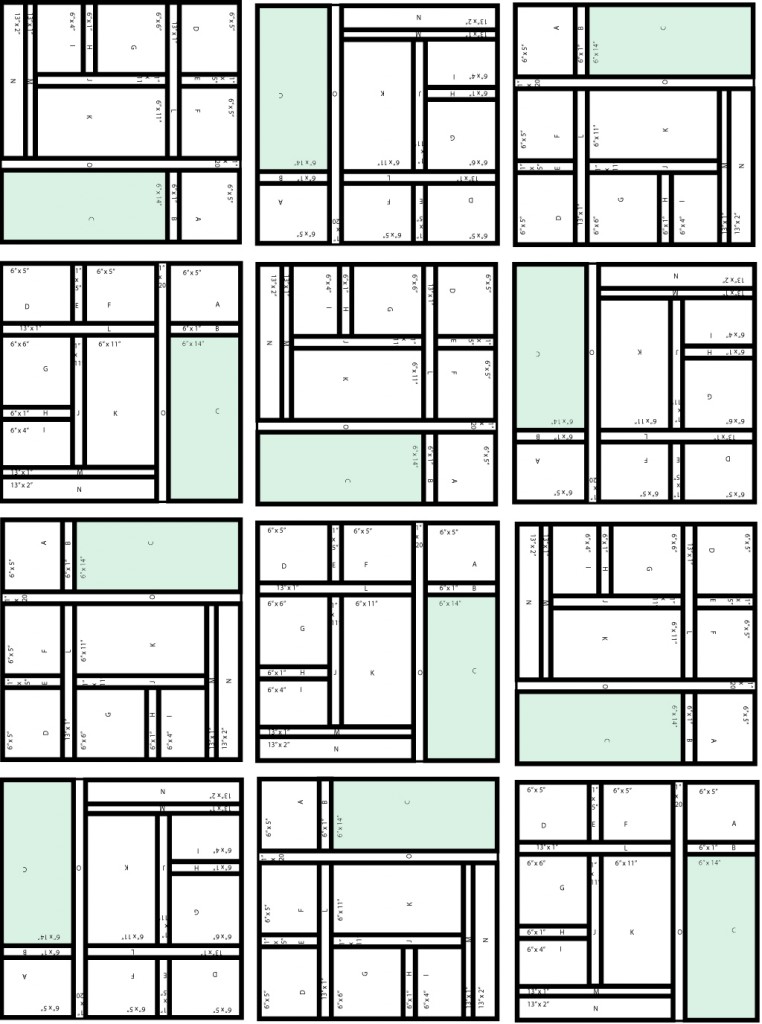 Now bring it all together with the black sashing between the blocks.
You'll need
16           20 ½" x 1 ½"  pieces
5              64 ½" x  1 ½" pieces
Add the shorter pieces between each block in a row and on both side ends.  Next put the longer pieces on the top, between each row, and on the bottom.
Baste, Quilt, Bind. Done!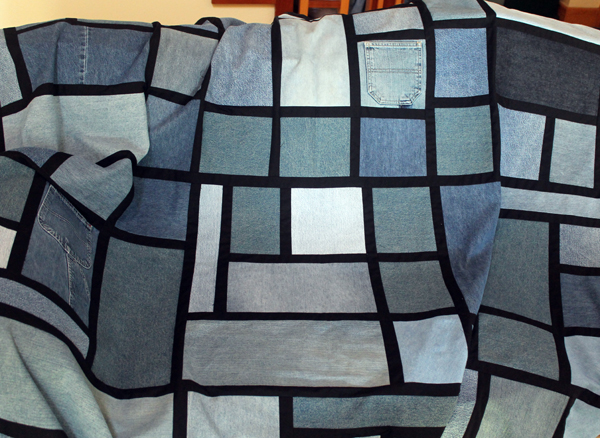 If you have any questions, email or leave a comment!
Kathy