As I mentioned in last week's post about renovating the basement, here's some projects that I thought I'd talk about.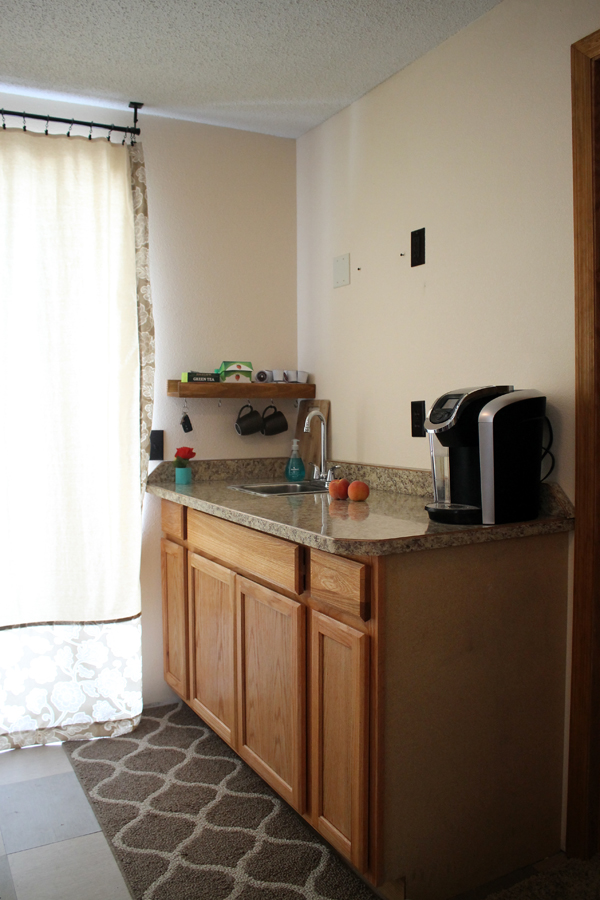 Storage and organization was a top priority.  We had a dresser plus a hall closet so clothes storage wasn't a problem.  But there's all that other stuff!  Like food, totes, hats, dog accessories!
I found this cart at Target on sale.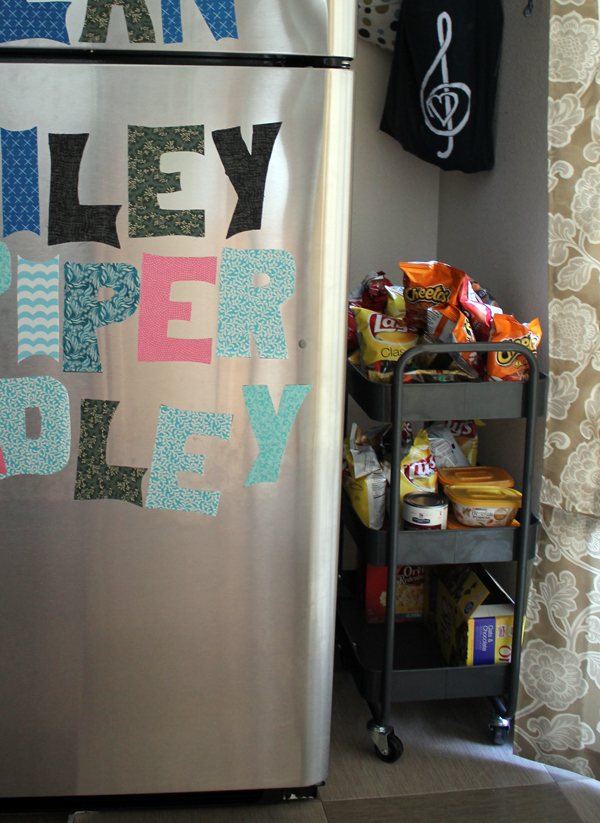 It fit perfectly into that small space by the fridge.  I loved that we could just roll it out.  Very convenient.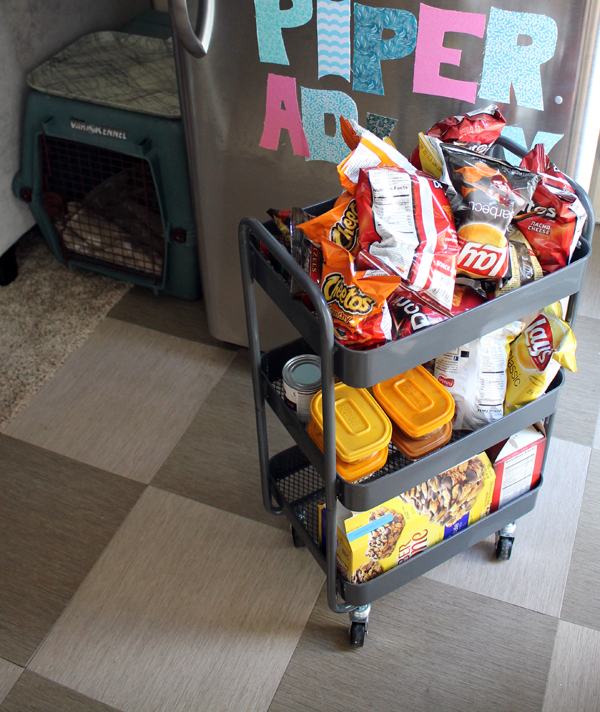 Unfortunately, Adley thought it was convenient, too.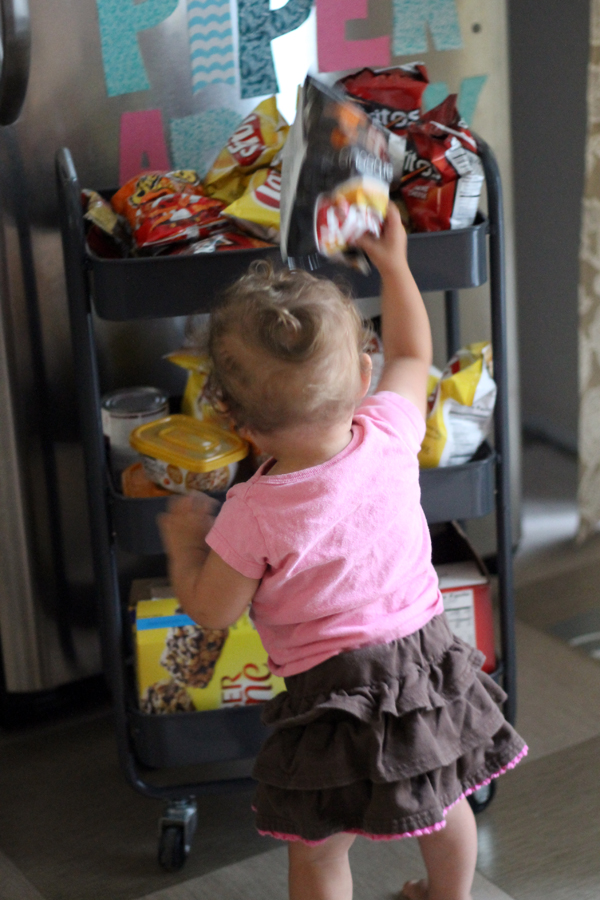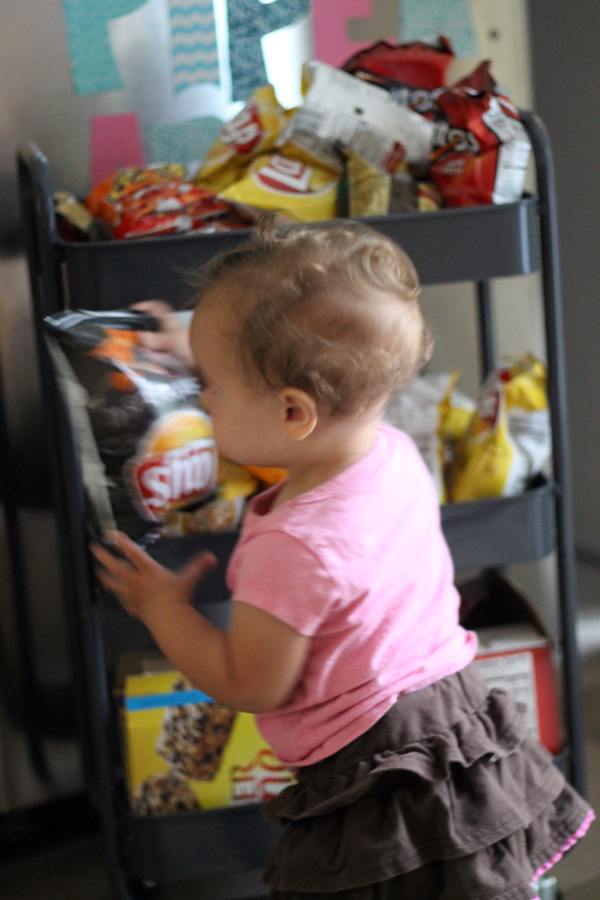 I love hook racks.  I have them all over the Florida house.  In the basement I wanted to hang my totes, hats, and Maggie's leash by the door for convenience.  We checked out hook racks at Target, Lowe's and Menard's but none of them had the appropriate wood stain.  Finally I suggested we take some of the leftover door framing wood from last year and create our own.  We bought the oil-rubbed bronze hooks at Menards.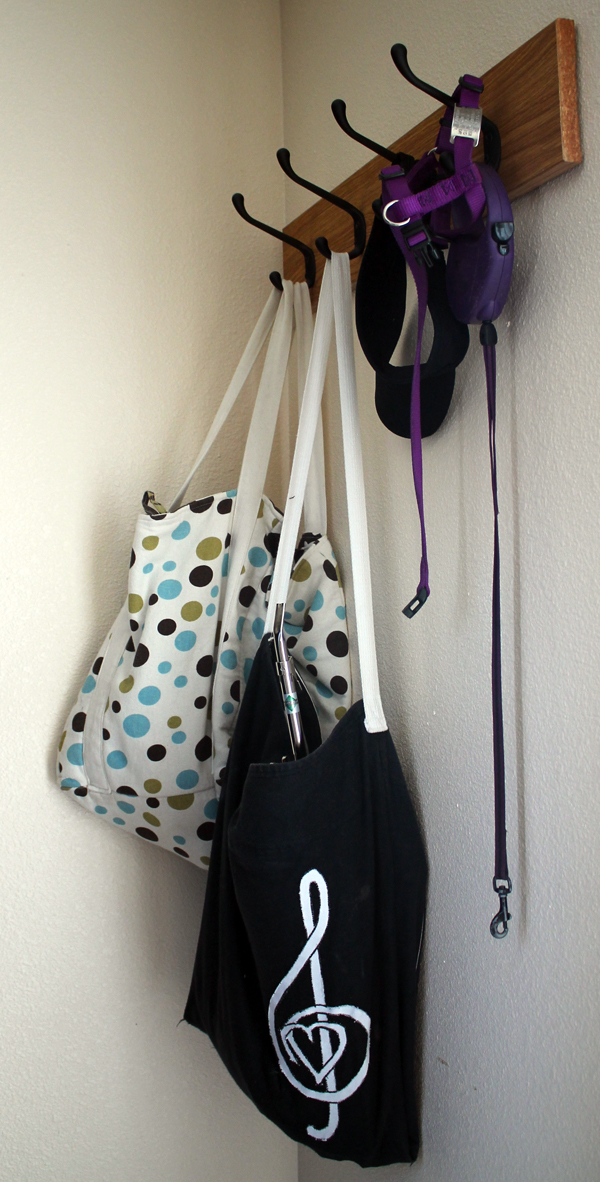 One more clever organization project was my little coffee shelf.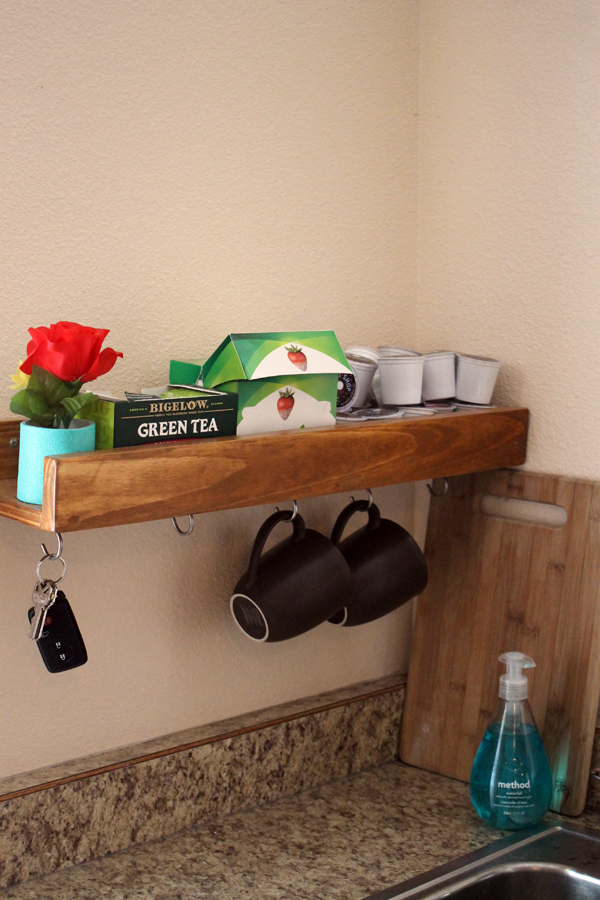 I was going through all of the discards from making the window casements.  After a few days of pondering what we could do with this nice lumber, I said "Terry, I have a great idea".
He already had made me two shelves for my office and one for the bathroom at our Florida home.  So he whipped this up for me.  I stained it.  He hung it.  There's five hooks for coffee cups and keys.
After organization, bringing the colors together was my next priority.  We bought that gray sofa and put it in the suite which was all beige, taupes and creams.  Worse, the sofa looked baby blue after it was delivered.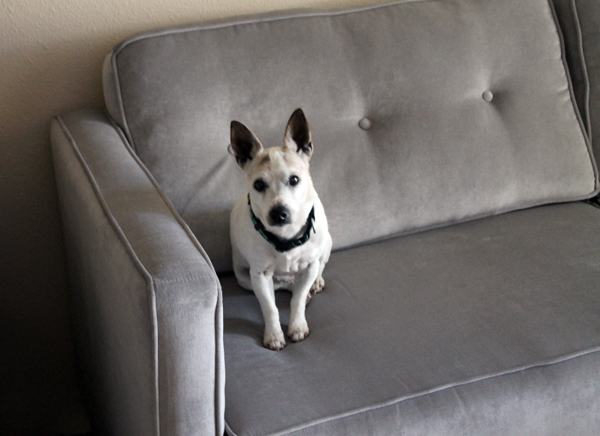 I only make drapes when I want a custom look.  They are difficult to make because there's a lot of fabric which makes it cumbersome and if you don't have a dedicated area to sew in, it's not worth the effort. Plus you can get really nice options from places like Ikea and JCPenney's that are cheaper then buying the fabric. Really. Sad to say but fabric for home decor tends to be expensive.  But, after seeing that gray couch in our suite, I knew I had to make the drapes to bring the colors together.
So I went to several fabric stores plus pored over all the Internet sites.  I found a gray and taupe indoor/outdoor piece at Jo-anne's.  I used that for 4 1/2″ borders along the sides of the drape and a 17″ section on the bottom. The fabric felt like canvas, so I bought some 72″ wide canvas at Hancock Fabrics and used that for the center.  Didn't even have to piece it since it was so wide.  I didn't line the drapes so finished them with French seams.  I was really happy with how the drapes turned out.  The band along the sides will get more use as people pull the drapes to open them but that color shouldn't show any dirt.  And if those little toddler hands are a little too grubby even for that color, they can just be thrown in the washer.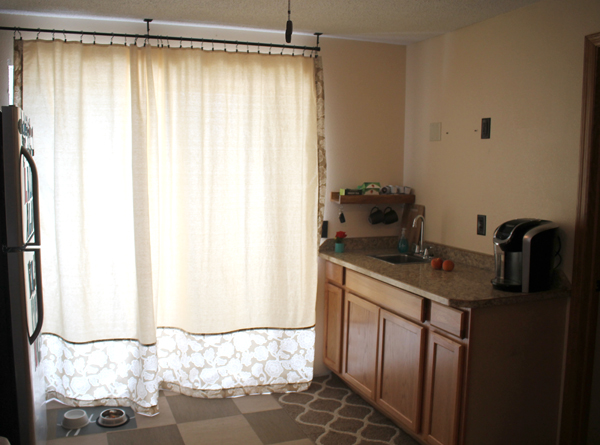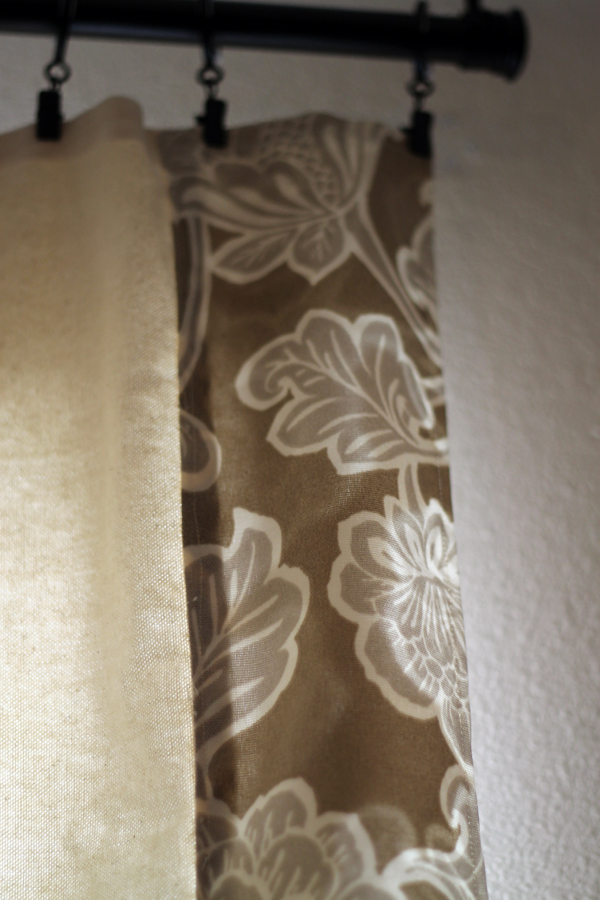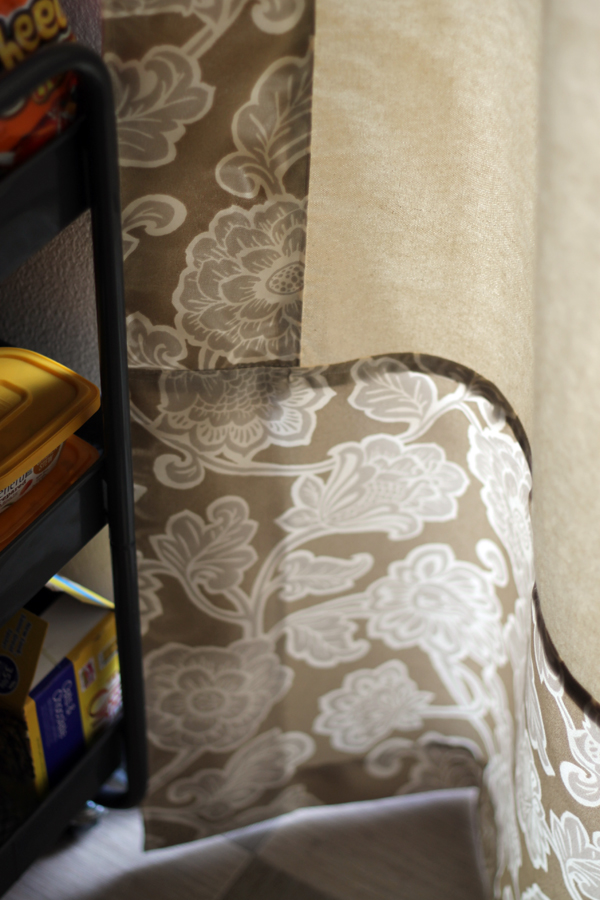 Another unique issue we had was how to hang the curtains.  Our son had protected the water hose that ran to the fridge's icemaker by putting metal plates in the wall and we couldn't put up rods. (Oh yes, we tried)  After a lot of research we found these at JCPenney's.  And they looked great.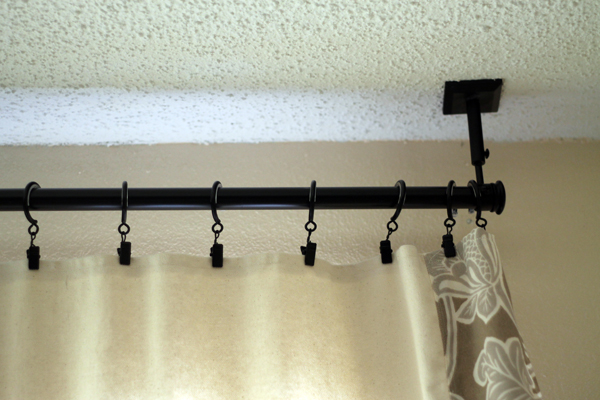 We stumbled on this bed ensemble at JCPenney's.  I had planned on making the bed skirt out of the same fabric as the drapes and then getting a quilt.  But this set was just too perfect–gray and taupe–even included all those pillows and the bed skirt.  It was little fancy schmancy for my taste but the colors were perfect.  (Of course it was on sale and we had a coupon so it was cheaper then making.)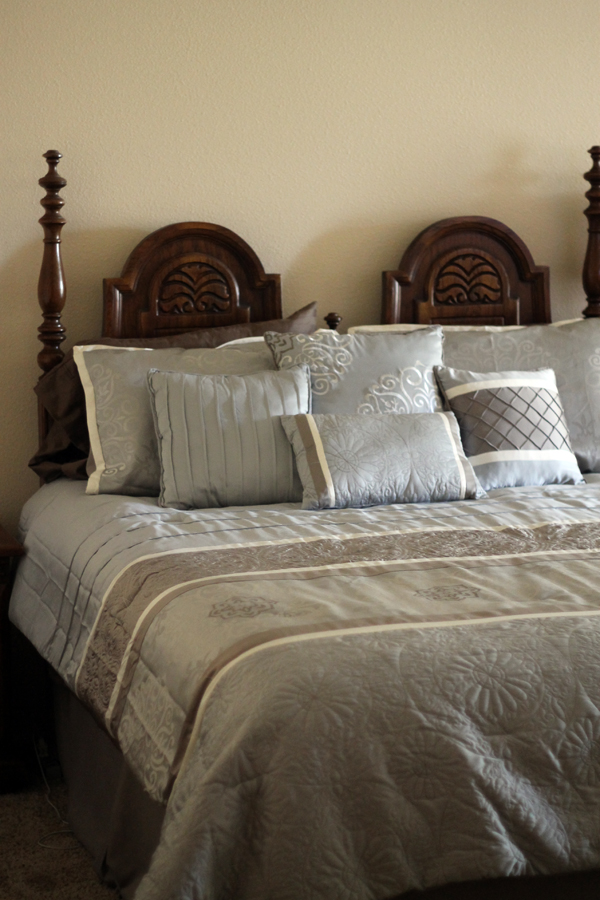 Those are some of the projects we worked on while in North Dakota.  We did a lot more.  And more needs done.  Next year!