Wee Wonderful Costume Party
Do you know about Wee Wonderful Dolls?
A few years ago I was looking for the perfect doll pattern for my perfect granddaughters. Preferably free.  But fell short.  Nothing out there I liked.
Until I came across the Wee Wonderful blog.  I was smitten.
And actually spent some money and bought this pattern.
Totally worth it.
Of course, I made some dolls.  And put my own spin on them.
These two went to the granddaughters that had birthdays in December.  That was in 2013.
I named them Happy and Little Miss Sunshine.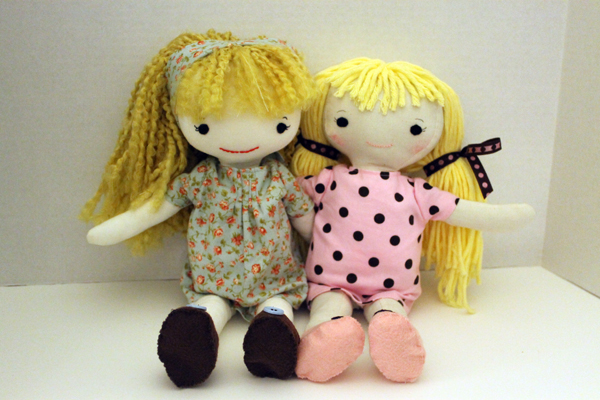 Then in April of 2014 I made one for another granddaughter.  This one is Carrottop.
I always applique a heart on each little body.  And on their undergarments.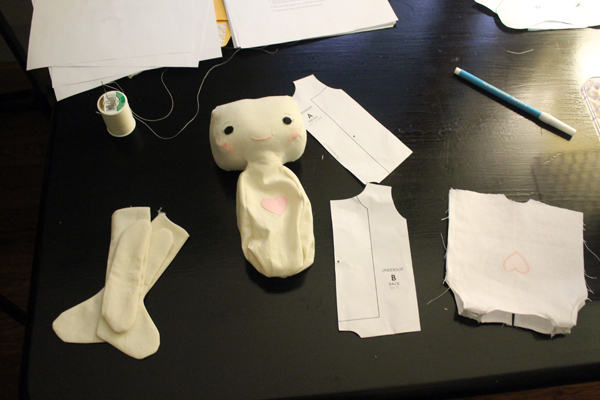 We stopped by the two Floridian granddaughters one afternoon and they brought Happy and Carrottop out.  The dolls were a bit worn. Hair hanging by a thread.  Dresses gone but undergarmemts intact.Nothing surprising. These girls actually played with the dolls.  I was totally blown away that they even still had the little lovelies.
Addy and Kendall had brought them to me to ask if I could do a little update on them.  Mainly, FIX THAT HAIR!
So I took them home and let them spend a few weeks with me.
Did some updating on the hair which I'll tell you about next week because this post is already getting waaaaaay tooooo loooooong.
I figured while I was fixing those two, I might as well update Little Miss Sunshine.  Piper was coming from North Dakota to visit last week and I asked her to bring her doll along.
(Did I mention that one of our sons got married?  So the whole family from all over the country gathered in Tampa for a week! Too much fun!)
So I changed out the hair and I made a bit of a surprise for the girls.  Halloween Costumes.
How cute are these?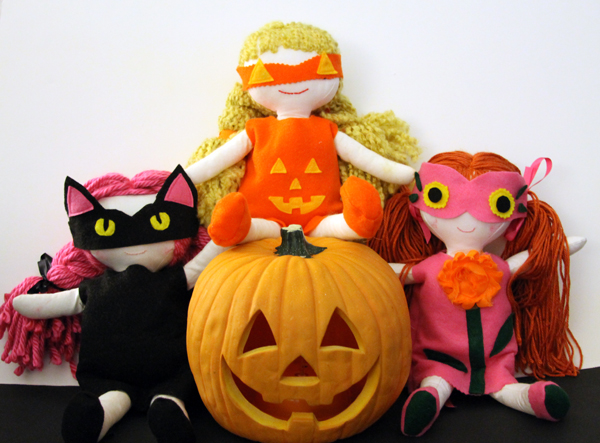 Piper was the first to get her doll since she was impatiently waiting by me side in my sewing room!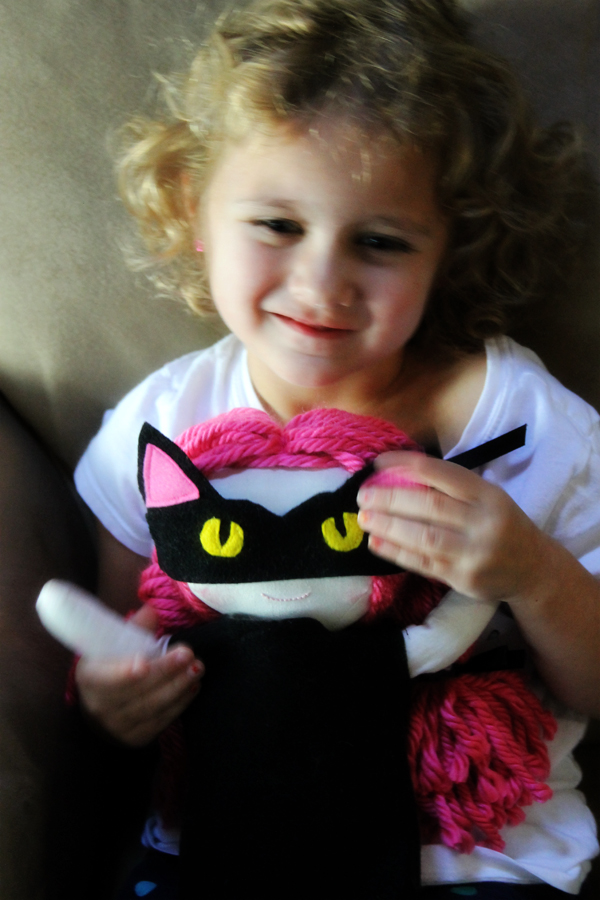 Piper loves kitties so a cat costume was appropriate.  And now Little Miss Sunshine has pink hair.  More about that next week!
The next day Kendall and Addy were thrilled to get their Halloween babies.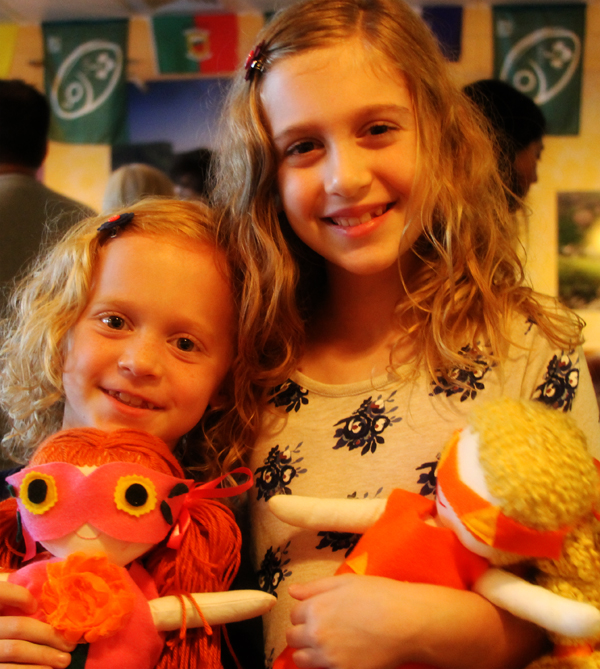 And all together now!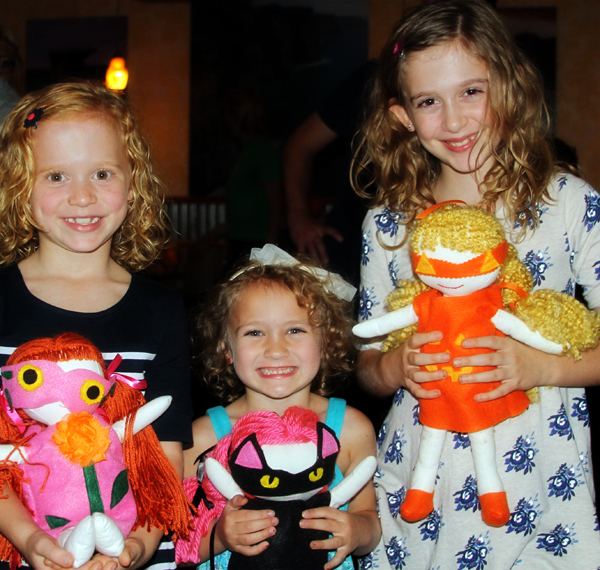 The cousins were happy with their updated dolls and costumes but much happier about being together again!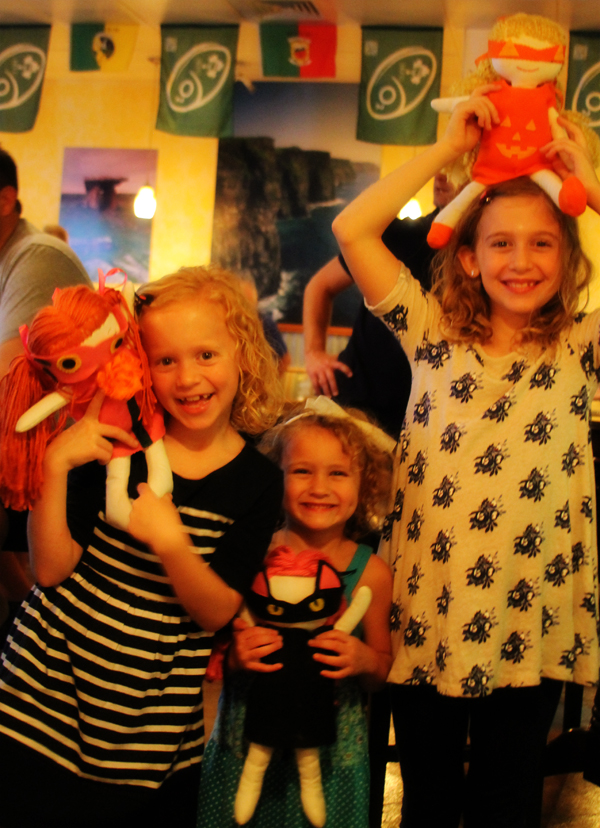 Yes, my granddaughters are all hanging out in a bar!  Hey, it was part of the wedding festivities.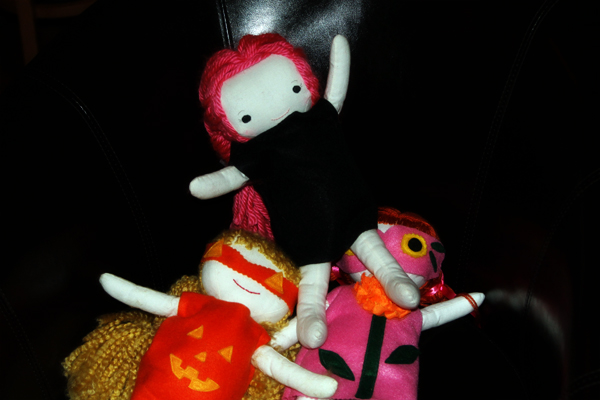 Abandoned!
Here they are in the hotel later that night.  Masks and shoes are gone because an adult had safely tucked them away.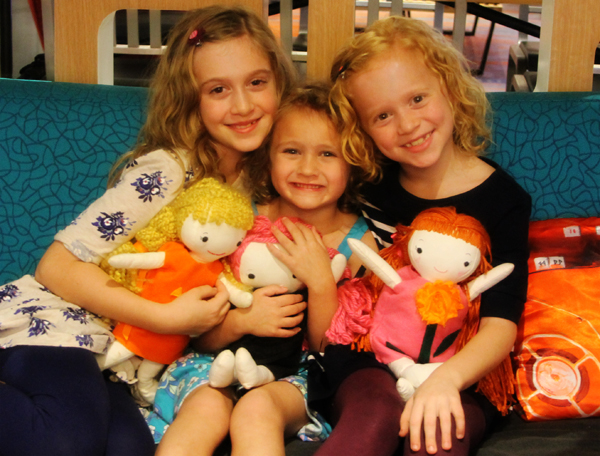 I LOVE this pattern.  I've made some updates to it.  Plus have finally figured out how to get the hair to look good.  (Well, I should probably wait to make that announcement when I see how the dolls are faring the next time the girls visit!)
Come back next Thursday and I'll tell you how I fixed that 'do!