The Splendid Sampler — Week 20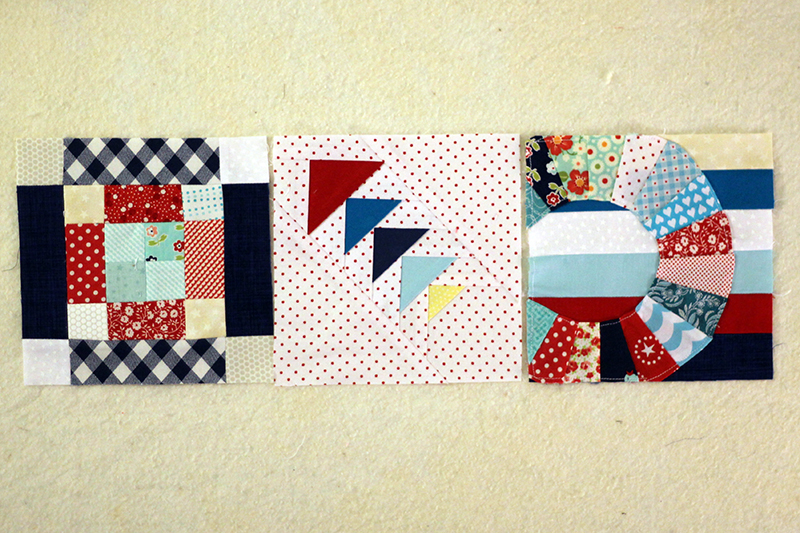 Another Thursday, another three blocks of the Splendid Sampler completed!
First this week, Block 57, Starting Point, designed by Lissa Alexander.  I don't usually save small scraps of fabric from my projects but I have been from all of Splendid Sampler quilt blocks.  I just throw them in a pile that I'm calling my scrap corner. It was getting kinda cluttered looking so I was happy to get this block with all its tiny bits.  It looks kind of wonky but I think it's an optical illusion with all the different prints and lines.
And then I'm back to paper-piecing.  Which I have discovered really appeals to the orderly part of me.  The Tetris kind of order. Making flying geese in this method makes all the little points nice and sharp. I only made ONE mistake on block 58, Homeward Bound by Kelly Liddle and it wasn't so bad that I had to rip the entire block apart and then throw it out in disgust because I couldn't actually fix it. This mistake was very minor and it's not at all obvious.  I really like the color combo I used in this block, too.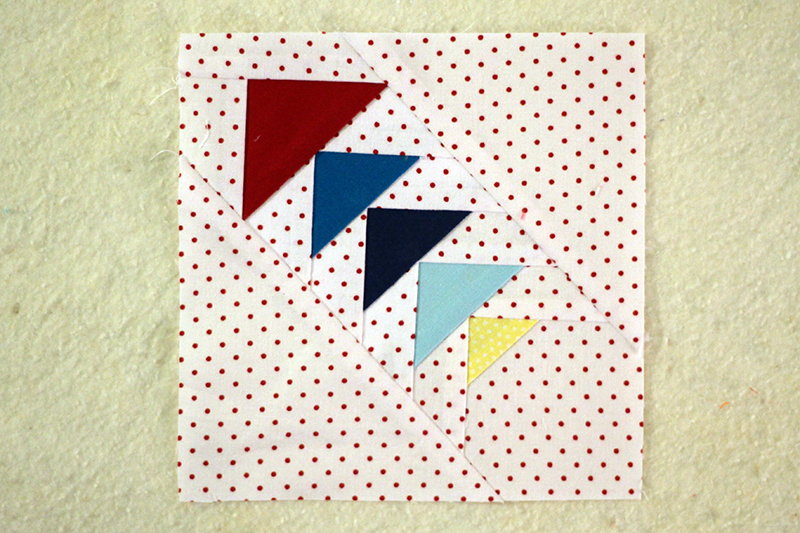 For the last block this week, number 59, I went back to the pile of bits and pieces.  I still had plenty to chose from in my scrap corner after using them for block 57.
My Circle of Friendship looks a bit like the Oval of Friendship although this one is easier than it looks.  Sixteen little Dresdens sewn together and then stitched on strips of fabric.  Designer Michele Muska suggests hand-stitching the circle which I just laughed at.
Ha!
I used my trusty glue stick for the 1/4″ turn-under then machine stitched the circle onto the strips.  I thought there was a mistake with the sizes of the strips so made mine to fit 6 1/2″.  After getting it done, I realized that if I had used the tutorial measurements the Dresden shapes would have had a better foundation and might have stayed as a circle!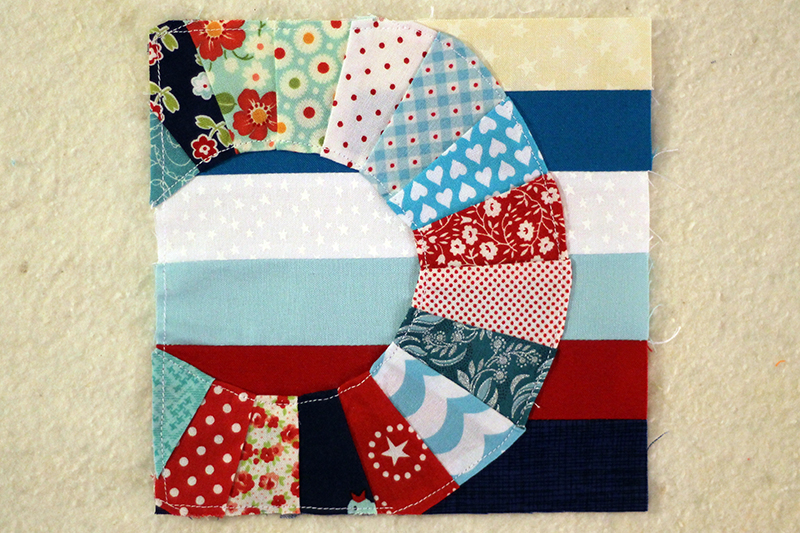 That finishes 59 blocks.  And one bonus block.  And I can't take a good photo of all of them because it looks like trapezoid rather than a rectangle
Here's last week's photo of blocks 1 through 56.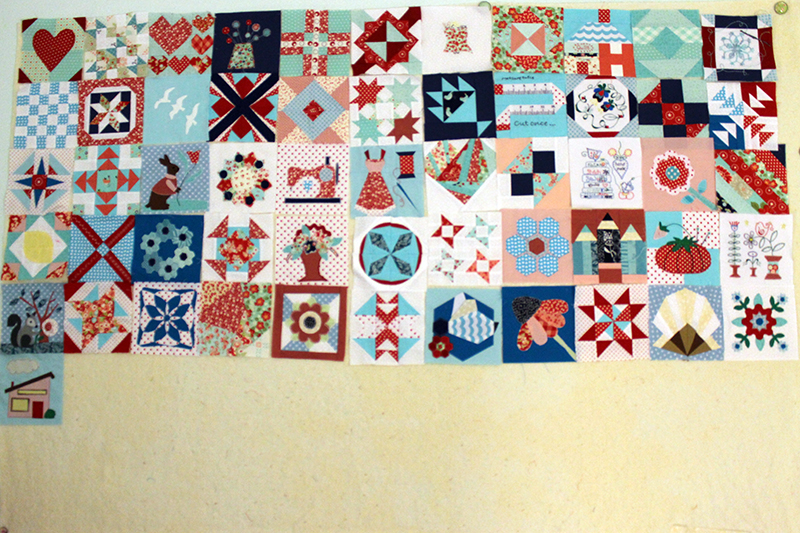 To get a good non-distorted picture, I have to take it at eye level.  And here's where my design wall for the Splendid Sampler is now: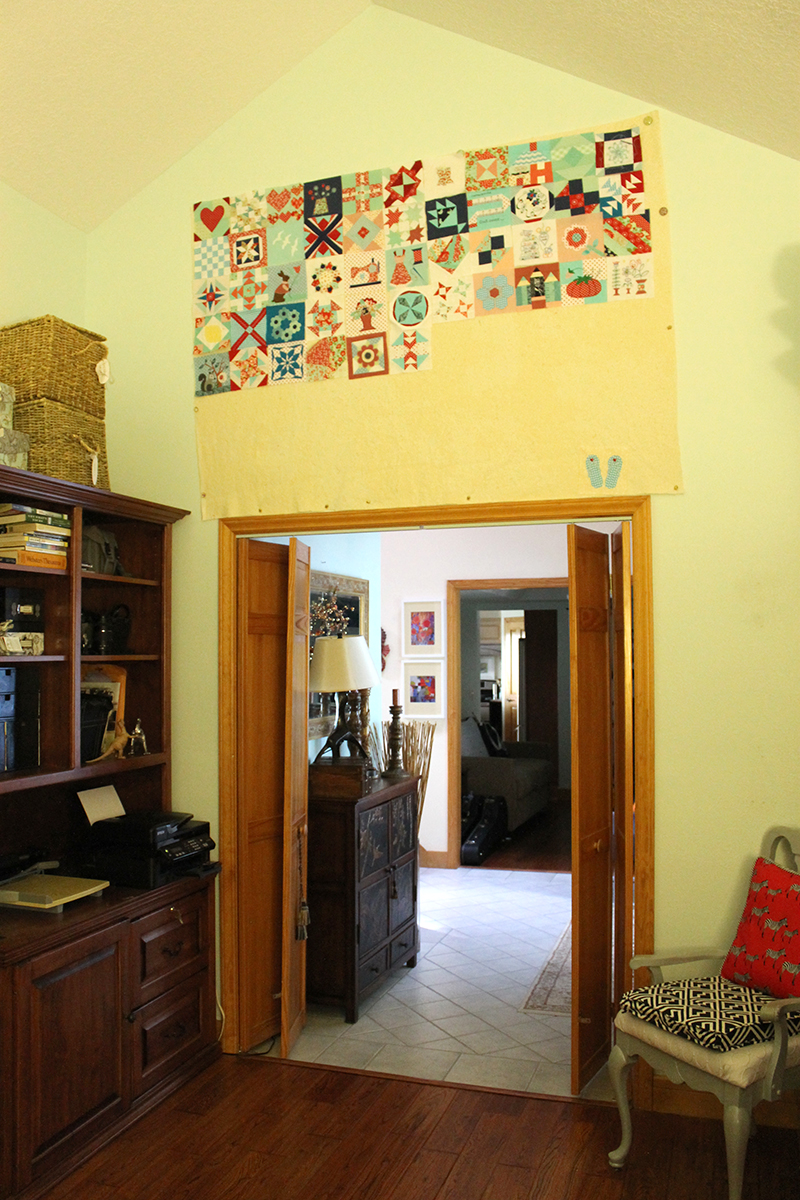 Which means I'd have to bring the 10-foot high ladder in every time I want to get a new pic.  Which would be at least once a week.  There sure isn't anywhere to store the ladder in my office and it's really hard for me to carry in.  Then there's the issue of hitting the ground when I accidentally fall off.
Yeah.  Not one of my brighter ideas!
I will probably have to move the design wall but until then, I'll just be taking a photo of 51 and up.
So….
Here's 51 through 59.  They are all so bright and happy!