The Perfect "Personal Item" Travel Bag
I've traveled on Allegiant a few times in the past year. The fares sound great until you realize that they charge for everything.  The seat, a carry on, checked luggage.  Even a soda is $2.00. The only thing that's free is the "personal item bag". (Oh wait, they don't charge you for the clothes or shoes you might have on!)
On my first trip with Allegiant I took the "perfect market tote" that I made last year. It was quite a bit smaller than the "personal item bag" but all of my other bags were too big.  Since I really have fears of being told that the bag's gotta go and then I have to throw my bag in the trash or miss my flight, I went with the smaller bag. (and felt like I was wasting money and vowed to make the perfect "personal item bag".)
The size of Allegiant's personal item bag is 15" high x 16" wide x 7" deep.
Along with the perfect size, I wanted a zippered pocket on the inside for my little stuff along with one for my phone and another for my eyeglasses.  And of course, a key strap.  On the outside I needed a water bottle pocket and a ticket pocket.  Plus the bag would be finished with short handles, a removable strap, and a zippered top.
And I had inspiration…..
I had been admiring this Balenciaga shopper that was featured in Vogue.  (these shoppers are over $2,000! Ouch!)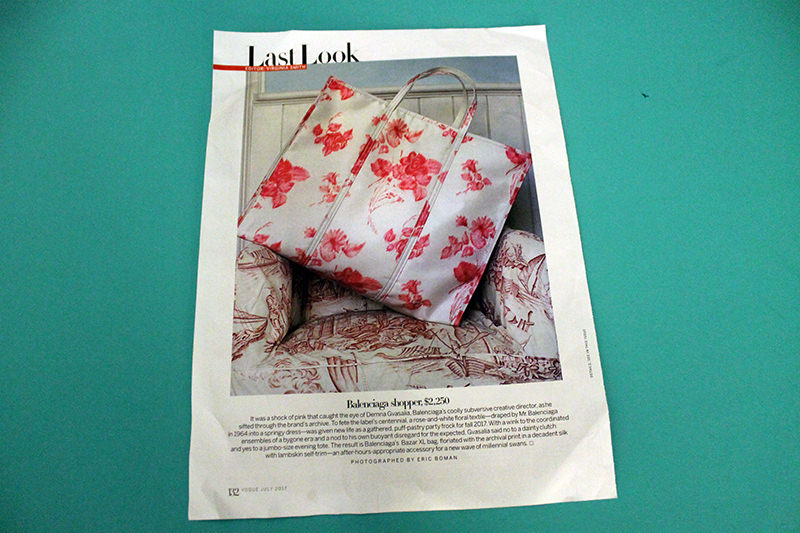 And these guitar straps modified for purses and totes. (Oh yeah, $500)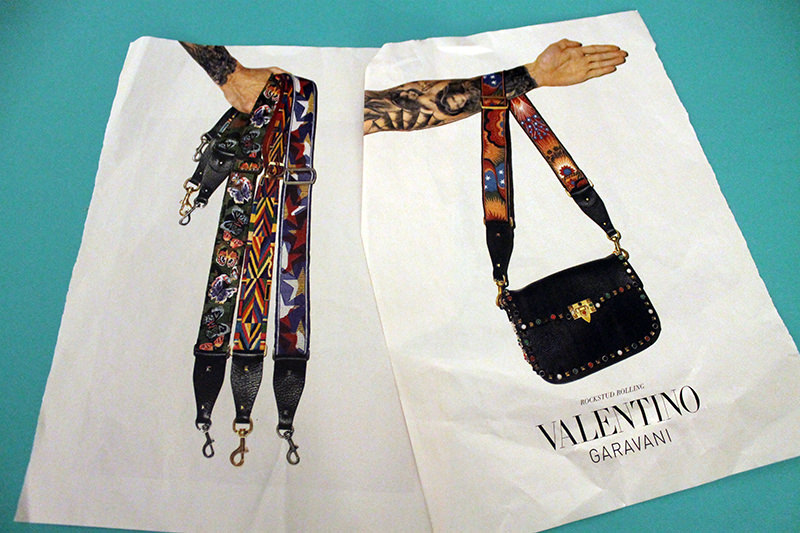 (Have I ever mentioned that I love Vogue?  I'm probably the least trendiest dresser in the world but I just love looking at the ads.  My great aunt got me started on Vogue when I was a dorky teenager.  Still love it.)
I digress, back to the bag. The fabric also had to be fun and durable.
I loved this canvas fabric from Cotton & Steel by Rifle.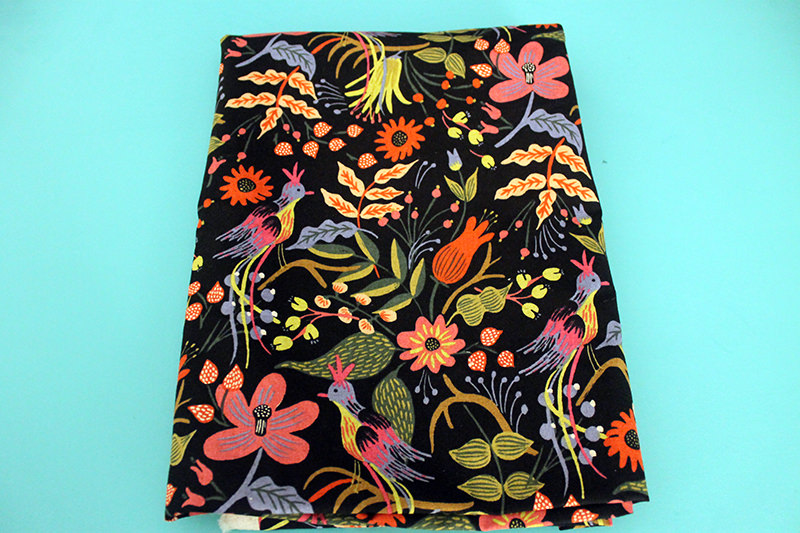 You might be familiar with the notepads and other stationary pieces that Rifle puts out.  I have three notepads that Jessica gave me.  So pretty. And I'm always scribbling in notepads. But I don't even use two of these–just too pretty!  I like looking at them on my desk.  If I was a fabric designer, I would want to make fabric just like this!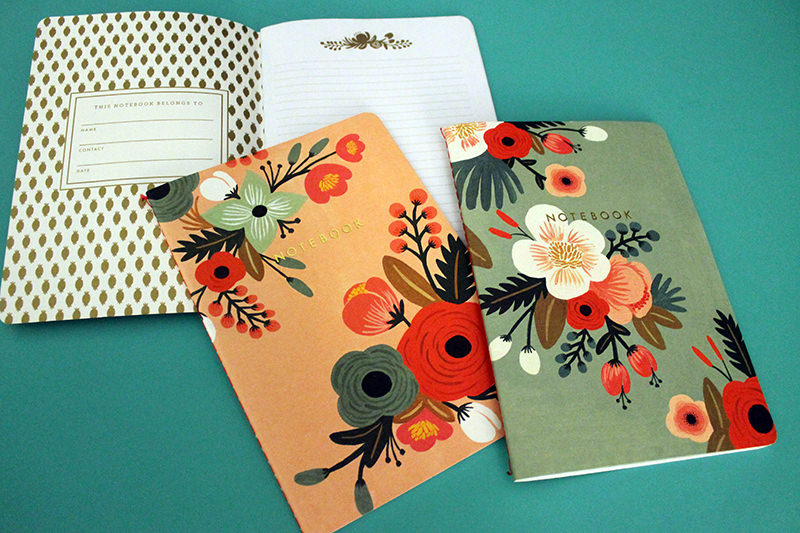 I put the material in my shopping cart at Fabric.com on three different occasions but just couldn't bring myself to buy it. Cause it's a wee bit more than my budget allowed.  Finally it went on sale with a pretty good discount if I bought at least 3 yards.  So I FINALLY did it.
I wanted something special for the lining and I love love love this fabric from Cotton + Steel.  I really wanted to use it in the pockets and the lining. You might remember that I used it for the Full Swing Quilt backing.  But I didn't have enough and it's no longer available. Bummer.  I was kinda sad that I had used so much on that quilt!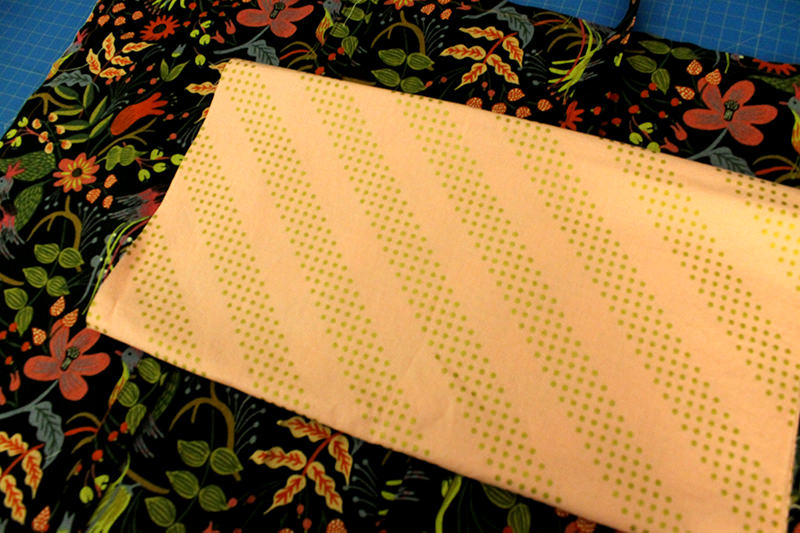 But then I remembered that Manchester Metallics fabric that I had bought for my "Down the Rabbit Hole" quilt.  I grabbed the lightest gold piece and put it with the pink and gold.  Perfect!
I also used Annie's Soft & Stable rather than interfacing or fleece for the first time.
And here's the bag.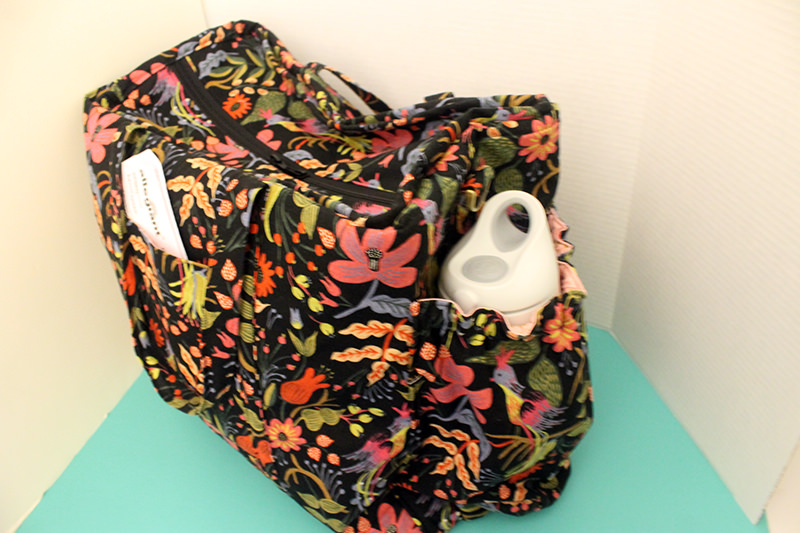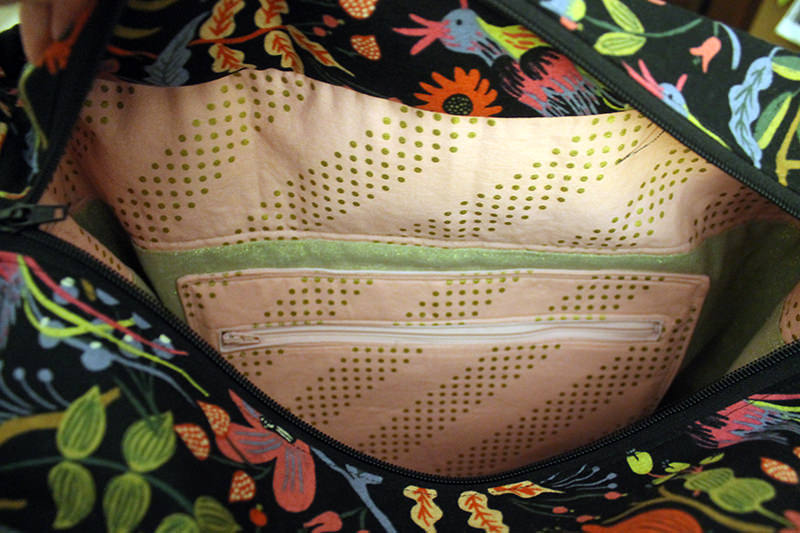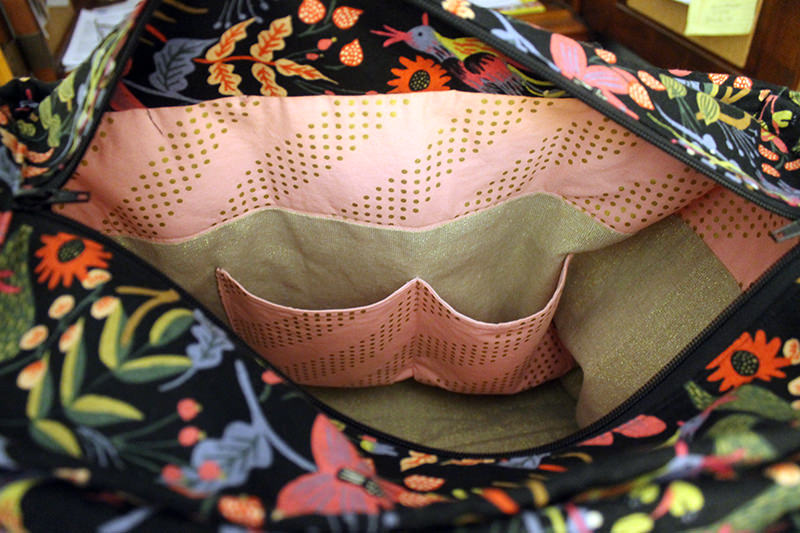 I didn't get the guitar strap done yet because I can't find a place that sells the slider hardware! Anyone have a hardware connection?  I want it to be in antique gold and 2″ wide.  Oh yeah, affordable, too! I did get the key clasps at the local flea market and the d-rings at Jo-anns.  But the sliders have proven elusive!
The tote is actually relatively easy. (Not easy-peasy easy.) I had some ( a lot of) trouble figuring out the zipper but I think I've got it down now.  The Annie's Soft & Stable was a nice improvement.
Taking the time to make this bag was totally worth it.  It fit right under the seat on the airplane. It was big enough to carry my iPad, book, water (that I bought at the airport), and all those items that I feel is necessary to drag along! (did not squeeze Maggie in there!)
But I really have appreciated this bag on the cross-country trip that I just got back from.  It was truly the perfect travel bag.  I can't even tell you how much stuff I put in that bag!
I plan to make it again in a different fabric–before I forget how I made this one!
But I've been traveling. Oh yeah, I already mentioned that! We've been on the road for three weeks! With my poochie pie Maggie and Terry. And, of course, my perfect personal item bag!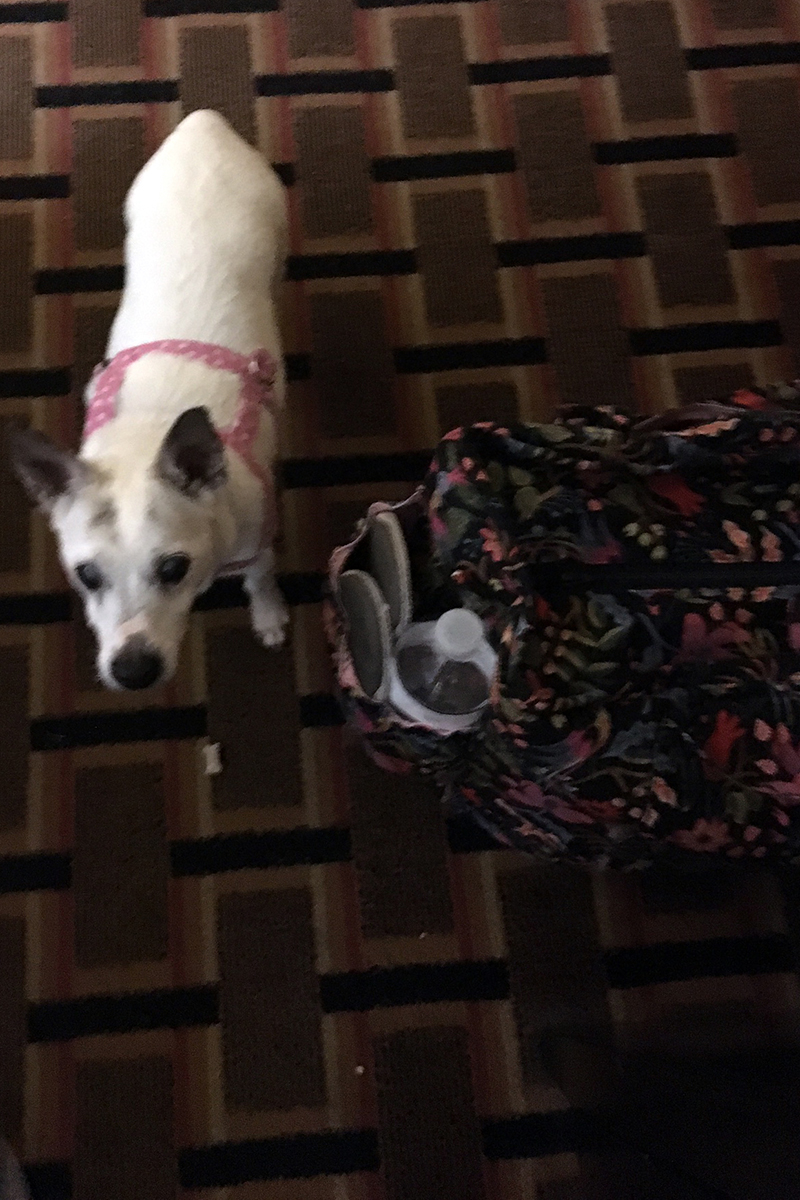 Had a great time visiting with friends and family but happy to be home!
And back in my creative cave!