Splendid Sampler — Week 9
I've got 8 grandkids.  Have I mentioned that about 100 times before? They are the inspiration behind a lot of my DIY projects.
We don't get to see them as often as we would like.  Partly because three live in North Dakota. Even with that, we try to get to Bismarck/Mandan for some quality time in those few months between blizzard seasons. And Pipety Piper came to visit us this year for two weeks.  The other five are about 75 miles south but busy, busy, busy. Clubs, sports, school, you name it–those five are in it.  But they've been here a few times this summer already. Jack, the 5-year-old, was supposed to come to our place after his basketball game on Saturday for a few days and we were pleasantly surprised when big sis Addison tagged along.  (We almost had Kendall, too, but she had a mini meltdown so we left her with her mom)
Last week I mentioned that Addison wants me to make a mermaid tail sleeping bag for her in a BAD way.  She is totally in love with mermaids. So I ordered the necessary material from Fabric.com.  If I had known Addison was returning so quickly, I could have picked up the mermaid fabric at a local store.   Addison advised me to text her as soon as it showed up in my mailbox and she would be here!  So I'll have another visit from her this summer!
On the subject of Fabric.com, they upped their minimum order for free shipping.  Until recently it was $35.  Now it's $50. So I'll be holding off on ordering until I need a bunch of fabric in the future.
Even with the kids here, I managed to squeeze in three more of the Splendid Sampler blocks.  I started out with Block 24, Inspector Sidekick by Michelle Foster.  Did a little "fussy cutting" so I could put that cute bird in the center.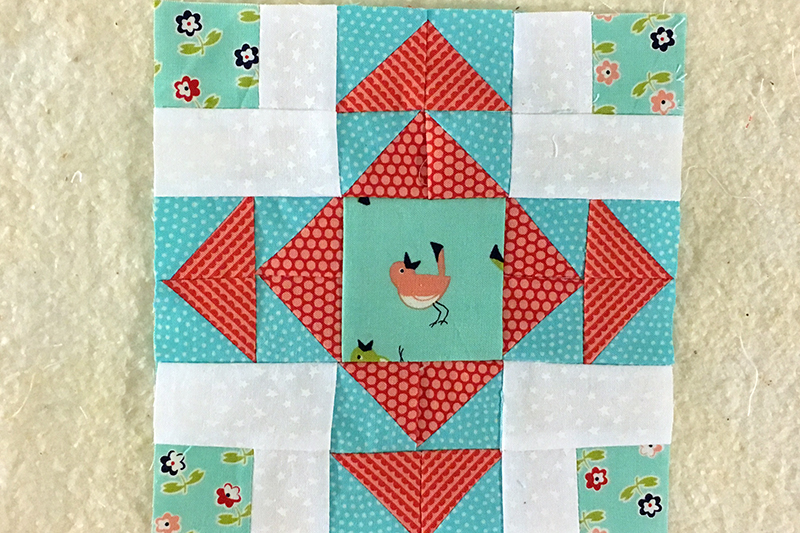 Then followed that up with Block 43, Pincushion Love by Pat Sloan.  Piecing, applique, then more embroidery. This one used a new stitch to me–stem stitch. I found a video from Wendy Gratz, the creator of Shiny Happy World blog.  Her videos are good.  I've been using her Quilt as You Go technique for my monthly blocks.  (August will be posted in less than TWO weeks and it's my last one!)  I thought the stem stitch was pretty easy but when I tried to use it with metallic thread for the pins it went a bit wonky.  Actually more than a bit.  Think I'll use that metallic thread for something other than embroidery!  I put tiny flower buttons on the ends of the pin as the instructions called for.  I hesitate to add buttons and other hard pieces to my quilts and pillows.  It seems to defeat the purpose of a comfy cushy nap.  If I fall asleep on top of the quilt, will I wake up with little button marks on my face?  But, the designer called for it and I'm just a follower!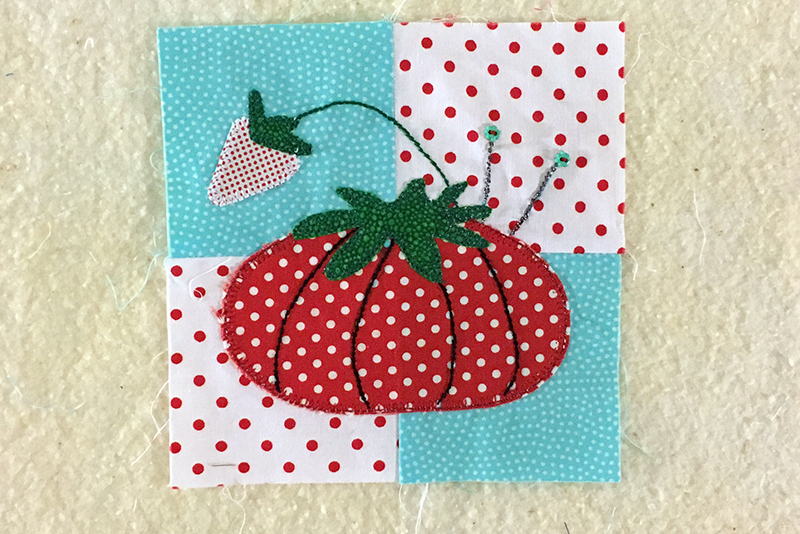 And then I did another one by Pat Sloan, Block 33, Selvage Saver.  This one was easy peasy.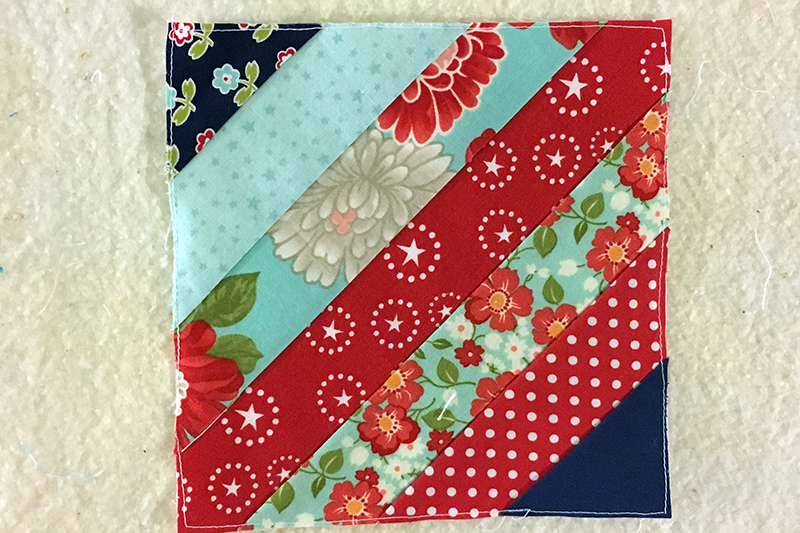 It's supposed to be made with selvages–that approximately 1/2″ piece on each side of yardage. I don't save selvages. I cut them off and throw them away–just like I was taught when I was learning to sew.  So I just used scraps that I had on hand. I used a piece of white muslin to back the strips and I did a little stay-stitch around the edges. That's what the crooked line of white stitches is all about.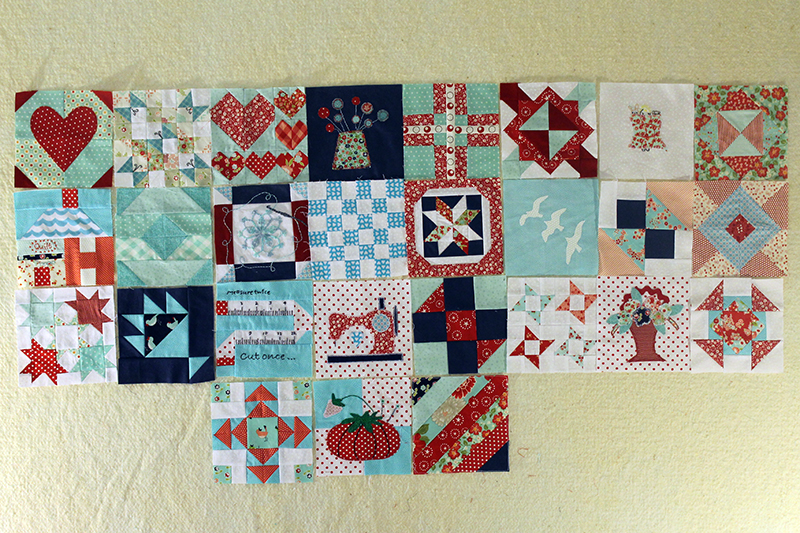 The blocks are starting to really looking like a quilt!
Couldn't resist posting some more photos from the recent visit.