Splendid Sampler — Week 4
Splendid Sampler — Week 4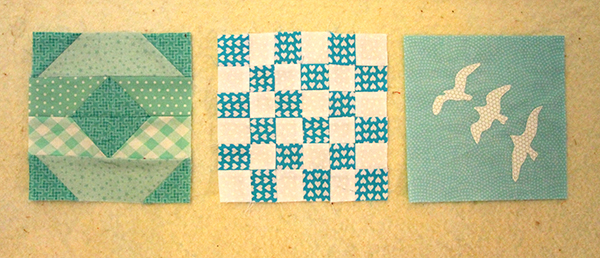 The first block I did this week for the Splendid Sampler was Iowa by Sherry McConnell. And I used one of the new pieces of fabric that I just got from Fabric.com to augment the charm packs from Moda that I've been using along with bits from my scrap basket.
(Have I mentioned how much I love getting new fabric?  In the mail?  Almost like getting presents.  Almost–except I'm buying them for myself.)
Little Miss Pipety Piper helped me with matching up the fabric.
I like how this block turned out.  All the different shades of teal.
Then I started making block 11.  Crocheted Thoughts by Alyssa Thomas.
I can crochet.  Pretty well.  But that wasn't crochet.  More embroidery.  That I didn't know how to do.
Right now.
At this moment.
With Pipety Piper singing songs and playing the piano and coloring and cutting up felt and designing her own quilt on the design wall and dancing about the room.
I've been getting at least two emails a week from Pat Sloan, one of the two women that created the Splendid Sampler, plus a few newsletters with help on how to put the blocks together.
Pat Sloan, keeps saying, this is a FUN quilt!  Don't do the blocks in order.  Take it easy! It's summer!
I was REALLY trying to do them in order because if I started jumping around, I'd go for the simpler blocks.  I had to be disciplined and learn all the new-to-me techniques.
But I gave up.  For all the pipety Piper reasons I listed above.  I love all the motion but have lost some of my concentration!
Block 11 will be later.
I did sew it together, though.

So I went to Block 12. Checkerboard.
Pretty and relatively easy.  Just a lot of cutting and sewing up tiny bits and pieces. With another one of my new fabrics from Fabric.com.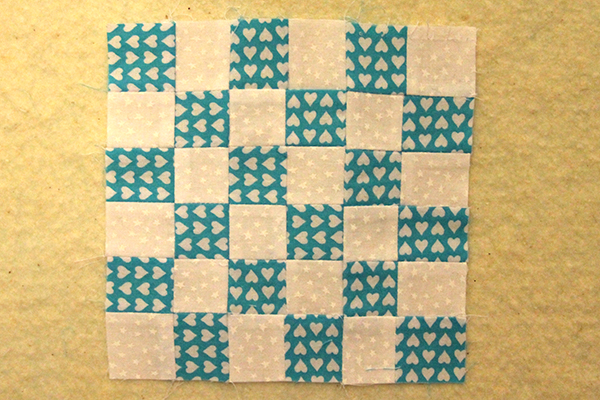 And then on to Block 13.  Scrap Stars by Corey Yoder.
Cut it out.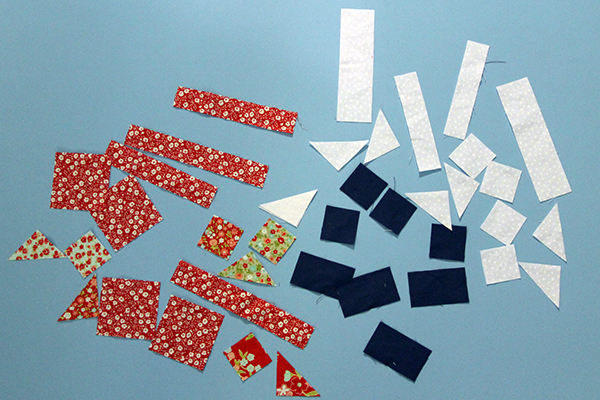 OH WAY TOO MANY PIECES FOR A 6 1/2″ BLOCK!
Next week.  Maybe.
(I knew once I started jumping around I'd just continue doing it!)
So here's what I went on to next.
Applique. My favorite! EASY PEASY!
Block 14, Flying High by Janet Clare
Except I forgot that the designer had posted the applique in reverse.  So my seagulls are headed in the wrong direction.
Whoops!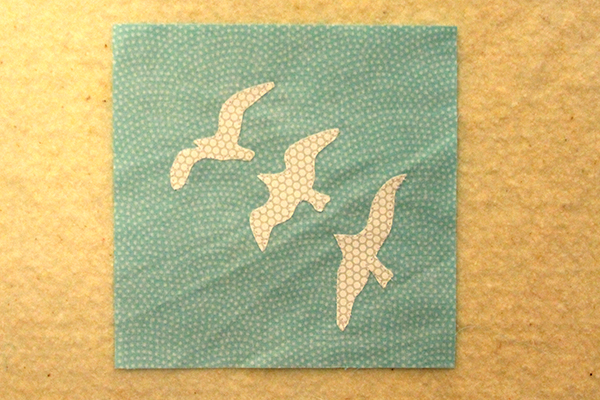 Then I realized that I didn't use any RED in the three blocks for this red and blue quilt!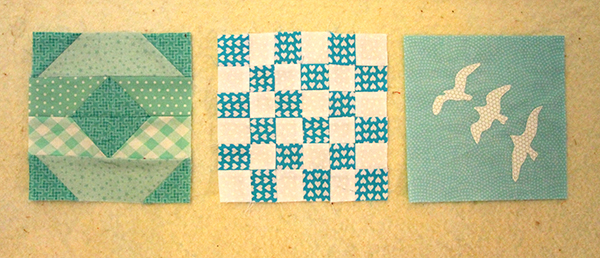 Whoops.  That's what happens when I lose my discipline and start to jump around.
I'll have to make up for it next week.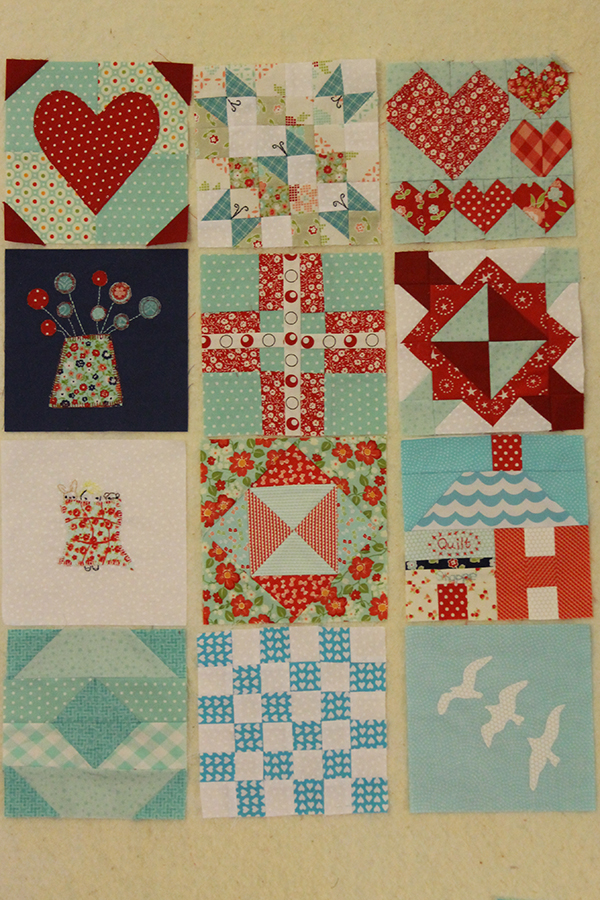 Pretty. Pretty. Pretty.