Splendid Sampler — Week 31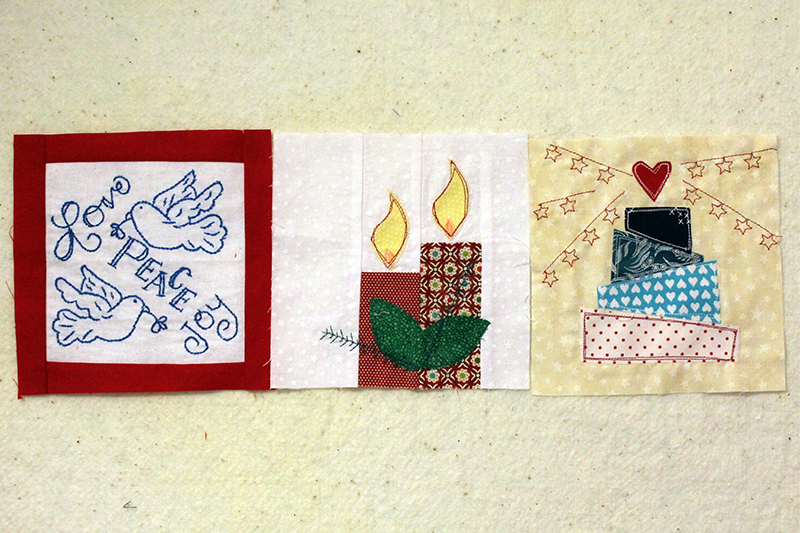 Block 88, Bonus Blocks Christmas Lights and Happy Birthday
Well, the creators of the Splendid Sampler have thrown me a curve ball.
I finally got caught up and planned on doing the two pieces introduced each week plus a bonus to continue my goal of 3 blocks a week.
Then they sent out an email saying that they were taking a break.  What?  Do you know how BAD I want to get finished with this quilt?????
Block 89 won't be out until January 5!!!!!
Well, just for that, I'm taking a week off, too!  I'm off to North Dakota on Monday.  I intended to have the blocks ready for next week before I left but can't sew them if they haven't even been introduced yet!
And I know you are saying, why the hell would a girl from Florida (lived in the South since 1982) go to the tundra land in December?
My family does have a strain of mental instability.
NO, that's not it, it's my daughter-in-law's 40th birthday on December 30th.  I LOVE birthdays.  I celebrated my 60th for an entire year.  Always looking for an excuse to have a party!
Oh yeah, I might want to see Riley, Piper, and Adley, the grandkids in the cold white north, too.
Every morning for the last month Terry has been telling me what the temp is in Bismarck.  It's been as low as 32 below. Whaaaat? Do planes fly in that cold of temp????
But, I'm off!
Anyhow….back to the Splendid Sampler.
Block 88, Love is the Answer by Pat Wys, is a lot of embroidery and a little bit of patchwork.  Which I started as soon as it was released on December 15th.  Took me several evenings and a lazy Sunday to get it finished in time to post here. After adding the borders very carefully and putting it on my display wall, I realized that it's crooked.  Once again, how does that happen?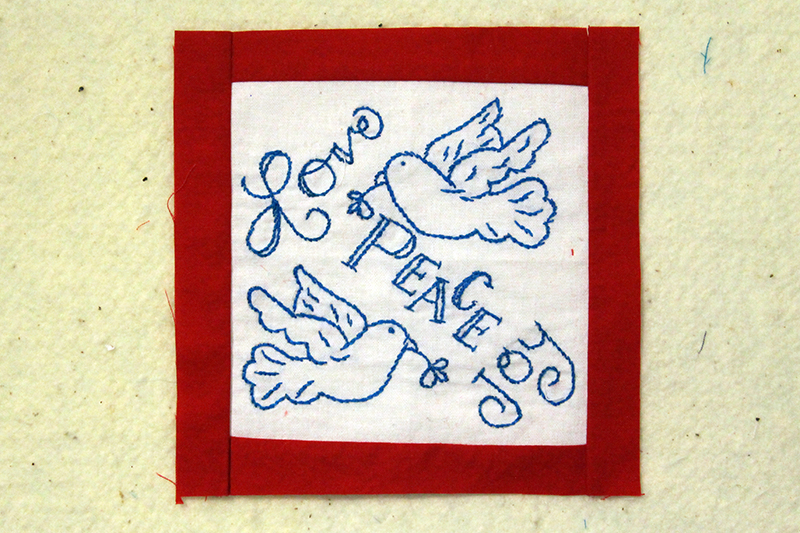 For my second block I did the bonus Christmas Light Pattern from Connecting Threads.  I'm not sure if this is actually a bonus block or just a way to get people to sign up for their newsletter.  But I signed up, got the free pattern, and am now getting emails from them.  It's Christmasy.  The flames on the candles kind of disappear into the background so I put a little red machine stitching on there.  Kind of free-form.  I was supposed to embroider the pine needles but had just finished with Block 88 and just couldn't bring myself to do anymore hand-stitching. I just used a stitch that came with my sewing machine. Good Enough!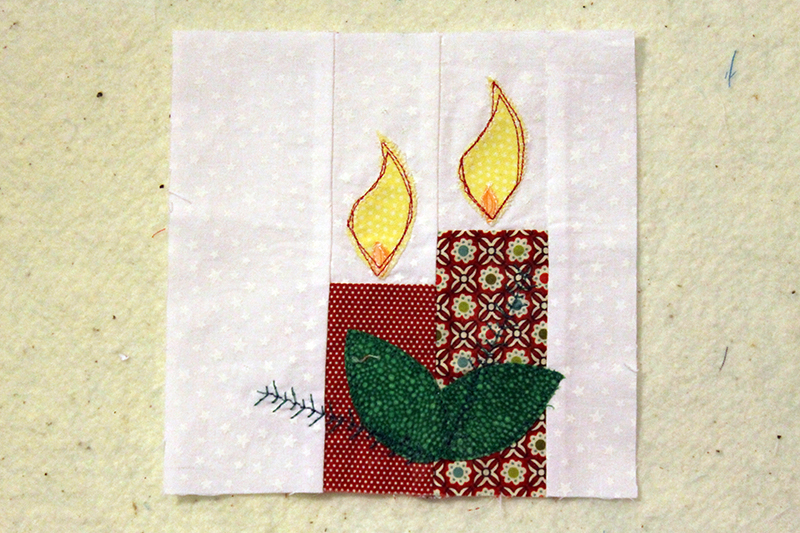 The last bonus block for this week is Happy Birthday by Pat Sloan.  I picked this block because my birthday is just around the corner.  I'll be celebrating my birthday on an airplane this year!  Woo-hoo!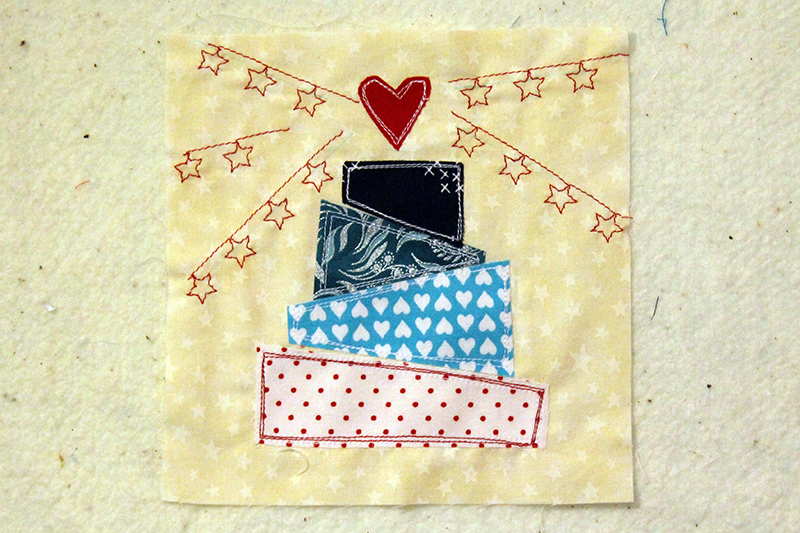 There really aren't any instructions with this block–just the patterns for the layers of cake and heart.  I don't know if the layers included a seam allowance but they didn't fit on my 6 1/2″ background fabric so I just cut them down until they did.This block also called for embroidery and again I just used one of the fancy-dancy stitches on my sewing machine.
Okay.  That's it for this week.  I'll be back with more Splendid Sampler in January!
Hope your holidays are great!