Splendid Sampler — Week 28

Blocks 81, 82 and 83
Happy December 1st!  Got the Christmas decorations out and found these pooches.  Wondered where they had been!  Now they are joining the menagerie!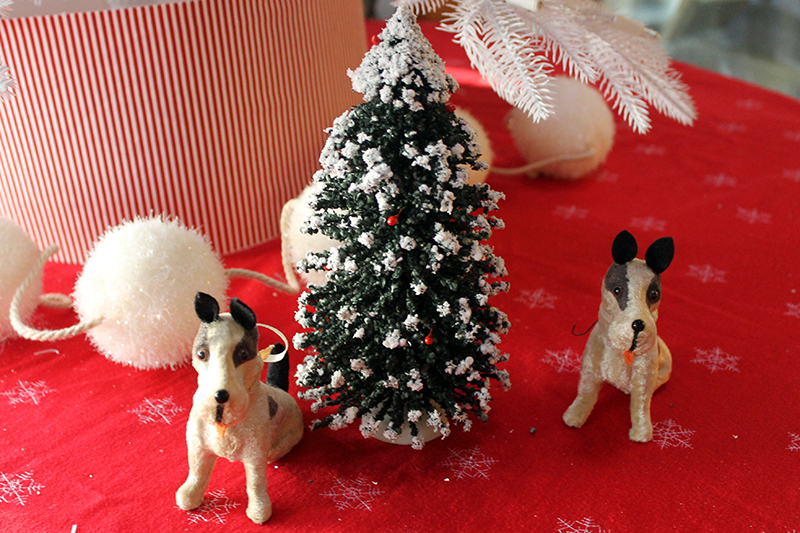 And here's Maggie giving me the evil eye for taking pictures of fake dogs.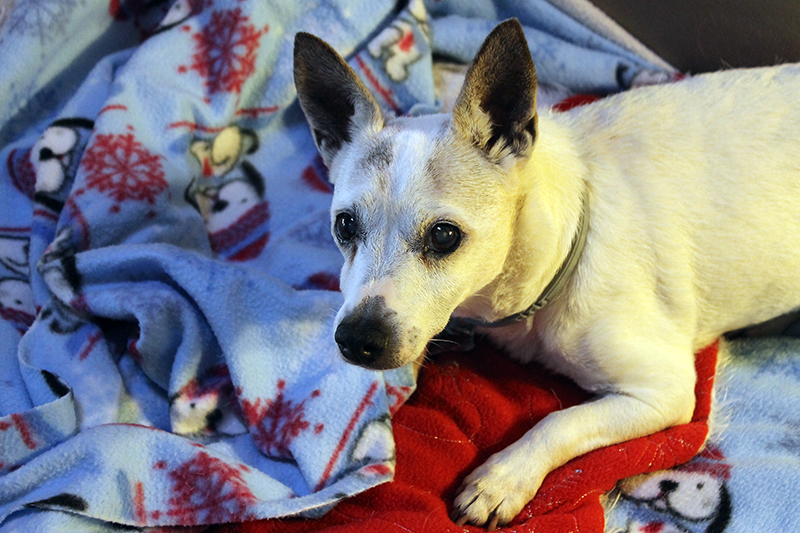 On with the blocks.
Block 81 With Love From by Cat Demeck was the third paper-pieced block in a row.
I typically sew in the wee hours of the morning, usually until the sun comes out enough to take the dog for a stroll. I like paper-pieced blocks but they take an extra long time.  One morning to cut up the pieces.  Then two more mornings to sew them together.  And then pulling all those little bits of paper out.  Slow. Slow. slow.
But pretty.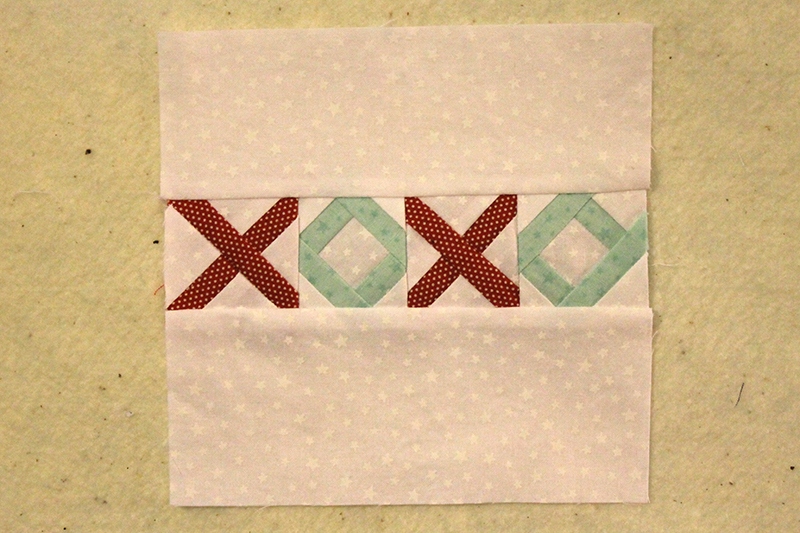 And then the next block for this week was English Paper Piecing.  EPP.  I absolutely HATE EPP!  The last time I had an EPP block, number 51, Bee Happy, I tried.  And tried. And ended up just appliqueing everything except the hexagons.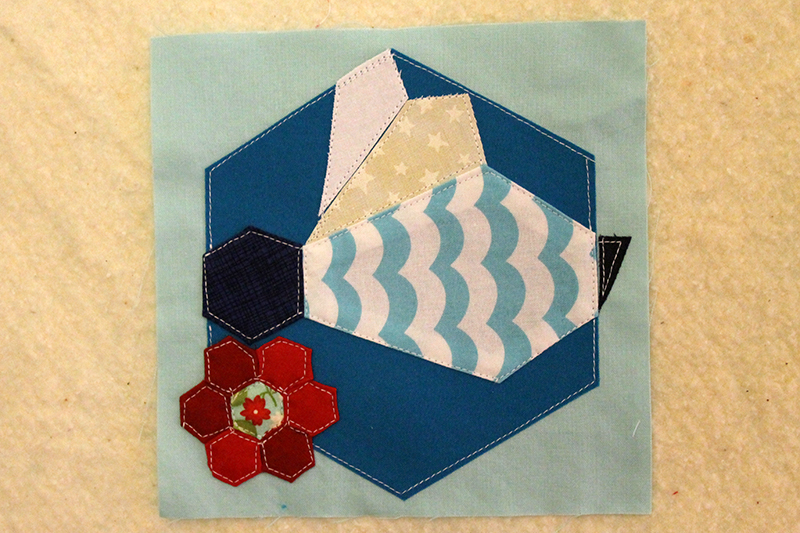 But I thought I'd attempt it again with Block 82 Under the Apple Tree designed by Brigitte Heitland. Brigette suggested watching Sue Dailey's EPP lessons on YouTube.  So I did.  A couple of them.  It was helpful.  But not helpful enough!
Spent one morning cutting and gluing.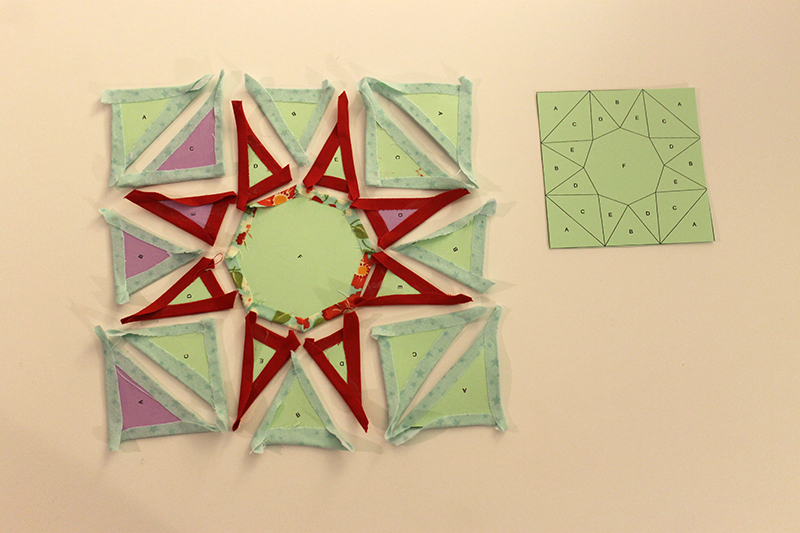 The next morning I started hand-stitching the pieces together and didn't get far.  That was Tuesday.
Tuesday afternoon I decided I HAD to get this done that day if I was going to make my three block goal. So I spent the rest of the day hand-stitching and watching really bad TV.
As I was putting the first of the four corners on I realized that I had messed something up.  I finished the hand-stitching but it was definitely not fitting the 6 1/2″ unfinished block size.
I thought maybe the pattern was messed up.  I even cut all the little pieces out with paper and laid them on the pattern.  It was something I did.  But I have NO idea what.  I was pretty upset.
The more I messed with it, the more the fabric frayed and the seams unraveled.
I thought about remaking the block with applique but knew I didn't have enough time to redo this block and finish block 83.
I was determined to save those hours of work.  I pulled it out of the trash and cut out a 6 1/2″ piece of muslin and put the block on that.  Did a blanket stitch on each piece just to secure all those fraying edges.   When I add it to the quilt, all those sharp points will disappear in the 1/4″ seam allowance.  It's not right but it's also not the first block I've messed up!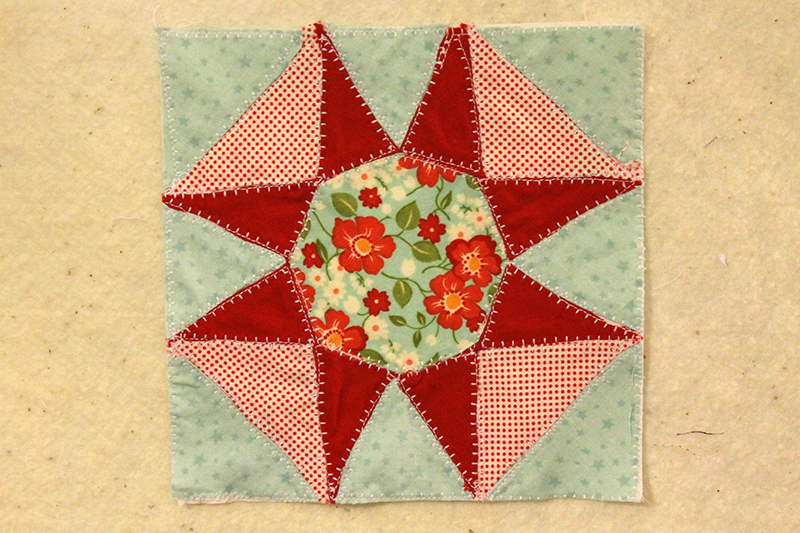 I was really HAPPY when I saw that the next block–number 83 Minnesota Maze by Roseann Kermes–was patchwork.  I even did a little happy dance! So good to see some flying geese!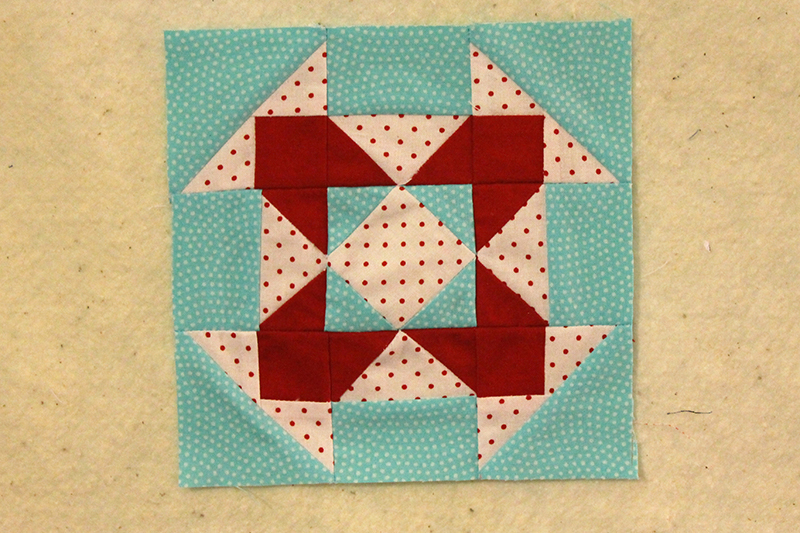 I actually timed how long this one took from cutting the fabric to the final press. (Maggie also asked to go out two times during this time) 1 hour and 50 minutes!
So here's what 51 through 82 look!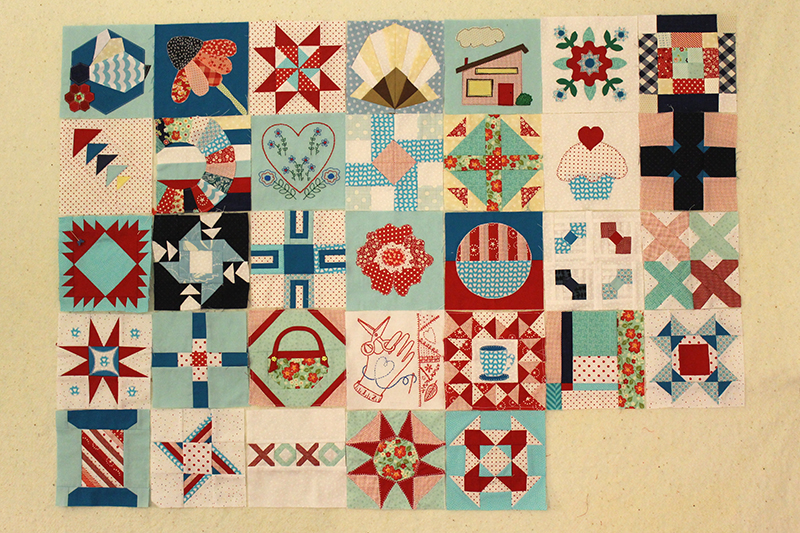 And with that, I'm completely caught up with the Splendid Sampler.  Block 84 will be released today and block 85 comes out on Sunday.  I plan to do those two for next week along with a bonus block.
Happy Day!