Splendid Sampler — Week 24
Blocks 69, 70, and 71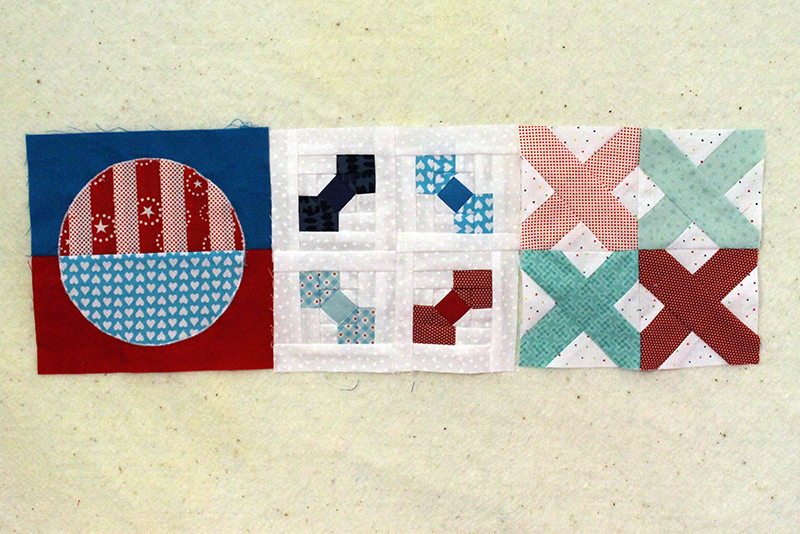 In last Thursday's Splendid Sampler, I stated that it would be great to have a "patchwork, applique, and a paper-pieced block each week".  It had been so long since I paper-pieced I had to go back to my Craftsy class to review the steps.
And this week all three blocks are paper-pieced!  Seriously.  What's that about????
But, since I am becoming obsessed with paper-piecing, I thought, "I can do it".
Block 69, Full Circle by Holly DeGroot was the first for this week.  I read the tutorial a couple of times and just couldn't understand why anyone would make this the way the instructions indicated. There's stripes, two arches, and two half circles. Then there's a lot of gathering and pinning to get the half circle to match up with the arch.  The stripes on the bottom of the circle could be paper-pieced or sewn together as patchwork.
So this is how I did that block….
I went with the paper-piecing method for the stripes since it is so much more precise. (and I'm obsessed) Then I just cut two solid pieces at 6 1/2″ x 3 1/2″ and stitched them together to make the 6 1/2″ square background.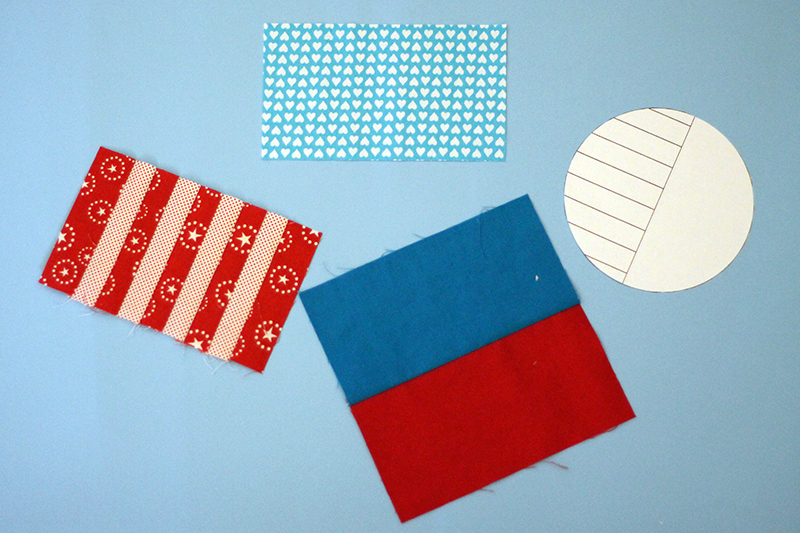 Joined the stripe piece to the heart fabric.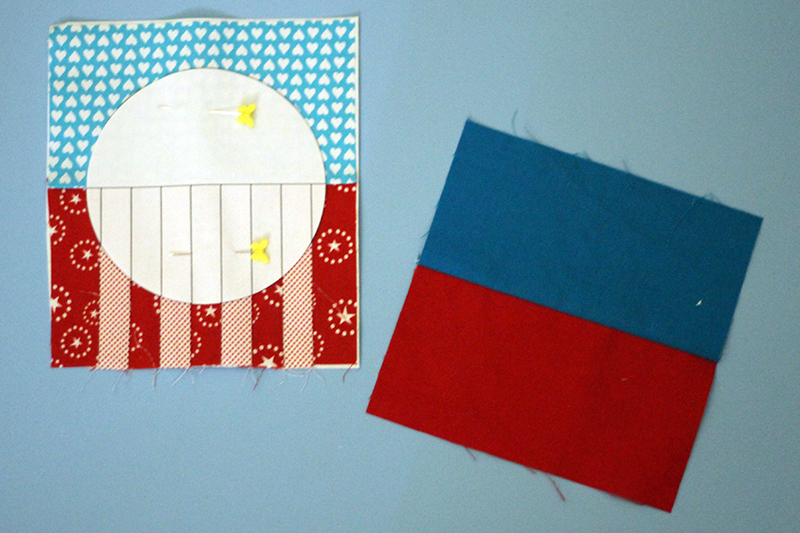 Then I just used Heat 'n Bond Lite to put the circle on to the background.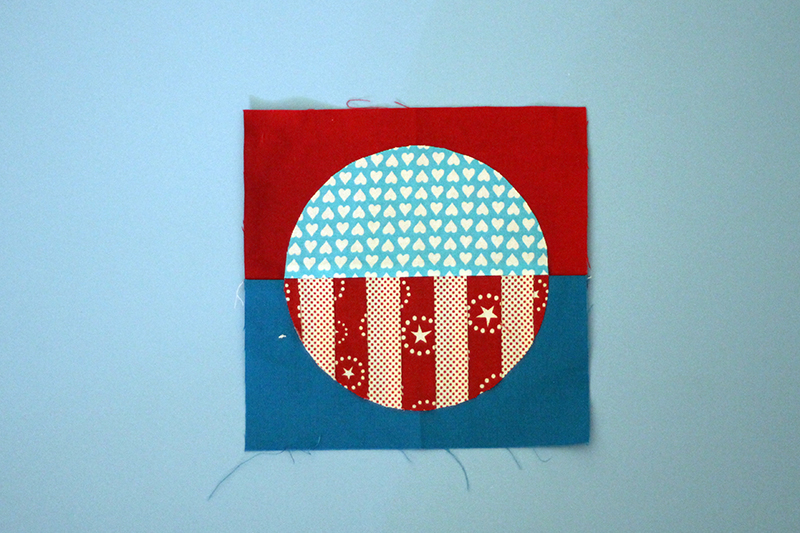 And finished with a satin stitch around the circle.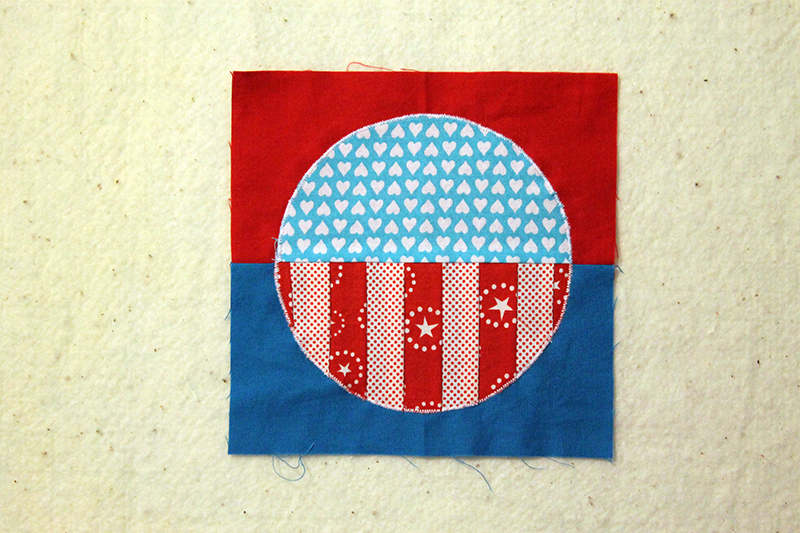 So pretty.  And easy! Kind of looks patriotic!
When I start a new Splendid Sampler block, I always go to the website and read about the designer.  Sometimes the designer has a blog and I follow that link.  The week I did block 66, the designer not only had a blog but also had a link to the Splendid Sampler Facebook page.  So I went there to see what I could see.  That was the week that they had just released block 70.  Paper-pieced.  And the comments were not good.
This was the comment from one quilter "I struggled with the dress but I got it done, not great, but done. #70 has the worst directions in the world. I can be patient. I can be flexible. I really do like to try new things but this is not fun. To get the one bow did you just use the cut pieces for one color? Sorry to complain about a free pattern but come on….. then for those of us who struggle enough with paper piecing, there are 2 in a row. Tired and ready for bed. I will try something different tomorrow."
I too struggled with that dress.  Block 28.  I ripped that sucker apart and redid it so many times and the thread spool still turned out wonky.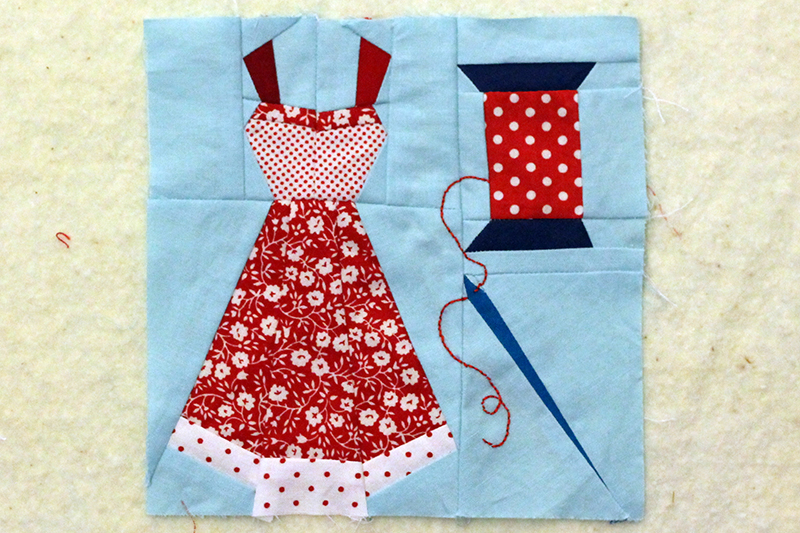 I moved onto block 70, Bows by Jane Davidson, with some trepidation.
Happy to report that it wasn't all that bad.  The instructions didn't go into a lot of detail but at least the sizes of each bit of fabric was included. One of the blocks of the Splendid Sampler, I can't remember which one, didn't include what size to cut each color so that was really hard. This one had lots of tiny pieces–with a little patience and a couple of hours of sewing time–number 70 turned out great.  I changed up the pattern a little by making the middle of each bow a solid color.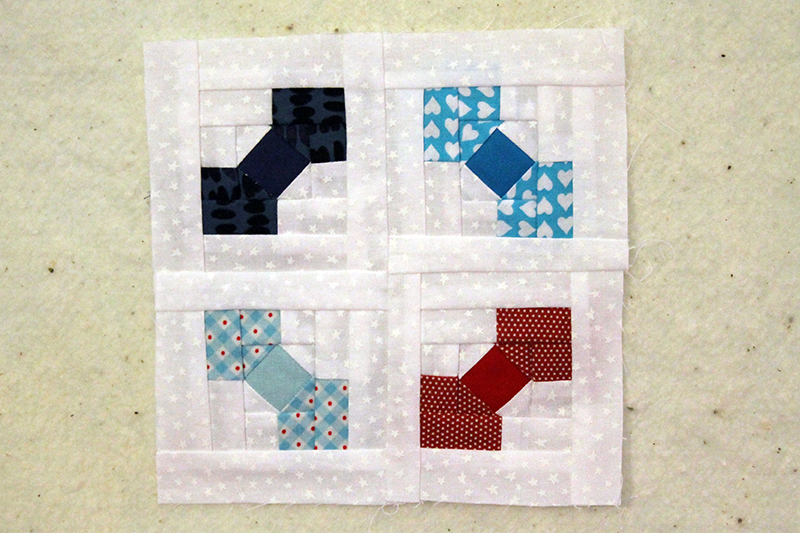 I almost didn't do First Stitch, block 71 by Kerry Green, this week.  Between the pieced 7-point star that I posted about on Tuesday and these other two blocks, I seriously considered doing a bonus block.  But when I looked at First Stitch and read the VeryKerryBerry blog post about it, I really liked it.   Paper-pieced but the instructions were very detailed so it wasn't too difficult.  I was really really careful and thought everything was going together splendidly but when I finished, it was off a bit on one of the seams.  Really can't figure out what I did wrong.  But I'm not redoing it.  Just another Perfectly Imperfect block for my Perfectly Imperfect Quilt!
And it's pretty.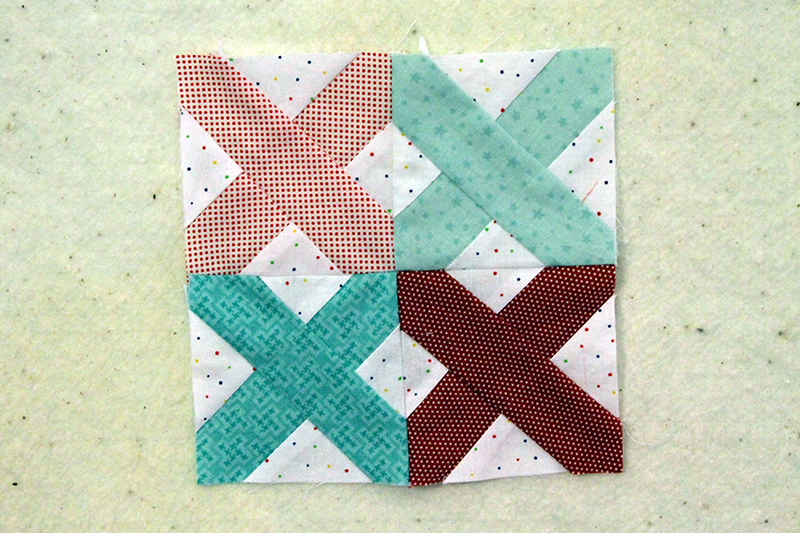 I'm using a new background fabric.  I was looking for white with blue dots but the local shop didn't have any and I was too impatient to order online.  This one is from Timeless Treasures and I couldn't find it at Fabric.com.  It's probably from an out-of-print collection. It's kind of fun and I think it works okay with my colors.
Here's 51 through 71.  Finished.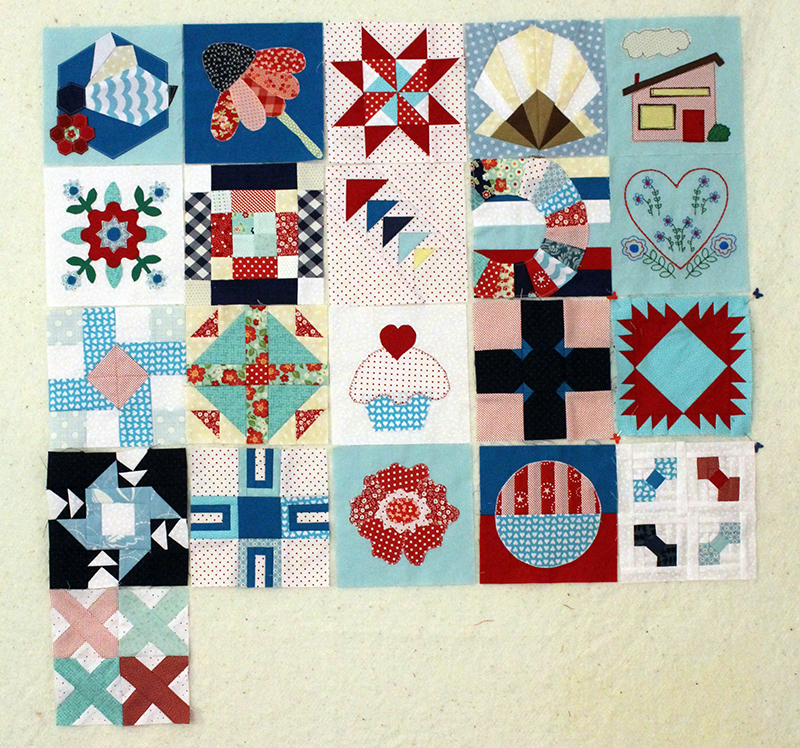 I just sat down with my calendar and figured out that I would be caught up with the blocks on December 8 if I continue making three blocks a week!  Yay!