Splendid Sampler — Week 23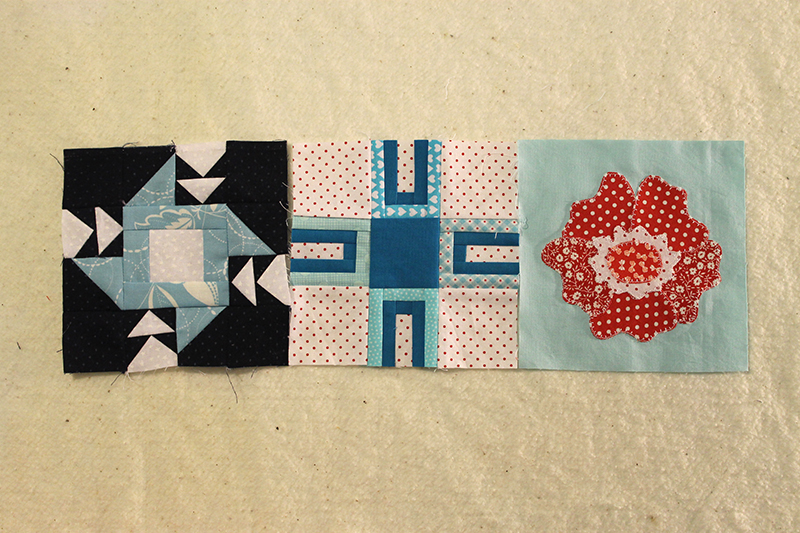 Blocks 66, 67, and 68
Happy Thoughts by Vanessa Goertzen is block 66.  Yay!  I'm on block 66! That's a happy thought, right?
Block 74 should be released today.  With these blocks finished, I'm only 5 blocks behind!
I don't usually follow the designers color scheme because I'm going with blues and reds but Happy Thoughts was pale blue, dark blue and white. Some of my favorite colors and it fit right in. Perfect!
When I only had the last row to attach I looked at the almost complete block and glanced over at it's name on the instruction sheet.  And I thought, that's really appropriate.  This is a happy little block.  We had gone through some trials over the past few days and this kind of made me feel a little better.  But then I attached the last row upside down.  Not so happy thoughts as I ripped it out and stitched it back on in the correct direction.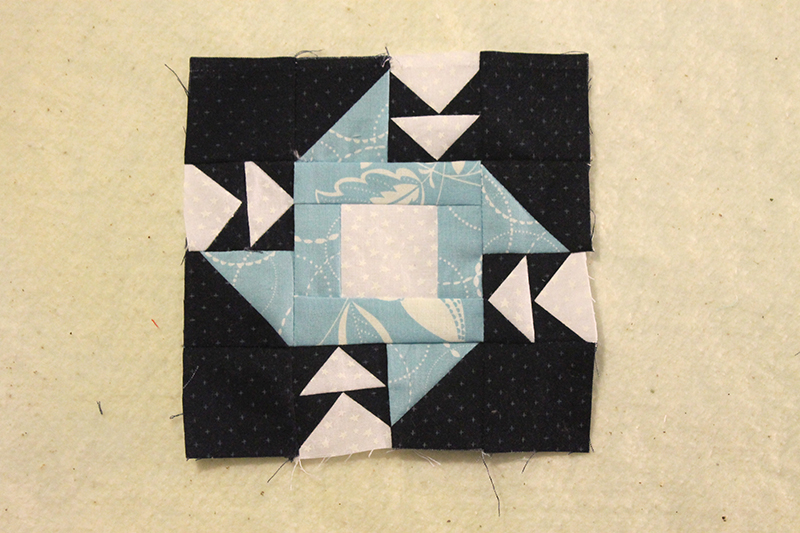 When I finish a block I put it on my design wall right above my desk just about at eye-level.  The more I stared at  Happy Thoughts, the more I realized that those little flying geese were just really wonky.  And then I finished block 67, Bobbin Chase by Scott Hansen.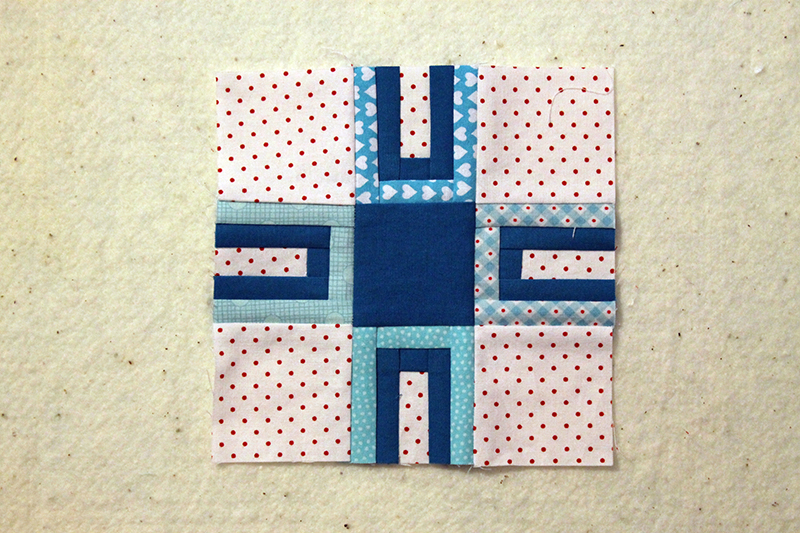 So nice and precise next to the crooked geese.
This one is paper-pieced.  Started out with lots of little bits of fabric.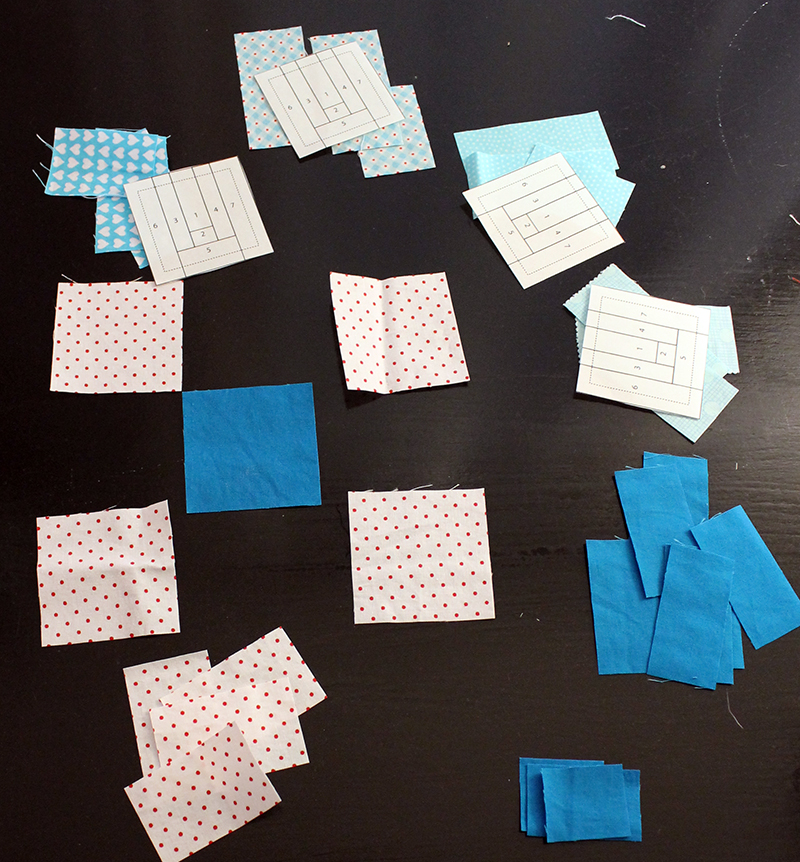 It took far longer to cut the pieces than it did to sew it all together.  I really like how the colors work on this one.  I hadn't done paper piecing for a few weeks and went back to watch my Craftsy Video for a quick review.  So glad I bought the lesson!  I plan to buy the lesson about free-motion quilting soon.  Soon as I get caught up with a few other projects.
I went out to Scott Hansen's website, Blue Nickel Studio, to learn a little more about him.  His quilts are bright and colorful. So much fun.
The next block, 68, was applique.  Wild Rose by Pat Sloan.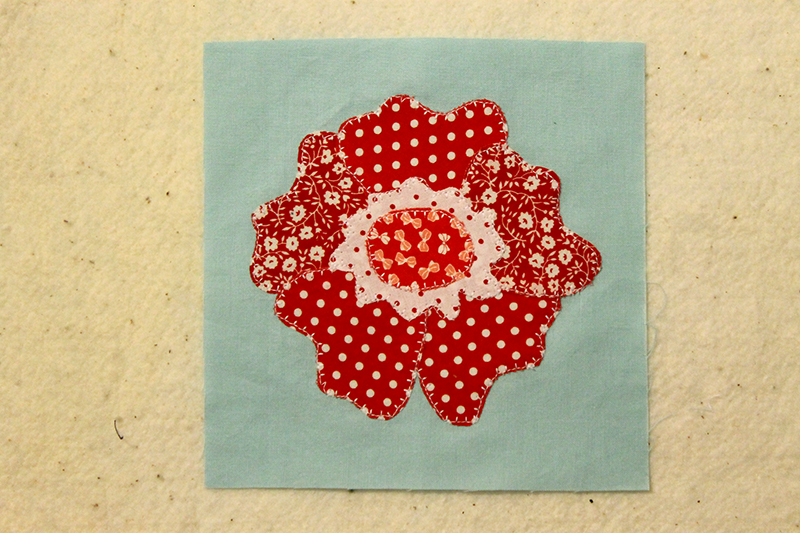 After many attempts at raising roses here–pinks, yellows, white–the only ones that have ever survived are Don Juan's and they are bright red.  And smell heavenly!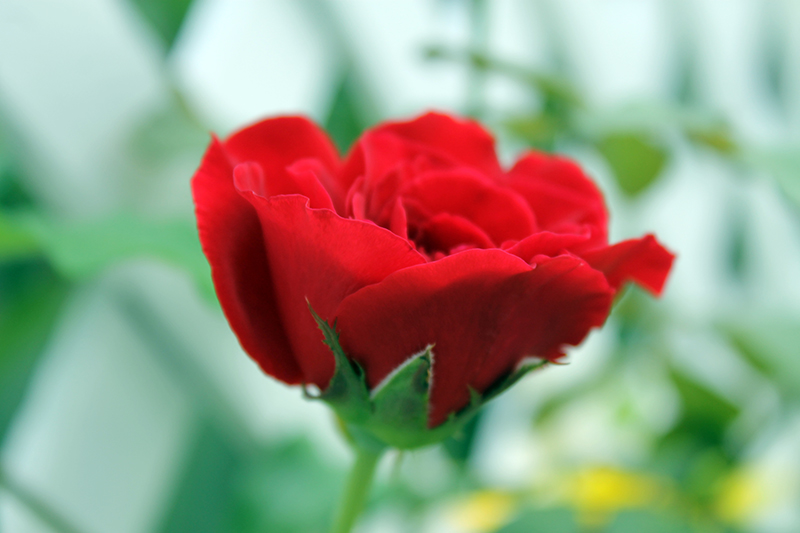 So I used bits of fabric with red for Wild Roses.
These three blocks were fun to make.  It would be great if each week there would be a patchwork, an applique and a paper-pieced block!
And here's blocks 51 through 68.