Splendid Sampler — Week 22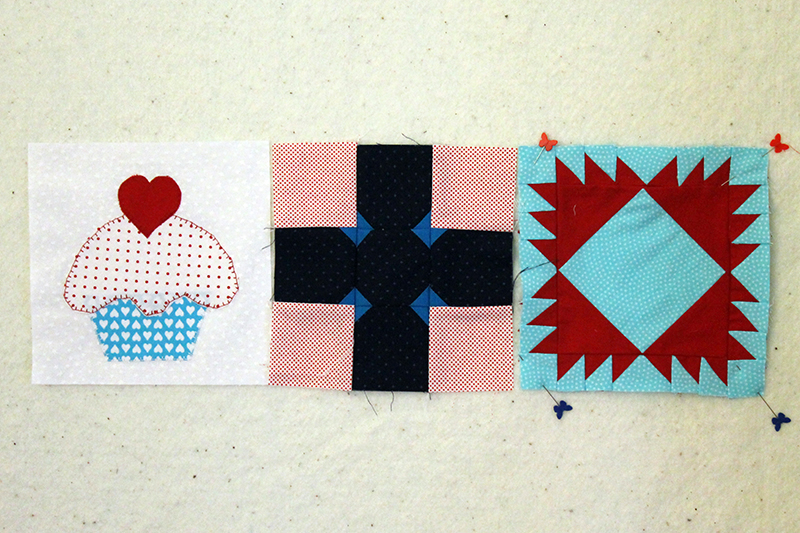 Blocks 63, 64, and 65.
Applique blocks are so quick and easy.  Block 63, The Icing on the Cake by Kim Christopherson was a fun block. The heart on top, of course, had to be red and then I picked the white with red dots for the icing because I thought it would look like vanilla icing with sprinkles.  Wrong choice. I should have made chocolate icing because the blue of the cupcake wrapper shows through.
Rising Star by Kathy Brown was block 64 and also easy.  Patchwork.  The only problem I had was that my sewing machine did not like putting those little corners on each square and would just devour them.  Rather than stitching across, it rammed them into the little hole where the needle goes.(there's probably some real word for that little hole)  I changed to a smaller needle but that didn't help much.  It was a struggle.  Me against machine.
The last block for the week, 65, Stripes and Flowers by Sioban Rogers was offered in two different methods–patchwork or paper-piecing.  I thought about doing the paper-piecing but went with the patchwork.  Cause that had to be easier, right?
The half-square triangles along the sides start out at almost 2″ and have to be cut down to 1 1/4″.  I find cutting down HSTs very tedious.  Especially since there were 16 of those little suckers!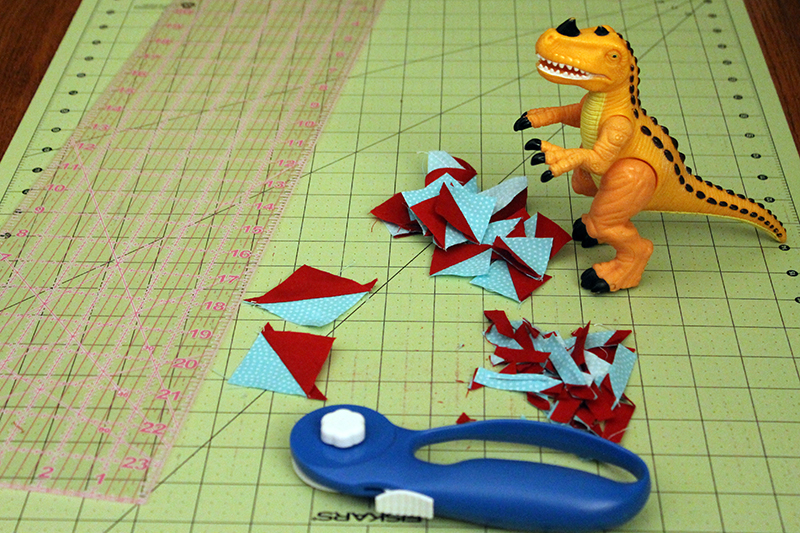 There were a lot of tiny pieces which ended up with a lot of tiny seams.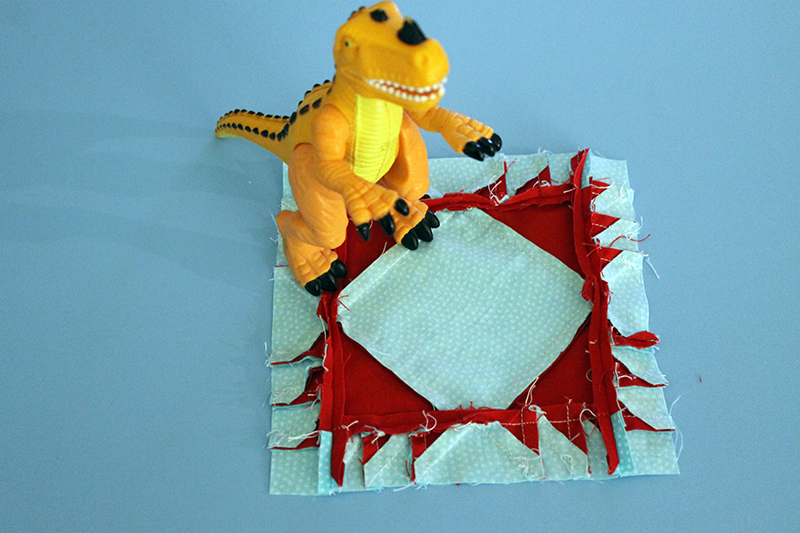 So many that when I finished the block the sides wouldn't stick to the design wall.  I had to pin it there!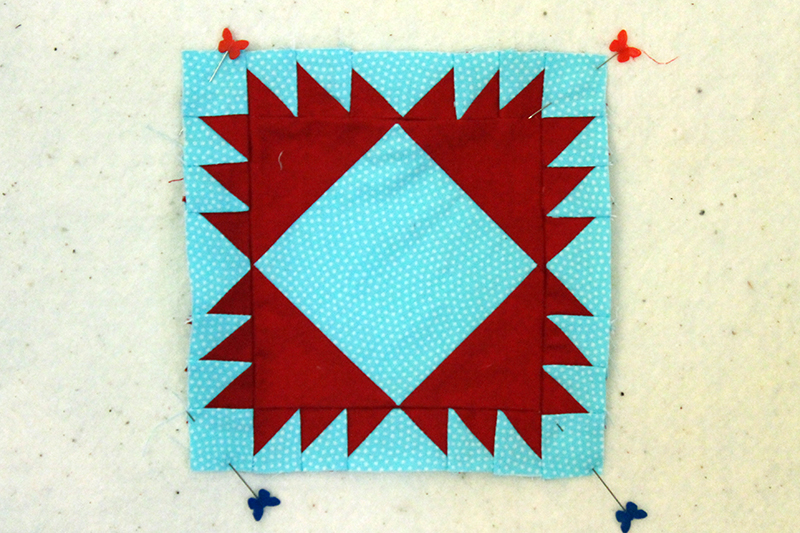 In hind-sight, I probably should have done the paper-piecing method!
Here's 51 – 65.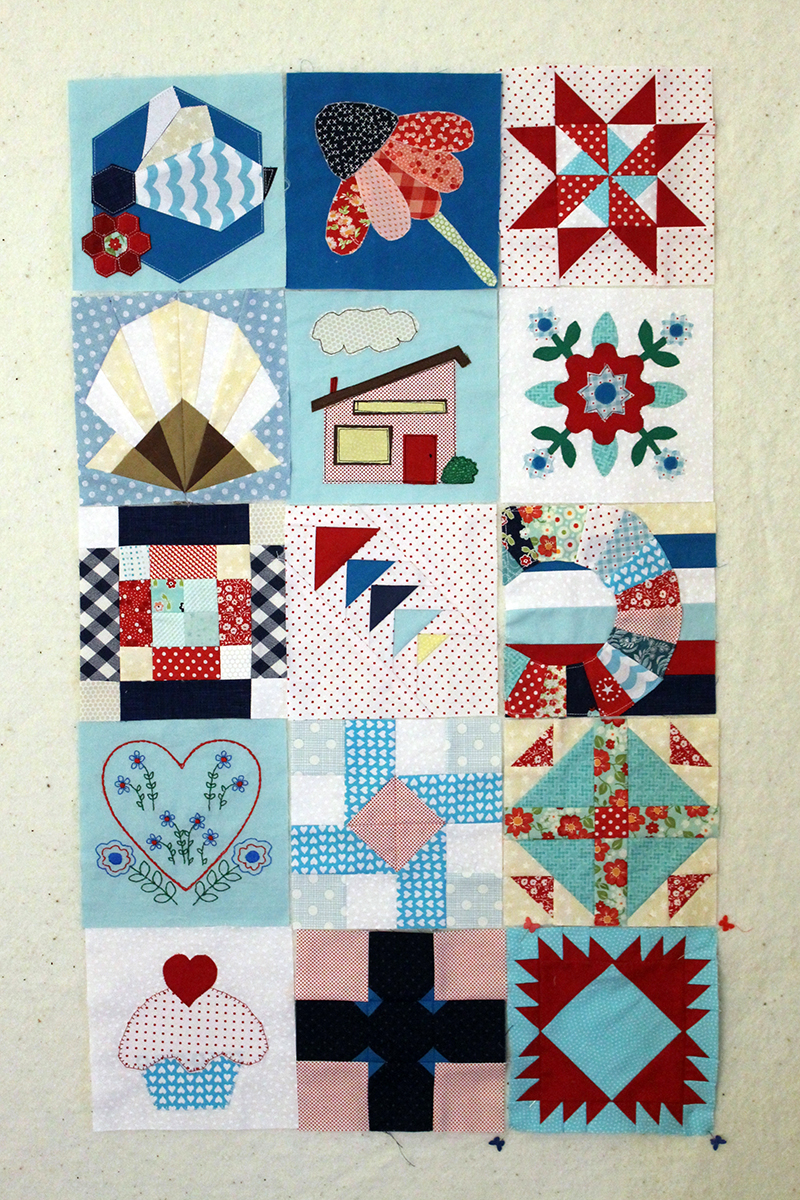 Only 35 blocks to go.  Plus the bonus blocks. Another one of those was just released last week.  I'm still not sure how many there are.  Once I get caught up with the main bunch of blocks, I'll continue doing three a week until I do all those extra pieces.
I've been considering how I will put the final quilt together.  I was so happy with the "quilt as you go " method that I used for My Calendar Quilt and I'd like to use that again but the blocks for the Splendid Sampler are just too small to quilt individually.  I'm thinking about putting them together the size of the Baby Rock Star Quilt that I just finished and then using the QAYG.
Anyhow, I have months to go to overthink that subject!  Next week, Blocks 66, 67, and 68!