Splendid Sampler — Week 12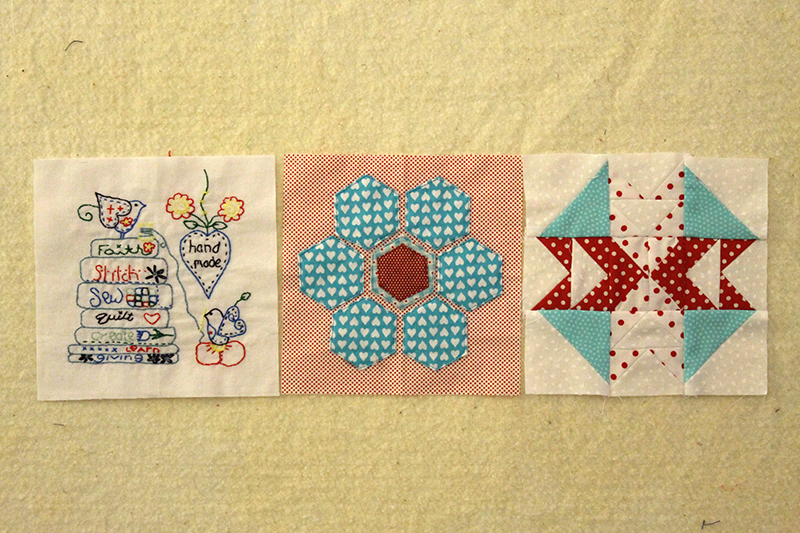 I didn't get any paper-piecing done this week.  But I have hope.  I've been watching a Craftsy class with Carol Doak.  I think I understand how to put it all together.  I plan to start with the easiest one of the bunch.
Something I was shocked to learn from Carol was that you can use your sewing scissors to cut paper.  What!!!!! Okay.  You that don't sew are saying, yeah, big deal.  But I have spent my whole sewing life threatening anyone with death if they tried to use my expensive sewing shears.  Carol claims to have talked to a few scissor manufactures and they said no problem! I told Terry and he said "another one of your old wives-tales debunked!"
But, if I had still had kids in the house, I would continue with that old wives-tale.  That's the only way to actually keep the scissors in my sewing basket and out of their crafty hands!
I finished the embroidery on Block 31, Blossoming by Jennifer Reynolds.  As I mentioned in a previous post, it takes about two weeks to get these embroidered blocks finished.  So far there is only one more that I need to do but I'm sure they'll be putting out more of these in the future.  I'm still not very good at using the Running Stitch around the corners.  Practice, practice, practice.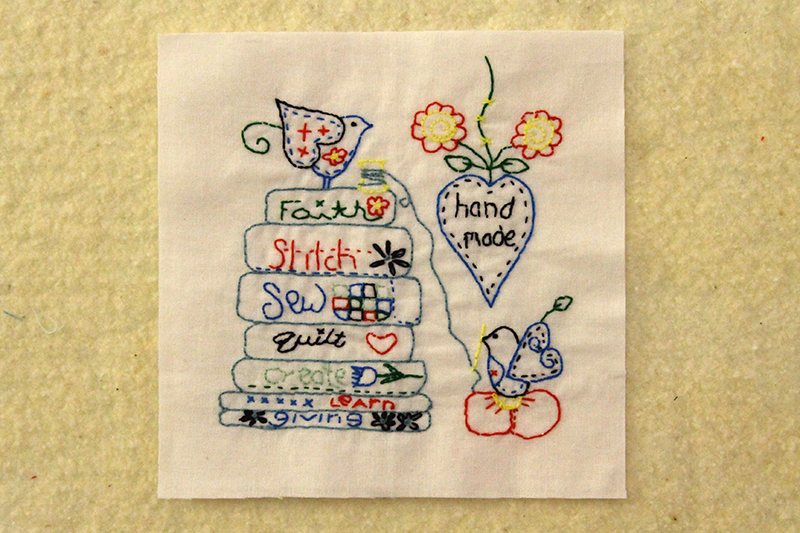 While I didn't do any paper-piecing, I did try something new this week.  Hexies!  They are actually really easy and kind of fun. I did block number #41 Sew South by Jennifer Mathis.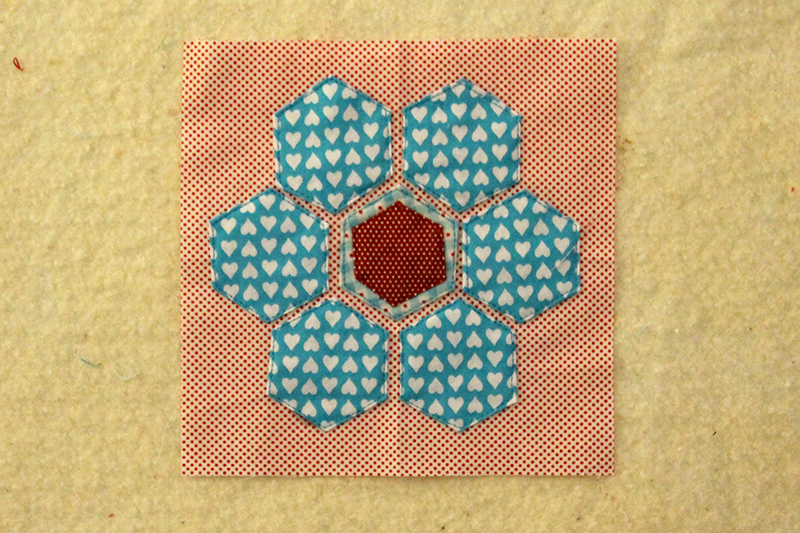 Jennifer uses glue to put her Hexies together.  After watching an excellent tutorial from ModernHandcraft.com I basted mine together with needle and thread, pressed, pulled the templates out and then glued the hexies to the block.  After waiting a few hours for them to dry I then machine stitched them around the edges.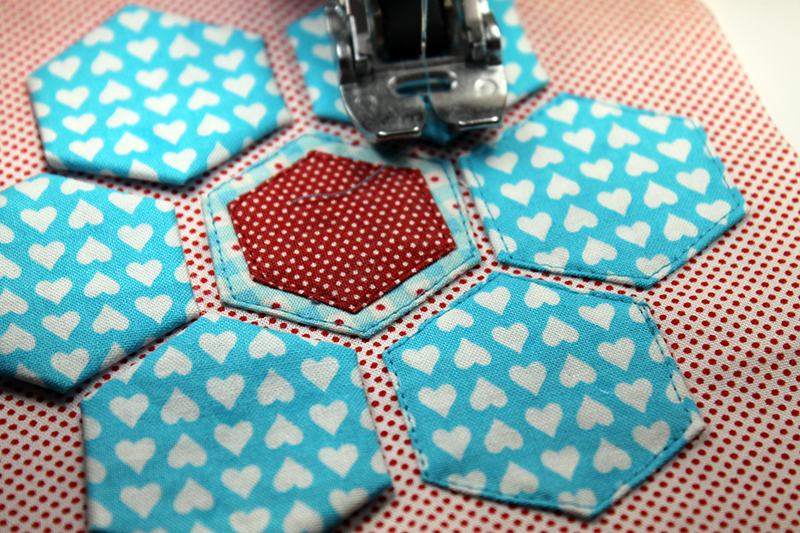 Hand-stitching those little hexies could be another project for while I'm watching the news.
If you make this block, I think there is an error in the instructions.  The sizes indicated to cut the squares do not work with the "Large" template that is included on the PDF.  I think the medium and small hexies templates are supposed to be used.  Anyhow, that's what I did.
Last week the Splendid Sampler sent out number 50 and had a little party with giveaways to celebrate being half-way through with distributing the 100 blocks!  I've got 36 finished!  I'm actually pretty pleased with that number since I started a few months after the beginning of the Splendid Sampler.
So to join in the fun, I did Block 50, Flights of Fancy by Joanna Figueroa.  This was also the only block left that was all piecing.  I like the block but don't really like the fabrics I picked.  Should have chosen another dark red print rather than the white with red dots.  But I'm not doing it over–it will be just fine when I put the whole quilt together!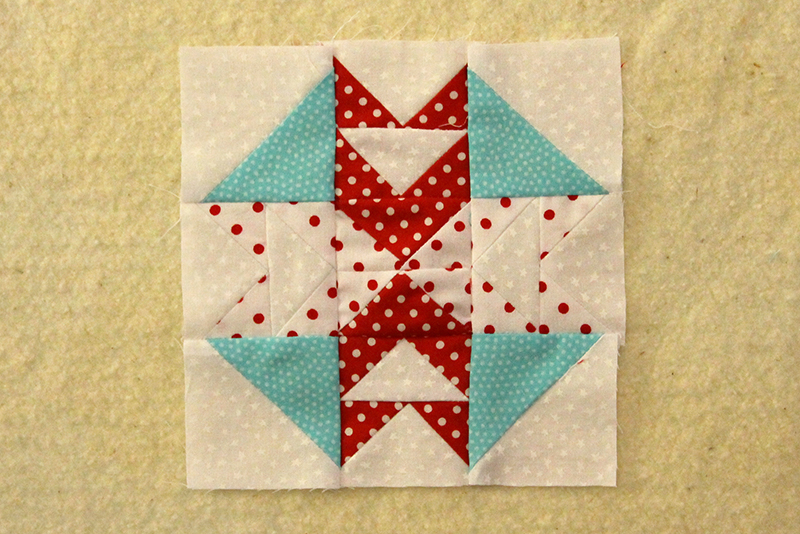 So here's my Splendid Sampler so far.  I've put it in rows of ten because that's how I intend to stitch them together.  That will give me 60″ wide then I'll either put borders around each one or wide borders along the sides to turn the blocks into a queen-size quilt.  They are in order as how they've been distributed with blanks spots for the paper-piecing.  I'll be mixing them up when all of the blocks are finished and I'm ready to stitch!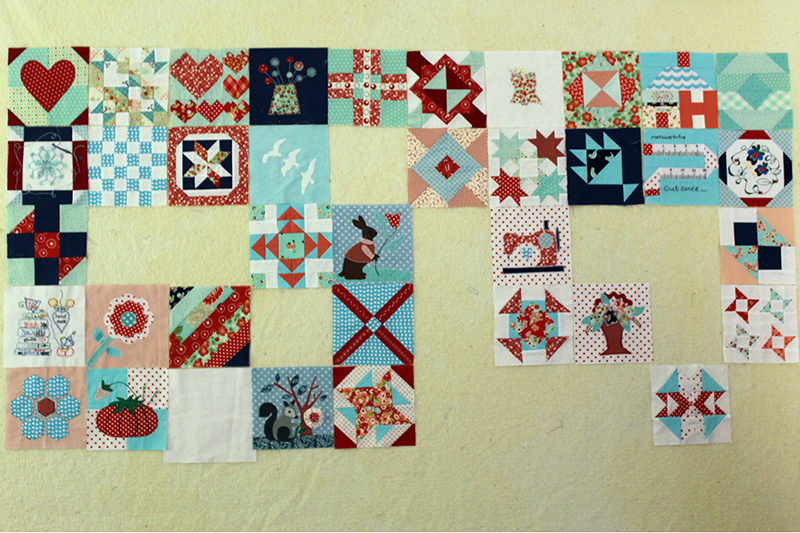 36 done!