Splendid Sampler — Week 10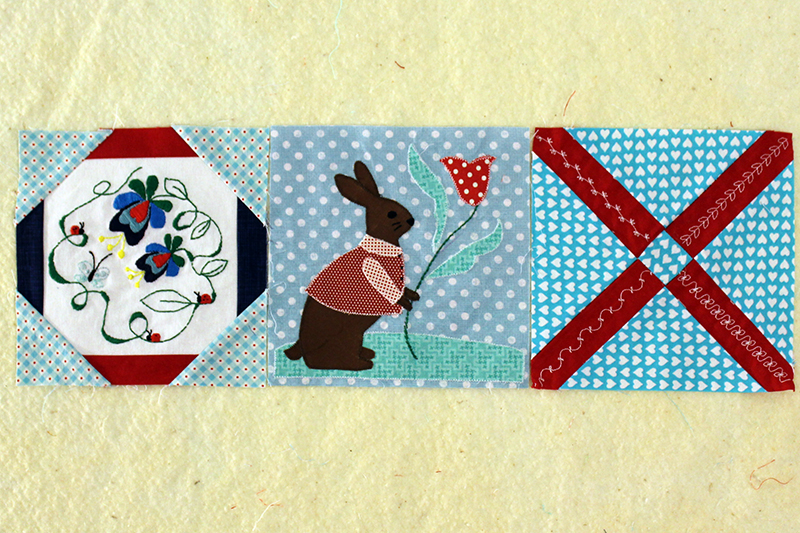 I received an order from Fabric.com last week.  (Shhhhh, don't tell Addison that her mermaid fabric is here!)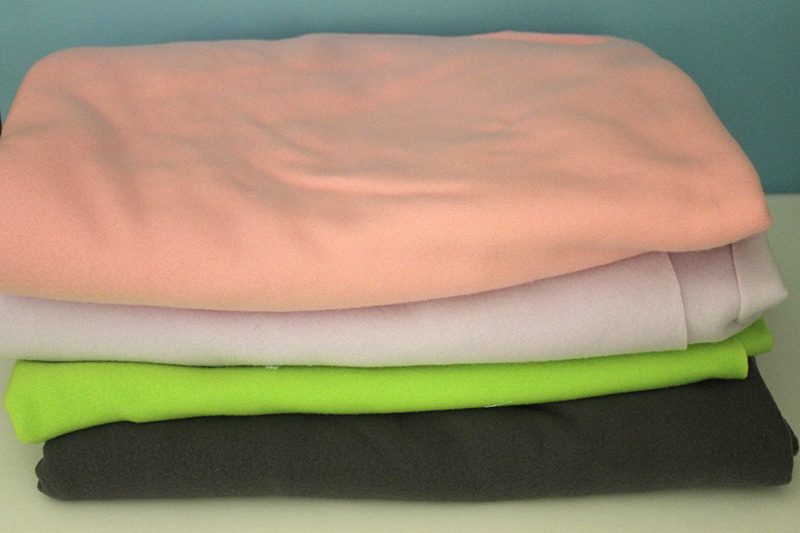 There's enough for at least 2 mermaid tail sleeping bags (hopefully 3) and one shark.
I also ordered three pieces to supplement my stash for the Splendid Sampler.  My excuse is I needed to buy enough to get the free shipping that comes with a minimum of $50 order now.  As usual, I threw all of it into the washer when I opened the box. Didn't think twice about it.  And was really surprised when the red Kona cotton bled onto the Moda Essential Dots. Everything else was fine.  I tried several suggestions on the internet and nothing removed that pink stain. (I didn't actually try buying something that's actually made that purpose.) Since I'll be using it for small pieces for the quilt, I plan to just cut around the pink blotches.  And I'm going to consider it a lesson learned.
The blue fabric is "To the Moon and Back" dot blue.  I bought it thinking I'd use if for the sky in the applique blocks but it's darker than I expected.  Not the first time that's happened to me when ordering online but I'm still using it.
Started out this week by finishing Block 20, Nature's Walk by Vicki Tucik.  This was almost completely embroidered and it called for satin stitch. It took me a VERY long time.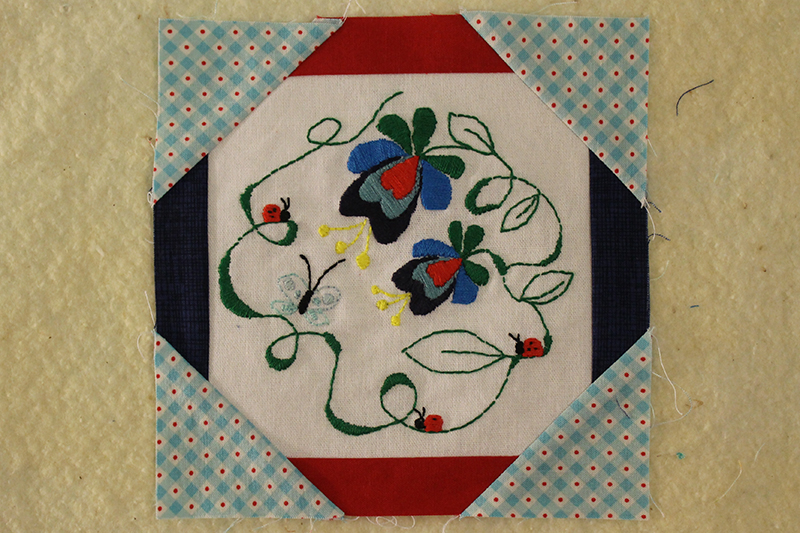 I really liked how it turned out.  Some of my stitching is still wonky but I believe with some more practice, I might even get good at this! I'm starting to like embroidery because I've accepted that it can't be rushed.  I work on it while watching the news or some other mind-numbing TV show.  I think this one took me two weeks of part-time stitching.
Next I moved on to Block 25, Sunday Best by Anne Sutton.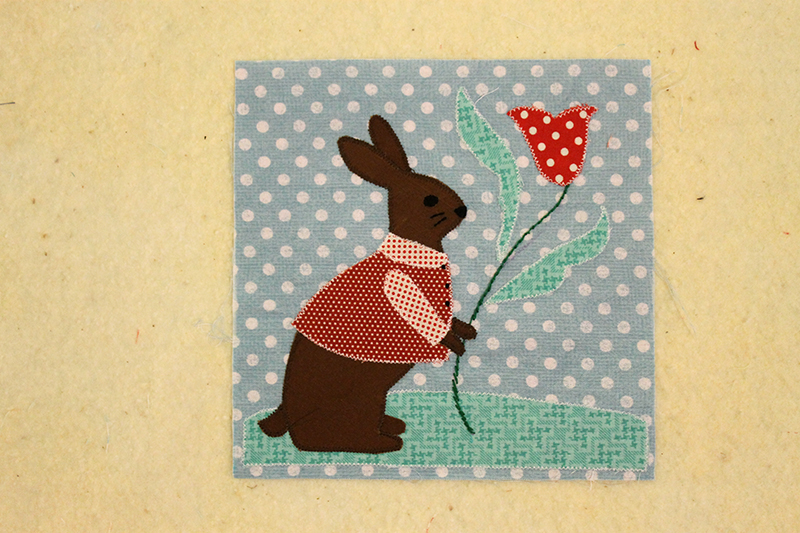 To me, this bunny looked like a chocolate Easter rabbit.  But, since it was originally introduced to the Splendid Sampler on May 8th, it probably wasn't meant for Easter.  (Maybe it was part of the an after-Easter clearance sale.)
Anyhow…..for my block, this is a Chocolate Easter Rabbit.  So I'm introducing a bit of brown to my blues and reds.
The tutorial says to "embroider his eyes, nose, whiskers, pocket and flower stem and sew tiny buttons on his jacket." I satin-stitched his eye and nose, back-stitched the whiskers and used the stem stitch for the flower stem.  (Seemed appropriate.) I forgot all about the pocket but what chocolate rabbit needs a pocket? (Well, what chocolate rabbit needs a jacket?) The rabbit in Alice in Wonderland needed a pocket for his pocket watch but I'm pretty sure that a chocolate rabbit can't tell time.
Instead of tiny buttons on his jacket, I used my new mad embroidery skills to make his buttons with colonial knots.
And my last piece for this week is the Wishful Garden by Kristyne Czepuryk, block 35.  I almost skipped it because it had more embroidery.  Really.  I just couldn't tackle another hand-stitching project–all stitches that I hadn't learned yet! So I turned to my fancy-schmancy sewing machine and picked four of it's very cool stitches and made this lovely block.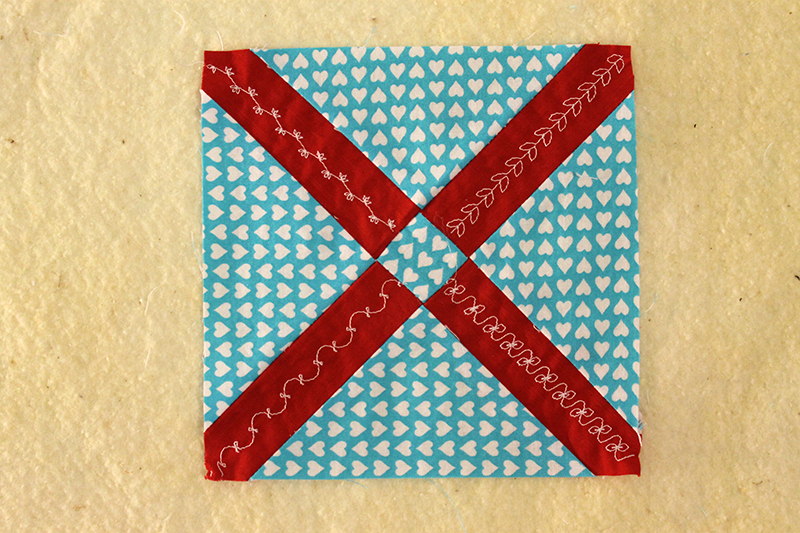 If you are making the Splendid Sampler and haven't got to this block yet, let me tell you I had a little problem with it.  It calls for a 5 3/4″ block cut diagonally.  The little arrow corners are templates.  I think I'm pretty good at following instructions but when I put it together here's what it looked like:
So I ripped it apart and cut a 6″ block into diagonals.  That worked.  I went out to the website plus looked at the Splendid Sampler page on Facebook and couldn't find any warnings so I'm guessing I misunderstood something!
Now, back to the whole Splendid Sampler…..
I wanted to show you how far I am. Thirty blocks completed. Today block 48 should be introduced.  In this photo, I've put the blocks in the correct order.  You'll see a couple of white blocks that I've already cut out that will be embroidered.  You'll see on the fourth row the last block on the right is just plain.  That's the background fabric that I'm using for block 32 which is an applique block that I'll have ready for next week.  On the bottom row, I've put up some 5″ charms to represent blocks 45 (applique), 46 (pieced) and 47 (applique).  The rest of the empty spaces are all paper-pieced blocks.  Ten of them.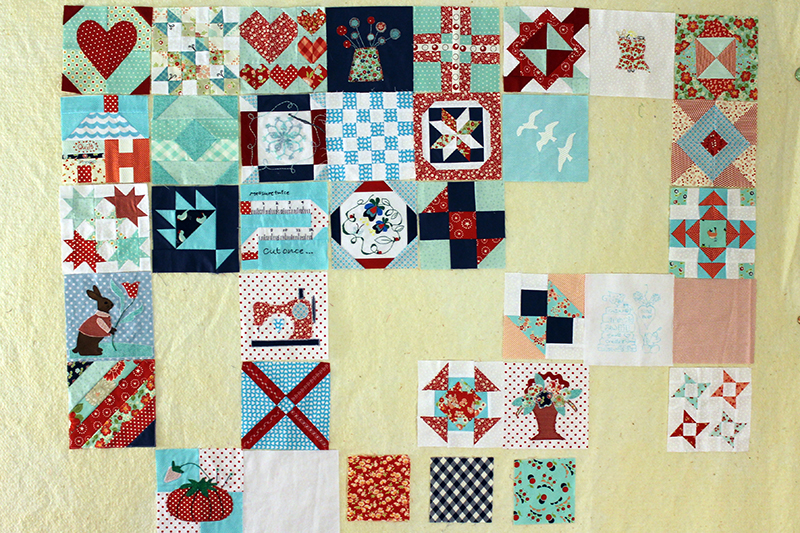 What exactly is paper-pieced?  I've watched some videos and read tutorials and still just don't get it.  Craftsy sent me an email offering classes for $14.99. (I think the deal is over already.)  I've never used Craftsy but have heard good things about it.  So I bought one class for paper-piecing.  Partly because I do what to learn it.  And partly because I know if I spend money on something I will force myself to use it.
So maybe I'll have a paper-pieced block to share with you in a few weeks.
Or maybe not!