For many months (years?), I was using Thursdays to post about whatever quilt (or quilts) I had in progress.
But I've really been burnt out on making quilts.  Entirely my fault. I had intended to take a break after the Splendid Sampler but I jumped into two quilt-a-longs and then foolishly decided to make 3 extra quilts for Christmas gifts. Cause, like my husband says, I try to squeeze 10 lbs in a 5 lb sack.
And then inspiration struck!  I needed to get back to quilting!  So many beautiful fabrics out there just waiting for me to buy them and use them!
But first, I need to at least make an attempt to get the three unfinished quilts that I started long long long time ago.
First, an update on the  "Tell me a story" quilt.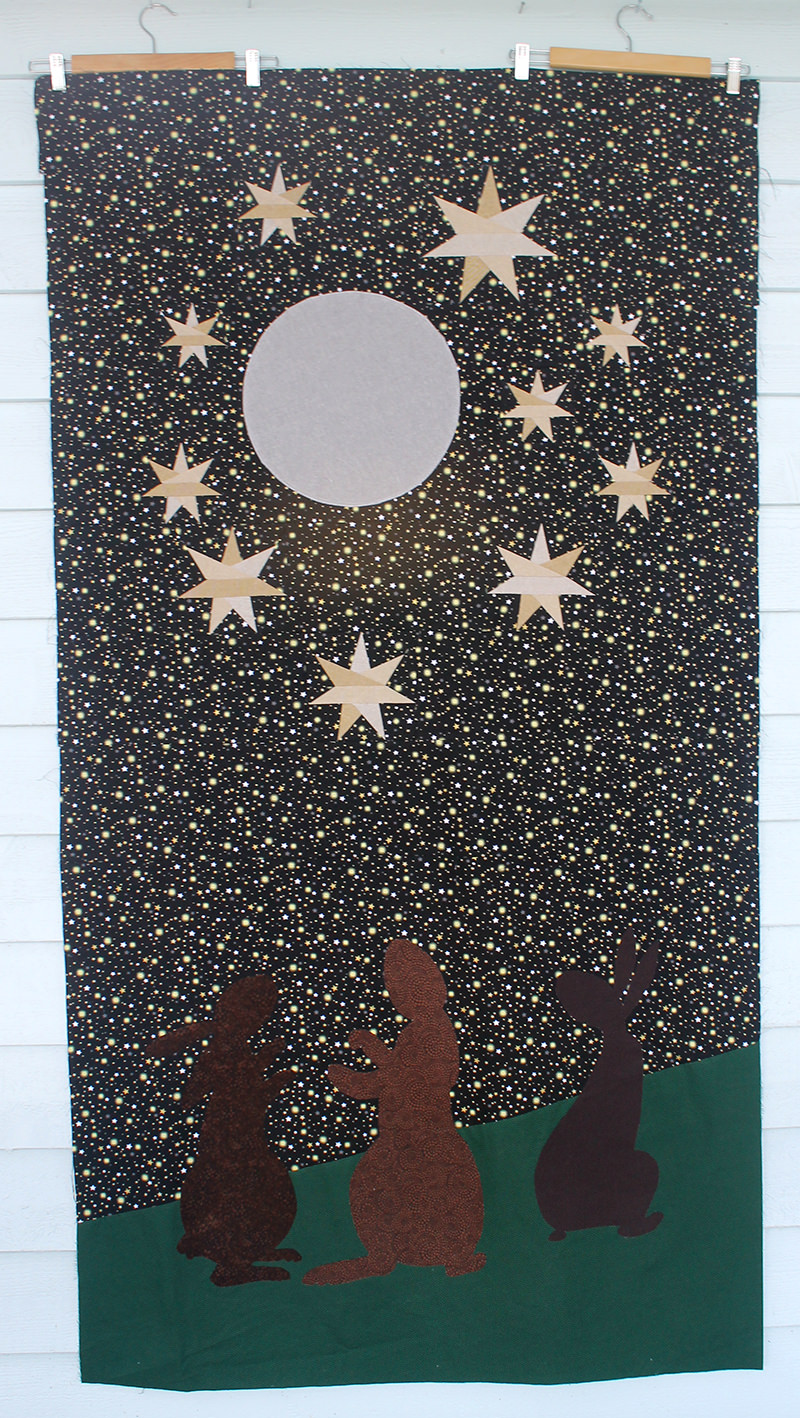 When I started this quilt I was really excited about it.  I wanted to do a night time and a day time version of the rabbits and use the quilts in the grandkids bedroom.  I was going to use all kinds of different methods to make these really cool quilts.
And then my excitement waned because I wanted to use free-motion quilting.  But I just can't do it.  I bought a Craftsy class and watched It.  (okay, not the whole thing–could that be the problem???)
I think I need to buy an extension table for my sewing machine. And I don't know if I want to invest more money into a skill I might not have the patience for!
Okay.  Enough with that.
I wanted to try some new ideas before I put it on the big quilt so I made this little test quilt.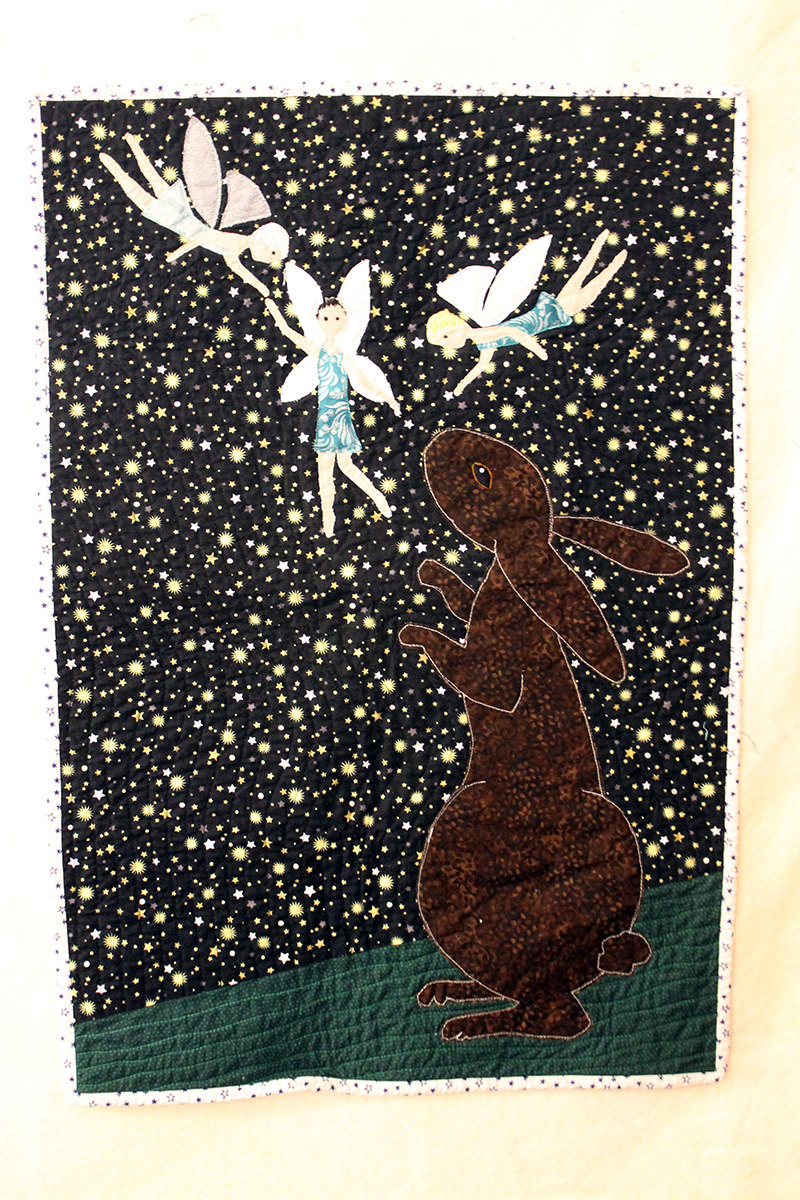 Doesn't look too bad from a distance but in a close up my fairies look a bit "shabby chic".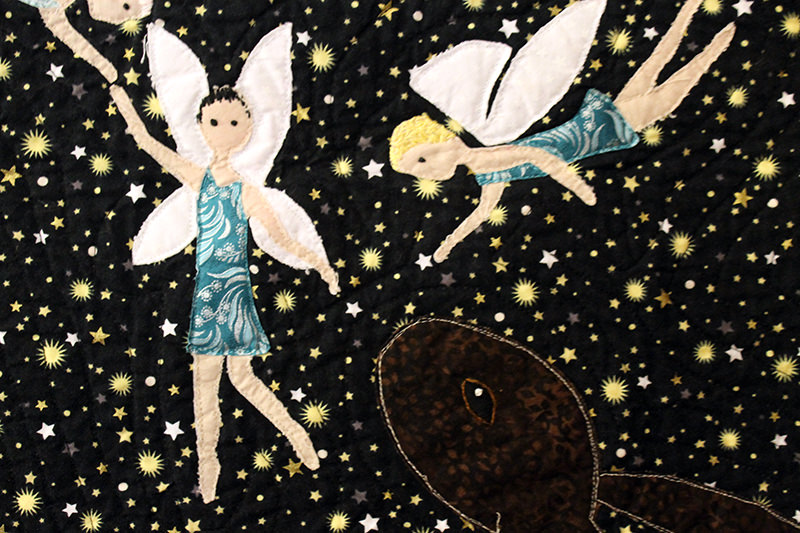 I have happily figured out what I did wrong on the fairy appliqué. Ready to try a better way on the big quilt!
I tried free-motion quilting on the little test bit–did it on the appliques but used the walking foot for the rest of the quilting.
The only thing that really turned out on the wee quilt that I had concerns with was the eye embroidery for the rabbit. First I just hand embroidered a black eye but it just disappeared in the dark brown fabric. After studying numerous bunny pictures, I decided to do the eye with a outside rim of brown and a white French knot in the black area.
"Sometimes you win, Sometimes you learn."  John Maxwell.  (Don't know who that is but thought it was an appropriate quote for my life!)
This little quilt will go on the doll bed in the grandkids' room.  Or maybe I'll just take it with me to North Dakota when I visit next. The Florida grandkids are possibly too old for dolls now. But that might cause a fight with the ND sisters. Scheesch!  What to do???!!!!!
I have another quilt that's been tacked on my design wall since January.  I have been wanting to make a black and blue quilt using Cotton & Steel fabrics for a couple of years–a mix of their "Bluebird" and "Black & White" collections.  I actually had a lot of it put together but ran out of this white fabric that had tiny white stars.  I have used it in many projects and really thought I had plenty of it.  Wrong again!
And I can't find it anywhere.  Online or in any quilting shops. The last place I shopped at was "Nana's Quilts" in Brooksville and the woman working there called it the "Quilter's Dilemma"–running out of fabric before the quilt's finished. Think I'd learn by now!
I found another similar fabric from Blank Quilting.  Not quite the same but I bought it anyhow–rationalizing that this will probably be a strange quilt that I will just have to keep!
So here's what it looks like on the design wall today. Guaranteed to change!
I should have a lot of it done by next week!
And then there's Lauri's quilt that she had as a baby and loved almost to death.  Still sitting in a tote.  Waiting for me to return and patch it up. I haven't forgotten you!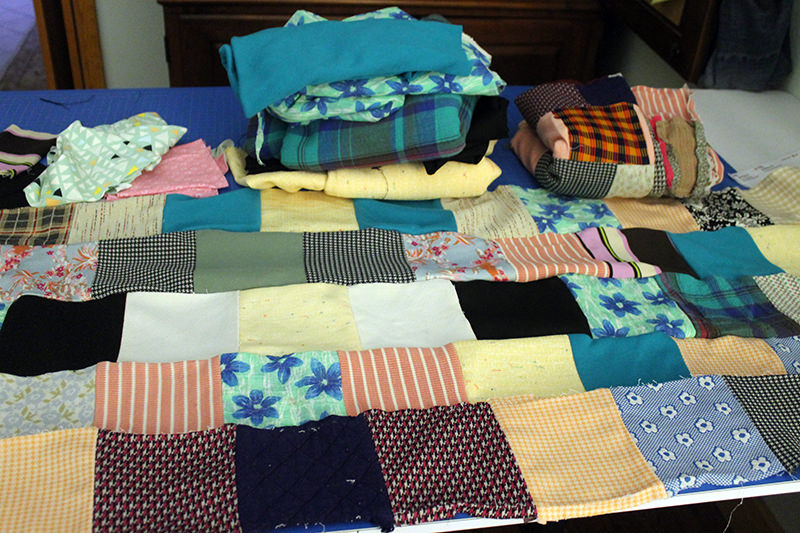 And then I stumbled across some new fabric from Jessica Swift for Art Gallery Fabric.  It's called "Tallinn".  I was looking at this blog or that and then this bright fabric showed up and I thought the name was familiar.  I bought two of Jessica Swift's prints several years ago to brighten up my home.  Thought I was getting way too dreary in my art choices.  When I saw these prints I went "Yes–Perfect".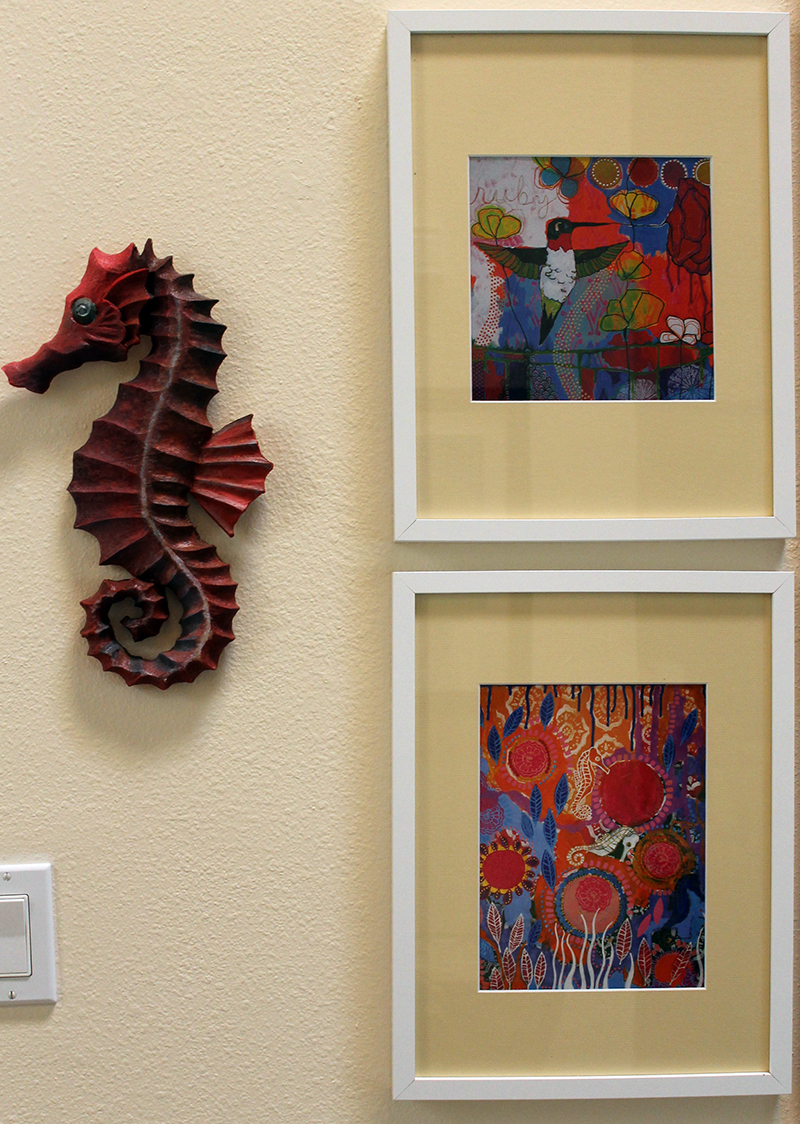 Now I REALLY want to get these 3 quilts finished.  Cause I don't like unfinished projects!  And right now I'm bursting with inspiration to make new!
I'll be posting about the quilty goodness on Thursdays again!