Pillowcase with Contrasting Cuffs Tutorial
Yesterday I posted a Giveaway for a pair of pillowcases with contrasting cuffs and a flap.  I forgot to mention that it also has "French Seams" which gives a nice finished appearance on the inside of the case.
The giveaway is open until Sunday evening but you have to comment on the original post to be eligible.  Don't comment on THIS post!  You can click here if you'd like to enter.
Okay, back to business!  This is not a difficult project but sometimes the French seams can be confusing.  I've included a lot of photos to help out.  If you have any questions, let me know.  I first made this pillowcase from a tutorial I found on Pinterest.  I've since adapted the pattern quite a bit–size, French seams, contrasting cuffs, but the flap idea came from A Spoonful of Sugar blog.
This tutorial makes one pillowcase for a standard size ( 20" by 26") pillow. All the seams are finished as "French seams".  The contrasting pillow cuff has a flap that covers the end of the pillow, giving a custom look.
I've been searching for nice soft white cotton fabric–like they use in sheets.  I asked at Jo-anne's and the clerk said no one sells sheet fabric, if I was embellishing pillowcases that I should just go to Ross and buy pillowcases.  Well, that wasn't going to work but it gave me the idea to buy a full-size flat sheet at Target.  For about $12 I now have enough yardage to make eight pillowcases. The fabric is 300-thread count and 100% cotton.  Win-Win!
For one of the coordinating fabrics I bought ZuZu by Alice Kennedy for Timeless Treasures at Fabric.com. It comes in more colors now–like turquoise and pink.  I love this fabric.  I love it so much that I bought way too many yards and wonder what I'm going to do with it all?
The black and white stripe fabric is also from Timeless Treasures. I wanted a stripe for a quilt binding and searched for it in quilt shops and online.  I finally found it at Hawthorne Fabrics and it was backordered but I had it in a week.  I think they give excellent service.  Once again, I ordered way too much but since it was difficult to find, I'm a little more frugal with using it.  I just keep it in my stash.
Timeless Treasures fabric is SOFT.  I love it.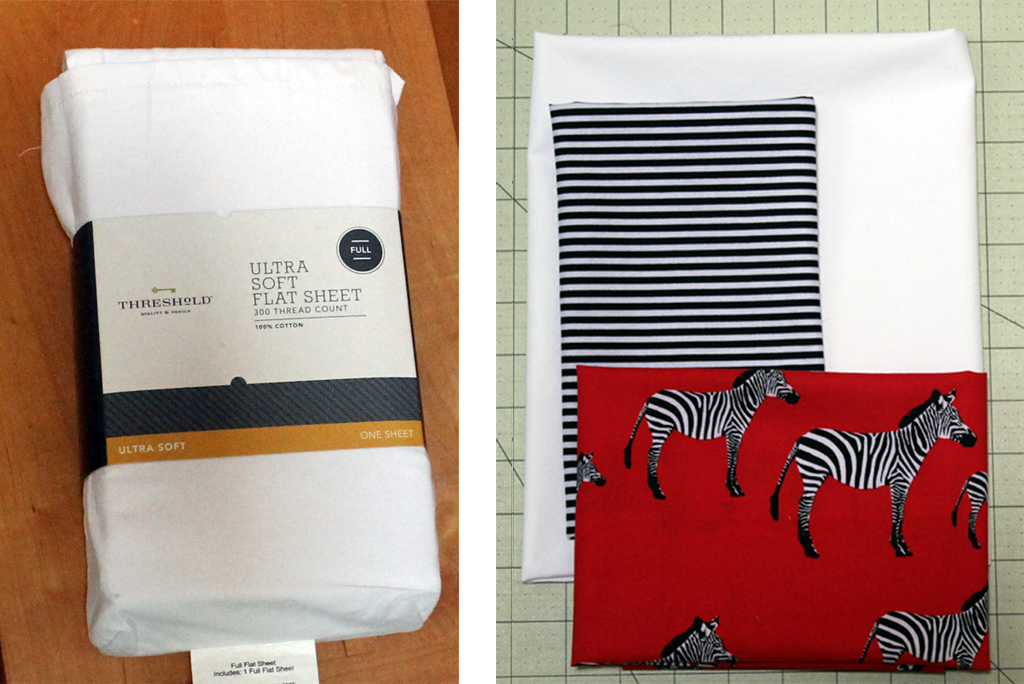 If you are only making one pillowcase, you can use two fat quarters for the coordinating prints.
Cut out white fabric for pillow case 41" x 21 ½"
Cut printed fabric A for front cuff 13" x 21 ½"
Cut printed fabric B for back cuff and flap 13 ¾" x 21 ½"
Front Cuff:
Take the 13" x 21 ½" front cuff piece and fold the 21 ½" wrong sides together. Press.
Put the non-folded side of the front cuff on one of the 21 ½" ends of the 41" x 21 ½" pillow case fabric. Wrong sides together. Stitch with a ¼" seam. Press the seam.
Turn the front cuff and pillowcase right sides together. Press. Stich a ½" seam.
Press the seam allowance towards the front cuff and top stitch on the front cuff fabric.
Back Cuff and Flap:

5.  Take the 13 ¾" x 21 ½" back cuff and flap piece. Press under ½" on one 21 ½" side then press under another ½" then stitch 3/8" from edge.
The remainder of the steps for the back cuff are the same as the front cuff—steps 2 through 4 so I didn't include photos.
6.  Put the unhemmed side of the back cuff and flap on the unfinished 21 ½" end of the pillow case. Wrong sides together. Stitch with a ¼" seam.
7.  Press. Turn right sides together. Press. Stitch with a ½" seam.
8.  Press seam allowance towards the back cuff and flap, top stitch.
Putting the Pillow Case Together: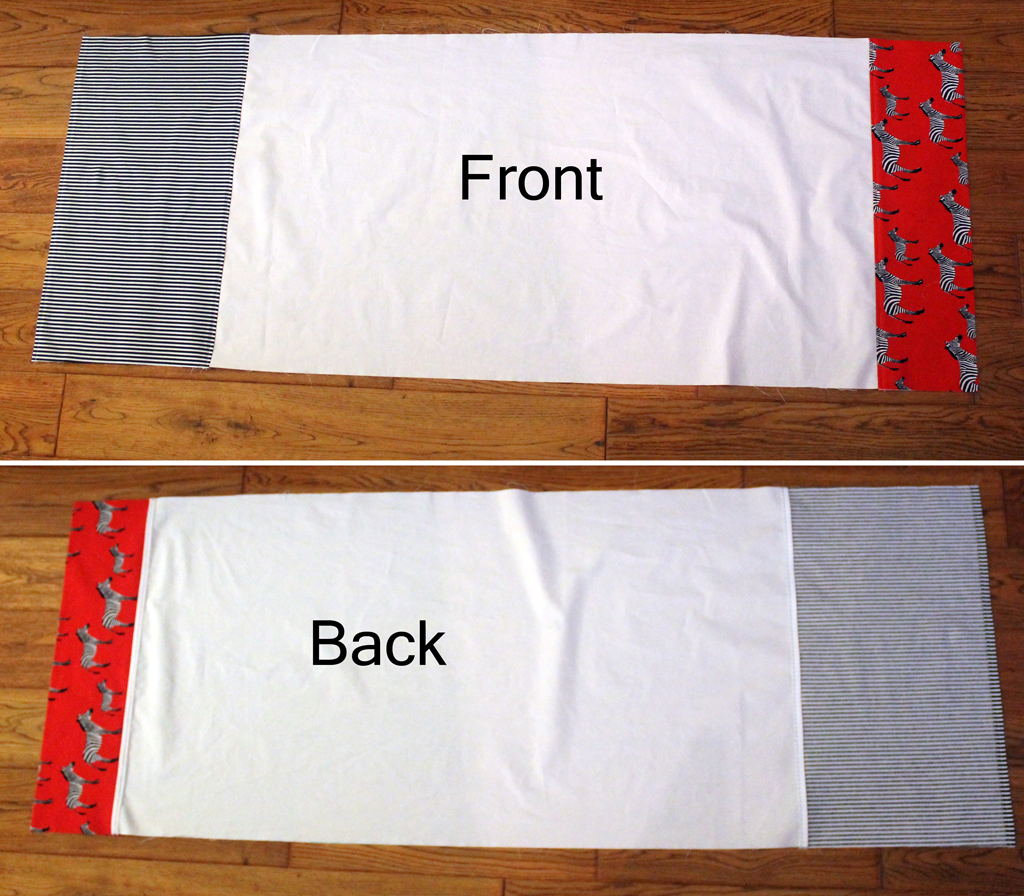 9.  Fold the pillow case wrong sides together and match the seams of the front cuff and back cuff. The back flap will extend beyond the front cuff.  Stitch both sides with a ¼" seam.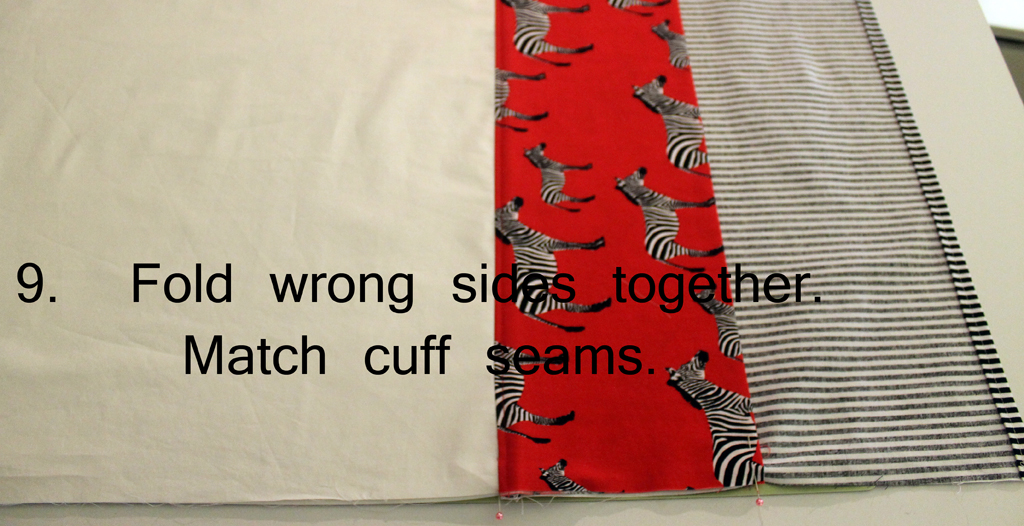 10. Turn wrong sides out, now the right sides are together. Poke the corners out with a chop stick. Press. Press ¼" along the back flap sides.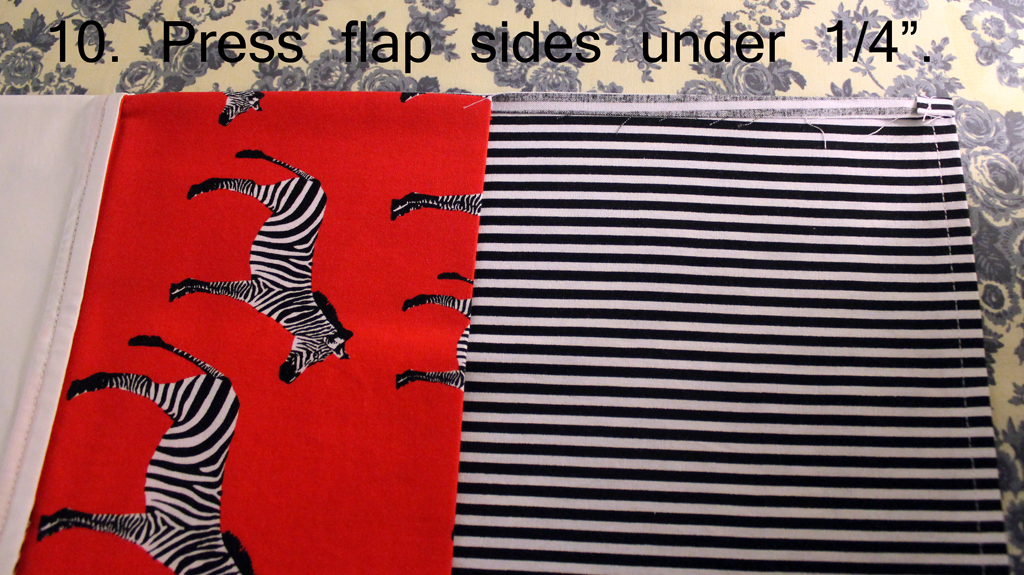 11. Fold the back flap over the front cuff, stitch ½" seams on both sides.

12.Turn right side out. Poke out the corners. Press.
Put it on the pillow!