Back in August, Terry, Maggie, and I went on a road trip to North Dakota to spend two weeks with family.
It's a long trip.
Four days traveling and three uncomfortable nights in a dog-friendly hotel because of a small geriatric pooch.
Fortunately for me, Terry doesn't like my driving. Ha! (I'm a very good driver–wear my seat belt, drive speed limit, use turn signals, don't cut people off–very good driver.) On the way north, I drove for a total of 45 minutes.  Which left me another approximately 32 hours of riding.
Again, fortunately for me, I don't get car sick and have no problem reading for all those hours.  So I packed up my book "All the Light We Cannot See" by Anthony Doerr (highly recommend) about eight magazines, and downloaded some more free magazines and books. And was done with all after the first 16 hours.
That's when I realized that I didn't plan this trip very well–I had so many hand crafts I could have brought along with me. Like embroidery–I need a lot of work on my embroidery skills because I have numerous projects that I'd like to do that involve hand stitching!
The first one is a sugar skull on a chambray shirt. Bought a shirt from the Gap about a year ago.  And then didn't do it because I didn't want to do a bad job and ruin the shirt.  I just wore the shirt–sans cool embroidery.
When we got to ND I decided to practice my embroidery skills on some denim that Lauri, my daughter-in-law, had saved me. (She keeps old jeans for me to use for my sewing obsession and there's always a few pairs waiting for me when we get there) We went shopping for the essentials, got some pin-spiration from Pinterest, drew a sugar skull, and started stitching!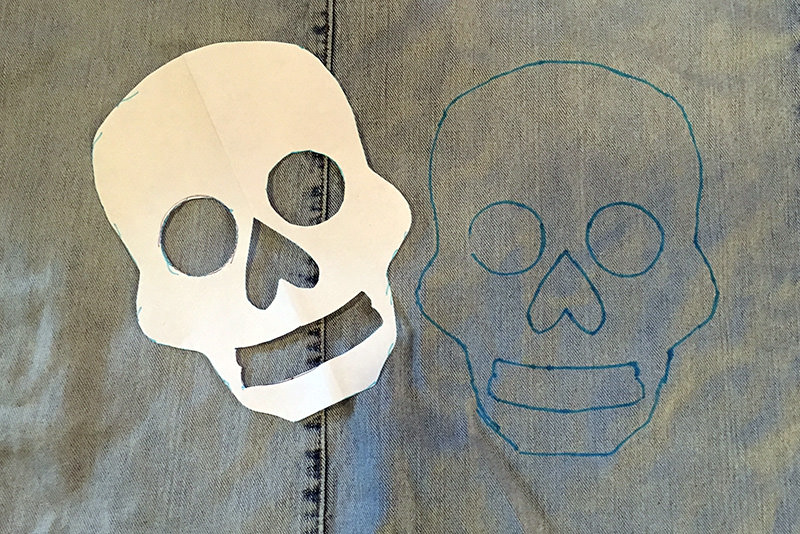 I started working on it while we were still in ND.  Between playing with the grandkids and eating a lot of vacation food I didn't get much accomplished.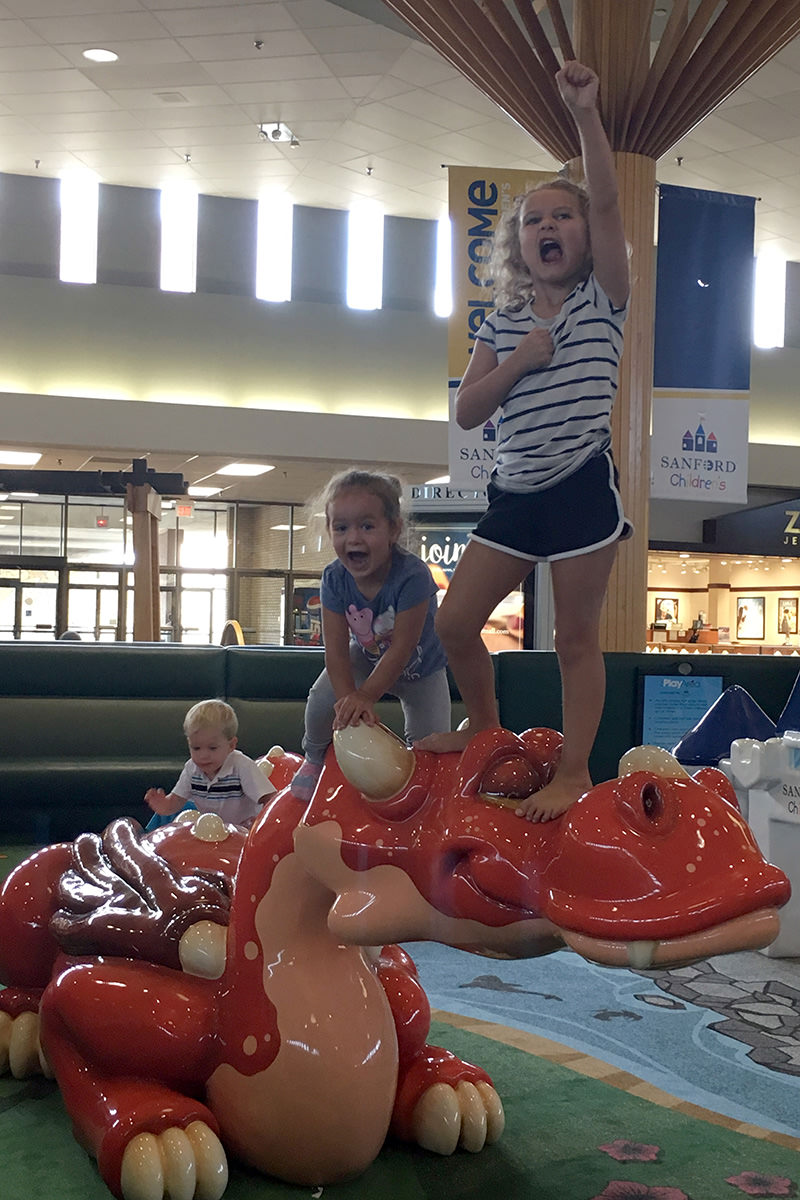 So after 32 hours of travel and maybe a few hours sitting on the couch recuperating, I finally finished this practice piece!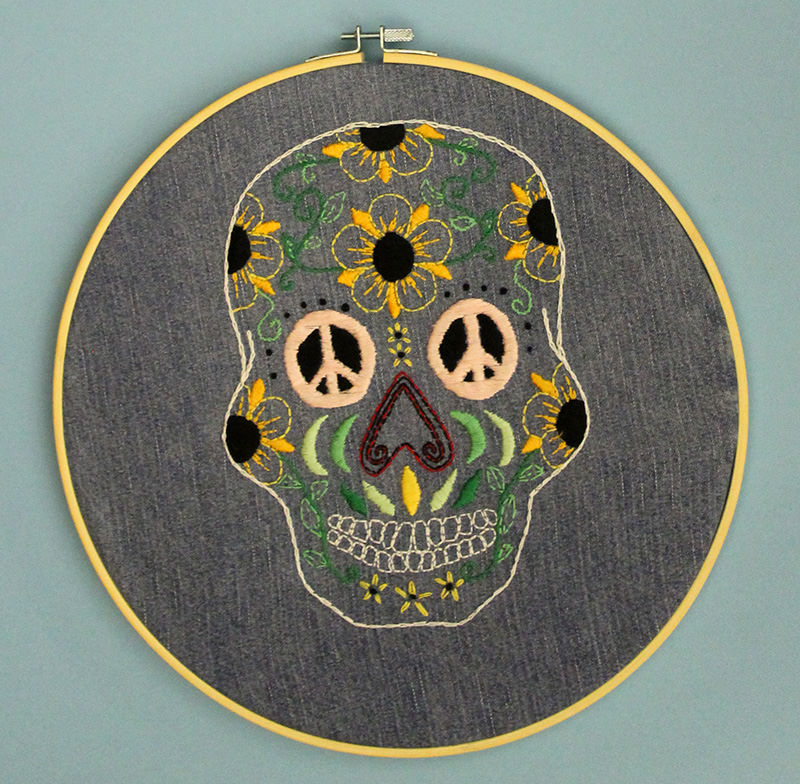 Wasn't real happy with the end result.  Satin stitching is a LOT harder than it looks!
Then Jes and Andrew came to visit us in Florida.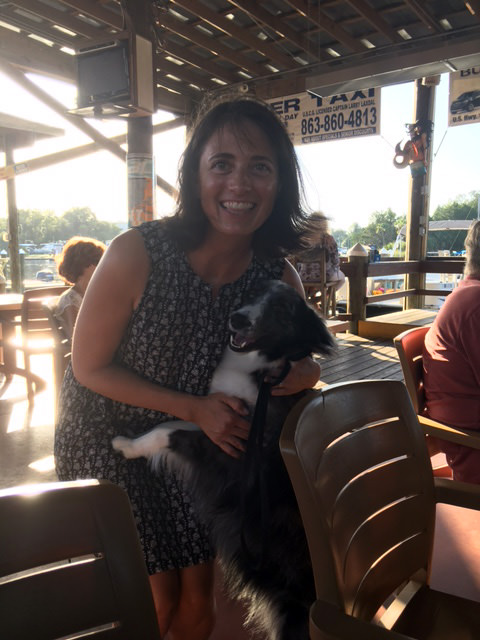 While there, Jes decided that we both needed to have chambray shirts with sugar skulls. We bought some cheap shirts at Walmart and she started stitching.  Never embroidered in her life.  Just looked at the stitches on a website.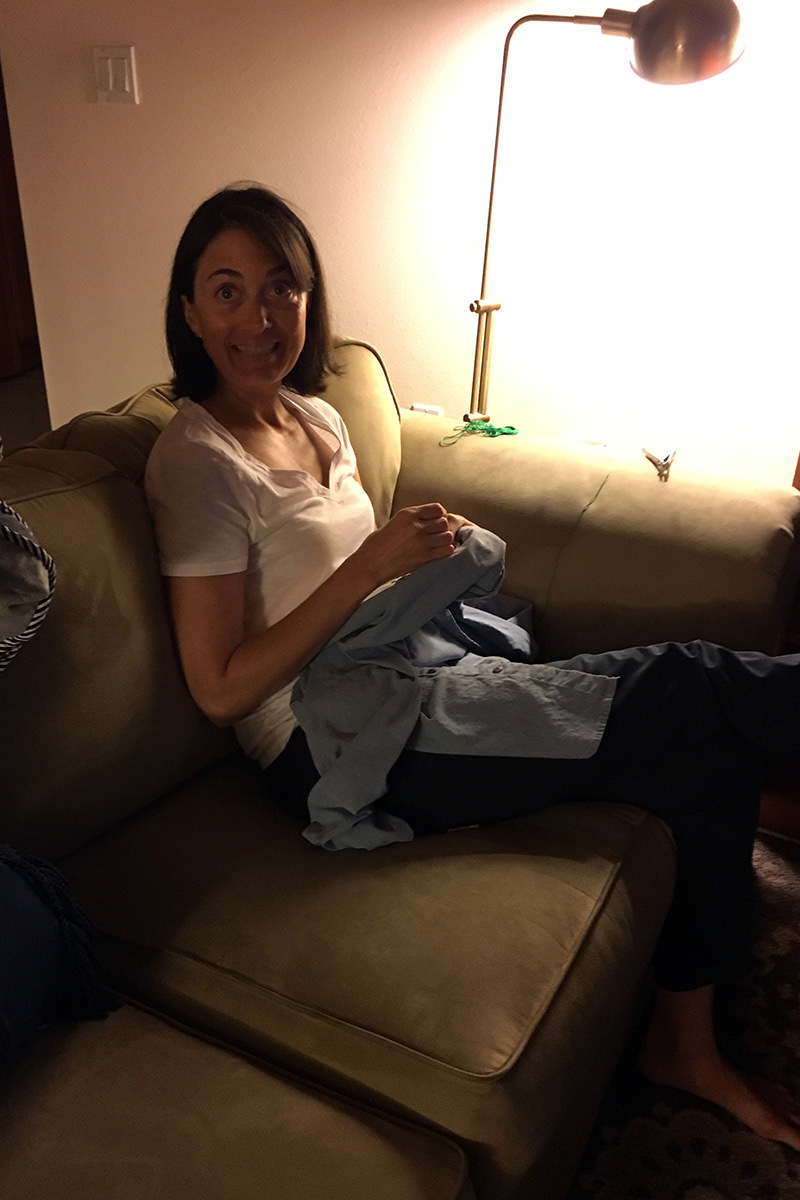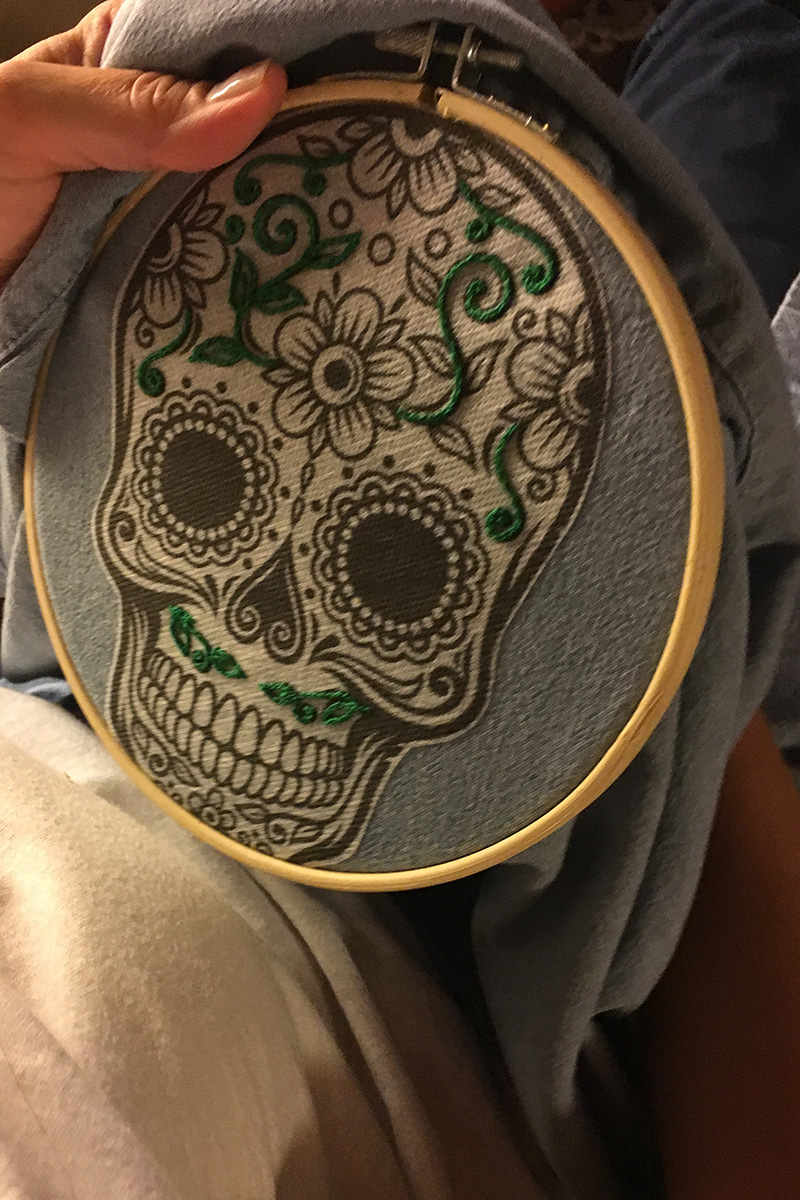 But I wasn't real happy with my stitching skills on the first sugar skull so I made another one.  For more practice before I committed to a shirt! Even a cheap one! This time I had my computer and printer so I was able to use my embroidery transfer paper and printed the sugar skull out of pinterest.  So much easier!
I also did some fabric applique for the rose, eyes, and teeth.
Finished this one while we had no power thanks to Irma! My hurricane skull!
I took them out of the hoops and cut them to the same size.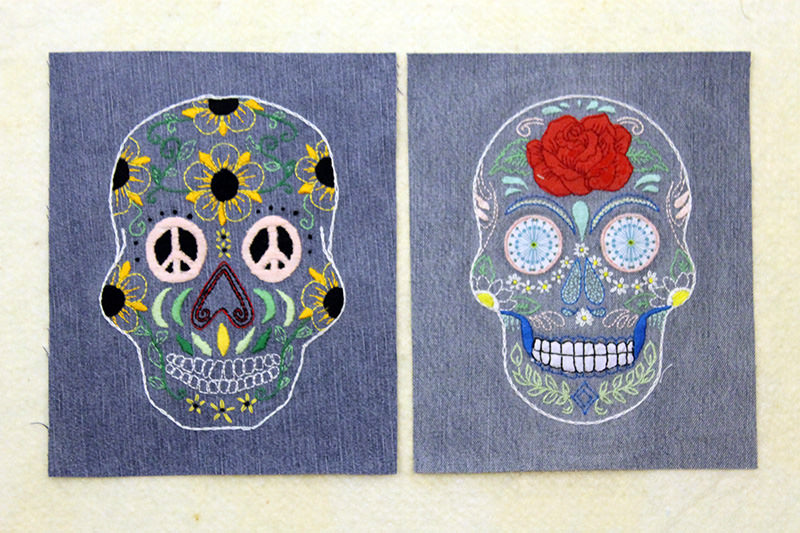 And then I was ready to start working on the final project!
Jes sent me this photo of her progress two weeks ago.  She's probably done with it already. (She doesn't like satin stitching either!)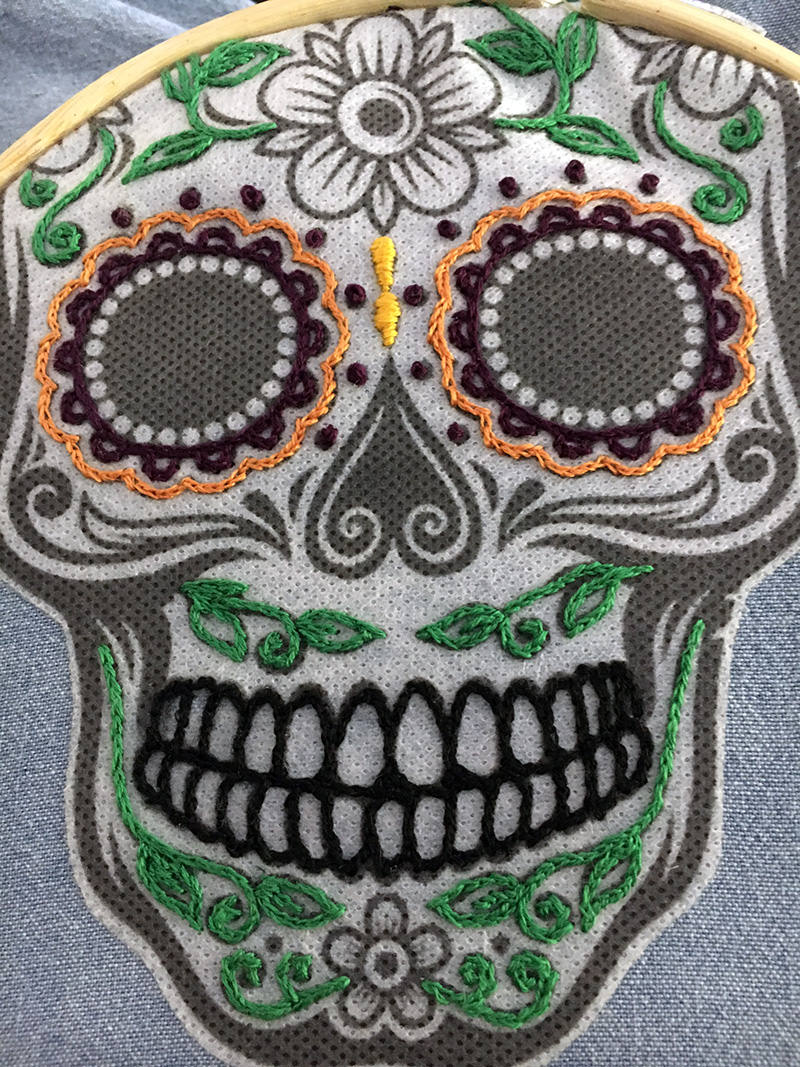 And here's my Work In Progress!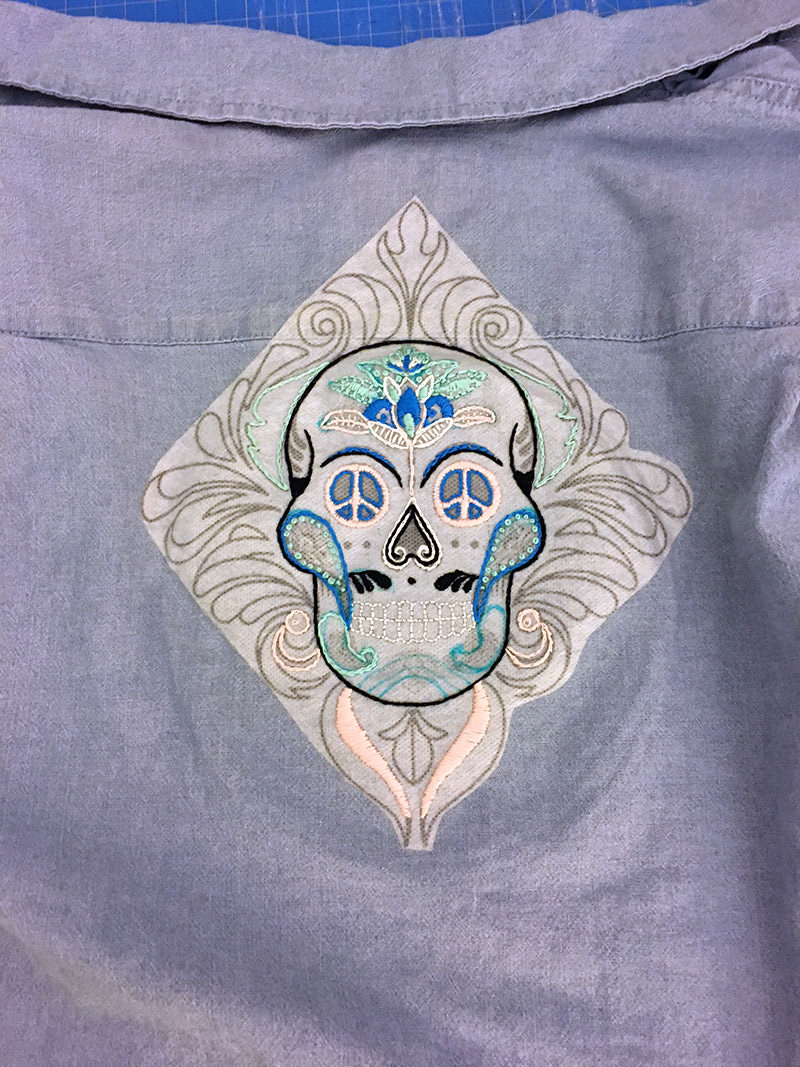 I downloaded many sugar skulls and mandalas from Pinterest.  Cut and pasted and erased and drew in Photoshop to come up with the final design.  Then didn't like that and sketched some changes.
I have an embroidery machine which is a whole lot quicker than doing it by hand. But when I use it, I feel like I really didn't create it.  It was someone else's design and I just babysat the machine to change the thread colors while it did the craftiness! (Having said that, I don't mind cheating by manipulating designs out of Pinterest, kind of a contradiction, right?)
Hand embroidery is so slow but I feel like I am actually creating the product.  And it's good for watching football and golf on a Sunday afternoon! 
Hoping I get this finished before Halloween so I can actually wear it!
(And satin stitching is still kicking my butt.)