I've been home from my visit to ND for a couple of weeks now.  Decided to COMPLETELY reorganize almost all of our house.
Starting with moving all of my sewing stuff from my "creative cave" upstairs to the main guest bedroom.  (Don't worry friends and family, the Murphy bed is still usable and the TV remains on the wall.  Just need to shuffle things around a bit when you visit!)
While boxes and bins and stacks of fabric and other sewing necessities are still piled precariously in corners, on top of dressers, and in bookcases, I am happy to say that I finally have a path from the door to the sewing machine in my new sewing room–which will eventually be bright, shiny and organized.  (I hope that happens soon.)
Since I can now get to the sewing machine, I made substantial progress in the last few days on the "Down the Rabbit Hole" quilt.  It's basted and 2/3's quilted.  Hoping to get the binding on this weekend!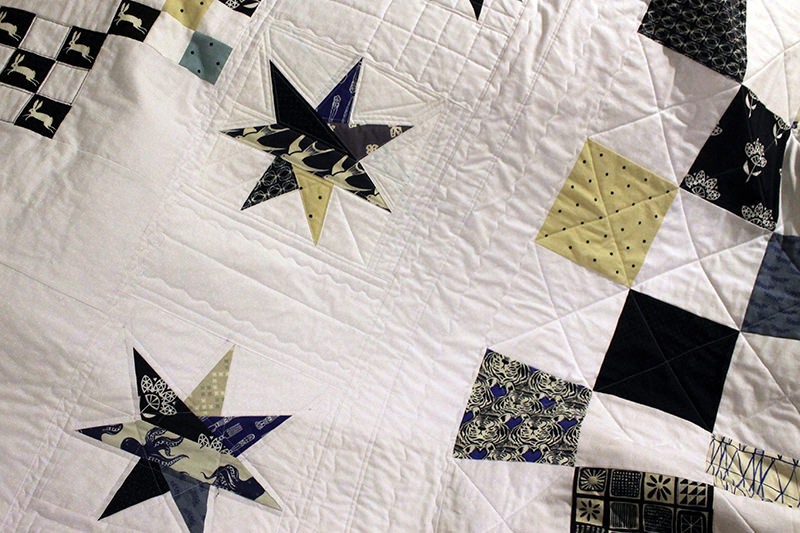 I've already got fabric for another quilt all lined up and ready to go!  Not sure when I'll get that one started.  No deadline!
And I've decided to do another QAL.  "Fall into a Quilt-A-Long". This one is from the same people that brought out "I wish you a Merry Quilt-A-Long" last year.  I was so happy with how that one turned out that I made two! You can follow along on their Facebook Page.
This one is another mystery quilt and has a fall theme.  Other than the background material which is about 2 yards, I'm quite determined to use fabric I have on hand–should be interesting!  But I REALLY need to reduce the stash I've accumulated since I started quilting seriously. (So I can justify buying more, of course!)
The first block came out on the 15th and is an adorable hedge hog–there will be 12 blocks, one released every other week.  You can download it here.
I went through a bunch of my fabrics looking for an inspiration bit that would help me decide what colors to use. But no such luck.  Just went with
These colors all look like fall so that's what I'm going with  I might add a turquoise just to brighten it up!
More Quilty lovelies next week.  And maybe my sewing space will be organized and beautiful again!