I Wish you a Merry Quilt-A-long! Block Ten!
There's no wrong in quilting.
That's what I tell everyone that asks my opinion on putting their quilts together. No. Wrong.
I sometimes wonder why someone would put a quilt together quite like that but I never say it's wrong.  I often say, "well, this is how I might do it", but usually when someone asks me my advice they already have an idea on how they want the quilt to look.  They are just looking for approval on their idea.  No. Wrong.
So I took my own advice on Block 10 which is a Christmas Lantern.
There was nothing I did right on that block.  I initially thought it was an applique block but it's actually pieced then appliqued.  Why?  It was just a perfect applique piece.  But, I do try to follow the tutorial.  At least the first time I make the block.
Then I was picking out colors.  I wanted dark blue for a night sky.  And black for the lantern.  But as I was cutting the pieces, I realized that with the black there wouldn't be enough contrast.  It would just fade into the blue.  Then I decided to go with white but, since there are snow appliques, that would also be wrong.  So I made a red lantern.  Christmas color, right?  But I forgot that the ribbon was supposed to be red.  Oh well, it can be a silver ribbon.
Then I did all the piecing and that turned out very wonky.  Way smaller than it should be.  Very Off Kilter.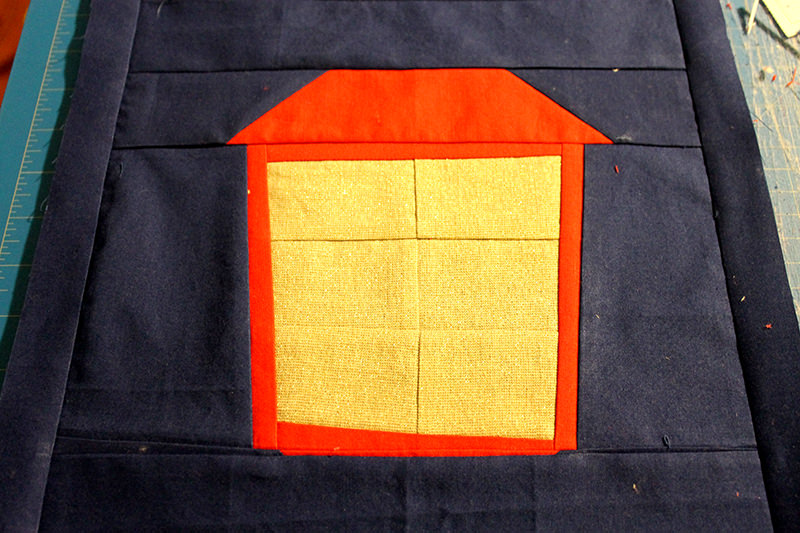 I really don't know what I did wrong. So I added a border.  Which still wasn't big enough.  So there was a second border.
But….once I added the appliques and did the quilting I think it turned out okay.
And here's the first ten blocks.
Block number 12 is being introduced today.  I'm a few weeks behind–or maybe a month!  And that's because I decided to make a second quilt.  A shiny and bright quilt.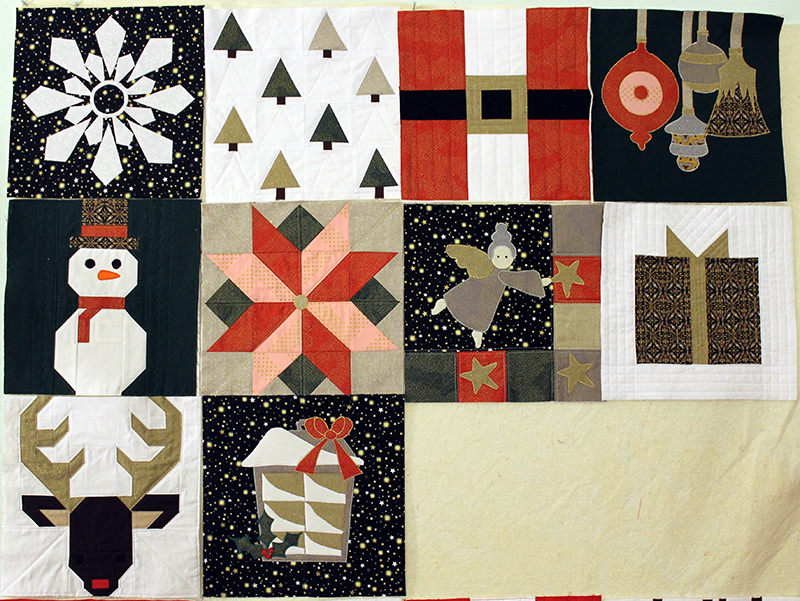 It started out when I made a second angel block because I wanted to try it with the "night sky" fabric.  Then I was unhappy with the gift block so designed my own.  I liked the original Rudolph block but then found a different one that I liked too, so made that one.  (And it was much more difficult than the original!) Then I decided to just make two quilts.
Two quilts to give as Christmas gifts!
If I get them done in time!