I Wish you a Merry Quilt-A-long! Block Eight!
Presents, block 8 in the I Wish You a Merry Quilt-A-Long, is from Alice Samuel's Quilt Company.
As soon as I saw this block, I knew it would be a challenge. Mostly because I just didn't care for it. The perspective is kind of weird. And it doesn't look very Christmasy. I have to congratulate the designer for creating this block and tutorial because it had to have been very difficult.
Then I started reading on FB about how hard it was to stitch together. There was some weird cutting and lining up to get the diagonal ribbon. A lot of the FB followers made a different block completely. But I've been following all the instructions up until this point and just thought I'd do the same with this block. How difficult could it be?  After all, I got through all 120 pieces of the Splendid Sampler!
I made my presents pink and blue because I had introduced those two new colors to the quilt on the last two blocks.  (It's really hard to know what color selection to use when the blocks are a mystery.)
So here is my version: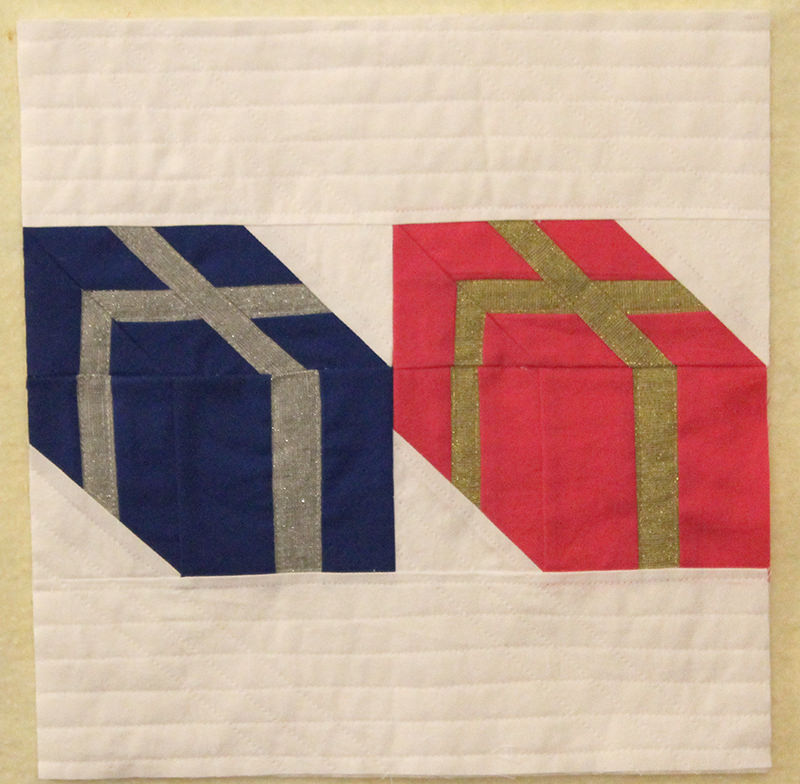 Yeah, not good.  I made the pink present first.  I was pretty happy with how the ribbon in the front lined up but I couldn't get the side to match at all.  Even after ripping it out a few times.  That shiny fabric frays really easily and I had to just stop.  I made the blue present the next day.  Fresh start, right?  I checked my seam allowances to make sure that I was stitching 1/4″.  But the second attempt was even worse than the first!
Here's the bunch of them all together.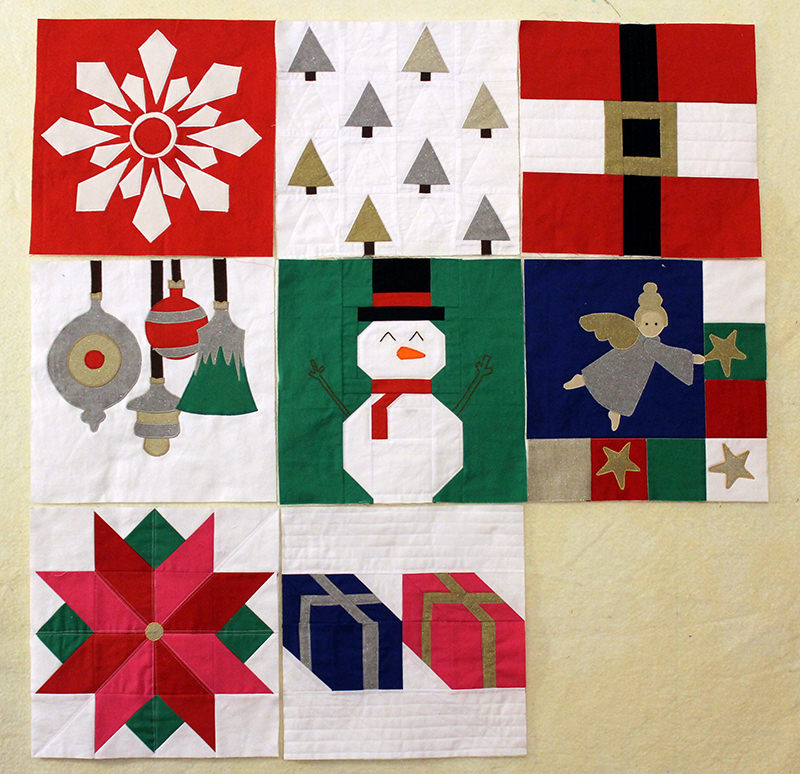 I just said to myself, that's not acceptable.  That one block looks so bad against the others I had to do it over.
And I decided to design my own gift block.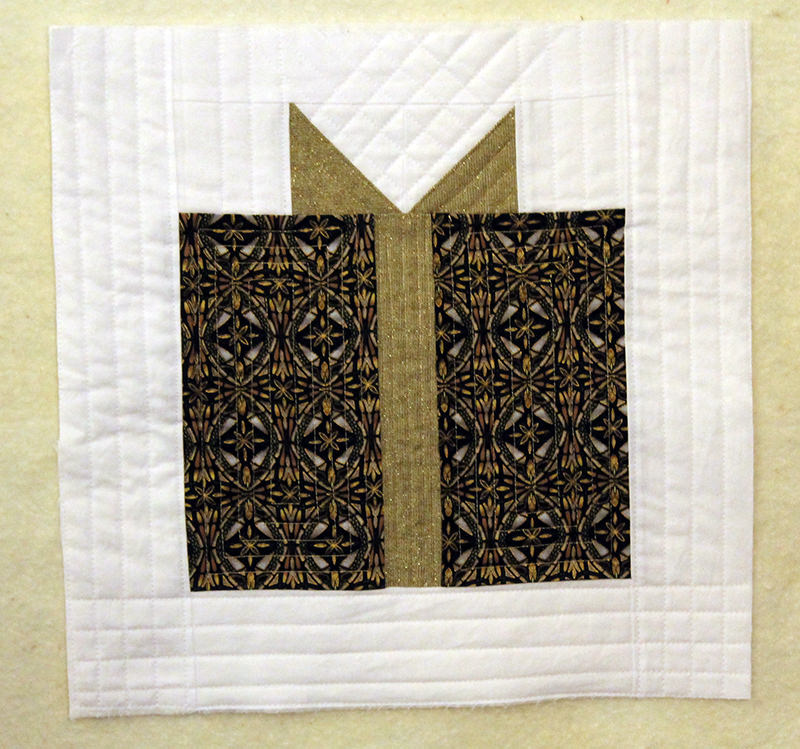 Better, right?  Yeah, the fabric doesn't go with the rest of the quilt.  But I was in the mood for "shiny".  After I finished that one, I was able to throw another one together in no time at all!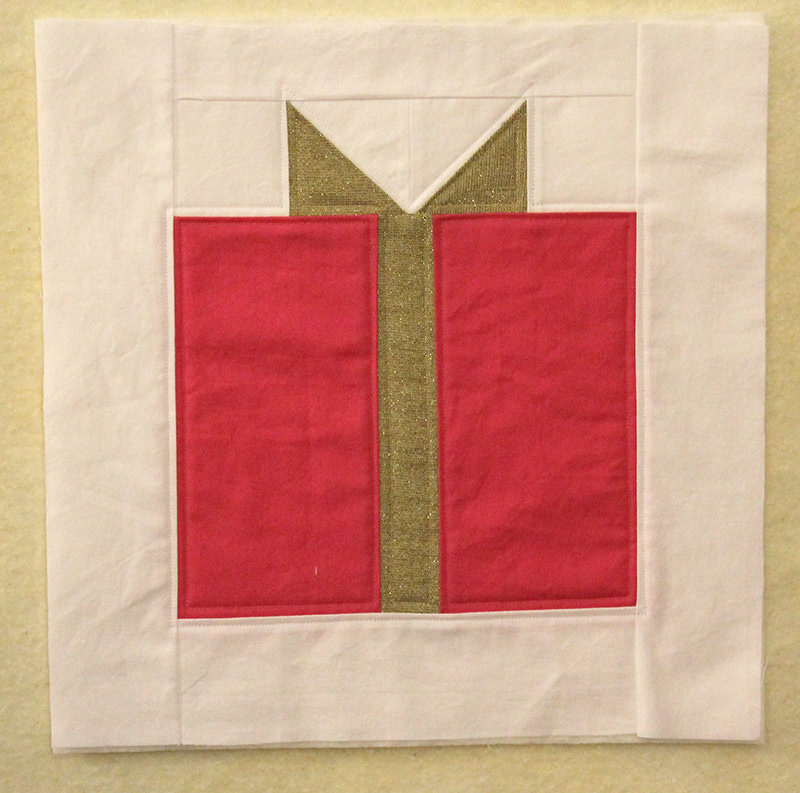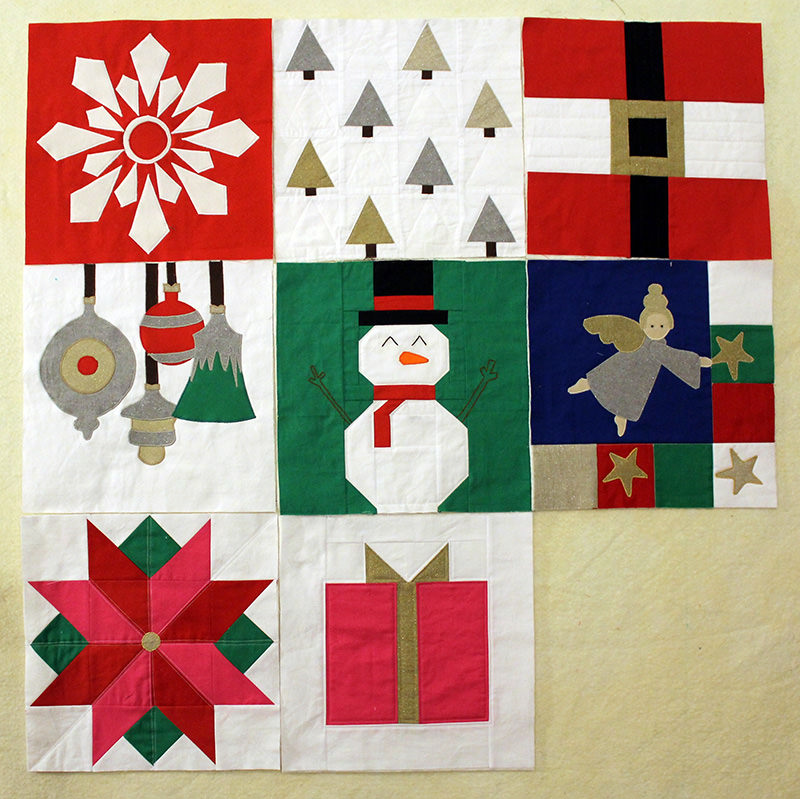 Better, right?
I saw this gift block on pinterest from several different sources and none were for a 12″ finished block.  So I designed my own.  I don't believe I'm stealing anyone's original idea since there were so many different versions out there.  I try to be careful about that! I've had my photos and designs used without acknowledgement and I certainly don't appreciate it so if you are reading this and you are the original designer, just let me know. I'll credit you or take the following tutorial down!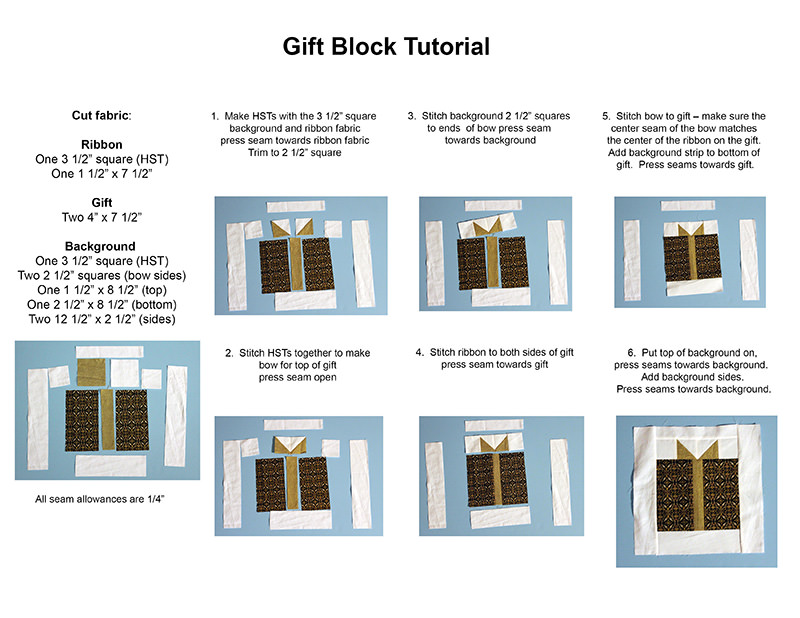 And here's the PDF if you want to download it:  Gift Block Tutorial
Okay.
That's it for this week.  Block 9 was released on Tuesday and it's kind of cute.  I should have that ready next Thursday!