I sew.
I love to sew.
I also love designing. Totes. Blankets. Quilts. Bags.
Then sewing up my new designs.
When people ask me what I sew….
I say things.
Totes. Blankets. Quilts. Bags. NOT CLOTHES!  (I also don't alter, hem, or change out zippers)
But I don't like to shop! And even if I did, the only store we have in Homosassa is WalMart!
This summer I realized that my clothes were absolutely falling apart and I had to get some new stuff.  Seriously.  I have many meetings and hate making that first impression with shabby outfits!
I ordered a bunch of stuff from very well known companies.  And they were ALL TOO BIG! Scheesch.  I blame "vanity sizing".  Back when I was 15 pounds lighter and in high school I wore a size 12.  Now I wear a size 10. Really? I ordered mediums.  And I didn't send any of it back–just wearing really big clothes!
I decided it was time to take my wardrobe in hand and make the stuff.  Besides, I needed a break from making quilts, right?
Hey!  I'm really good at sewing!  How hard could it be to make a dress?  Once upon a time I made all my clothes and even made my daughter's outfits way back 35 years ago.
I made a trip to Jo-Ann Fabrics and started with this pattern and some teal jersey fabric. (Just want to say that Jo-Ann's has a whole lot of quilting fabric and not a lot of knits!)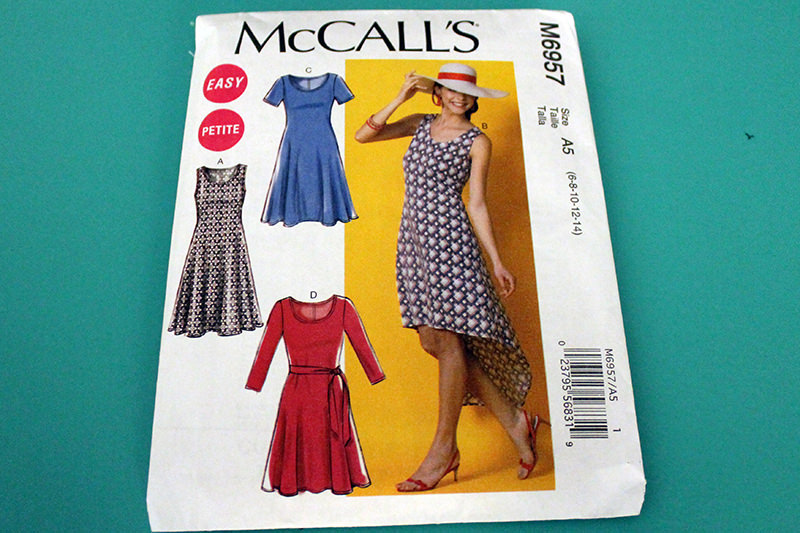 I checked the laundry directions on the fabric and it said hand wash, line dry.
Right.  This is jersey knit.  That ain't happening.
So I threw that fabric into the washer and then into the dryer and it was FINE!
Cut out the material to size 10 (which is what I wear)  and sewed it up.
Three pieces. Easy–Peasy.
Until it came to the hem.
First attempt, it was very wonky.  Not acceptable.  I ripped it out.  But then at the very last inch I made a huge hole in the hem.
So I cut that hem off.
And tried again with suggestions from the Internet Universe.
Still was wonky.
I just cut that hem off–no more ripping out stitches.
Talked to the sewing coach at the Learning Center.  After several suggestions that I already had tried, she said to lengthen the stitches.
And that attempt was almost acceptable.  But now the dress was teenager short.
My new yoga top!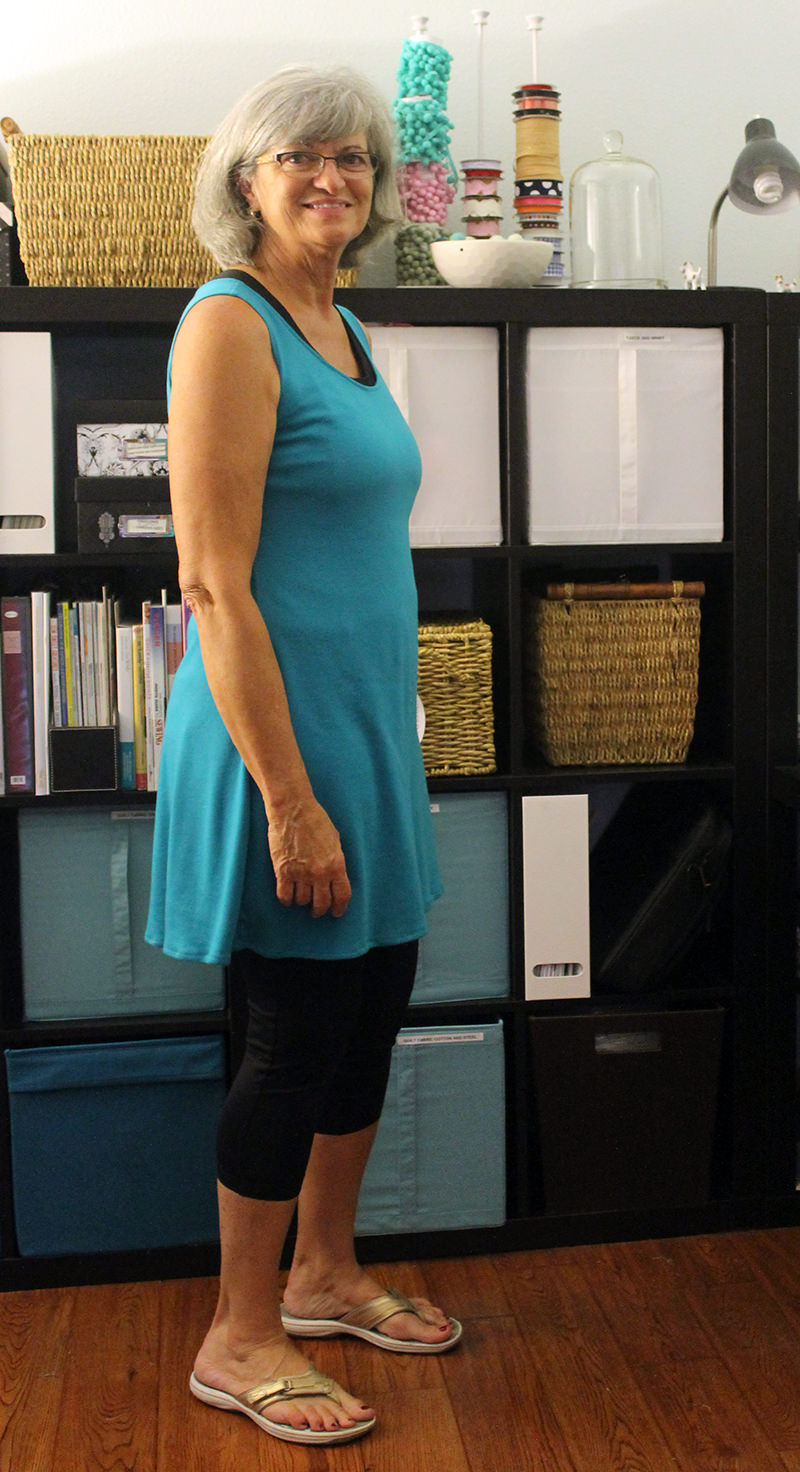 Not my original intention but it is really cute and covers my butt during down-dog!
But I won't be defeated and ordered some lovely fabric, "Art Gallery Morning Walk Jersey Knit Mojave Aloe", from fabric.com.  (Machine wash and dry)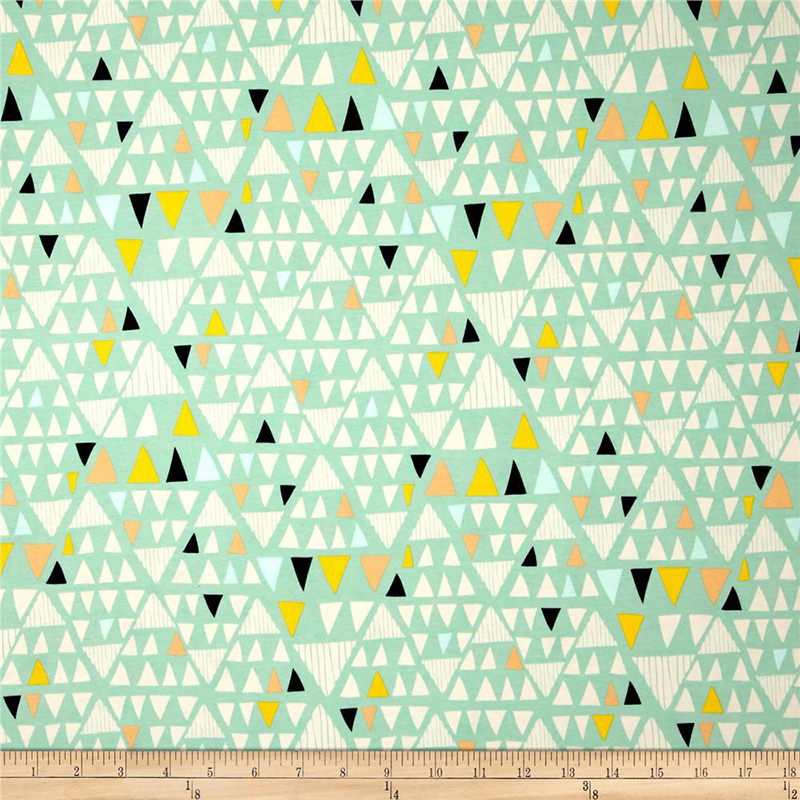 I used the size 12 pattern and added two inches to the length.
Then when I was ready to hem it, I did it by hand.  Yep.  No problem with wonkiness.
And I gotta say, I love wearing this dress.  It's really cute. It's easy to wear. Terry even asked me where I got it at.
Hey babe, I made this in my creative cave!
And I'm going to make more.
Especially since I found this pin and advice from Simple Simon & Co.: "Sometimes hems can be tricky…and get wavy!  An easy way to help keep them nice and smooth is to use a fusible Hem Tape.  It is inexpensive and easy to use.  Plus they make your skirt hems look amazing!"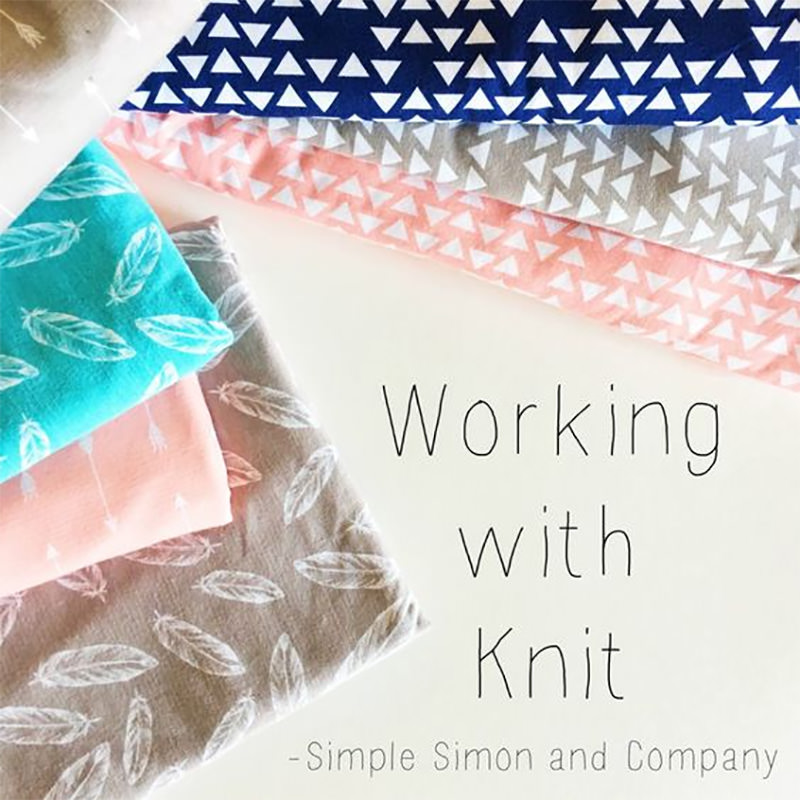 (But I still don't alter, hem, or change out zippers!)