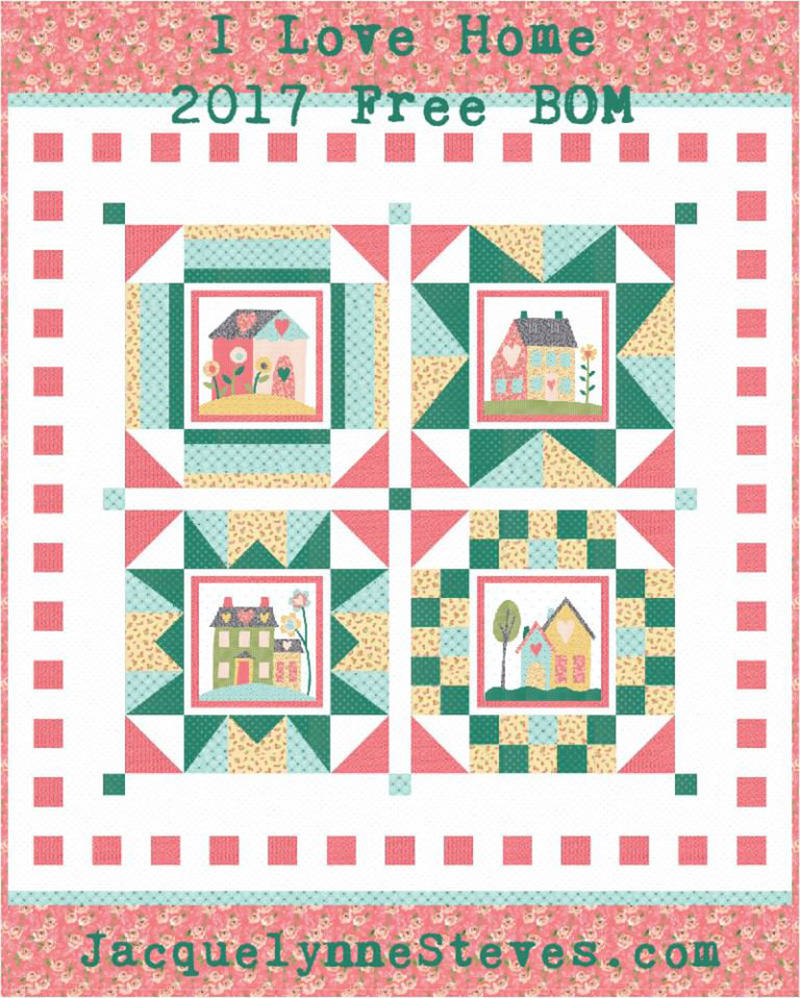 Okay.
I was traveling.  For three weeks.
I might have missed my sewing machine and creative cave a bit.
Cause I not only signed up for the I Wish you a Merry Christmas Quilt-A-Long, but also signed up for "I Love Home" BOM.
And also joined their Facebook page.
You know that I'm not a big fan of FB.  But I have to use it because I'm an administrator for some of the local community groups.
And I gotta say, getting the posts from the two quilt groups is a whole lot more fun that getting all the political messages! Almost makes it worth logging in!
Back to the BOM.
Didn't really plan to actually do the quilt.  I just wanted the house patterns for a different quilt I want to make.
There's no requirement that I have to actually make the quilt!
Here's the first block….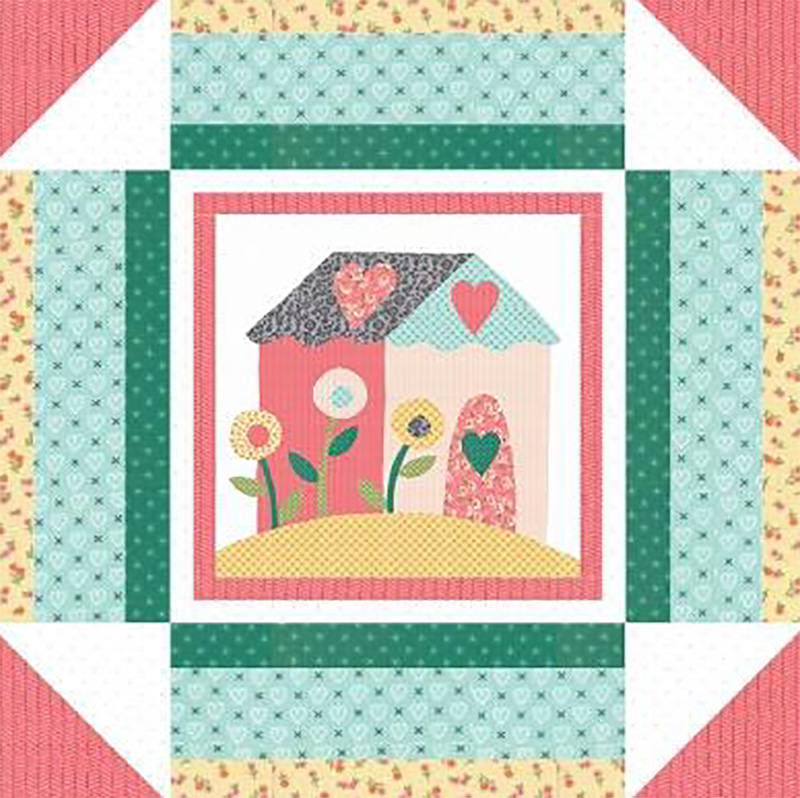 Coincidentally, I ordered a bunch of fabric when Craftsy had a "black Friday" sale a few weeks ago.  Really good prices and there was a fat quarter bundle with a holiday theme that looked fun.
Got the box right after we got home from our travels.
And they had included a FREE charm park!  Woo-hoo!  So excited!  (I'm not a Craftsy affiliate–or any other company affiliate–I just like their service.  Fast! Prices Good!  Classes are great!)
Just like Christmas morning!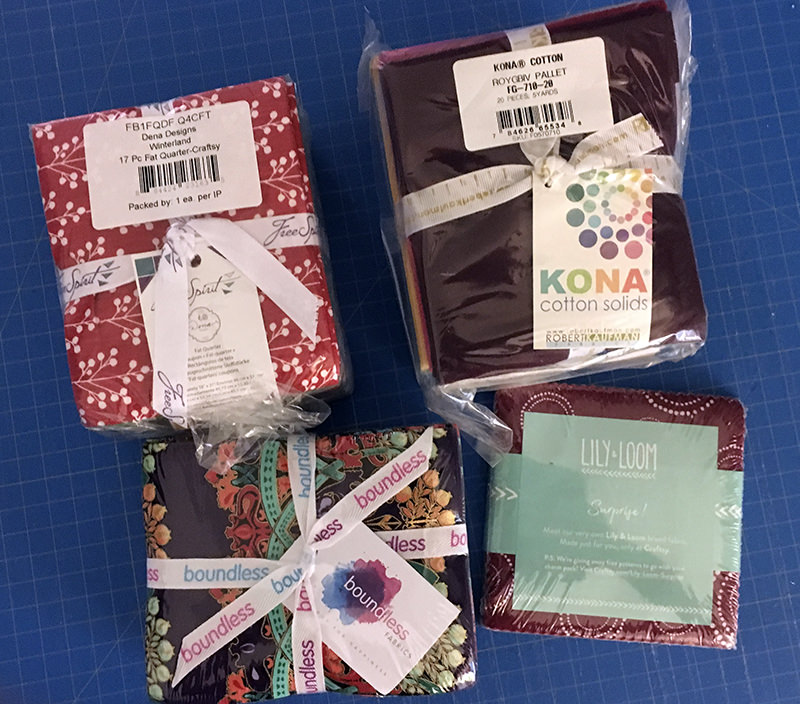 When I took the time to actually open the packets, I was slightly disappointed in "WinterLand" from Free Spirit.  There were some Christmas prints but I wasn't crazy about the colors and there were a lot of mandalas. Love mandalas but that's more of a yogi thing than Christmas. Right?
But I decided to go ahead and put the center of the first block of the "I Love Home" BOM  together from that bundle.  If nothing else, I could turn it into a pot holder.
BUT I LOVED IT!  AND COULDN'T STOP SEWING!
SERIOUSLY!
How cute is this?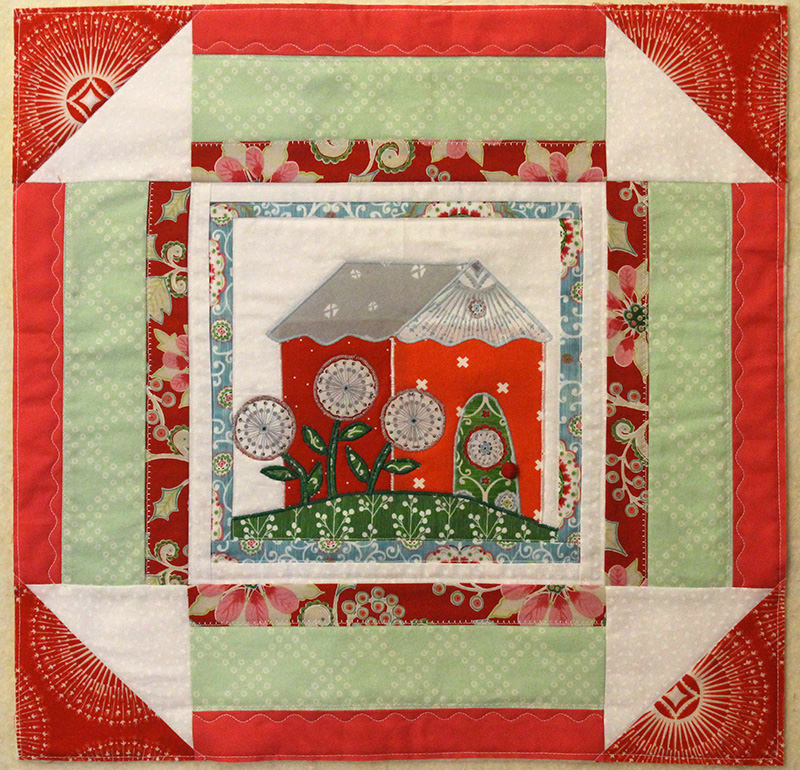 I started out with the blue mandala piece that I used in the inside border.  Pulled colors from there for the rest of the bits.  I would never had put those shades together but, hey, a professional designer created that color scheme! Besides the Free Spirit bundle, I also used some Kona cotton and Cotton & Steel fabric. Did a lot fussy cutting, appliques, and satin stitch. Left out the hearts that are on the original pattern.
Just like the "I Wish you a Merry Quilt-A-Long" that I posted about last week, I'm doing this as a "quilt as you go".  I might add some more quilting when I get it all finished.  Maybe I'll know how to do free-motion quilting by then!
Love this little house!
This was a lot of fun.  You can still join the BOM, the link is https://jacquelynnesteves.com/i-love-home-block-of-the-mon…/
And once again–it's FREE!