Handmade Hostess Gift: Soup Bowl Cozy
I wrote the following post on Saturday, September 9, 2017 and scheduled it for Tuesday, September 12, 2017. I did the same for Thursday's upcoming post.
Hurricane Irma was still over Cuba.  All week the track was either along the east coast or up the center of the state.  We live in Old Homosassa which is about 75 miles north of Tampa. Rather than join the traffic headed out of Florida for the unknown we choice to stay in our well-built two story house.  It is 8 feet above sea level and can withstand hurricane cat 1 and 2 winds. We also have a generator that automatically kicks on when the power goes out and have plenty of food and water.
We have been through this before.  Labor Day in 2016 we had Hurricane Hermine come through and devastate the Nature Coast.  We were fine.  In 2004 we lived through 3 hurricanes and another in 2005.
The power will go out.  The generator will kick on.  
The cable will go out which is a bigger problem for us since that is my Internet and house phone.  
But we have iPhones and Directv.
If this little note is here on Tuesday morning, it means I still don't have Internet and couldn't update. As soon as I can get back to this little blog, I'll give you an update on our life!  
I'm also on Instagram as designsktg and will be snapping and posting photos if you want to see what is going on in my world!
And here's my post!
I've been on a quest for new handmade hostess gifts.  Hey the holidays are coming and I gotta be ready.
Have you seen these soup bowl cozies?
I think they've been around for awhile.  I'm a little late to the cozie craze! My friend Laurel showed me these and we decided to make them in our Sew Cool! Workshop at the Old Homosassa Learning Center last Thursday. I usually try to help in the workshop rather than sew but due to the warning of the upcoming devastation by Hurricane Irma to the entire state of Florida which caused incredible crazy amounts of traffic on all the major roadways, only coach Faith, Laurel and I made it.  (The three of us live on local roads close to the civic club so didn't have to deal with the road war insanity on US-19.)
Anyhow…..
These babies go in the microwave.  You put your soup bowl in it.  Then zap it. They are almost like a hot pad for your soup bowl.
They have to be made out of all cotton.  Fabric, thread, and batting.
I did some research and was surprised to find out that my "natural cotton" Warm 'n Natural batting has polymer in it!  What! Since I have no idea if polymer melts, I bought some batting called "Wrap-n-Zap" which was created to use in the microwave.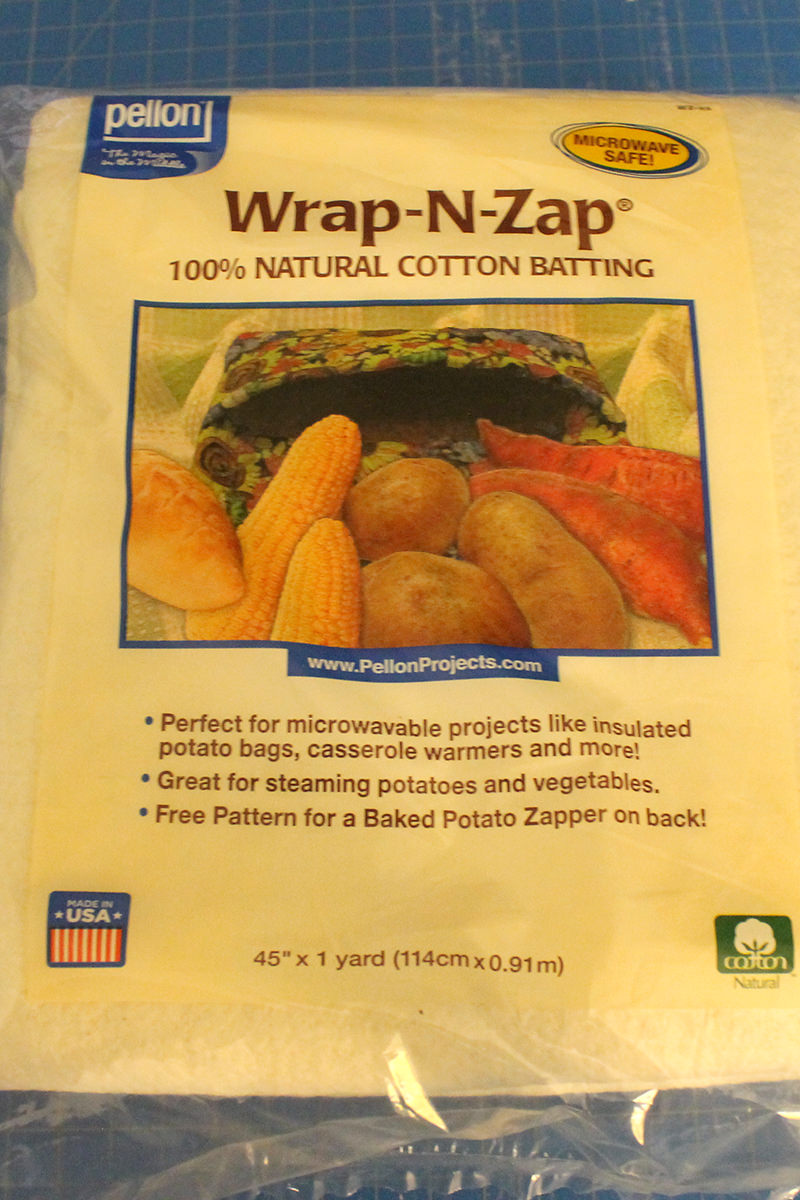 I also bought some cotton thread for the workshop and made sure that my fabrics were all cotton.
I'm not going to tell you how to make the cozies because the website Pattern Pile has a great tutorial with step by step photos.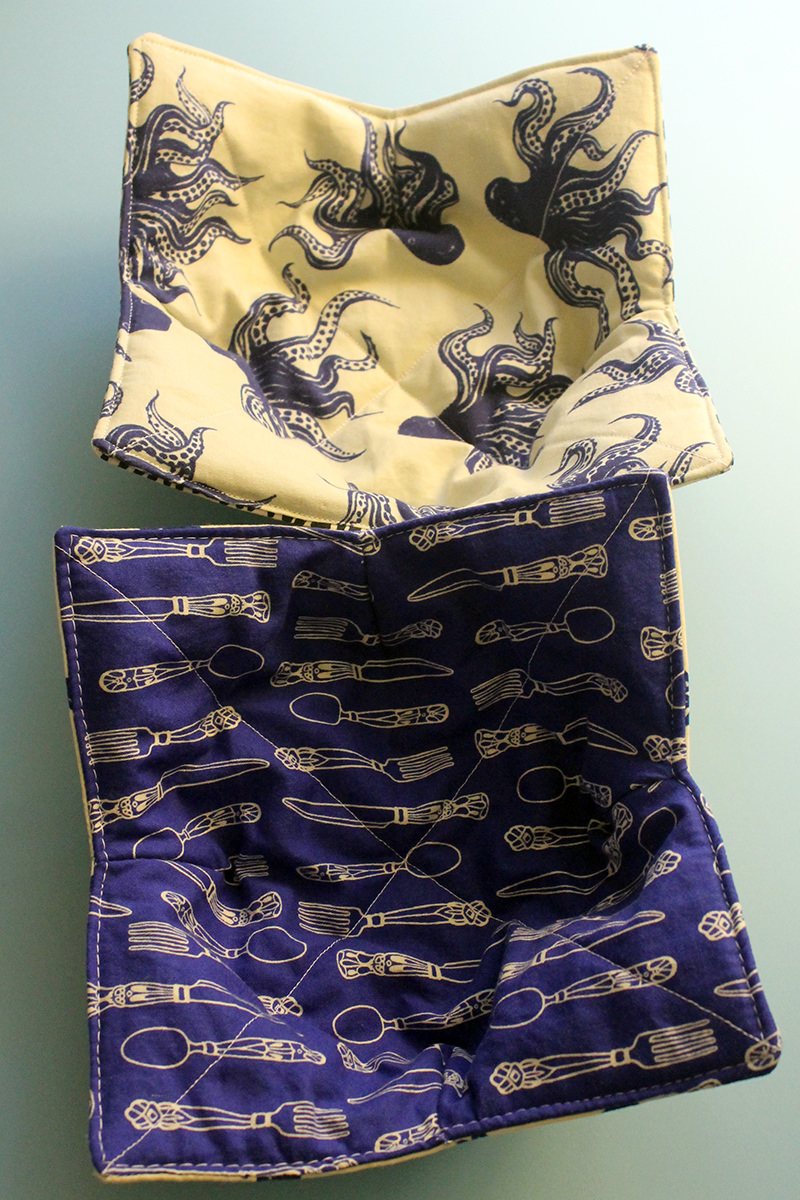 There are other versions out their on the world wide web.  But I'm sticking with this one because this pattern is EASY-PEASY!
And so cute!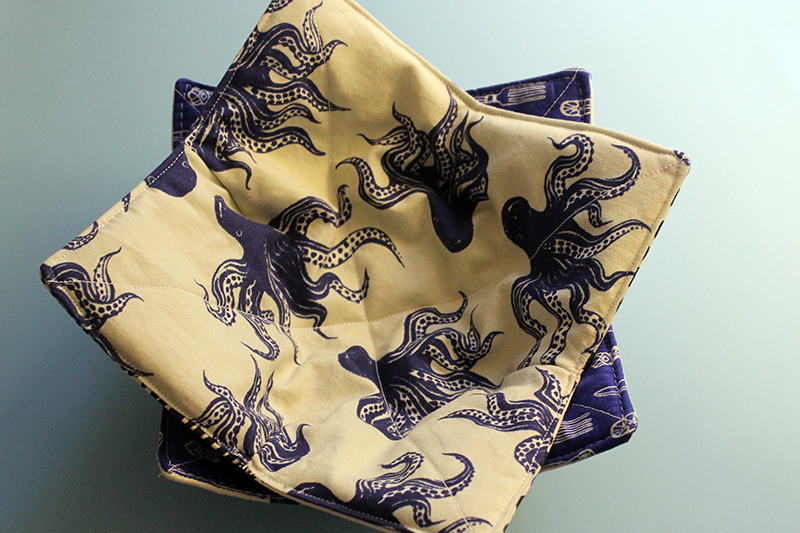 On the second cozy I made I reduced the batting from 10″ to 9 1/2″.  This stuff moves around and stretches, and shrinks.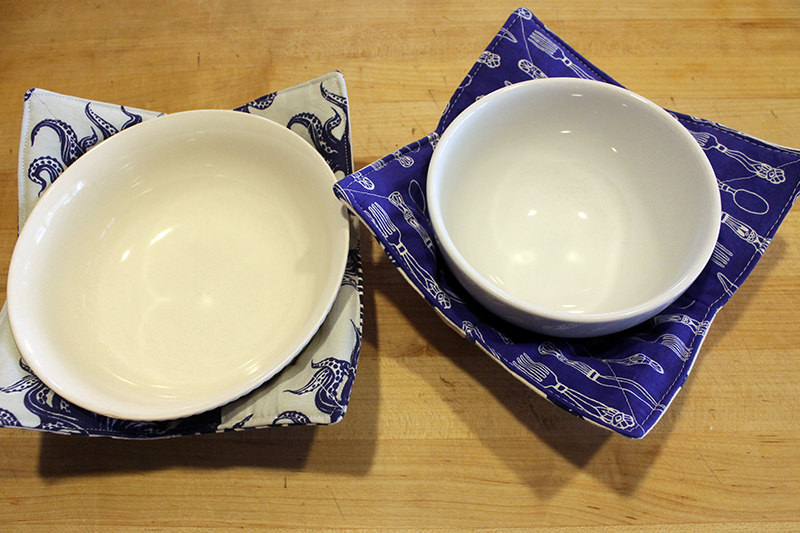 And then, because I had nothing to do while I was waiting for Hurricane Irma to make her long watched arrival and we still had power, I decided to change it up a little to hold my favorite and well-used casserole dish.  
The dish has an 8″ diameter and 3″ sides.  So I increased the fabric to go with the larger size.
I cut 2 squares of 15″ cotton fabric, 2 squares of 14 1/2″ wrap-n-zap batting and followed the instructions.  When it got time to mark the corners, I made it 1″ in and 3 1/4″ down.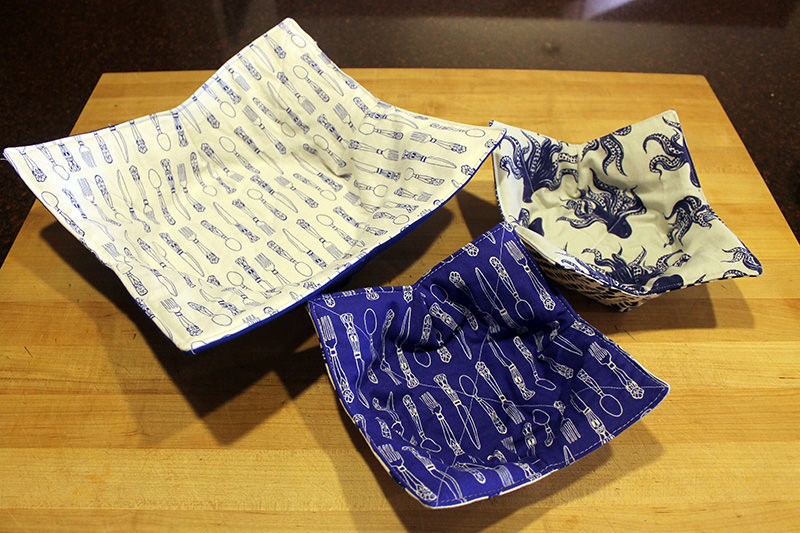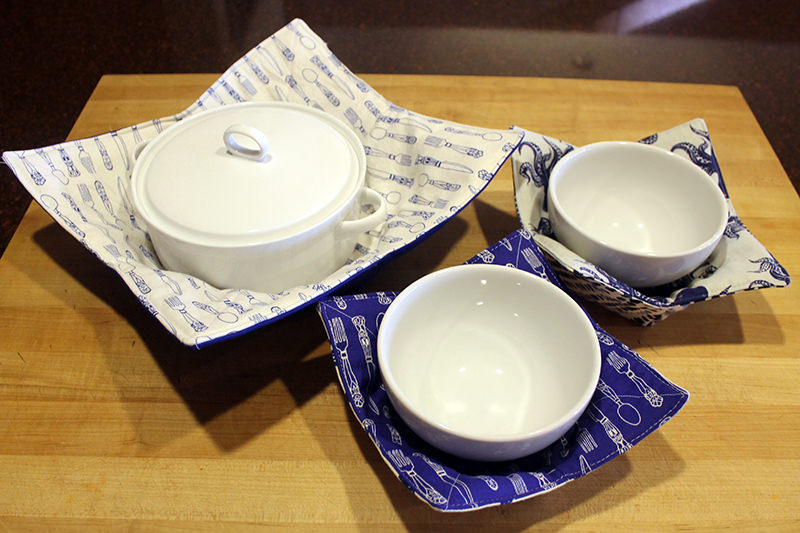 Think I'll test these for a few weeks–starting today since I just made a big pot of vegetable beef soup while I was waiting for Irma.
Then if I'll adjust the sizes and start thinking about holiday handmades!