Funky Leopard Lumbar Pom Pom Pillow
If you have been reading my other blog "Just a Slice of Life in Perfect" you might have already seen this post.  I started a series of three funky and fun pillow posts many months ago and never finished the final post.  I decided to create a whole new blog (this one!) and it took a lot longer than I expected.  So I'm "reposting" the series.  Starting today and ending on Thursday with a NEVER BEFORE PUBLISHED PILLOW POST! So here goes…..
I've been noting a lot of catalogs and home magazine referencing lumbar pillows.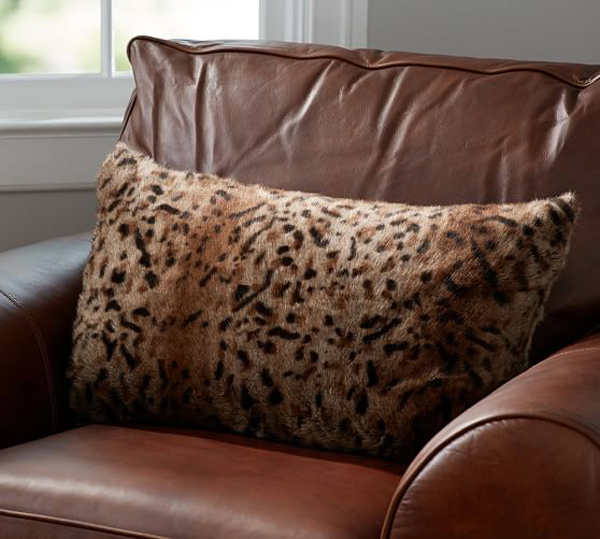 And what exactly is a lumbar pillow?  And why don't I have one?
I must need one.  If I didn't they wouldn't be in the catalogs and home magazines.
Is that some kind of circular logic?
I did some research and found them all over pInterest in all kinds of sizes.  Even the 12″ x 16″ that I use for the name pillows was pinned as a lumbar pillow. Pottery Barn had numerous sizes. I asked Answer.com and that website said 12″ x 18″.  From my extensive research (about 5 minutes) I don't think that there is any consistent size.  But I know I don't have one and probably need one.
So I made one.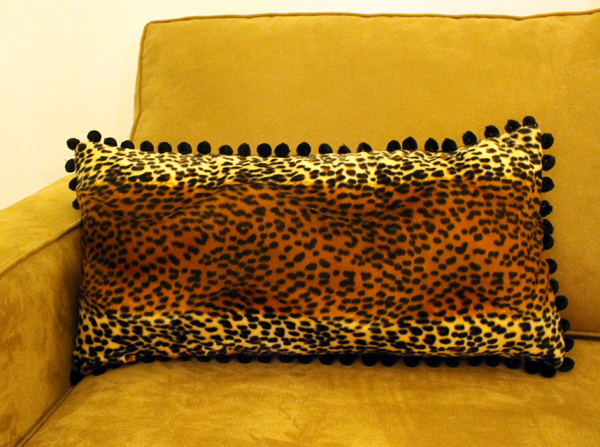 First I made a muslin case to stuff fiberfill in.  I decided that 12″ x 24″ was a good size.  Perfect for my "lumbar" area.  That size insert at Pottery Barn is $22.
I was happy to discover a long piece of muslin in my fabric stash so was able to cut one piece of muslin 13" x 49".  (Otherwise I would have cut two 13" x 25" pieces and stitched them together.)
Not going into great detail on this.  Fold it, stitch the three sides but leave a fist sized opening to put the fiberfill in. Turn right side out. Stuff with fiberfill.  I keep a couple of bags of premium fiberfill in my sewing room because it looks better in the toys I occasionally make.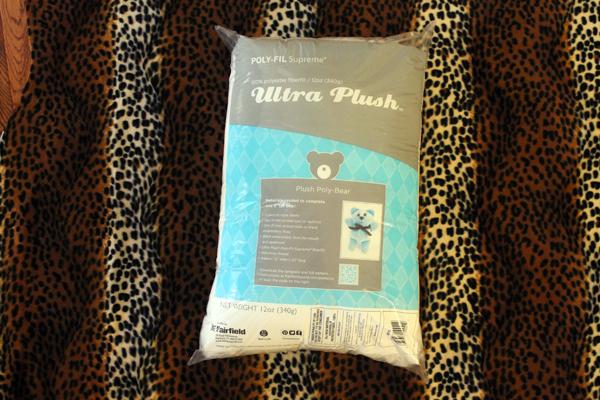 When finished stuffing, hand stitch the opening closed.
And, did I mention I'm into pom poms now?  I'm blaming the blog I swannee.  One of my favorites.  Bright Colors, zebras, fringes, patterns, trims, donkeys but I mostly love the POM POMS.
And another blog that I just stumbled across in blog land said that leopard is a neutral.  Really.  Just happened to have me some leopard fabric.  Which looks great with Pom Poms.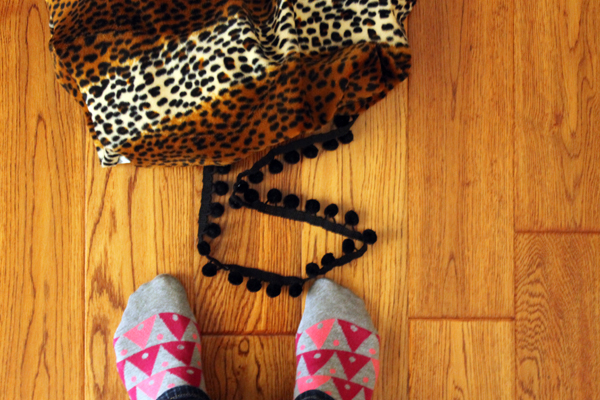 (So am I getting really cool and funky or am I turning into the crazy old lady with pom poms on her hat wearing leopard tights? But those socks are definitely cool.  And funky.)
Nevermind.
I'm making an envelope-style pillow case.  I'm not putting a lot of detail here, either, because I have featured envelope-style pillow cases many many times.  Just click on a "many" and you'll go to more detailed instructions with pictures if you have questions!
The front is a piece of fabric 13" x 25".  Sew the pom poms on the front piece, 1/2″ from the edge.  Use the zipper foot.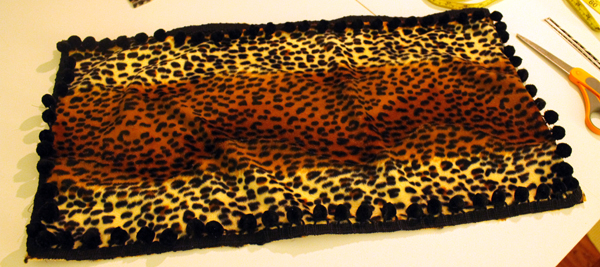 I would typically use two equal sized pieces for the back (13 x 18) but I'm using up some leopard faux fur I bought for another project.  I didn't quite have enough to make the two pieces.  So I cut one piece 13" x 7" and the second piece 13" x 22".
Hem one of the 13" sides on both back pieces by turning under ½", stitch, turn under another ½", stitch.
Note, I usually say PRESS instead of stitch on the first turn under.  DO NOT PRESS FAUX FUR!  I think it just might melt.  Haven't tried it.  But I'm heeding the warnings.
Faux fur is also slippery so I basted the larger piece on to the front first just to be safe.  Right sides together, the unhemmed 13" side even with one of the 13" sides on the front., checked it out, then  basted the smaller side on.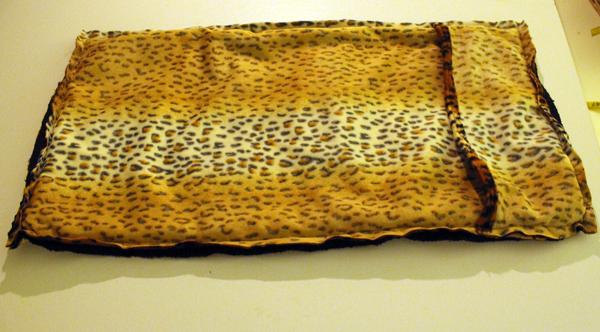 Turned the pillow right side out and made sure all my pom poms and the corners were okay.  Better taking the extra step then ripping out stitching.
Then I stitched all four sides again. Clipped corners. Turned right sides out, poked the corners so they'd be pointy and stuffed that pillow form inside.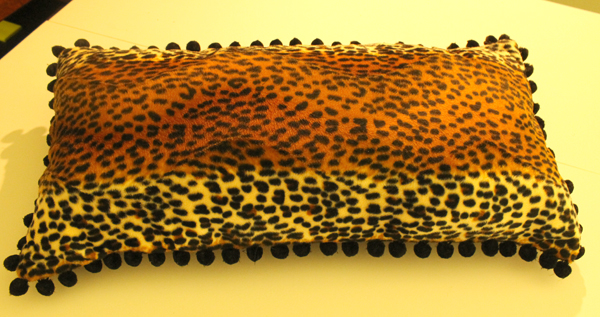 Voila!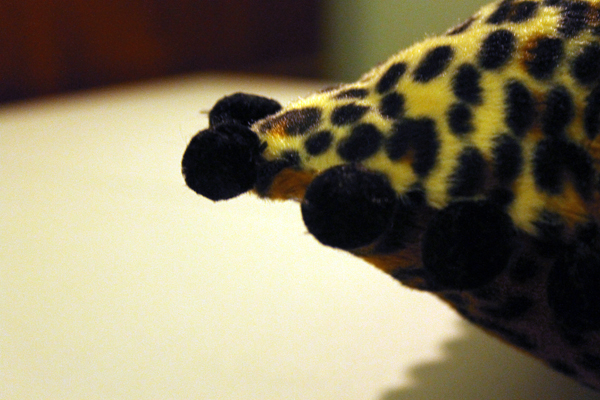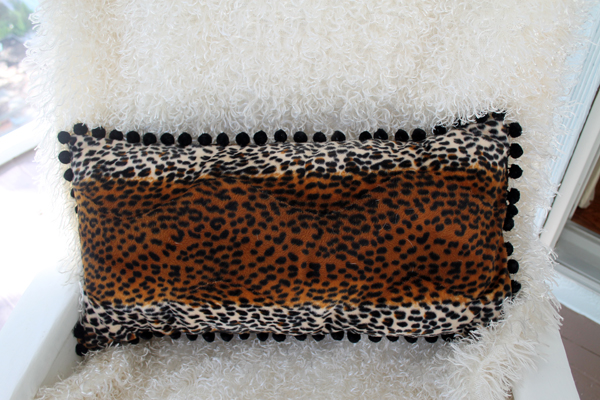 Funky lumbar leopard pom pom pillow.