These tea towel are the most popular pin that I have on Pinterest.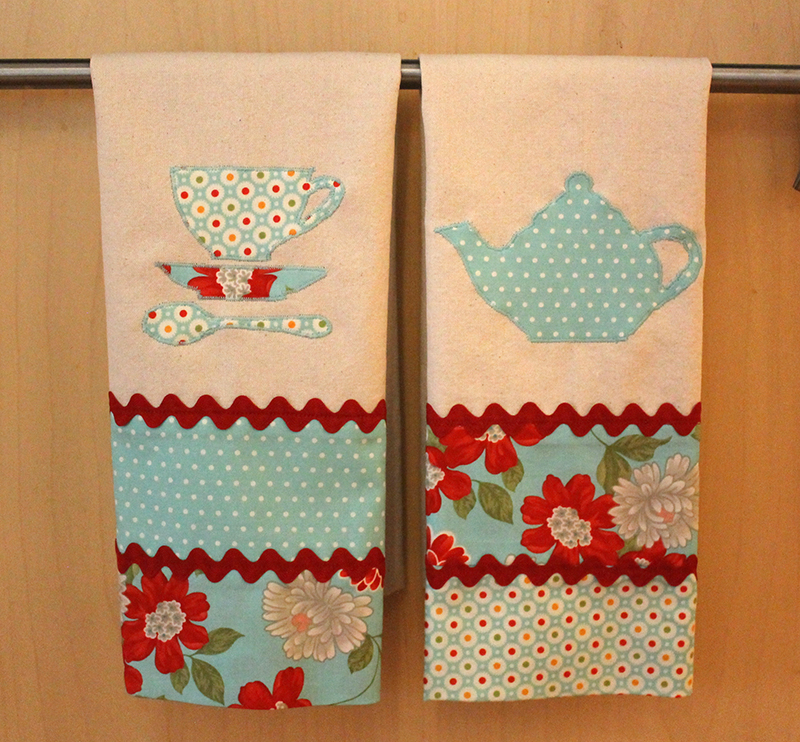 Been pinned over 8,000 times.
But it's on my other website "Just a Slice of Life in Perfect" and doesn't bring any new viewers here.
So I thought I'd repost with some updates.
I love cute retro tea towels, aprons, and pot holders at Anthropoligie, Pottery Barn, West Elm, Crate and Barrel….and all those other cool stores.  But Zowie!  That stuff can be expensive.
But that's just a challenge for me to recreate them a bit cheaper.
How cute are these?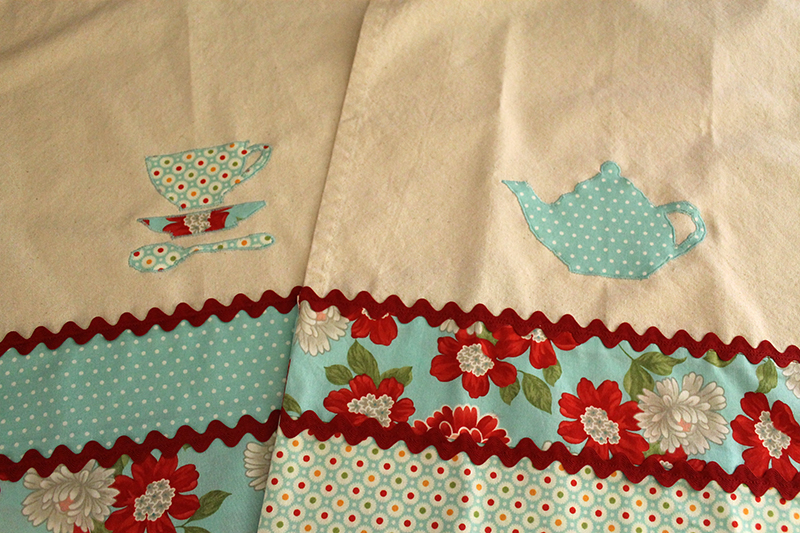 And I loved that fabric so much, I made matching pot holders and an apron.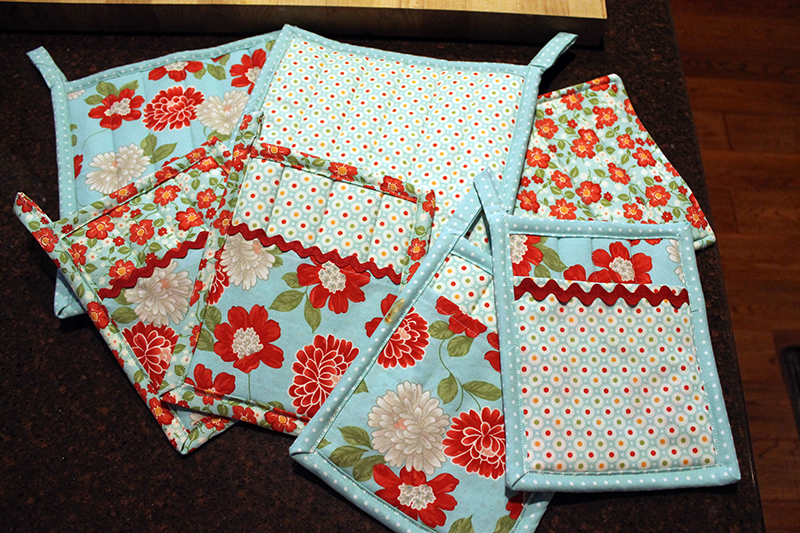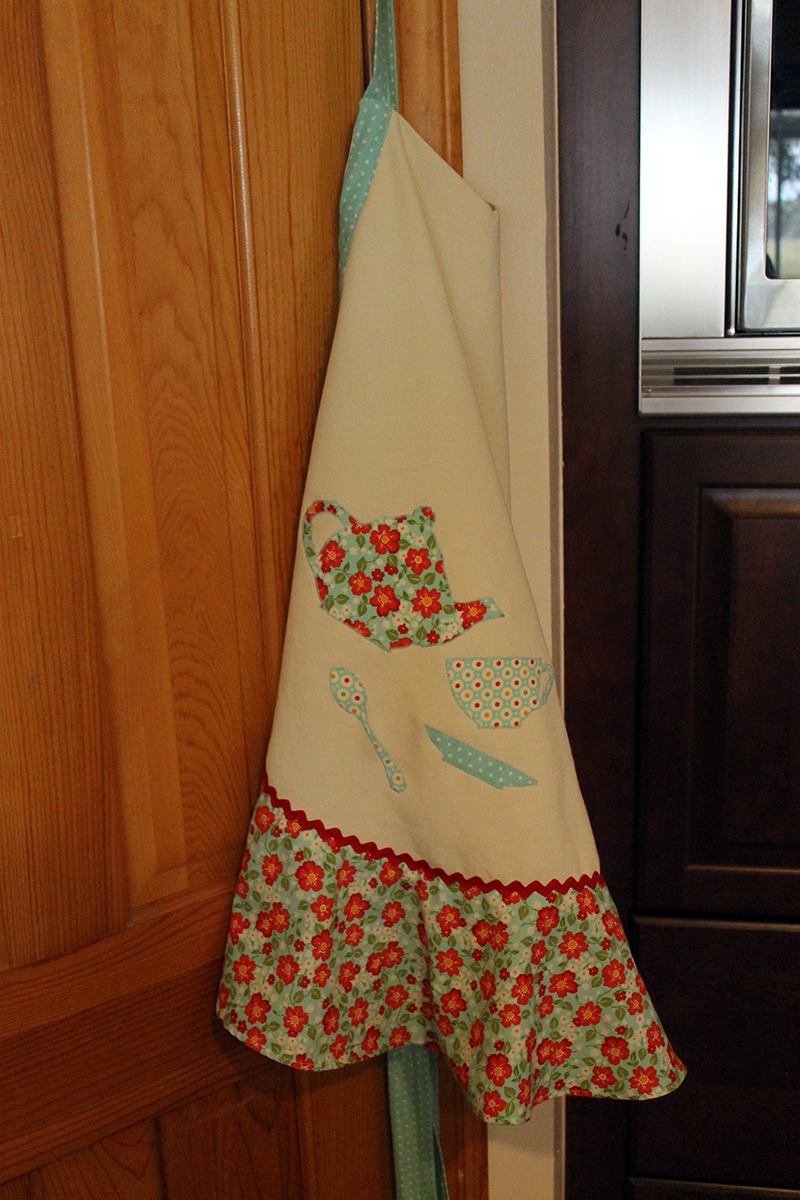 The fabric is Moda Vintage Modern designed by Bonnie and Camille. But it's not around anymore. (so sad) I've also used Little Ruby and Vintage Picnic both by Bonnie and Camille in other projects and they are still available.
Whatever fabric you choose, the key to picking the prints is to use a large one along with two small prints that coordinate.  One of my selections is usually a small dot because it just goes with everything.
Quite often when I'm starting on a new project I do a bit of research on Pinterest.  I found many tutorials but nothing quite what I wanted–I didn't want open seams that might fray–so I just put together my own ideas and wrote up some instructions.
I also looked for a cute applique to add and what could be better than tea-related items for a tea towel?  Got the graphics from Sew4Home.  One of my favorite sewing websites.  I'm always amazed that I can get this stuff for free!
I've made tea towels in the past and just used finished white dish towels that I bought at Joanne's. 
I've also used Kaufman Essex LInen Blend and hemmed the edges which is also makes a great towel.
This time I used Moda Woven Toweling because it's EASY!  It comes in yards and is finished on both selvage edges and it can be cut to any length.   I bought the toweling from www.fabric.com.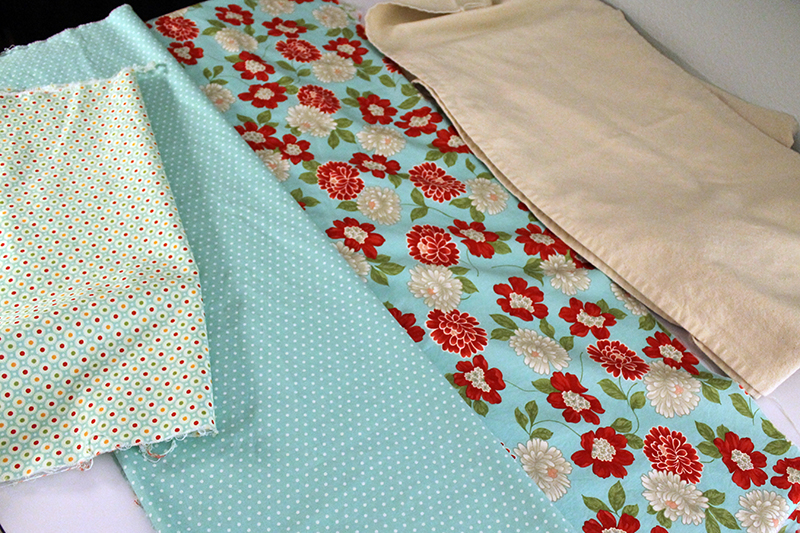 I always wash and dry fabric, toweling, and rick rack for shrinkage before using. (Tip– wash and dry small items like rick rack in a lingerie bag so it doesn't get tangled.) Do not use fabric softener if you are using the fabric for applique. 
The toweling started out as 16" but shrunk to 15 ¼". I'm using a ½" seam.  Any size towel can be used, just make sure to adjust the width to be 1″ wider than the towel.
TUTORIAL
For each tea towel cut:
20 ½" length of toweling
2 strips of print A, 16 1/4" x 4"
1 strip print B, 16 1/4" x 7"
Cut 2 pieces of rick rack, 16 ¼" long
Pin the two strips from A to the large strip B. Right sides together.  Sew.
Press seams open.
Center the color strip on towel fabric, right sides together, the color strip should be ½" wider on each side than the towel.  Stitch, press seam down.  Press raw edge of strip under ½"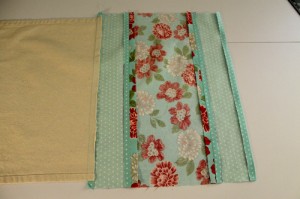 Time for the rick rack.  Center it on the right side of the top two seams of the color strip.  Stitch.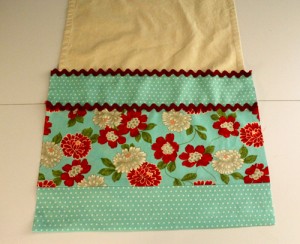 Fold color strip right sides together up to meet seam on towel.  The ½ " pressed edge will meet the seam.  Line the seams up on the color strip.  Sew ½ " seams along edges making sure not to catch in the towel sides.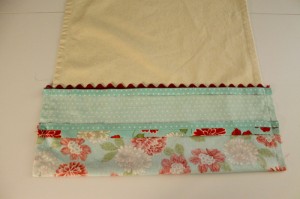 Turn color strip right side out.  Pressed edge of color strip should be on seam of towel.  Stitch edge.
Now finish the other edge of the towel, turn under ¼" and stitch.  Then turn under ½" and stitch.
Make appliqués and attach.  I use Heat n Bond Lite for my appliqués.  I buy it at Walmart or Joanne's and it's easy to use.  Just follow the instructions on the package.  I also used a satin stitch on my machine to sew around these appliqués but any stitch will work.  This was probably the hardest part because I had to stitch around those little handles.  
Tea towels are one of my favorite hostess gifts to give.  I usually have several yards of the toweling in my stash along with bits and pieces of fabrics to make the appliques.  I like making tea towels 'cause they are quick and easy and so pretty when finished.  I've made dozens since I first posted these back in July 2013.
I'll be posting a new design next month!