I absolutely love bulletin boards.
I have them all over the house. I posted about this photo board several months ago.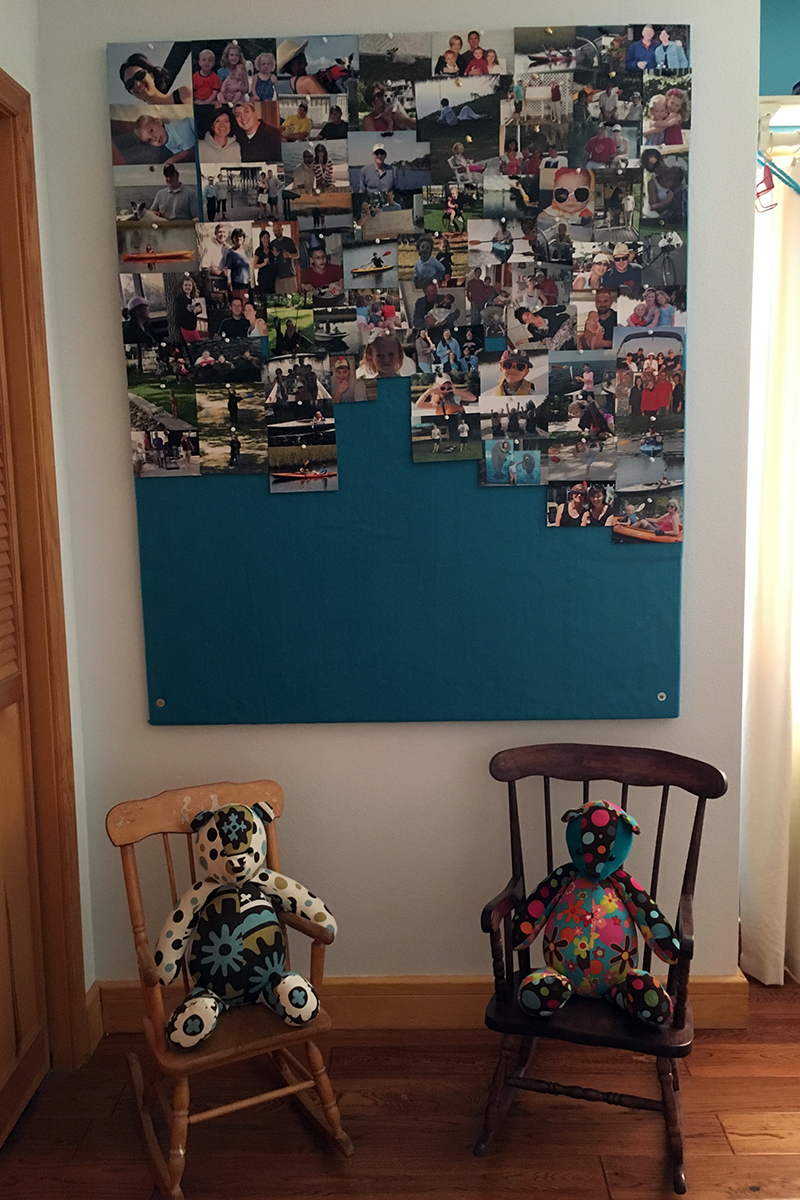 I've got one right by the door to the garage where I stick coupons so I'll remember to grab them as I walk out. (while it sounds like a good idea, I still never remember them)
There's more here and there….I claim they keep me a little less cluttered. And I like to look at the cards and photos and just stuff that I stick there.
The board in my "creative cave" is my favorite.  I was clearing everything off of it to start all over for the new year and thought I'd share with you how easy it is to make.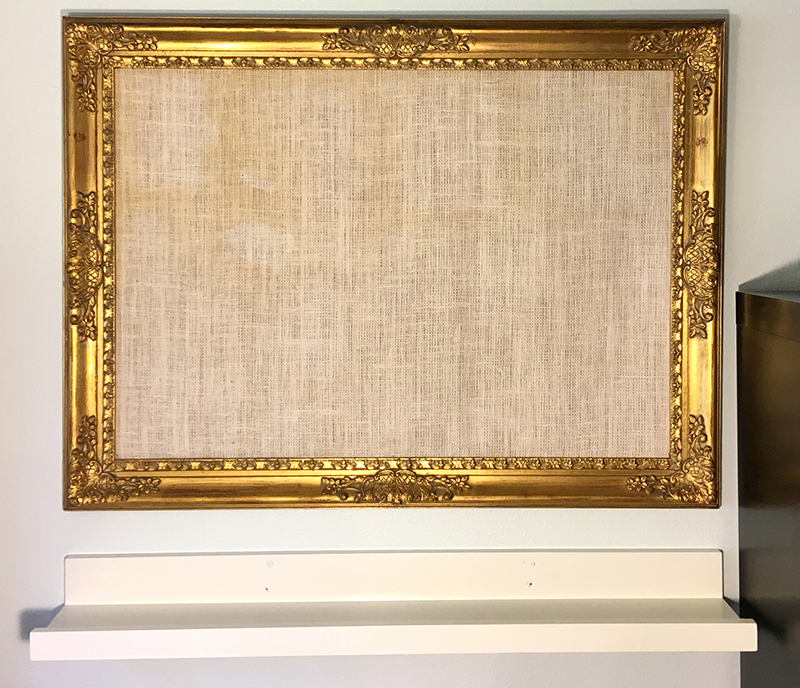 This one is 30″ x 40″.  I love that frame.  I bought it from a little shop that I just happened to stop in and it was perfect!  I cut two foam core boards to fit and taped them together with packing tape.  Bought a roll of cork at Lowe's, glued that onto the foam core.  Went to Joanne's for the burlap.  They actually let me look through the yardage to find a piece that wasn't blemished!  I wrapped the burlap over the cork and stapled the edges on the back.  Fit it into the frame and Terry secured with little nails.
Love it!
I also made these cute little pins with a regular thumbtack and hot glue!
After I cleared off the little shelf and bulletin board I started putting things back on.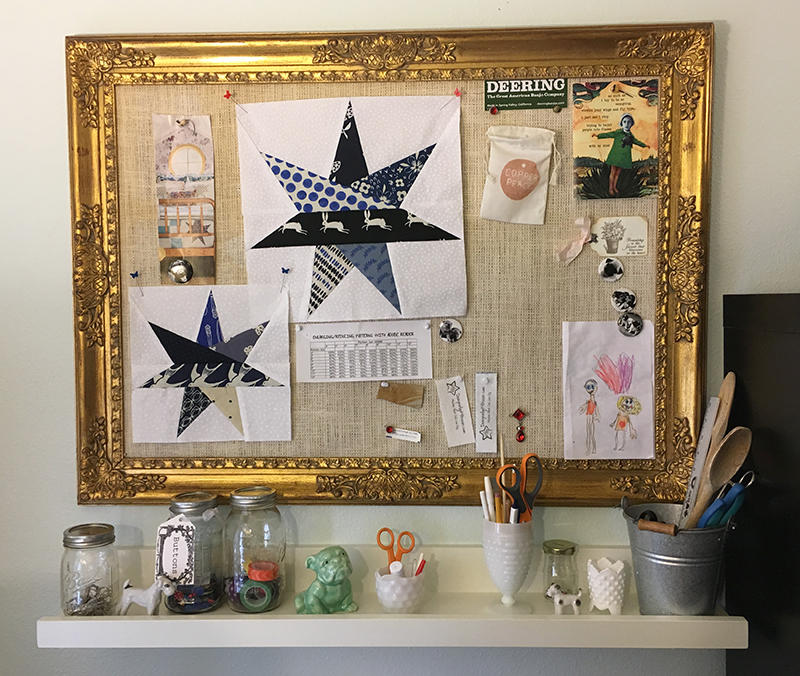 See that magazine clipping there up in the upper left hand corner? I love that quilt and would love to see the whole thing.  I scanned the pic into google images and did a search.  It's from Country Living's August issue.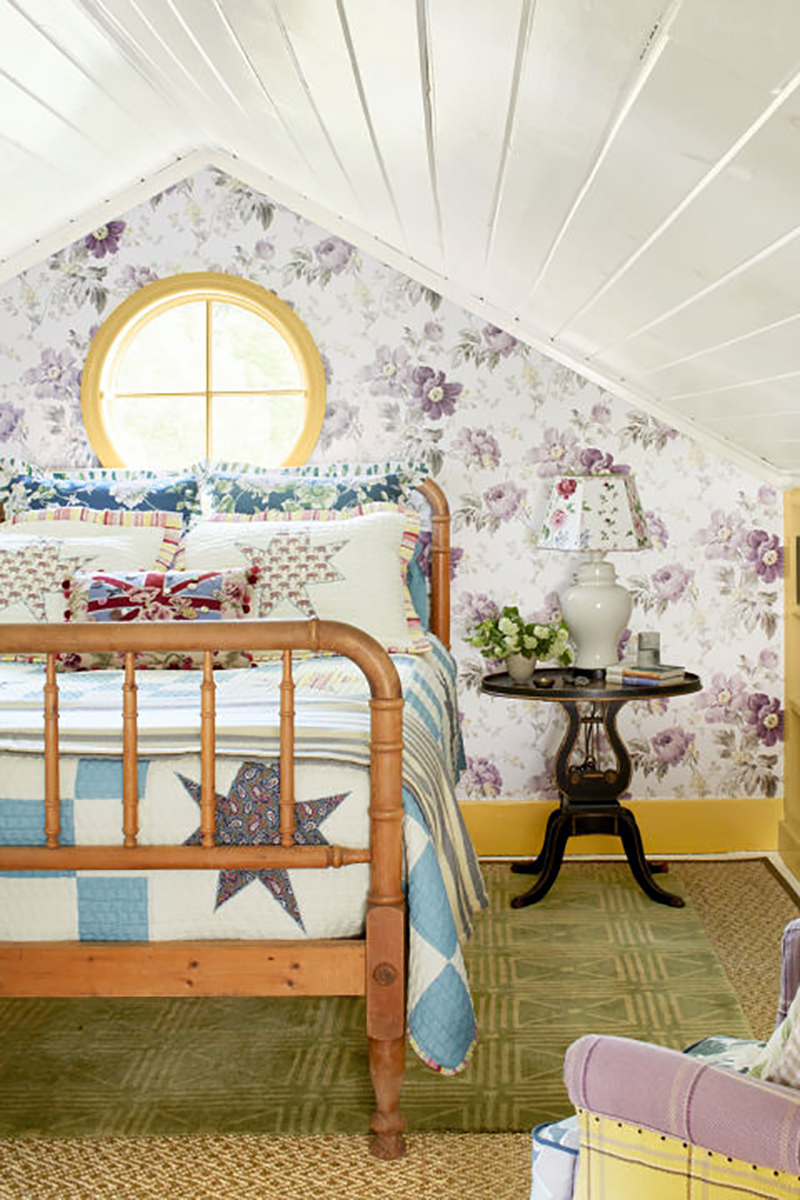 I love the printed stars and the solid color blocks.  Actually I love everything about it but there's no source info on the article. The only reference is for the fabric for the pillow shams on the back of the bed.  Not what I need!  I would love to see the whole quilt.
Anyhow, I'd like to make something similar to this quilt.  Maybe that will be my next big project (after I get the office organized and Lauri's baby blanket repaired! So much to do!  So little time!)