Surprise!  Two sewing posts in one week!
(How long can I keep this up?)
I haven't made tea towels in awhile.  I go through cycles. Kind of almost obsessive.
Tea towels for everyone! Then it's pillows, then it goes right to ….you get a tote…you get a tote…you get a tote. (Ask my friends and relatives who have how many totes?)
Then back to tea towels.
It's kind of an infinite loop.
Anyhow, we're back to tea towels….
I had all these little 2 1/2″ pieces from the Moda "Hello Fall" mini-charms.  I liked them so much I went back to the quilt shop and bought a 1/2 yard of a coordinating print.  Then I started going through the box that I store all of my bits and pieces of fabric just for tea towels.  Yes, I'm that organized.  A special box for tea towel paraphernalia.
And I found 44″ of Moda toweling in my stash and wondered  why I had just enough for two towels in that box.  Did someone hide that in there? Was I saving it for something?  Ponder, ponder.  And decided that if I was saving it, that was a long time ago.  So I cut it into two 22″ pieces and came up with a new tea towel idea.
I'm going to remind you that I WASH EVERYTHING before I actually use it.  Those little mini-charm pieces go into a lingerie bag before they enter the washer.
Also, I want all my tea towels to be finished on the front and back—no seams to fray.
So here's all the pretties and the tutorial: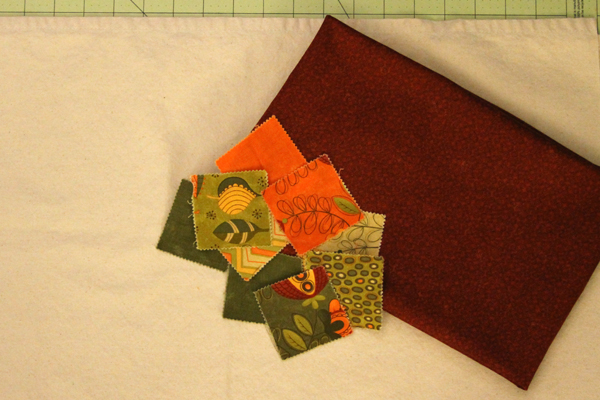 DIY Autumn Tea Towel
So this is what you need to make one tea towel:
one 22″ piece of Moda toweling
eight  2 1/2″ mini-charms
one 16″ x 2 3/4″ piece of coordinating print.
The Moda toweling is finished on two sides.  Although it's listed as 16″ wide, after washing and drying, it shrinks down to about 15 1/4″.
First thing to do is finish one of the raw edges and miter the corners so they are pretty.  I actually tried to show you how to do this but taking a picture and holding those corners down was really really difficult. (I need a third hand. Or an assistant.)
So I'm going to refer you to Sew4home.com and their clever corners.
Gotta say I did excellent on this corner!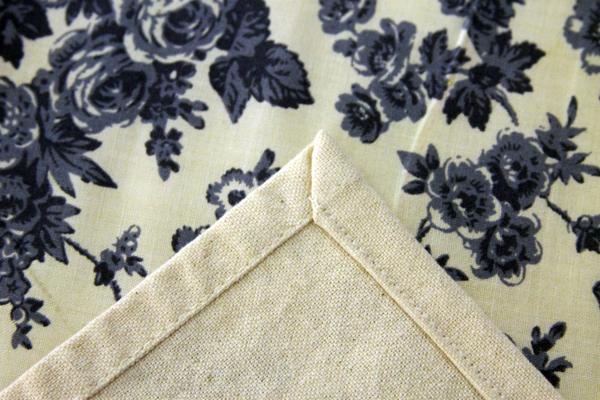 Stitch the 8 mini-charms together to make one long strip using a 1/4″ seam.
Press under 1/2″ on one long side of the coordinating print piece.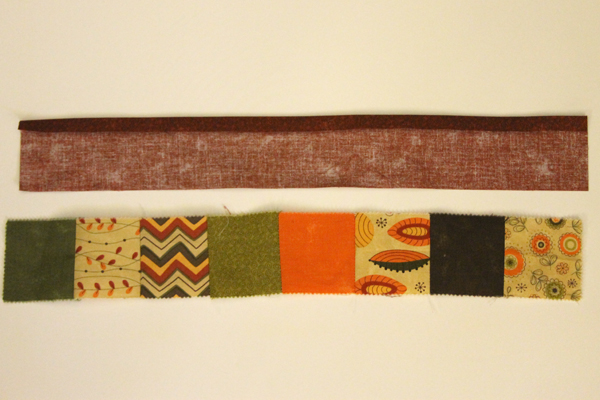 Sew with a 1/4″ seam the fabric piece raw edge to the mini-charm strip.  Right sides together.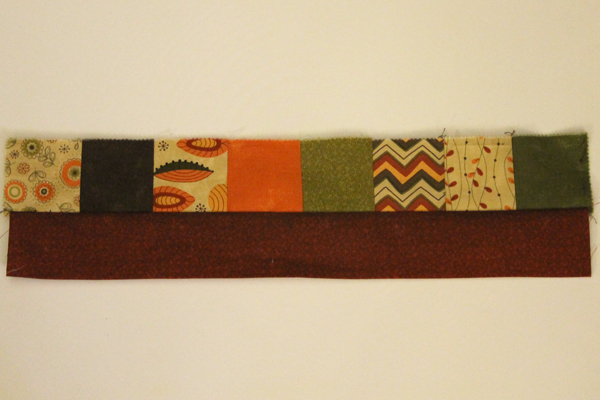 Put the mini-charm strip right sides together with the Moda toweling and stitch a 1/4″ seam.  I pressed a center fold on the toweling so I could line up the mini-charm piece.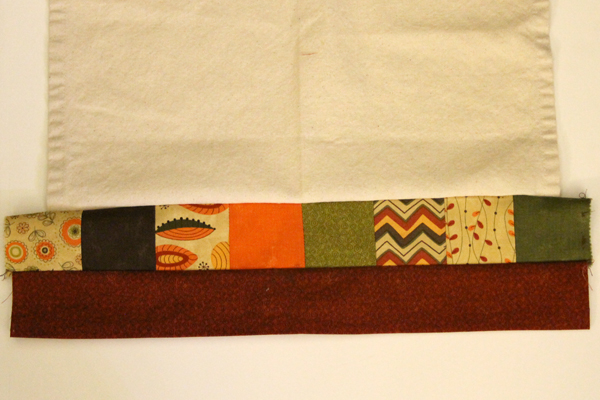 Did I mention that I press between EVERY step?  Press. Press. Press.
Fold the print strip (right sides together) up to meet seam on towel. The ½ " pressed edge will meet the seam.
You will notice that the strip is a bit wider than the Moda toweling.  We are going to trim those away.  Just mark a line right along side of the towel.  Sew along those lines.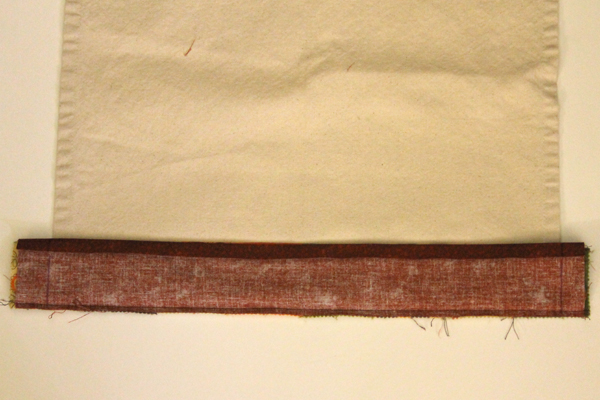 And then cut off the excess. I left a 1/4″ bit of fabric. Clip the corners.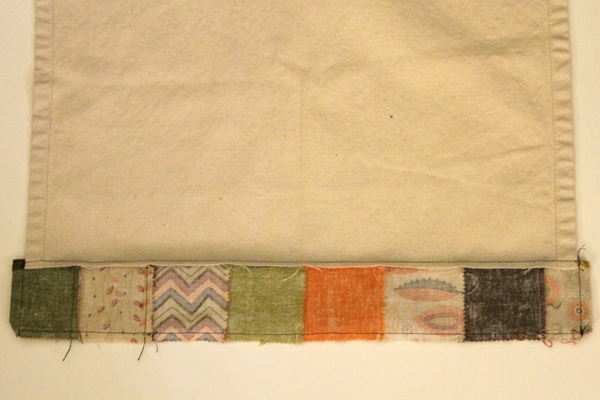 Turn strip right side out. Pressed edge of fabric strip should be on seam of towel. Here's the back.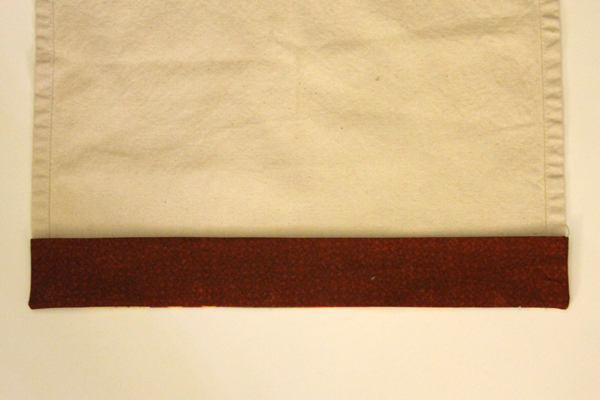 And the front.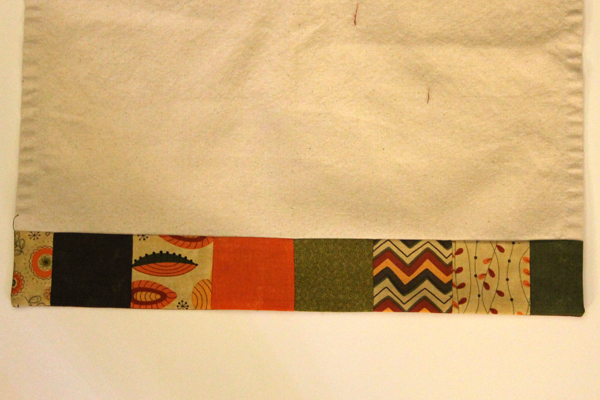 After I made sure those two seams were absolutely on top of one another on both sides of the towel I did a little blanket stitch between the strip and the toweling. Because I'm in love with blanket stitches right now.  Next week it could be a zig zag or some wavy curvy stitch. Who knows?
I finished the other three sides of the strip with a plain old stitch 1/4″ away from the edge.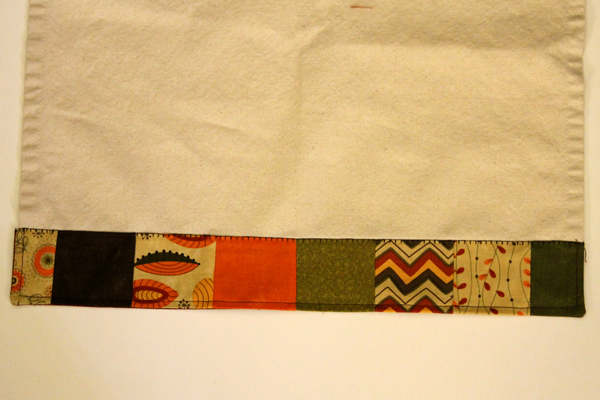 Now for the fun stuff.  Appliques!
I pull my art from all kinds of sources.  Sometimes I even draw it myself.  This time I went to SweetClipArt.com and pulled this Leaf Clip Art.  I enlarged it through Photoshop so it would be 2 1/2″.  You could do the same thing with Word.
I use Heat n Bond Lite for my appliques. Like I've said in the past, there's lots of products out there.  Just follow the directions on the package.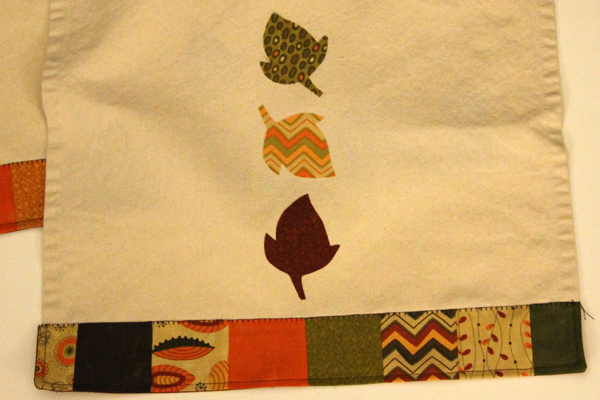 Then I did a little blanket stitch around each leaf plus a little bit of straight line stitch for detail.  How cute is this?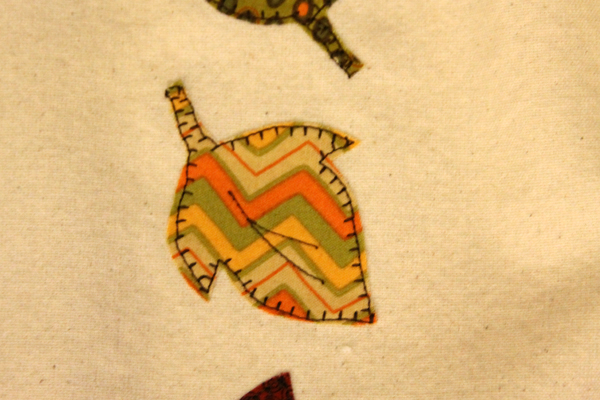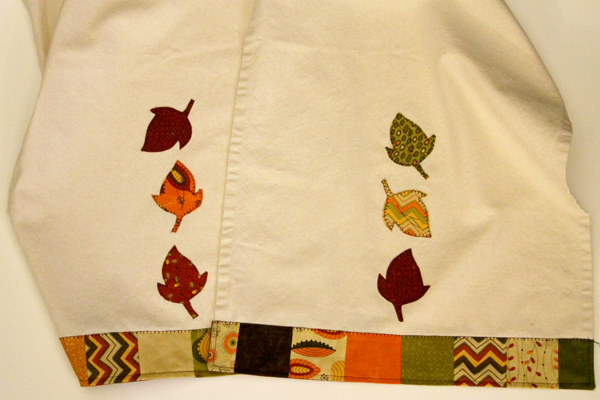 And here they are!
I mentioned in a previous post that the easy peasy tote is very cool with a couple of handmade tea towels as a hostess gift.
Am I right?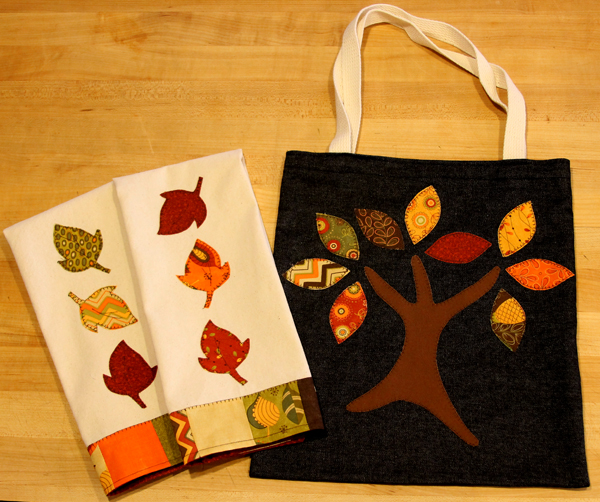 But I really really really like these tea towels.  They might just be staying right here in my kitchen!