Christmas Coasters with Tray
I decided months ago that I wasn't buying ANY NEW Christmas fabric this year.  It was hard.  I kept looking at all the new selections.
But…..
I really needed to use up some of the holiday pieces I had in my stash.  (so I can buy more next year!)
I was determined to use up some of that stack of fabric for my hostess gifts this year–coasters. But I wasn't sure how I would package them. Then I was scrolling through some blogs and came across this pin from Spoonful of Sugar.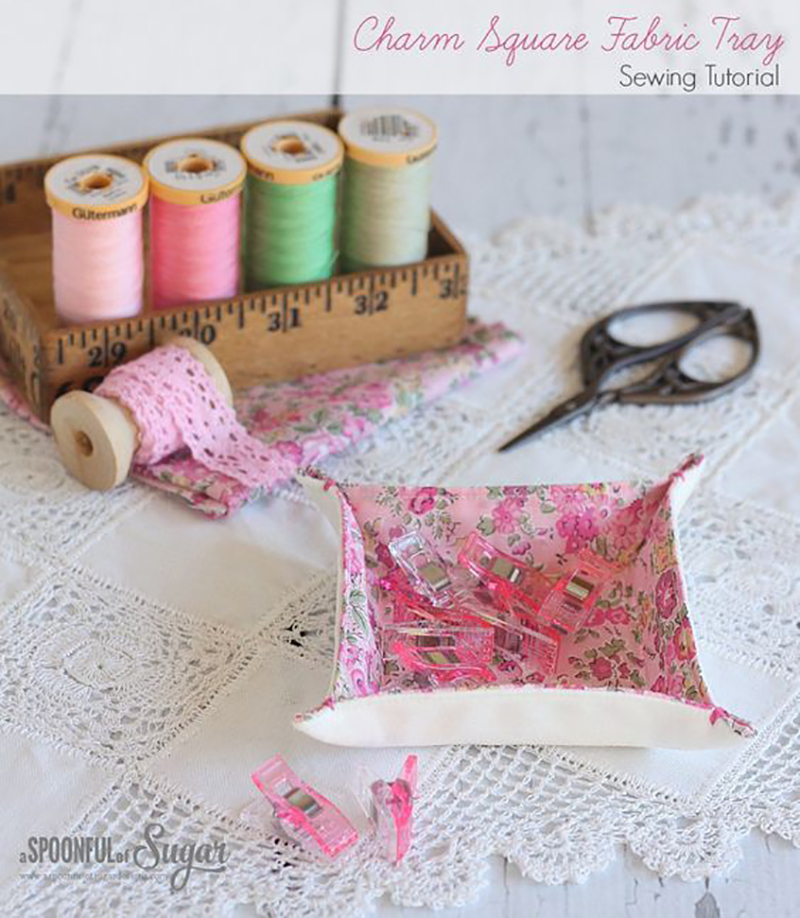 This adorable tray is made from charm squares and perfect for storing pretty little things. Mine needed to be a bit larger to fit the coaster so I resized it and came up with these little treasures!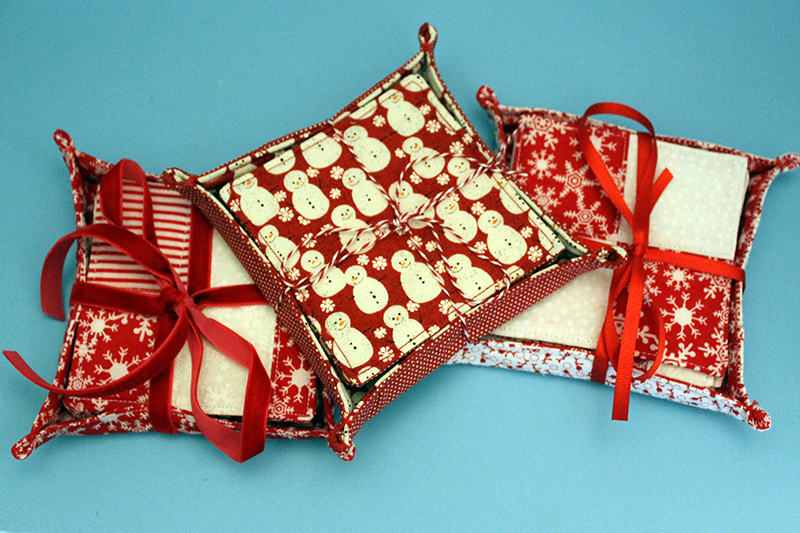 This isn't my original idea so please go over to the tutorial on Spoonful of Sugar for this little tray.  The directions are very good and detailed.  I'll give you the measurements I came up with to make the coaster tray.  This is SO easy.  And quick to make.
You can go to my tutorial for the coasters here.  In that tutorial I used charm squares but you can use any piece of fabric that's cut to 4 1/2″ square.
You'll also need some batting or fusible fleece and embroidery floss.
For the tray, I cut two squares of fabric and 1 square of batting.  All of them 6 1/2″ square.  Same for the coasters but they are all 4 1/2″ squares.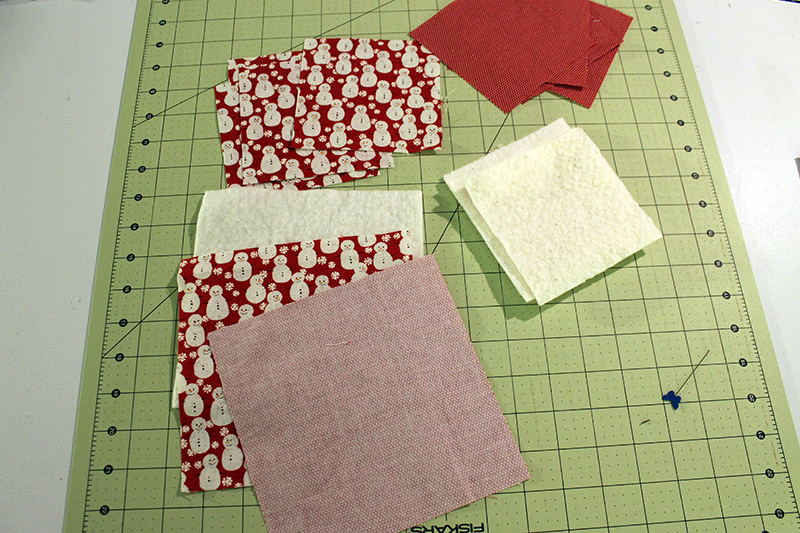 Put the fabrics right side together on top of the batting. And sew 1/4″ around the edges leaving a 1 1/2″ to 2″ inch opening for turning.  Turn right side out, press, and stitch close to the edge.  For this set I used a straight stitch but you could use something nicer like a blanket stitch or zig-zag just to add a little flair.
On the tray piece, stitch 3/4″ from all the sides.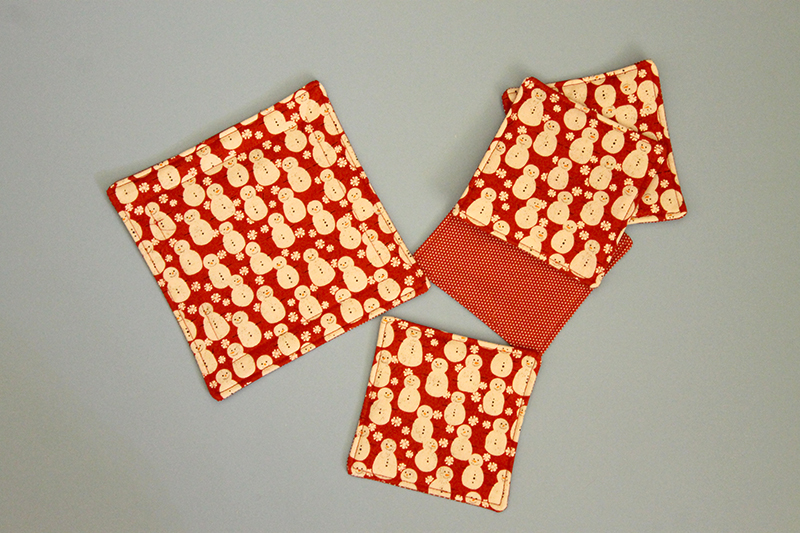 Press all the sides to fold at the 3/4″ seam.  Then pinch the corners and using two strands of embroidery floss, make several stitches 1/2″ from end.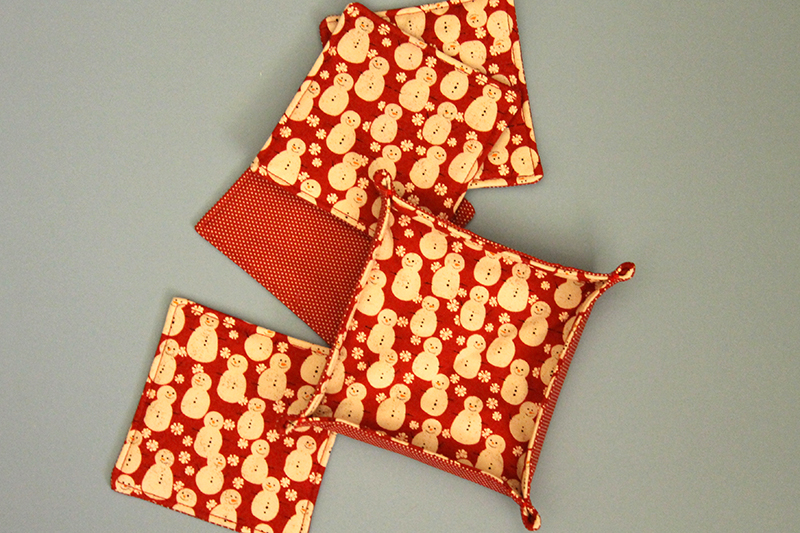 I made some patchwork ones, too.  This fabric was left from a quilt I made a few years ago and some of it was already pieced together!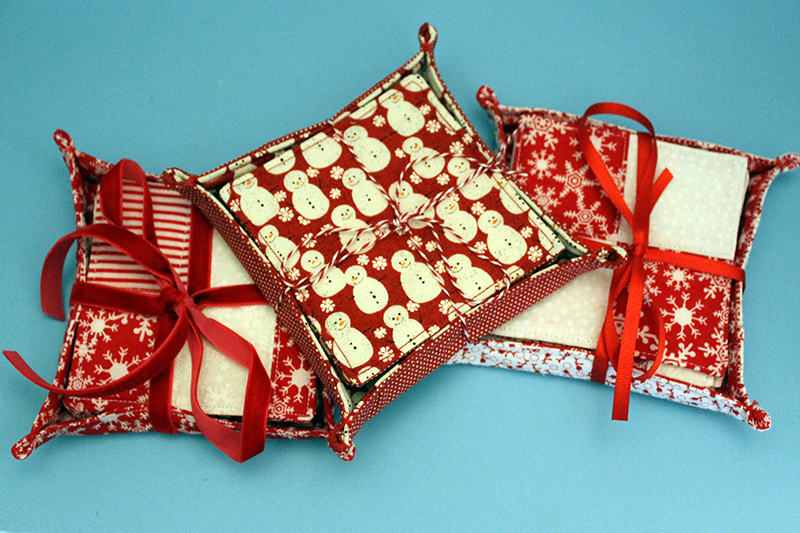 I love this little tray and have already given out three of the coaster sets I've made.  But not to worry, these are so quick and easy to make, I'll be ready for the next party!