Block Twelve — August — Quilt as You Go
Good Day Sunshine!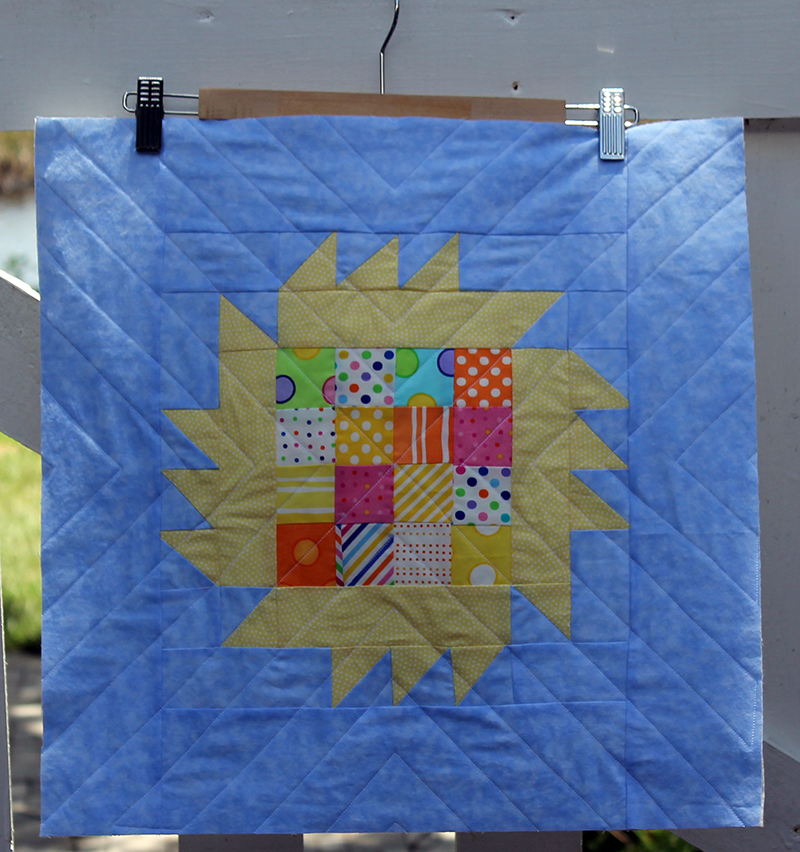 Is there anything hotter than August in Florida?  Oh wait, I know the answer to that, August in Phoenix.  Been there.  It's an oven.
But it's REALLY hot here, too.  So I decided to use the Sun for my August block.
My Pinspiration was this sunflower block.
I wanted this to have a fun look so for the center of the sun I used 12 different bold graphic designs–no flowers. I found these mini charms at the local quilt shop, Dot Dot Dash by Me and My Sister Designs for Moda Fabrics. You can buy the pack online at the Fat Quarter Shop.
The other yellow print was a fat quarter from the same shop. The blue sky?  I have no idea where that came from.  It was in my stash of fabric and I used it for the windy month of March block and had just enough for this piece.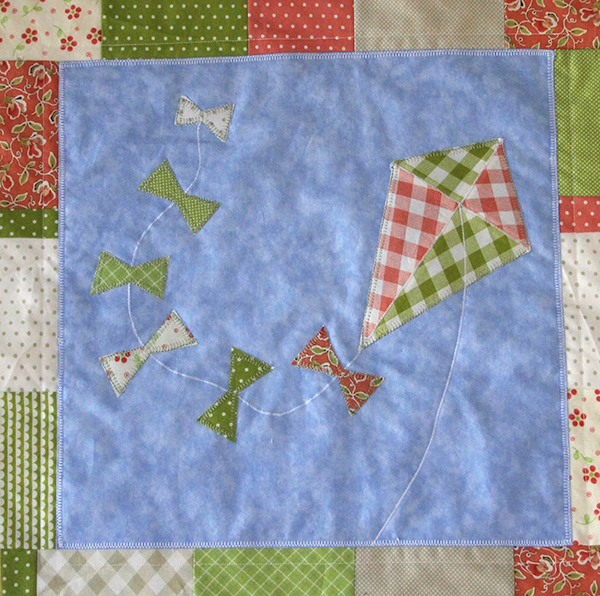 The mini-charms are 2 1/4″ and after I washed them they were about 2″ so I based this block on that size.  I know, those of you out there that sew are saying, "You aren't supposed to wash those before using!". I've read that on numerous blogs. I don't care. Any fabric that says it's washable, gets thrown into the washer as soon as it comes in the house. And I always know that everything in my stash is washed.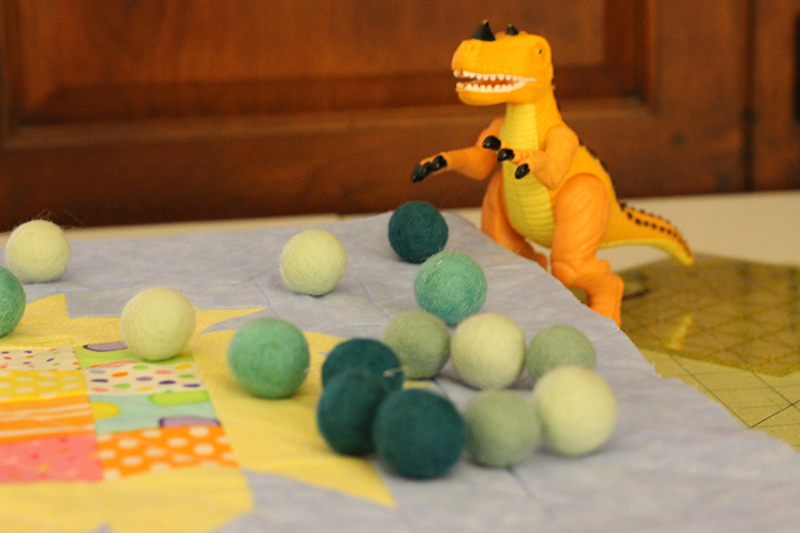 And here are the instructions!
Good Day Sunshine Block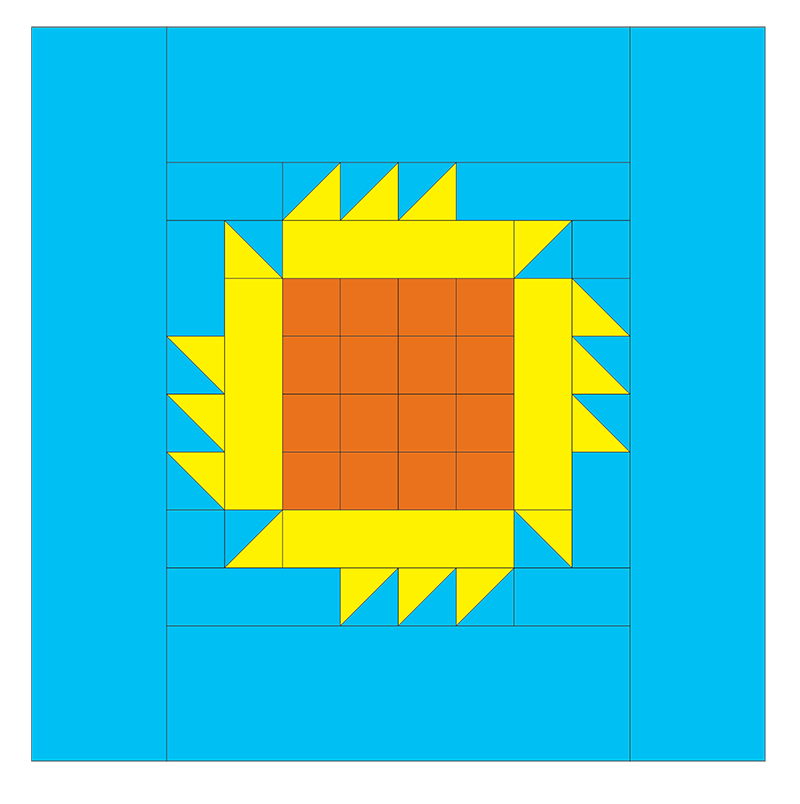 Cut:
16  2″ squares from different shades of yellow and orange (That's the mini-charm pack)
4   6 1/2″ x 2″ yellow strips
8   2 1/2″ blue squares
8   2 1/2″ yellow squares
4   3 1/2″  x 2″ blue rectangles
2    2″ x 2″ blue squares
2    5″ x 2″ blue rectangles
2    3 3/4″ x  12 1/2″ blue rectangles
2    3 3/4″ x 19″ blue rectangles
2    12 1/2″ x 3 3/4″ blue rectangles
2    19″ x 3 3/4″ blue rectangles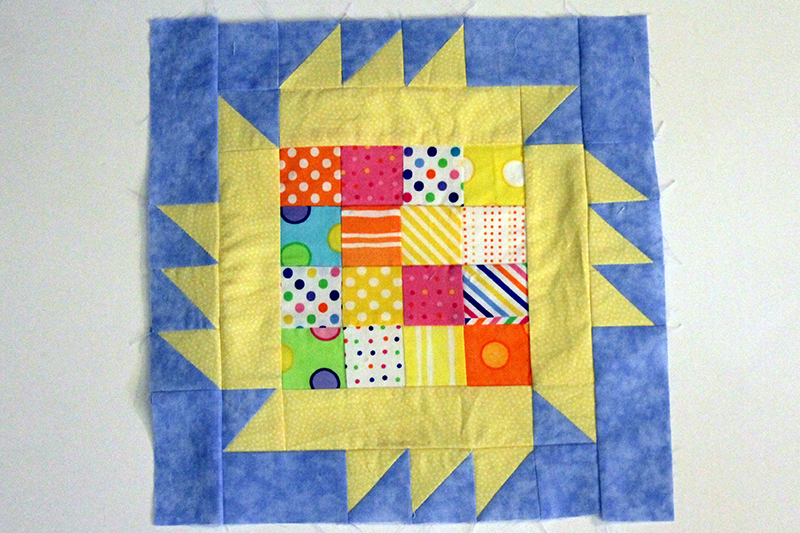 Pin Baste.
Quilt.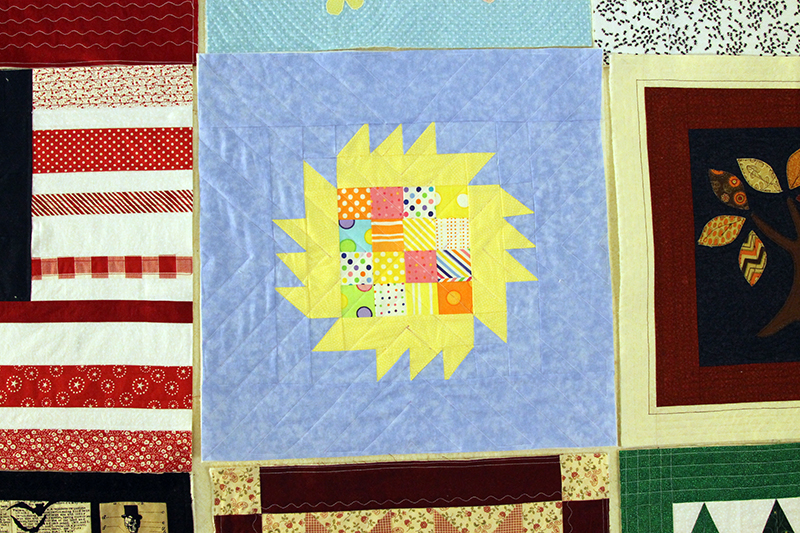 All the blocks are done.  Next month I'll share how I put them together!