Block Three — November — Quilt as you Go
For the November "Quilt as You Go Block" I was looking for a block to represent the month. Thought about pumpkins, turkey, thankfulness, pie……  And finally found the pattern "Turkey Tracks" on Pinterest.  Thought that was appropriate. Here's my version:
If you use your imagination, yes, you can see four turkey tracks there!
The first block I checked out called for "Paper Piecing".  I'm not quite sure what that is and am not quite ready to find out.  The second block was from The Moda Bake Shop.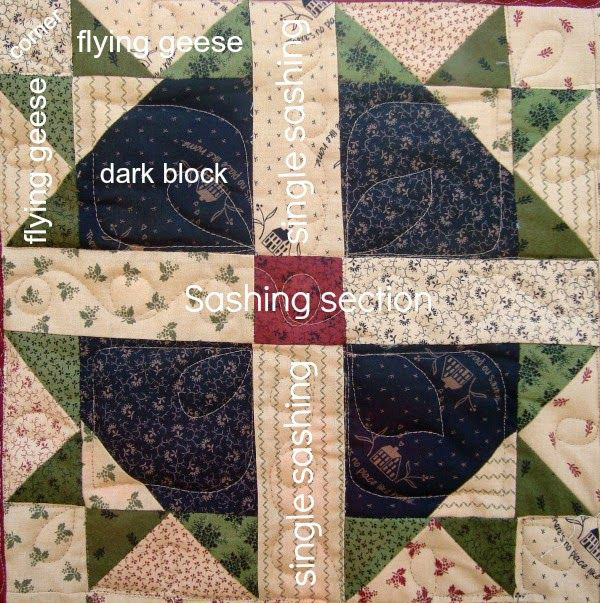 I liked the block but loved the whole quilt even more when I went out to Moda Bake Shop to check out the directions.  And thought, "I should make this whole quilt".  It's so cool.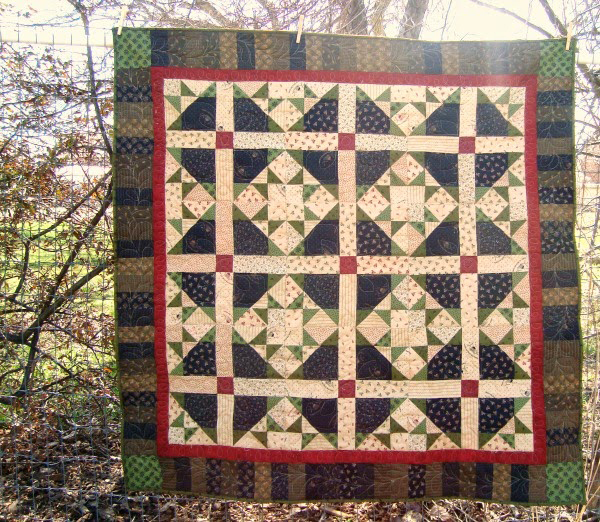 But then I started actually trying to create the block and decided, maybe next year.  The quilt is marked as "moderate" difficulty.  I might need to stick with the beginner level!
But I eventually figured it out and am back to my original idea of making the whole quilt.  (Not this week.)
I had planned on just linking to the Moda Bake Shop directions here, but after destroying a few geese, I decided to go ahead and write my version, add photos, and advice!  I'm totally crediting Moda Bake Shop because I never would have figured this out without those directions.  I've also revised my version's fabric requirements for just one block–not nine that the big quilt requires.
This block has "flying geese", something I hadn't made before.  I ruined a couple geese before I figured them out. I think there was a mistake in the directions which I've updated in my version.
With flying geese, you want all those little points to match up.  After making a couple of wonky versions, I figured out the problem was that I wasn't using an accurate 1/4″ seam.  My machine's needle can be moved in increments to the left and to the right.  After playing around with that feature and using my ruler, I had an accurate seam and my geese were flying just fine!  I also had to do a lot of trimming to get to the correct goose size and did that wrong a couple of times.  So I've explained all that in my directions.
Here's the fabric I used.  (I'm also making puppies for Jack right now and they kept jumping into the snaps.)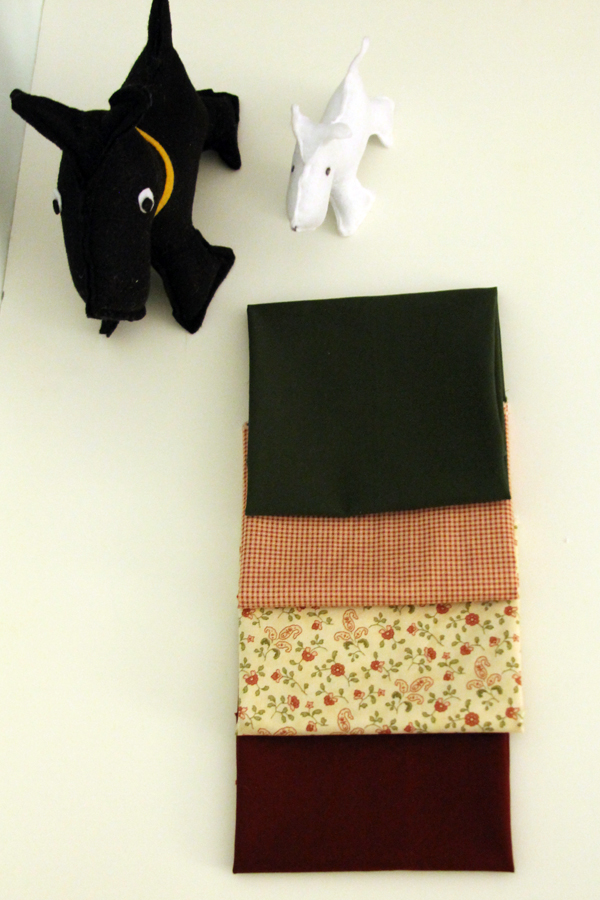 I bought the two prints from the local quilt shop, Tomorrow's Treasures.  They are from the Moda line Country Morning.  I had the green and the rust in my stash from a fat quarter Moda Bella Darks packet I used for another quilt.
So here's my tutorial: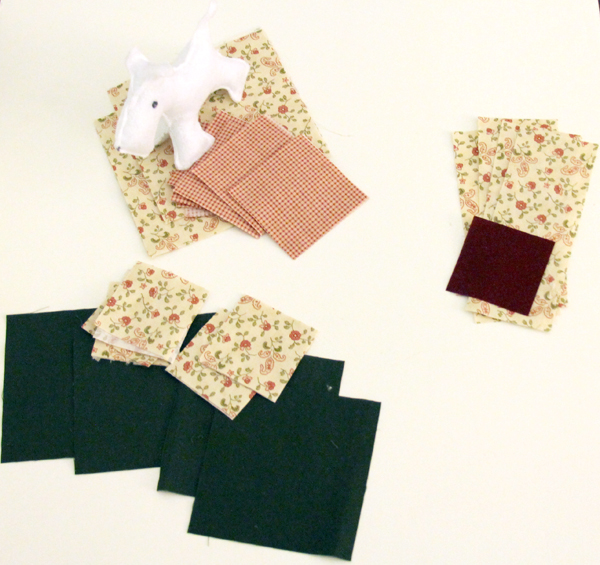 TURKEY TRACKS BLOCK
Dark1                         1 fat quarter green
Dark2                         ¼ yard rust check
Dark3                        1 fat quarter rust
Background             ¼  yard cream with small flowers
Dark Blocks
Four – 4 1/2″ X 4 1/2″ Dark1
Four – 2 1/2″  X 2 1/2″ Background
Corner of Block between Flying Geese
Four – 2 1/2″ X 2 1/2″ Background
Flying Geese Blocks
Two – 5 1/2″ X 5 1/2″ Background
Eight –3″ X 3″ Dark2
Sashing
One–  2 1/2″ X 2 1/2″ squares Dark3
Four –6 1/2″ X 2 1/2″ Background
Border
Four – 2 ½" x 14 ½" Dark3
Four – 2 ½" x 2 ½" background
DARK BLOCK
Draw a line from corner to corner on the wrong side of the 2 1/2″ square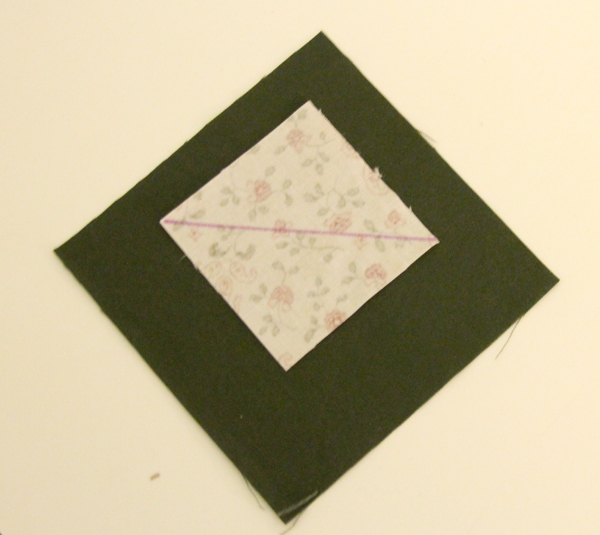 Place the small background 2 1/2″ square right sides on one corner of the 4 1/2″ dark square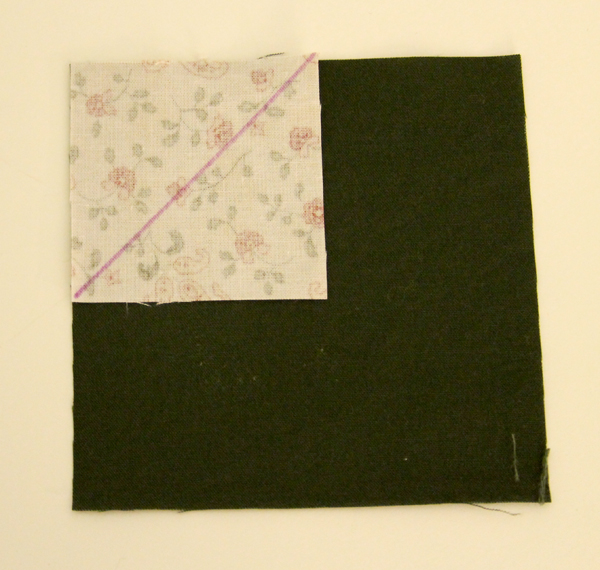 Sew on drawn line, cut off remainder triangle and iron.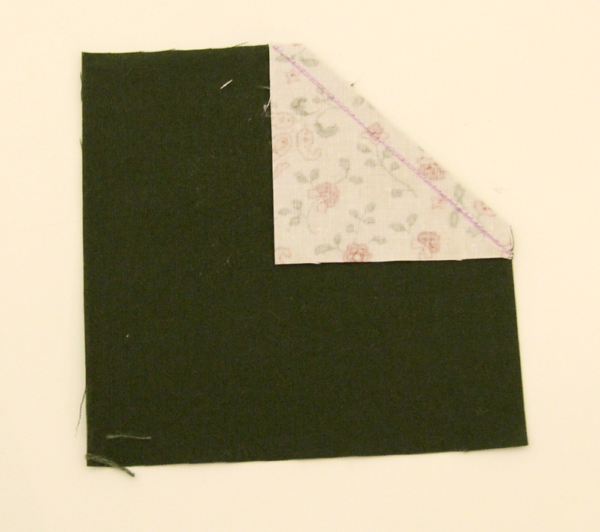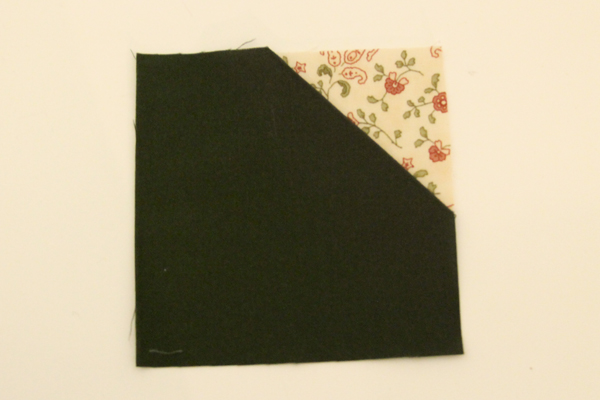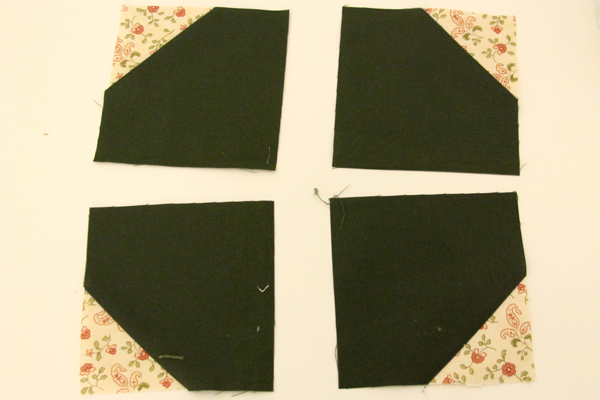 Flying Geese Blocks
Draw a line from corner to corner on the wrong side of the 2 1/2″ squares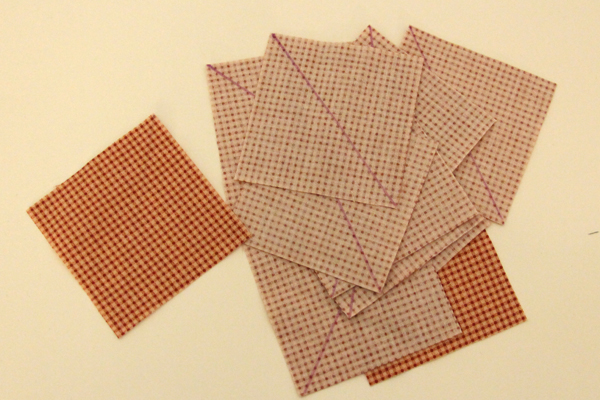 Place the 2 1/2″ squares at opposite corners of the background square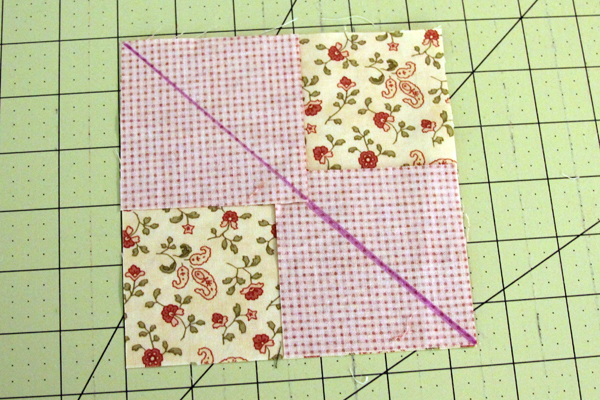 I also drew a line 1/4″ on either side of that line.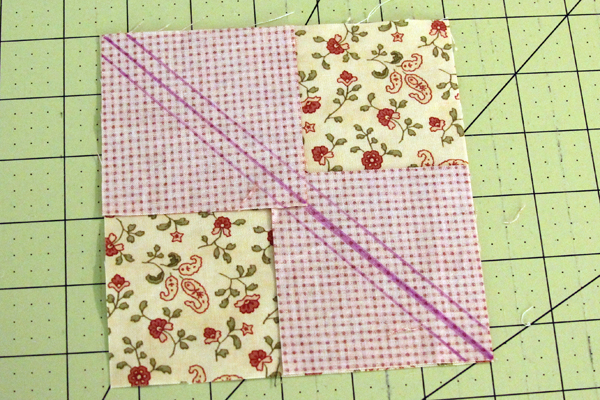 Sew on either side of the middle line
Cut on middle line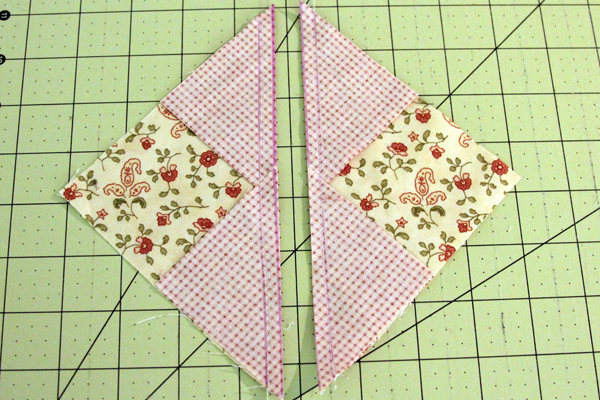 Press the triangles up, Place a 2 1/2″ square in the last corner of the background.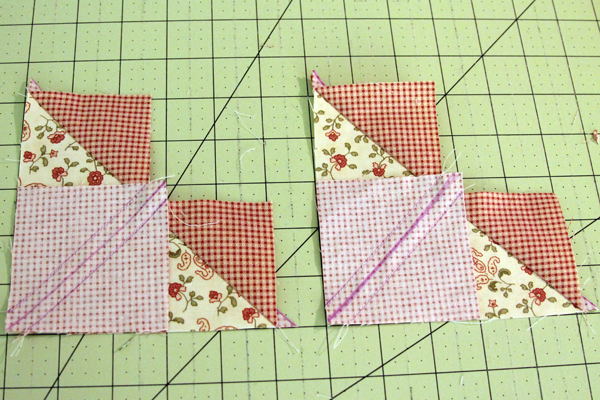 Sew on either side of the middle line.
Cut on middle line and press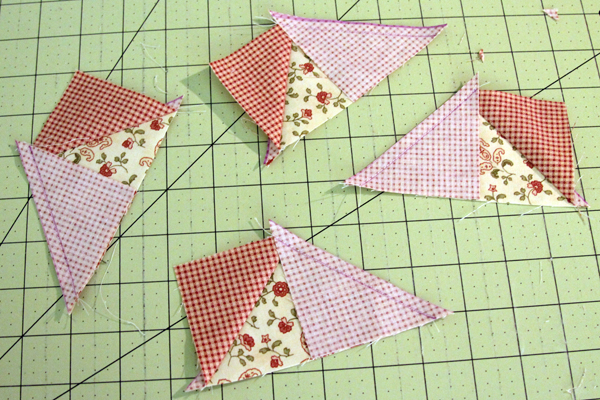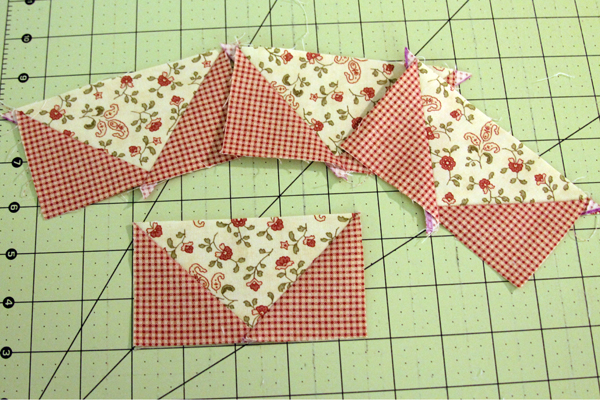 Now we need to square them to 4 1/2″ X 2 1/2″.  It's really important to get them trimmed accurately so the points will line up with the large block.
I want to make sure that I have an exact 1/4″ seam allowance on the pointy side so I line it up with the 1/4″ line on my ruler then trim.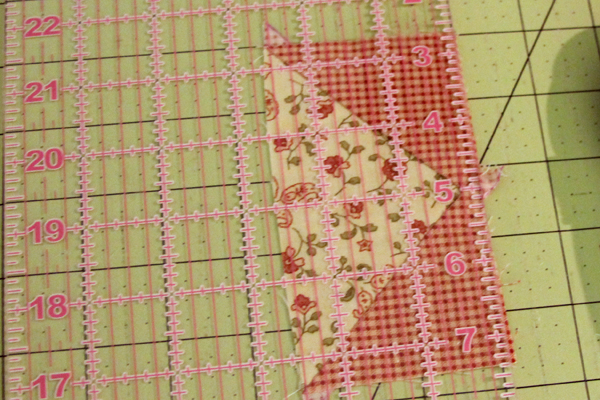 Then I turn the piece around and trim it on the other side to 2 1/2″.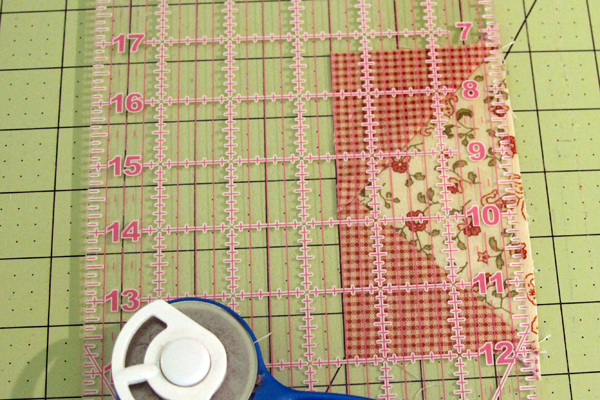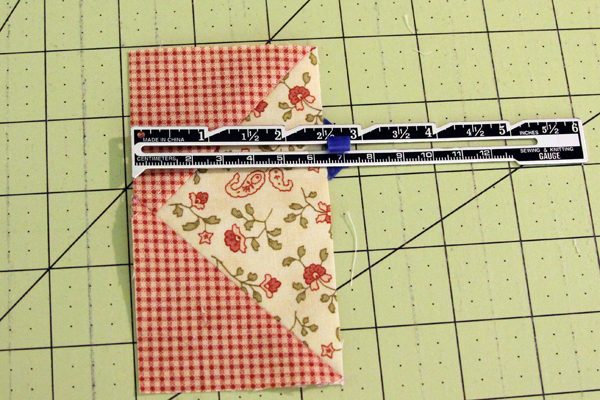 Now I want to make sure I take an equal amount off of each side. This piece has to be 4 1/2″ wide. So I fold it in half right on the point.  Line up my ruler at the 2 1/4″ mark and trim.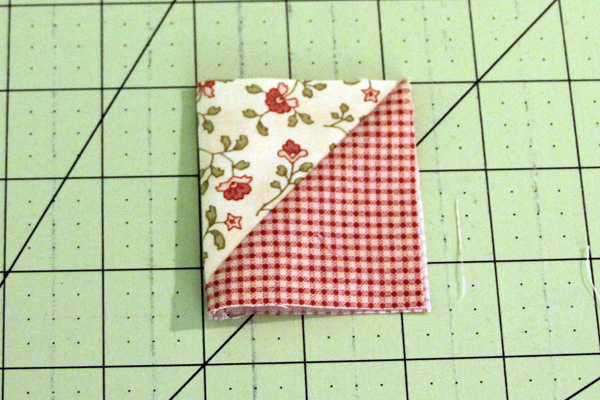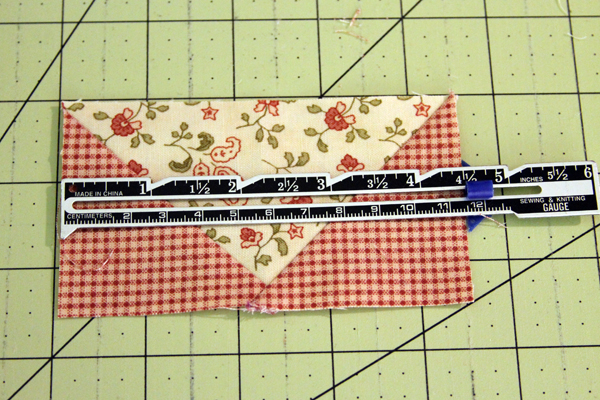 Now we will put the dark block together with the flying geese.
Once again, it's really important to make sure you are using 1/4″ seams or the points won't line up correctly.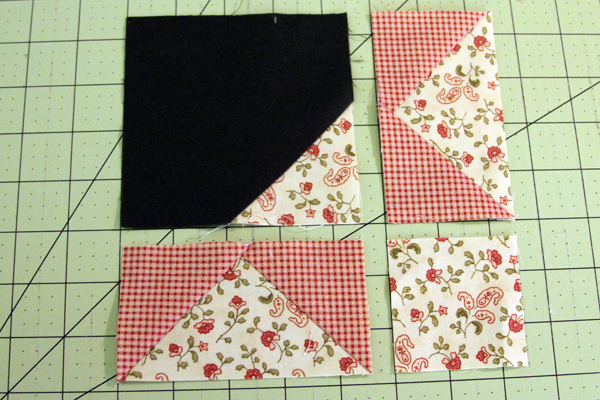 Sew the bottom flying goose to the background square.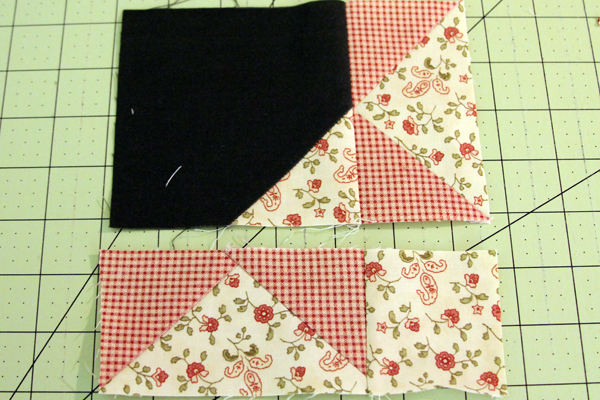 And then put them all together.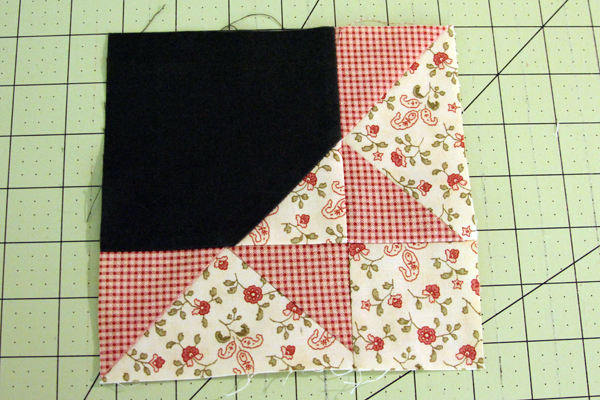 Now we have to make the sashings.
Sashings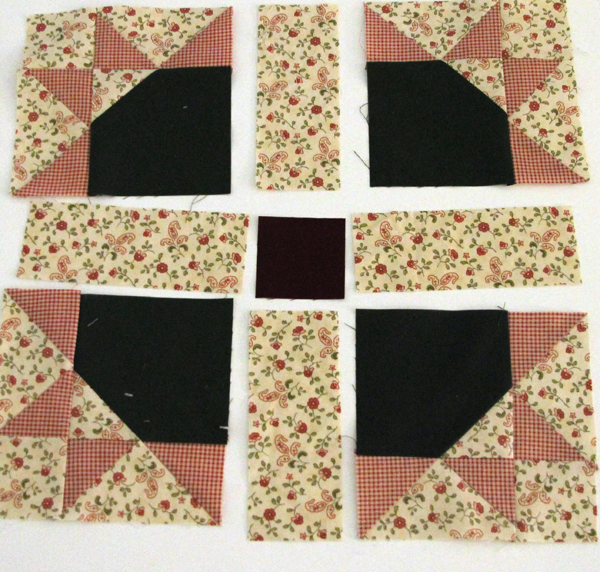 Sew 6 1/2″ sashing piece to the upper and lower geese on both sides.
Sew the 6 1/2″ sashing pieces to either side of the 2 1/2″ rust piece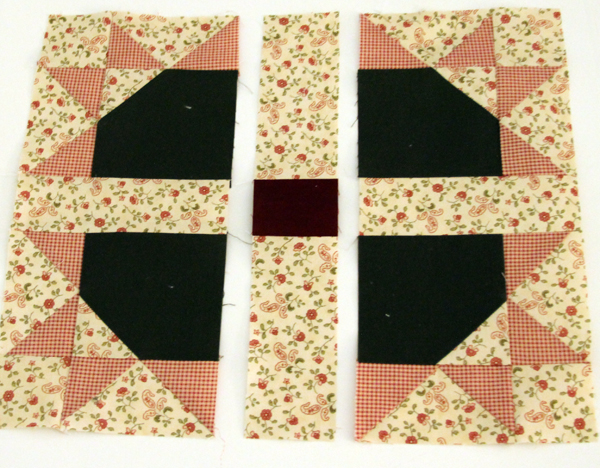 Then sew them together.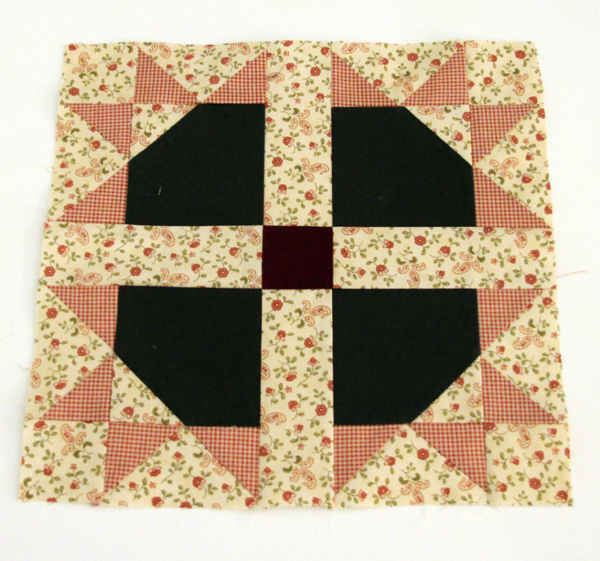 Borders
Now lets put on some borders.
Put on the sides first.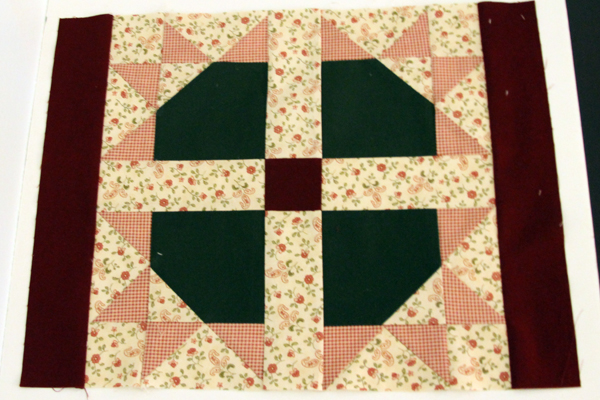 Then attach the background 2 1/2″ squares to the last two border pieces.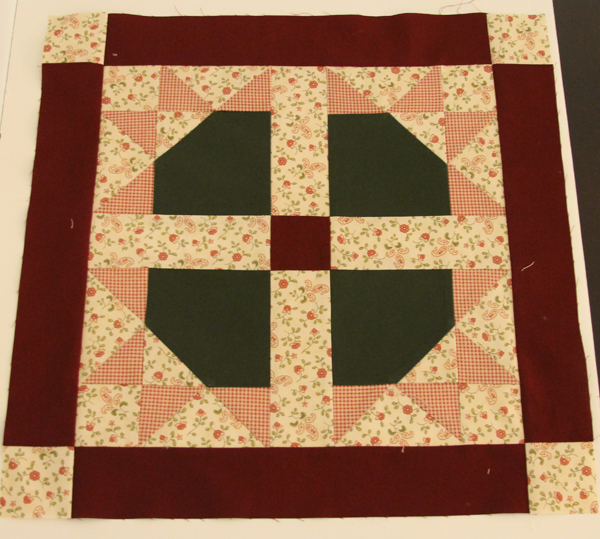 I cut a piece of batting about an inch larger on all sides then pin basted it.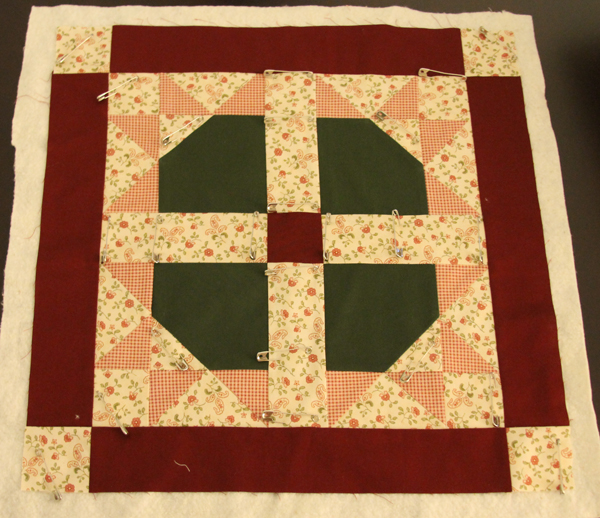 I did a "stitch in the ditch" for quilting.  Which is just another term for sewing in the seams.  This should be easy and invisible but I have a hard time keeping those little stitches in the ditch and they show up on the fabric.  Still working on that skill.
I also did a little "serpentine" stitch that comes on my machine diagonally on the block plus runs along the borders.  I was apprehensive that I wouldn't turn out but it's nice.  I don't how to "turn the corner" with the fancy stitch.  I practiced, practiced, practiced, but gave up.  I just stopped where it met the diagonal stitching.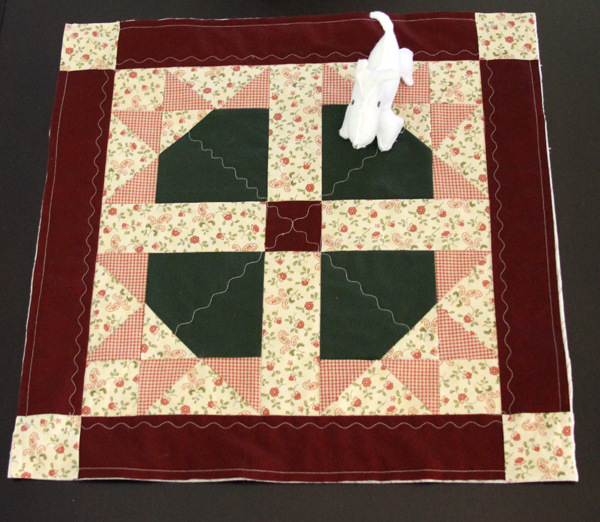 This block should now be exactly 18 1/2″.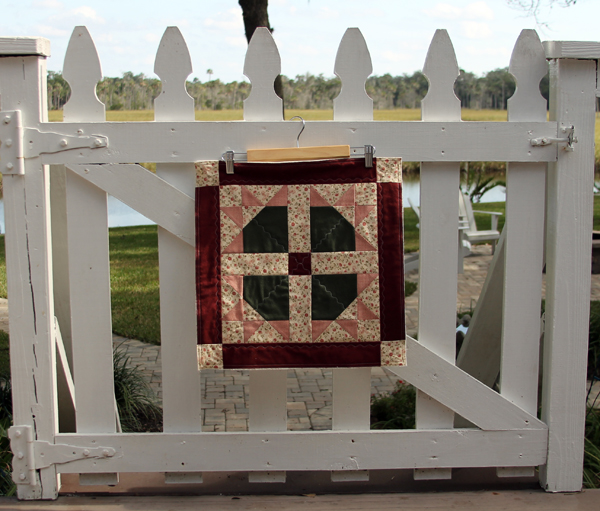 And here's September, October and November.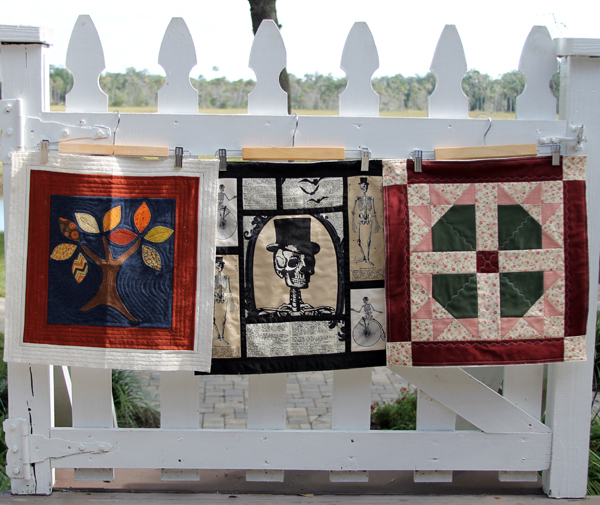 I'll put up the block I'm creating for December the first Tuesday of that month!