Block Six — February — Quilt as you Go
I finally finished BLOCK SIX! And February isn't even over yet!
Yippee!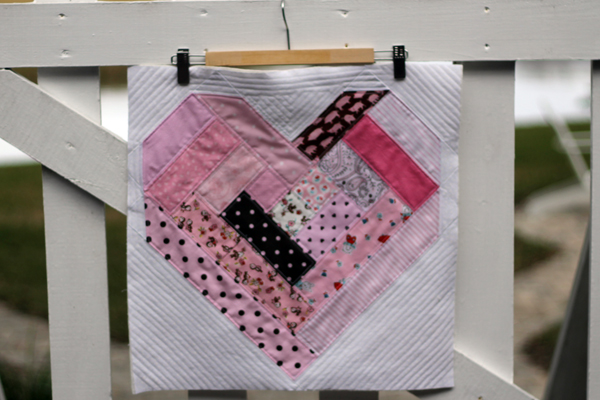 I had picked out this design a few months ago.  From pinterest, of course.
I seem to gravitate towards heart patterns.  I've made heart pillows and tea towels and quilts.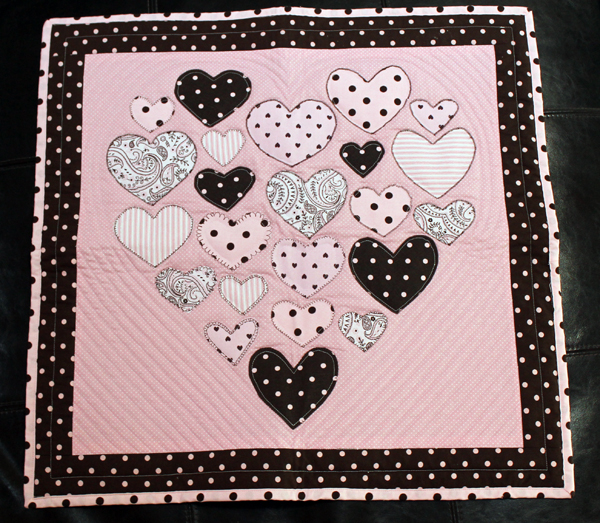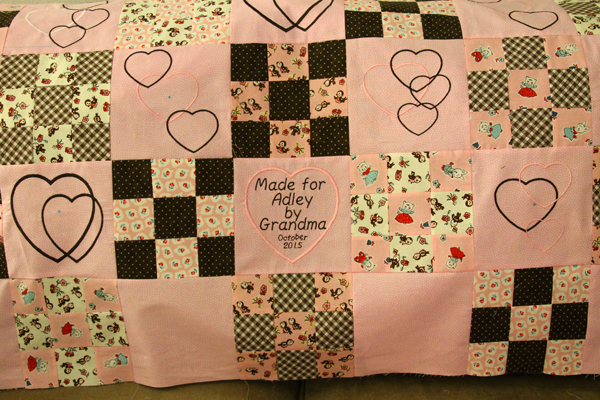 And I particularly like the "log cabin" pattern.  The pieces fit so nicely together.  Kind of like tetris–my favorite video game.  (I've read that people that like to quilt also like tetris and loading the dishwasher.  And they are right.  But I don't like unloading the dishwasher.)
This was my pinspiration.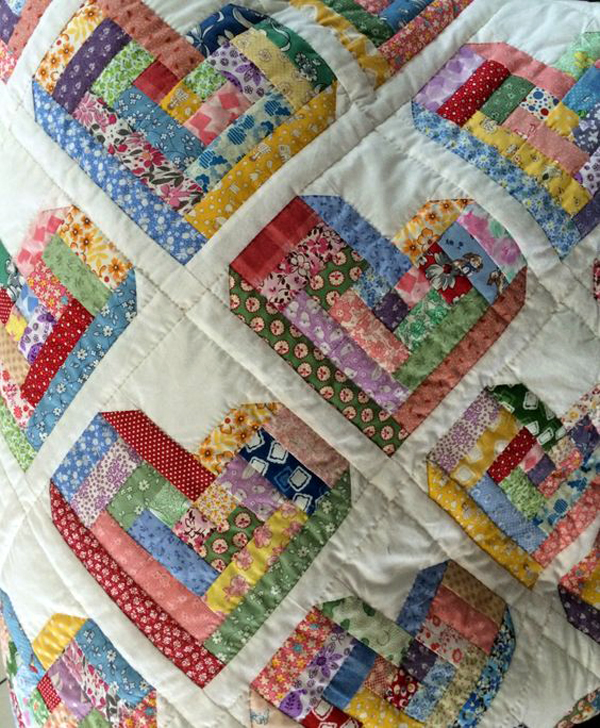 There weren't any instructions with the website.  This was just a photo that someone had taken at a fabric store of a quilt that was for sale.  For $800.  If you click on the photo, you'll go to that website.
Soooooo, I put directions and pics all together so you can make this lovely block.  Or you might rent your clothes and pull out your hair in complete confusion.  I've made bad instructions in the past, but these may beat them all! But I'll be happy to explain.  Just send me a comment or email. I'll be happy to clarify any of these steps.  (evil laughter)
When I sat down with my graph paper to draw out the block, I realized that something wasn't quite right.  Log cabins should just click together and build on one another but there were two pieces that didn't seem to fit the pattern.  Then I enlarged the pic and realized that they were actually the same fabric but in two different pieces.
What?  Here, I'll show you.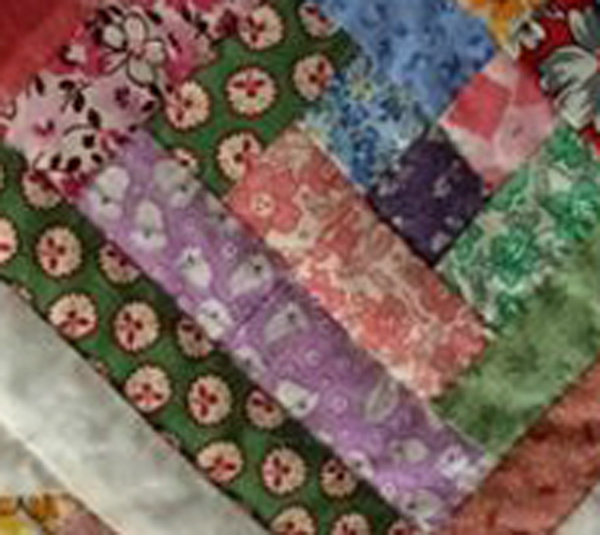 See the pink piece and the purple piece?  I thought they were one solid piece but when I got up this close, they were actually two pieces, sewn together.  Then it made more sense.
So here's how I created the pattern.  Well, first I made it on graph paper and then put it into Illustrator so you'd understand it better than my scribbles.  But now as I look at it, I think I need to make a new diagram.
Yeah, still confusing.
There's actually three main log cabin blocks.  I did the light blue block first in the order indicated.  The pieces that have the arrows are the ones that have the same fabrics.
Is this clearer?
No?
First let me show you how to make those blocks with the white corners. There are six strips that need white corners.
Okay, back to building the block.
Now it looks like a heart, but I said, "yech, don't like that, I want my heart to be centered!"
So I sliced off the triangle on the top. (Yeah total waste of fabric)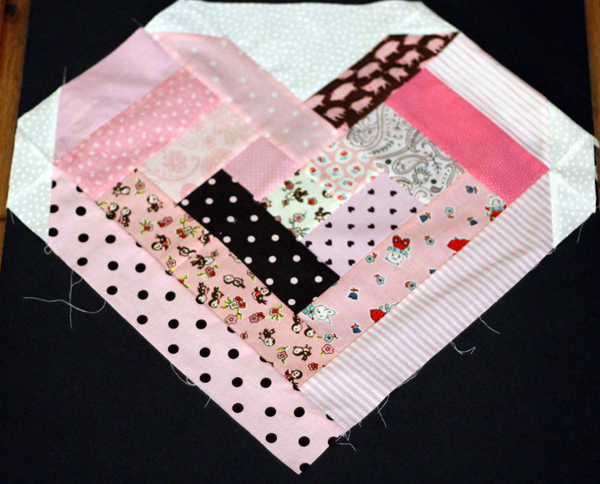 Now the rest is just completely baffling instructions because I was making them up as I went along.
The blocks for the QAYG are supposed to be 18″ square but I always leave a large border on so I can trim it back so I decided to make the block 20″ square.
Then I measured it and it was 19″ x 20″.  Whaaaaat???? So much for my intricate calculations.  I trimmed it down to 19″ x 19″.  Still okay.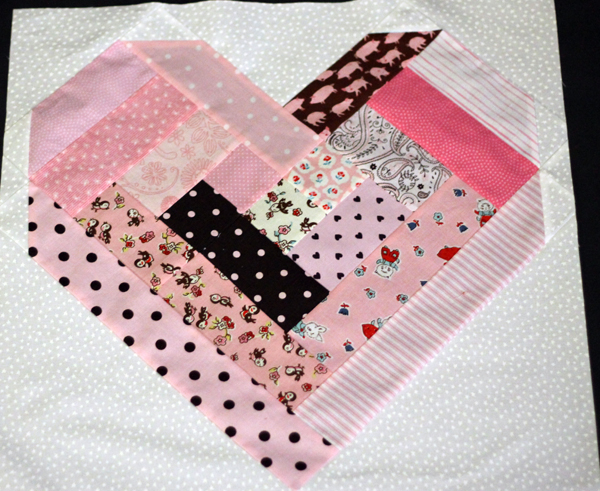 Starting from the middle of the block, I quilted 1/8″ around each piece.  Except for those two pieces that are supposed to fool the eye. I quilted around them like they were one piece.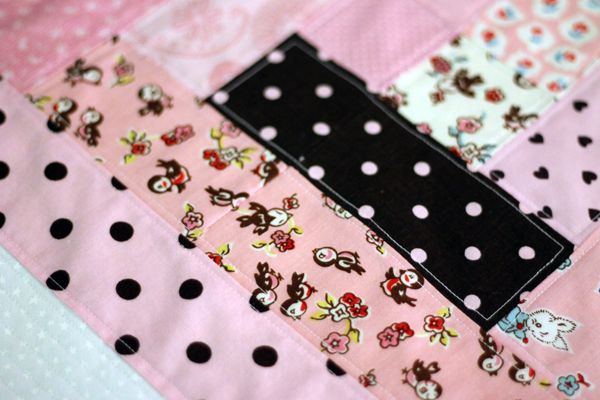 I had enough different pink fabrics to use a different one for each piece. Because, like I've mentioned recently, I have five granddaughters that love getting quilts and toys made out of pink so I have a lot of bits and pieces in that perfect girly color.
I think this would be very cute on the front of a tote or, even better, a baby blanket for a special baby girl.  Using the basic instructions it could be turned into any size.
I plan to use this pattern again.  And I'll follow this tutorial and be completely baffled.
Here's 6 months worth of QAYG blocks.
6 MONTHS.  I'M HALF WAY THERE!