Block Seven — March — Quilt as you Go
Let's Go Fly a Kite!
Don't you think a Kite applique block is the perfect representation of the windy month of March?
And it's been crazy windy here.  And rainy.  Then cold.  Then hot.  Then cold.  But, that's Spring in Florida. I've had to clean up a few branches that have been blown out of our many trees, but at least I didn't lose a whole tree or massive limbs like some of my neighbors.
So with all that wind, you'd think that kids would be out there flying kites.  But, no.  Not in our neighborhood. Cause we don't have a whole lot of kids.  Citrus County has the oldest average age in the entire state.  We are a southern paradise for the retired and snowbirds.
But I remember flying kites in March and watching my own children flying them, too.
And that's the memory I'm using for this month's block.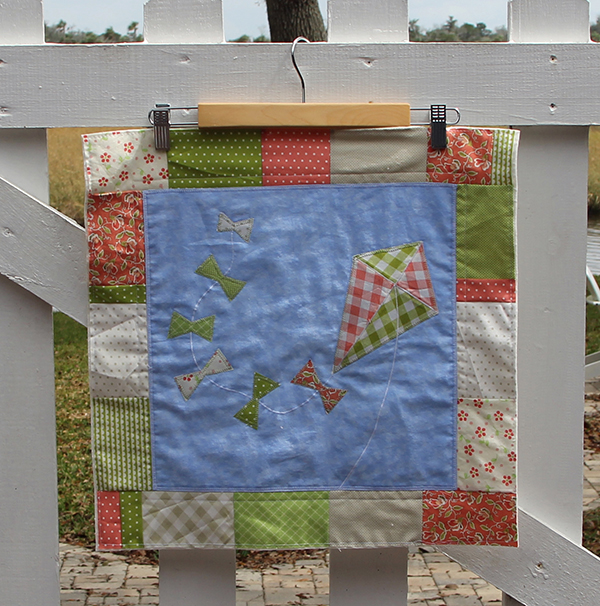 As usual, I turned to Pinterest for ideas.  And I loved this block.  There aren't any instructions on the website but you can find the link if you click on the picture.
I also found a pin from Fabric.com with a new line from Moda called "Vintage Picnic" that features aqua and red. One of my favorite color combos.  I wanted to get the charm pack so I could check out all the different fabrics without investing in yardage.  So many times I buy yards and yards of material and discover it is not quite the right shade when it arrives.  Yeah, I use it eventually, but these little charm packs eliminate that problem.
Shipping is free at Fabric.com for anything over $35 and the charm pack is about $11.  I didn't want to pay the shipping, (does anyone?)  So I was ordering something from Amazon, anyhow, and just did a quick search.  Yes, they sell Moda charm blocks.  Yay! And I had it in 2 days.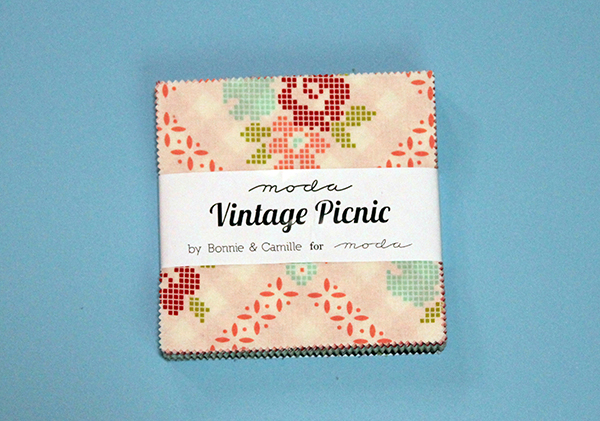 I pulled all of the red and aqua pieces out of the selection for a future project.  Also the dark blues because I wanted the block to have spring-like colors.  I ended up with corals, greens and creams and found some other bits and pieces from Moda from other projects that I had stashed away that matched.  I also had a 14″ wide piece of blue fabric that I thought was perfect for the background.
I made a little pattern for the kite.  The kite will be appliqued so does not need seam allowances on the outside.  If you click on this pic, it will open up to a 8.5 x 11″ piece and you can print it.  Or just free hand.  Applique quilts are fun that way!  You'll need two of each piece if you want to make the kite like I did.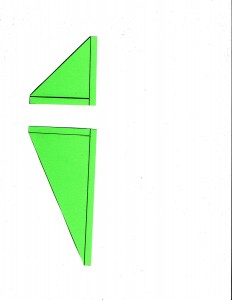 Sew the four pieces together, press the seams open, then trim.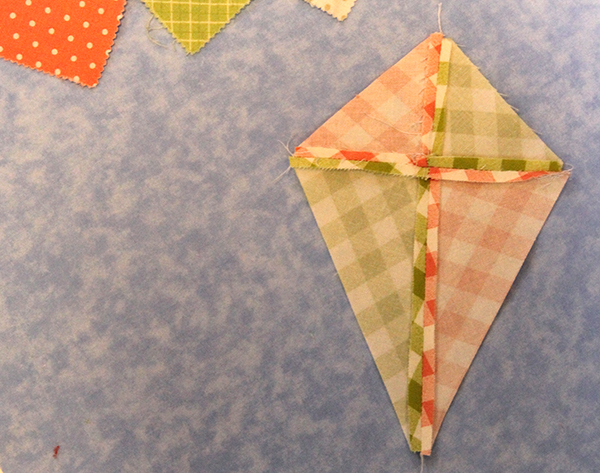 I used Heat n' bond light for the applique and applied it to the wrong side of the kite. (follow the package instructions)
Press the kite onto the background fabric.  I drew the string and line with an erasable fabric maker then used a small zig-zag stitch to sew over it.  I also zig-zag stitched on the kite.  In hind-sight, I should have used a dark thread color like navy or black because the white doesn't show very well.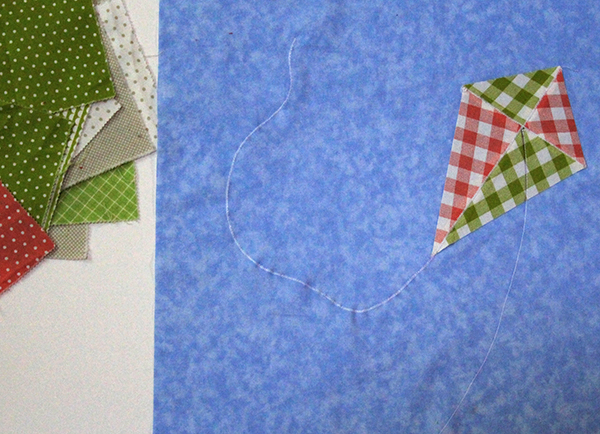 I'm making an 18 1/2″ block and the center is 14″ but will be 13 1/2″ with seam allowances.  For the border, I just randomly cut lengths of fabric, 2 3/4″ wide.  Did the sides, then the top and bottom.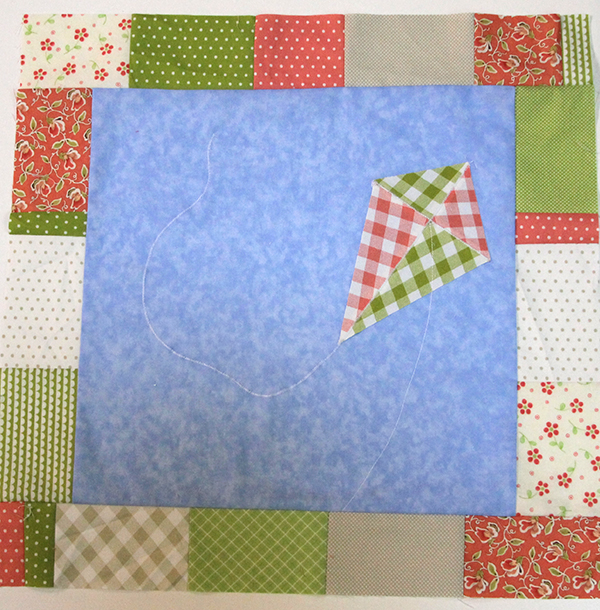 I didn't use a pattern for the ties.  Just cut them out from the fabric that I had already used heat 'n bond lite on.  Then ironed them on the "string".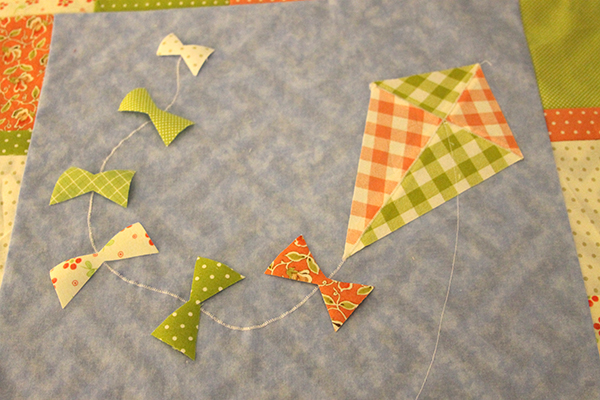 I cut a piece of batting a bit larger than the block, pin-basted, then did a blanket stitch around each applique and the blue background piece.  Then I did a very simple quilt line around the edge of the borders.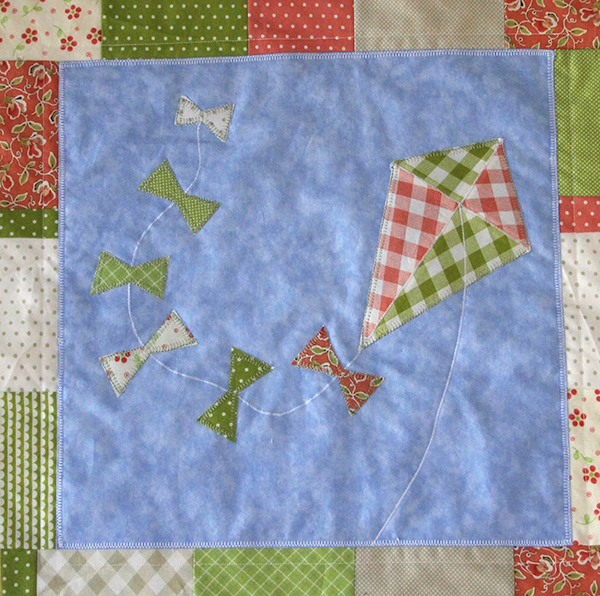 Very happy to have finished this block.  The past few months have been a challenge here in Perfect.  Hopefully things will start slowing down and I'll get back to sewing and posting!