Block One — Quilt As You Go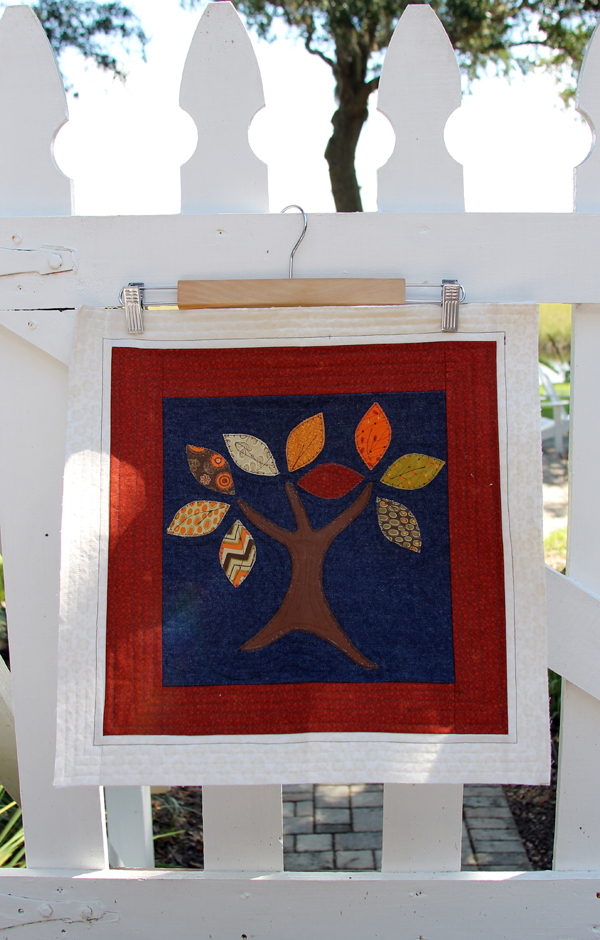 I make a LOT of mistakes.
Some are in my life.  (Seemed like a good idea at the time!)
But let's talk about sewing.  The ripper is my best friend.
I figure it's part of the learning process.  Sometimes I mess up because I try new techniques and probably ought to practice them before putting them into a project.
Which is responsible for this QAYG project.  I was eventually going to do it anyhow…..
But I screwed up the "easy peasy tote" a few weeks ago.  The first one was very simple.  Then I decided to make a nicer one to show the tote's potential.  So I made a pattern and added appliques.  I was very happy with the finished product.
That's when I screwed up. I thought, this is pretty, wouldn't it be even nicer with one of those fancy-schmancy stitches on my fancy-schmancy sewing machine?
So I started sewing the "leaf" stitch around the top for a little embellishment. The sewing machine had a little hitch-up when it went over the handles.  Didn't think anything of it.  Until I realized that those little stutter steps caused multiple leaves to be piled up in one spot.  Grrrrrrrr.  And I couldn't pull the stitches out. Those clusters of leaves were permanent.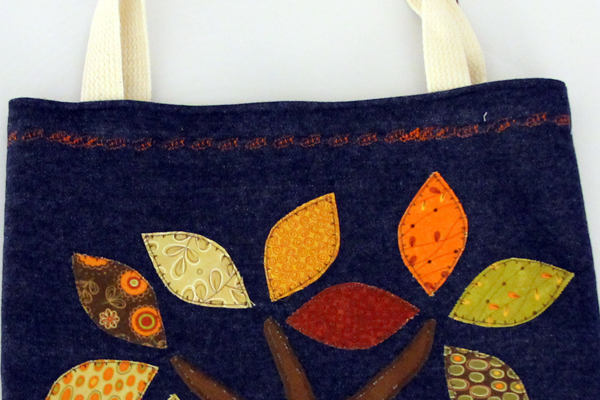 I tossed that tote into a drawer and made another one before I needed to get it posted the next day. (Yes, that's how easy peasy that tote is!)
I knew I would use that sub-par tote for something.  Just didn't know what at the time.
I HATE unfinished projects.  Last week I pulled that failure back out.  What to do, what to do….  Then I decided a small pillow.
I trimmed it down to an 11″ square.  But it wasn't quite big enough for that pillow form.
So I added a 2″ border.  Then it was too big and too small for the next size up.  So I added another border.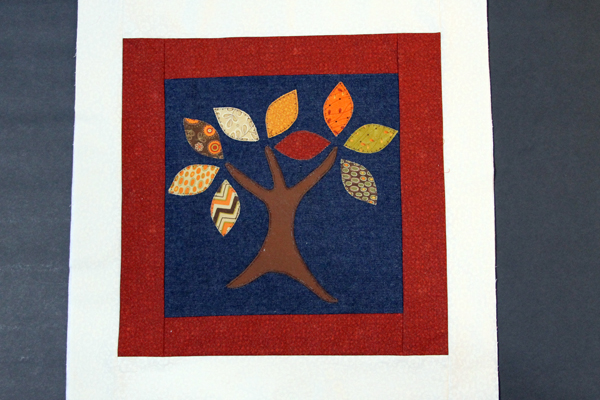 And that's when it turned into a quilt block.  A QAYG quilt block.
Here it is after after I did a pin basting.  Not sure if I did it right.  Probably need to do more research!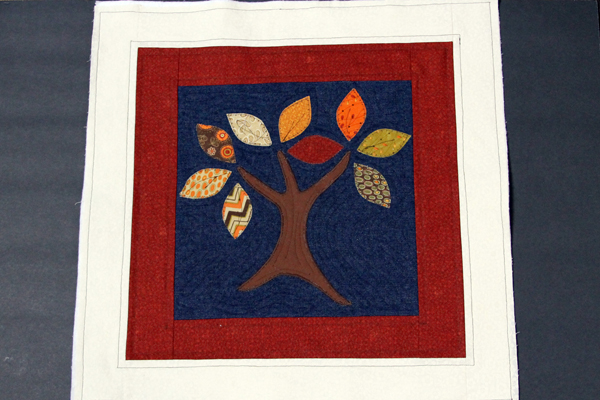 I quilted the center of the block by following the shapes of the tree and leaves.  In this pic, I still need to trim the block.
I'm calling this another one of my learning experiences.
Mistakes I made:
Didn't cut the batting large enough which left the edges wonky.  I fixed it by trimming the entire block down to a 18 1/2″ size which will be a finished 18″ square.  Since this is the first block all the rest of the blocks will be that size!
I used blue thread on the denim section.  Should have used a contrasting thread.  Couldn't see it as I quilted around the tree and leaves or on the finished block.
Think that was all for the lessons I learned on this block!
What I hope to learn with this quilt:
How to get my straight line stitches actually straight.  Even though I have a great machine, the stitching tends to be crooked.  So I usually use coordinating thread rather than contrasting when I'm do the quilting stitching.
How to use the decorative stitches and make them look great!
How to do "free form" quilting.
Now that I'm happy with this block, I've decided that I'll do a block every month for a year.  Most quilters start those in January.  But not me, this one is for September.  Hopefully I'll get better with the blocks and I'll be an expert this time next year!
If you'd like to follow along and make this block, here's the PDF for the tree and a leaf:  Pattern for Tree and Leaves  I used denim for the center block and the leaf applique fabric is from a mini-charm pack from Moda's "Hello Fall" line.  The tree trunk is from a Moda Bella solid fat quarter package.  I used Heat n' Bond Lite for the appliques.  The tree trunk is finished with a satin stitch and the leaves have a blanket stitch.  The middle denim piece is 11″ square.  Next up is the 2″ border and is also from Moda's "Hello Fall".  The off-white border on the outside came out of one of storage baskets and is 1 3/4″ but will end up being 1 1/2″ when the blocks are joined together. The batting is Warm & Natural cotton and leftover from another quilt.
I'll be back with my next block in four weeks!