Block Nine – May – Quilt as You Go
Blooms and Birds
For the month of May QAYG I did an applique block of flowers and birds.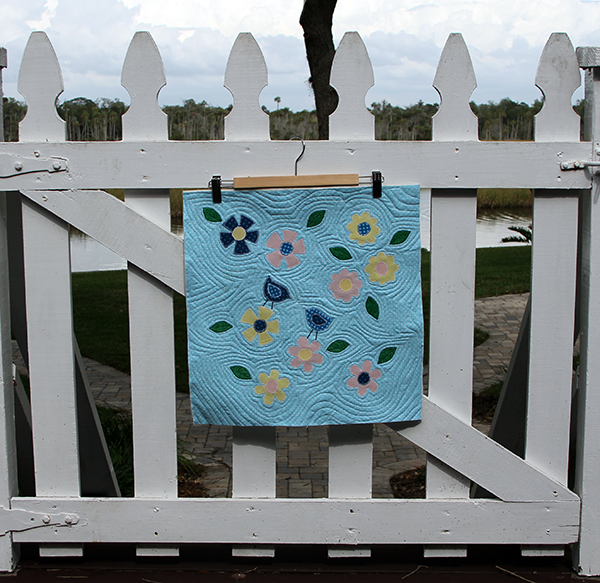 My Pinspiration was this pillow:
A PDF is included for the shapes.  Just click here and you'll go to the file on her website.
I used these shapes for tea towels that I made almost two years ago.
For this block I bought a fat quarter from the local quilt shop for the background fabric. Blue with little white dots. A fat quarter is a pre-cut piece of 18″ x 22″ wide.  This piece was just a bit larger and after I washed and dried it, the piece was about 18 1/2″ x 20″ wide.  So I used that size for the whole block.
In hind-sight I should have added a small border to make it 19″ because after it was quilted and trimmed it's an 18 1/4″ square.  Bummer.  All the other are between 18 1/2″ and 19″ square.  I plan to cut them all down to the same size when I'm finished so it looks like they'll all be 18 1/4″ now which will make a finished 17 3/4 " square. That's not much of a difference, I'll still end up with the size of a lap quilt which will be nice for Maggie and me during the few chilly months we have!
The rest of the material came from bits and pieces that I had in storage.
I used heat n' bond lite for the appliques then set the pieces down on the fabric and moved them around until I liked the arrangement.  Sometimes I take a photo.  For some reason, I get better arrangements by looking at my photos.  Couldn't have done that before going digital!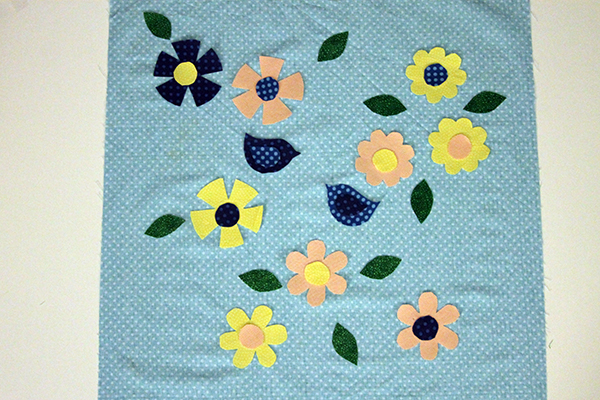 Of course, by the time I got the piece to the ironing board, the bits had moved about.
I pin basted the fabric and batting together then drew on legs for the birds with an erasable fabric marker and did a satin stitch over the marker. I also used a satin stitch on the leaves. Next I started appliqueing the birds and flowers with a zig-zag stitch.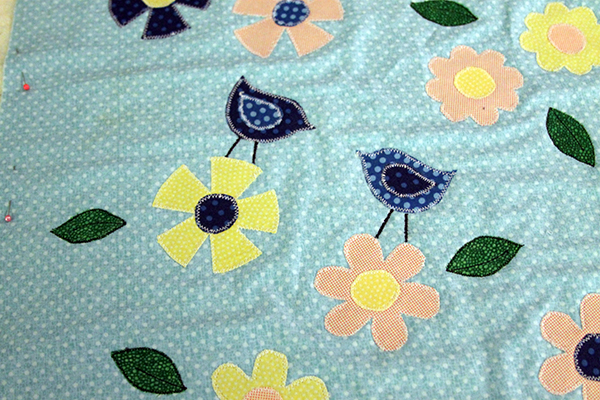 And that's when I realized I had an issue. (Rather my sewing machine had the issue.)
The zigs and zags were not zigging and zagging properly.  I tried cleaning the sewing machine and putting in a new needle and still it was a mess.  It looked really bad on the dark fabrics.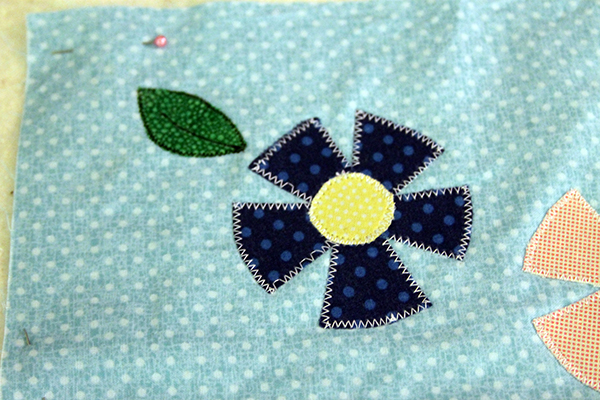 There are different sizes of sewing machine needles for different fabrics and projects. I had been using a "quilting" needle and changed to a "sharp" needle that I found in the bottom of a sewing box. That worked.  I've always used the quilting needle for all of my other applique projects so am wondering if this is a beginning of a problem with the sewing machine. Perhaps it's time for maintenance!  But how can I live without it while it spends a few weeks at the spa?
And what to do about the messed up stitching?
I could pull them out but that would take FOREVER.  So I decided to just say it's part of the quilt's "homemade charm". Right?  Besides.  Who is going to look at it other than me?
Or you, if you stop by.
Anyhow…..
I quilted around all the shapes and then just kept going.  I like how it turned out.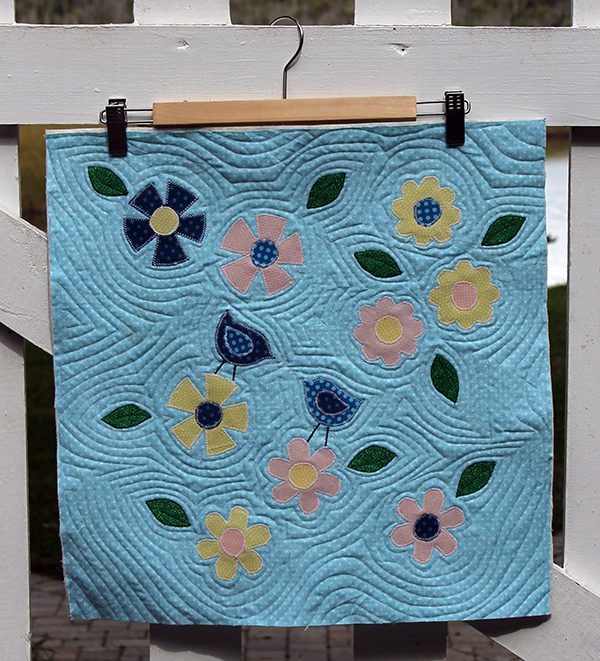 Here it is on my temporary design wall.  I really like having this available and might have to make a permanent one.  It's great sticking the fabrics up there and changing them out until I find the perfect print and color combo.  I've already "interviewed" different swatches for June as you can see in the photo below.
Three months to go!  Looking forward to stitching everything together!