Block Five — January — Quilt as you Go
This is month five of my QAYG.  I picked a windmill block.  Not that it has anything at all to do with January but because I'm planning on making a full-size quilt with windmills.  I discovered during the holidays (when every bed was filled) that I didn't have a bedspread for the sofa bed in my office.  (I'm also short a few pillows!)
Thought that was a good excuse to make a quilt! And, after doing a lot of research on Pinterest, I thought I'd go with a windmill design.
Well, it won't be the typical windmill design, I'm making it a bit wonky.  Can't wait to get it finished and share it with you!
But I thought I'd try one block out before I committed to a whole quilt. So that's how I ended up making a windmill block for January rather than something like a snowflake or snowman or snow shovel.  Although that wouldn't really fit in with Florida, would it?
If you want to check out windmill blocks on Pinterest, they are also called pinwheels and water wheels.  Who knew?  I decided that I liked this one from CraftyGemini.com and followed the tutorial that came with it.  The directions are very easy and clear so I'm not adding anything to them.  Just follow the link if you want to make this block.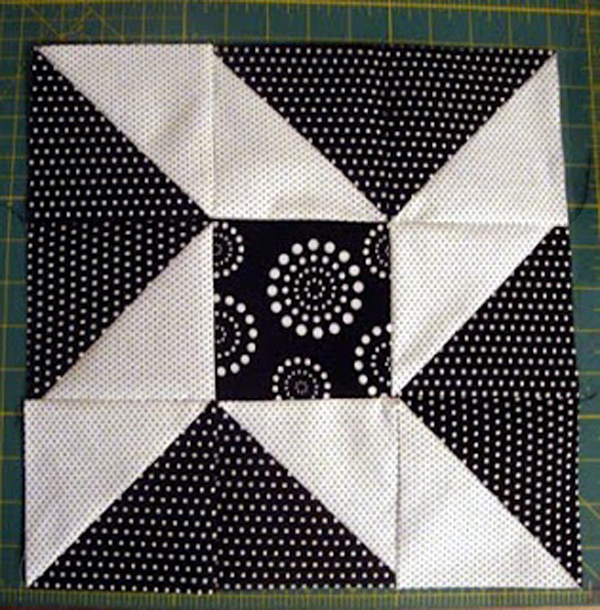 Anyhow, I really like how it turned out.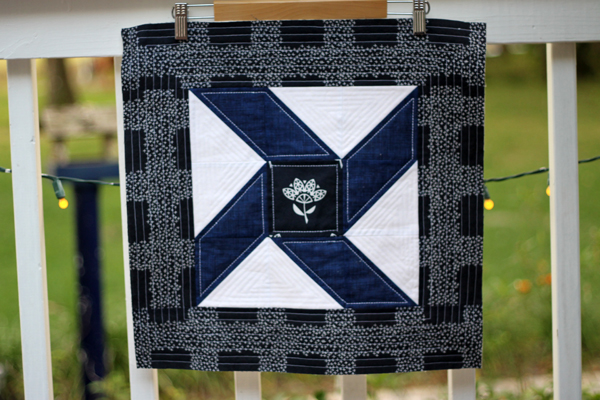 And it wasn't that difficult. The above pic is pretty true to the colors I used.  Although the indoor photos look like I used black, white and blue, the dark fabrics are actually navy blue and royal blue.  The white has little white wonky stars on it but they don't show up in many of the pics. You can barely even see the white fabric in the following photo.  Seriously, that gap under the dark fabrics is the white Moda fabric I bought from our local quilt shop, Tomorrows Treasures. (Why am I such a bad photographer?)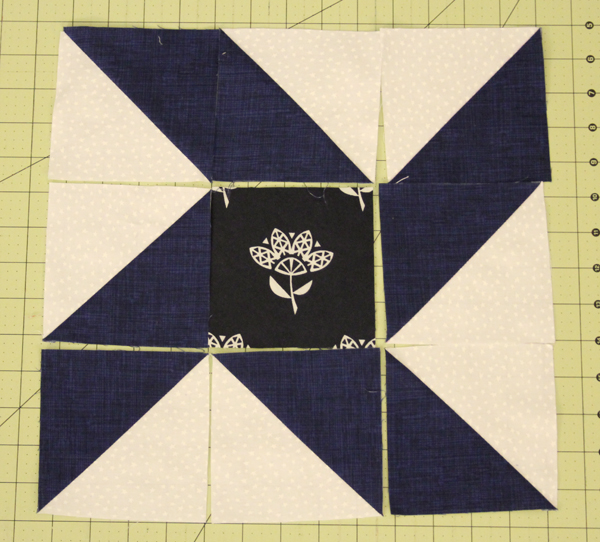 The windmill block was 12 1/2″ square.  I added 4 1/2″ borders then cut them down so the finished block was 19″.
Next month, a valentine block.  Or at least that's what I'm planning right now.  It could change!