Another Easy Peasy Pillow
Remember those embroidered sugar skulls from last week?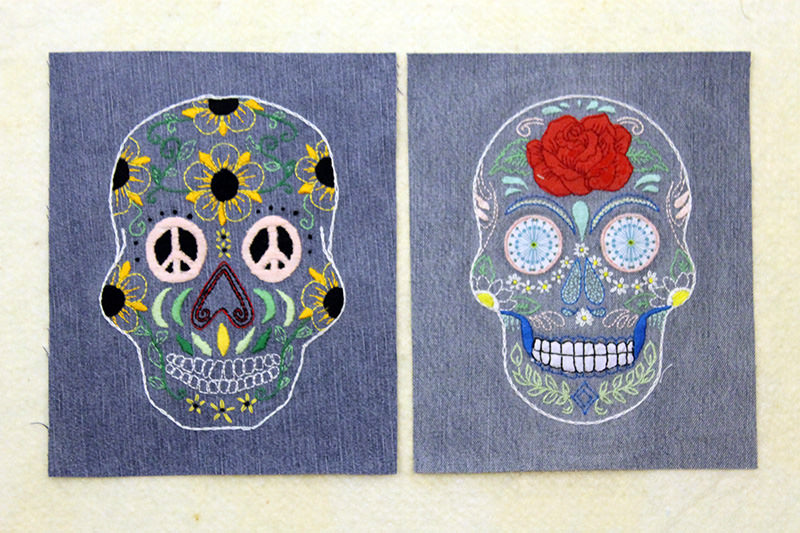 I thought I'd make them into pillows.
But I needed some cool fabric for the back.
And ordered one yard of  Folklorico Baile de Calaveras from Fabric.com: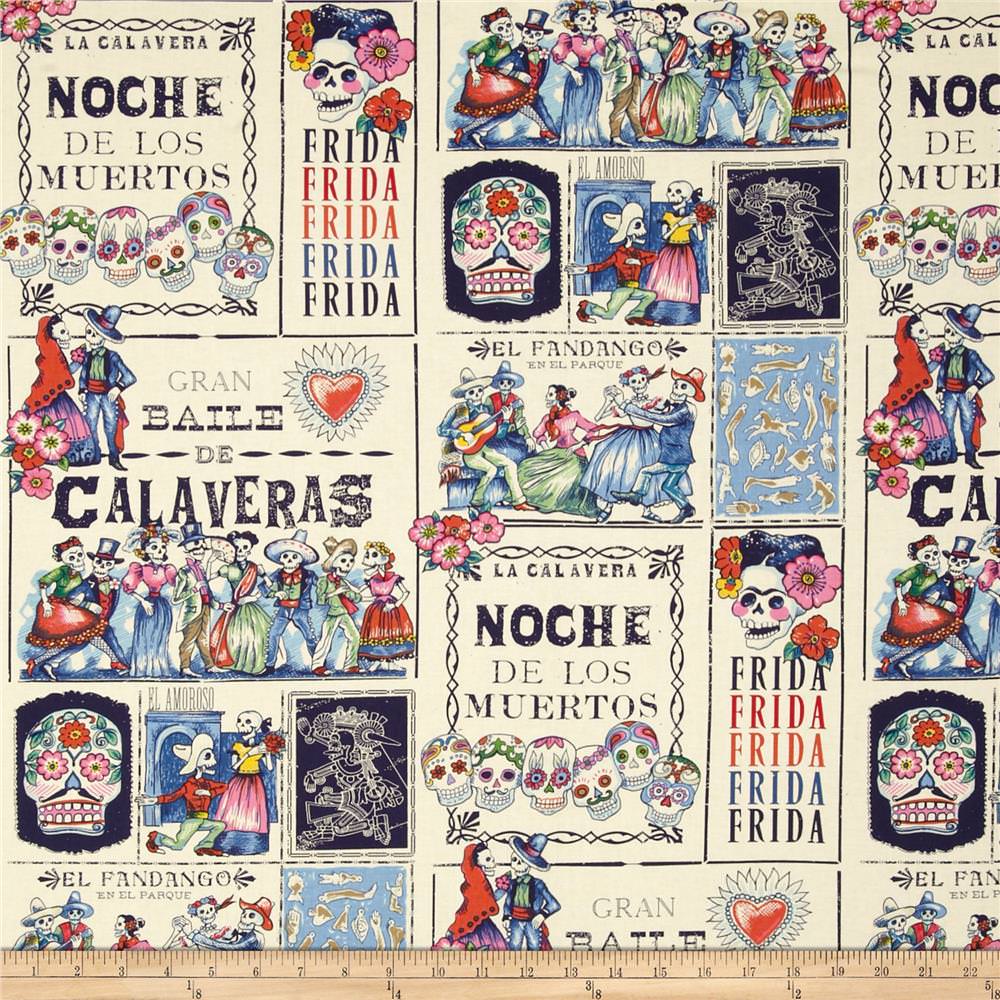 I was going for the sugar skull look and also the whole Frida Kahlo vibe was pretty cool.
But when the fabric arrived I loved all those clever vignettes so much  I couldn't just use it for the back of a pillow.  I had to make new pillows with that one yard of material and feature Frida!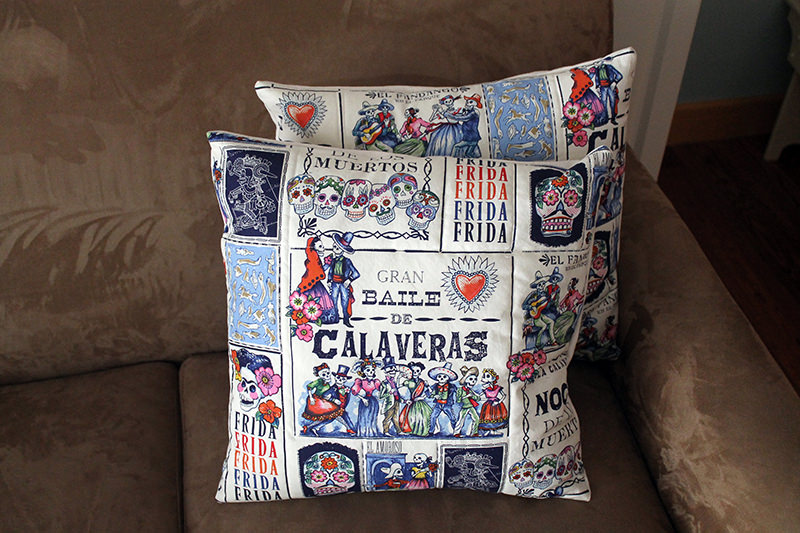 I haven't written about pillow covers in a while so thought I'd share with you how easy an easy peasy pillow cover really is!
This will be a very detailed tutorial with photos and a few extra explanations.
EASY PEASY ENVELOPE STYLE PILLOW COVER
I only had a yard of fabric so used a natural color denim for the back.  I also found some batting in the bottom of my batting basket that I didn't even remember that I had!  I have stated numerous times that I only use "warm & natural" or "warm & white" batting.  I must have bought this stuff before I started quilting.  Probably used it for pot holders or Christmas stockings or something.  Who knows!  But thought it was time to use it up.  And this was the perfect project!
And while I'm explaining that…..I've been questioned why I even use batting or fleece on my pillows.  First, this is quilting cotton.  Not a very sturdy fabric.  I always line it so it holds up better.  I also like that the batting makes it softer.  Sometimes I also put a muslin backing  on the pillow cover when I use batting because I like the finished look. But sometimes I don't.  When I sat down to make this pillow, I didn't have any natural colored muslin.  So–I didn't use it.  Didn't make any difference.  I also didn't use any batting on the denim back.  The denim can stand on its own and batting just makes another layer to sew through.
I'm replacing the cover on an 17″ square pillow.  So I fussy-cut an 18″ square piece of the Frida fabric and cut an 18″ square batting for each pillow.  For the easy peasy envelope style back I cut two 18″ x 12″ pieces of denim.
Why 18″ x 12″?
In an envelope style pillow, two pieces overlap to cover the back of the pillow with no zipper or buttons or ties or hand stitching.
Here's how I calculate to get the perfect size:  18″ is of course, the height of the pillow.  Then I take the width (18″) divide by 3 (6″) and add that to the width (24″) and divide by half (12″).  18″ x 12″ Confusing?  Yes.  But it works for any size pillow!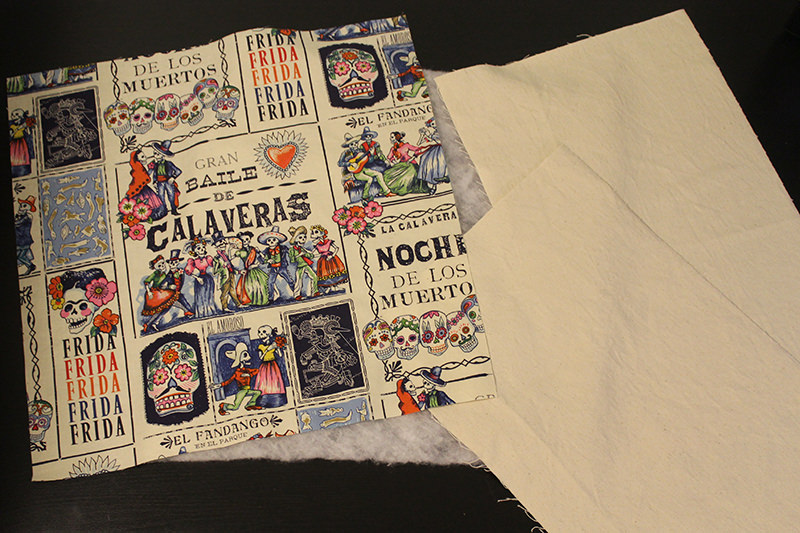 I pin-basted the Frida fabric to the batting and then quilted around all the little pictures.  (I did the quilting because that type of batting will pull apart!)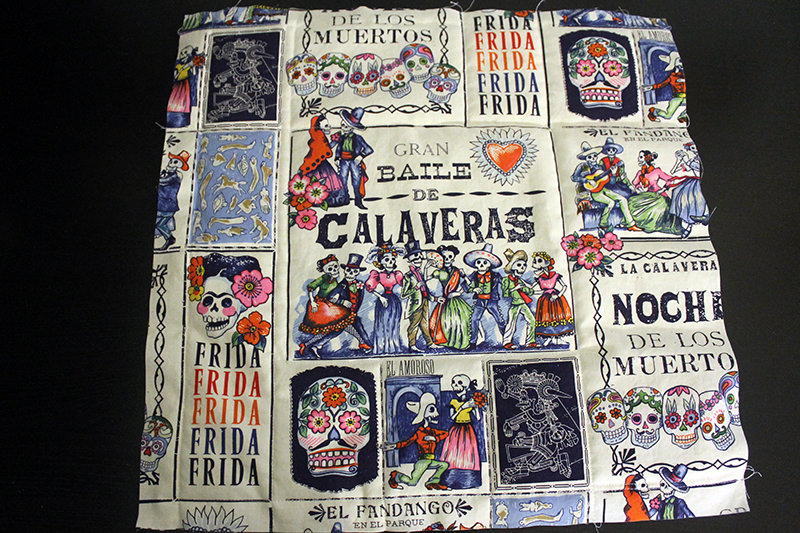 Next, I folded and pressed one side of each denim piece 1/2″ and then another 1/2″ then stitched.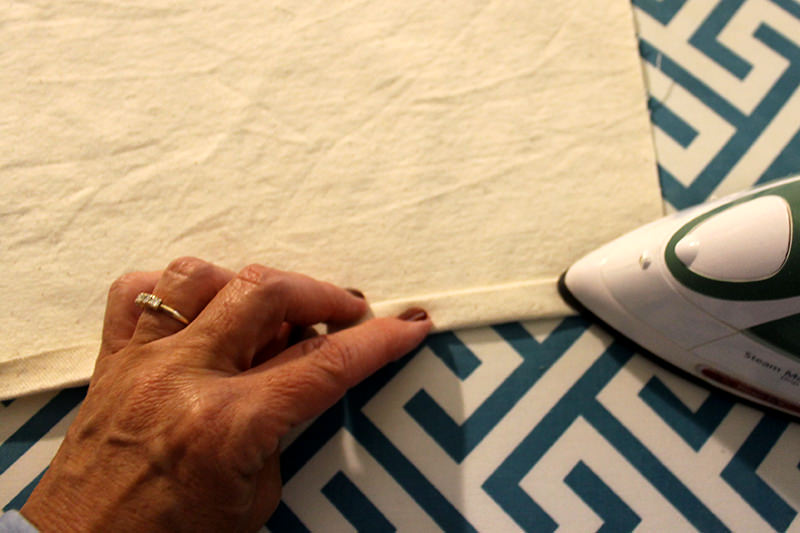 Layer one of the denim pieces, right sides together, on the quilted Frida piece. Stitch 1/2″ seams around the three sides.  (You could do both denim pieces at the same time but, out of an over-abundance of caution, I always do them one side at a time. Better to make sure it's right than rip it out!)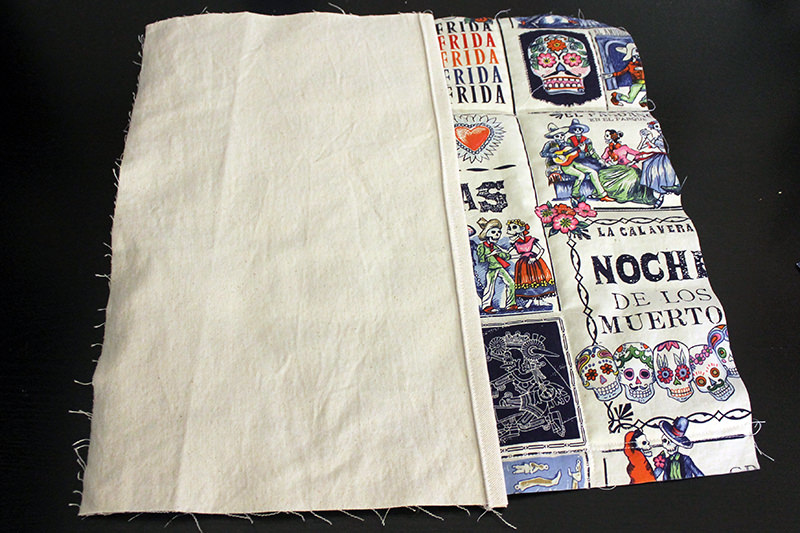 Then put the second side on and stitch with 1/2″ seams.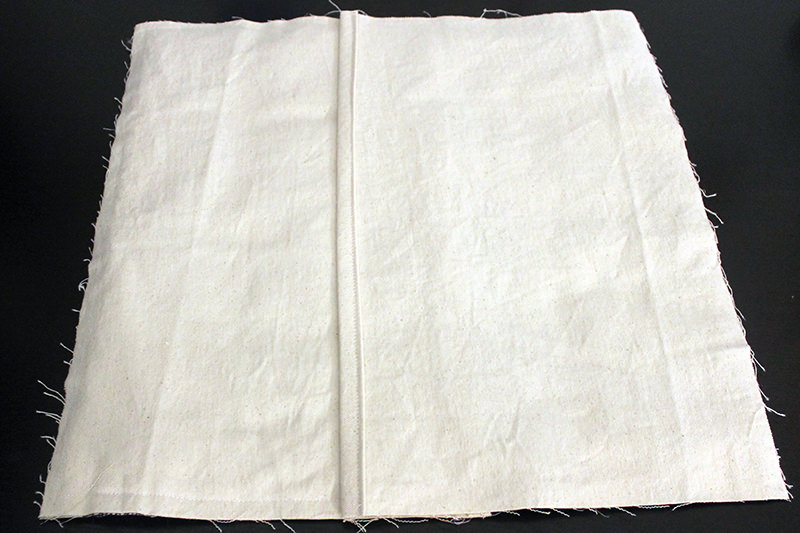 Turn it right side out, poke out the corners, and stick that pillow form in!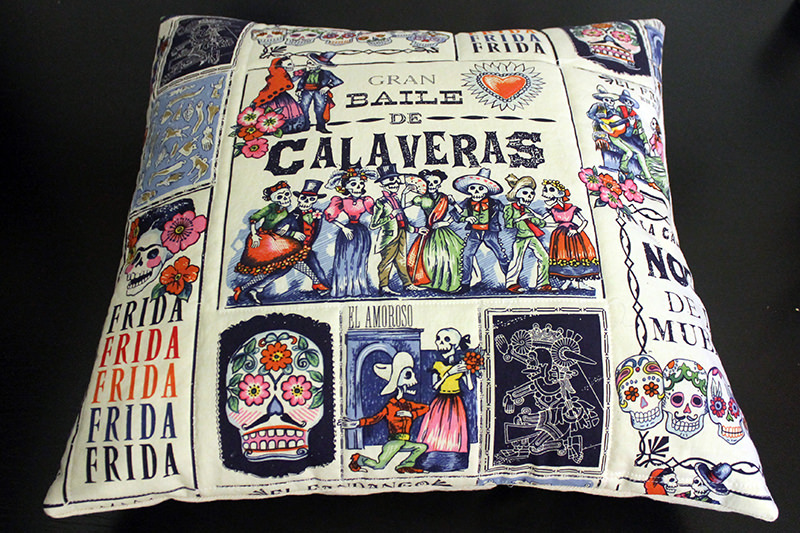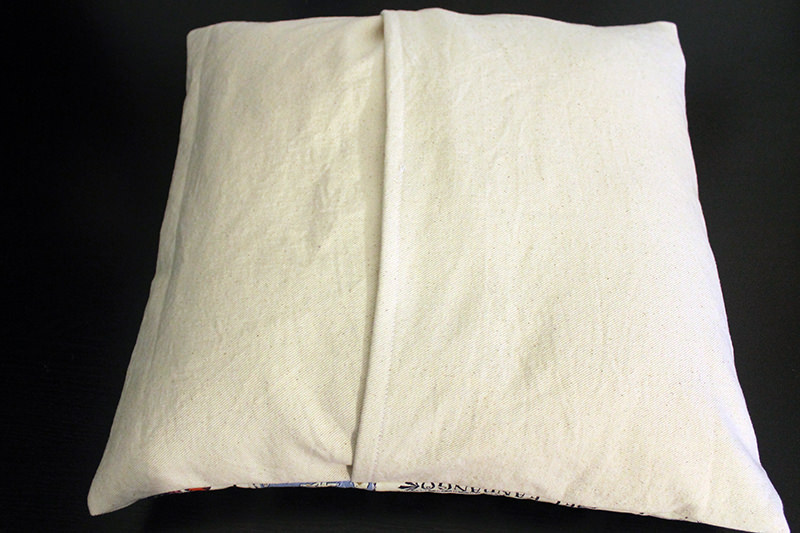 And make two.  Because a pair is always better.  Right?
And still need to do something with those embroidered sugar skulls!